Vintage Christmas in the Kitchen
Decorate your kitchen for Christmas with vintage.
Hello, friends! The countdown is on for Christmas! I love collecting vintage Christmas decor and want to share how I've used my collection to create vintage Christmas displays in my kitchen.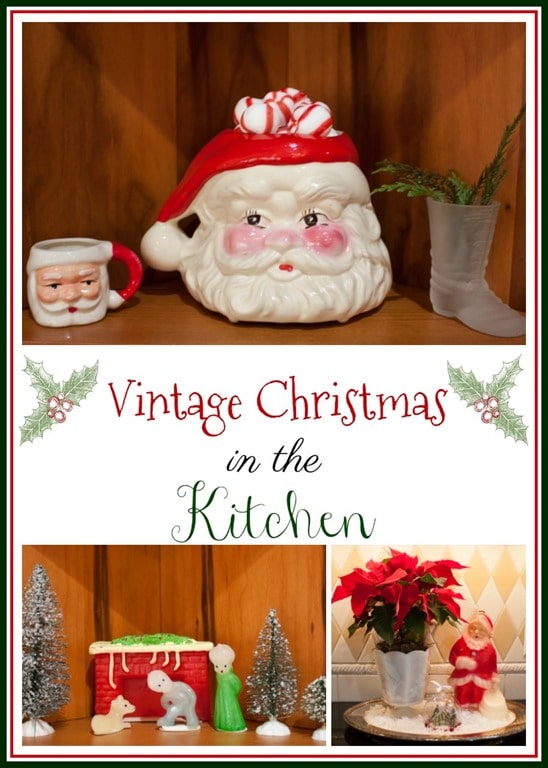 This post contains affiliate links for your convenience. For full disclosure go here.
Kitchen Shelf Displays
The ends of our cabinets have shelves which I love to use for displaying my vintage decor. At Christmas I particularly have fun filling them with my items from my vintage collection. There is also a set of shelves on the set of cabinets on the other side of the kitchen. That set of shelves holds some small items from my Lenox Holiday Christmas dish collection.
We pay more attention to this set of shelves because it's in the pathway that we walk between the kitchen, breakfast room, and our family room. I've really enjoyed this display this Christmas season!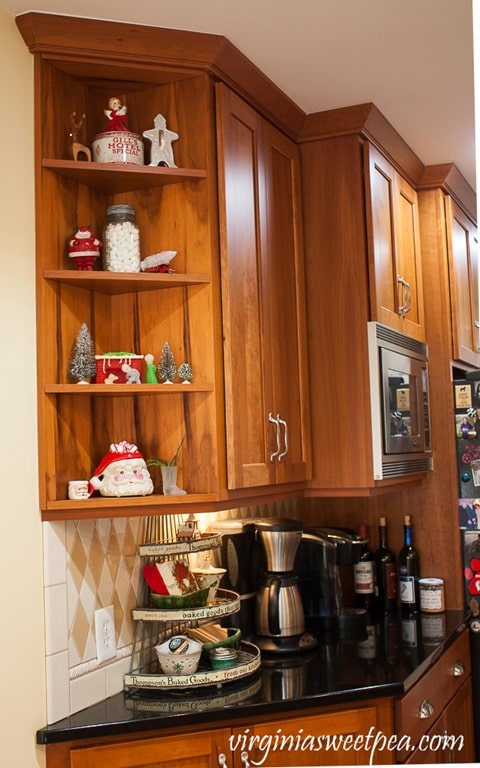 The large Santa mug on the bottom shelf belonged to my Great-Great Aunt Fannie who raised my grandmother. Granny passed this along to my mom who in turn passed it along to me. I loved this Santa mug as a child and was thrilled when my mom let me have it. The small Santa mug isn't vintage, but my friend spotted it at a thrift shop and was thoughtful enough to buy it and I like that he looks vintage. This is my only glass Santa boot, the rest of my Santa boots are red. I displayed my red Santa boots along with my vintage Christmas punch bowl collection in our breakfast room.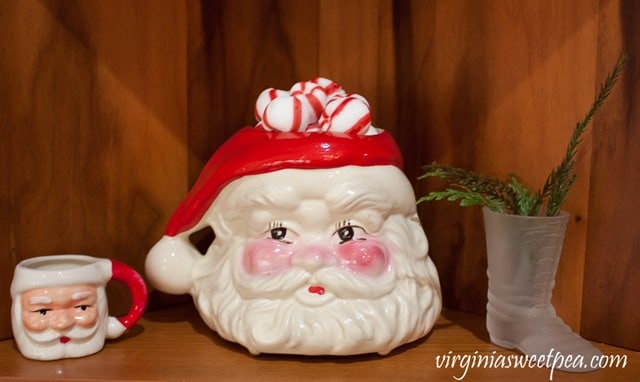 When we visit Vermont, a favorite stop is The Vermont Country Store. This adorable candle set is a purchase that I made on a Christmas ski trip a few years ago. This set is no longer available, but if you like this style, check out this Santa and Reindeer set that is available.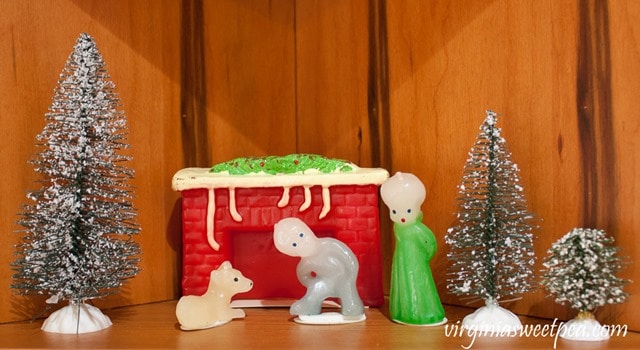 The next shelf holds a vintage plastic Santa candy holder whose skis are broken. Poor Santa is going to have trouble delivering gifts with the state of those skis! The marshmallow filled jar is an old one that Mama gave me whose pattern I rarely see. My husband's Match Box dump truck is from the late 1960's and is hauling home a tree for Christmas.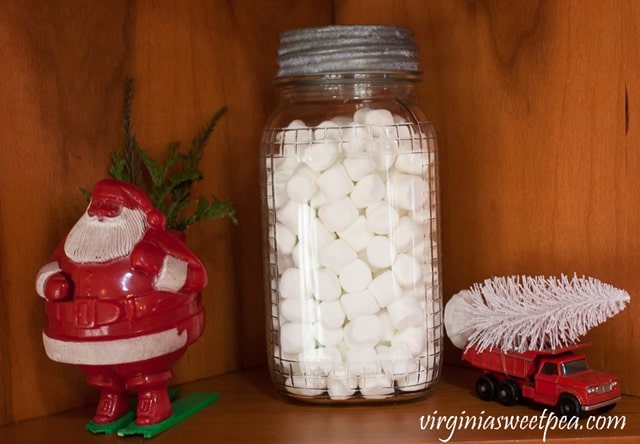 The top shelf holds a reindeer that I bought at a craft show in the 1980's and have used every Christmas since. The tin was rescued from my granddad's shop. The gingerbread man cookie cutter belonged to my grandmother. The angel was a Christmas Vermont trip antique shop find.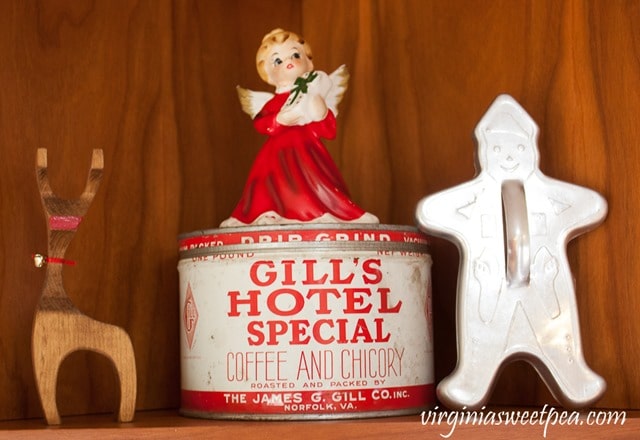 Here's one more shot of the shelves. They would look better with some greenery but at this point I don't think that will happen this year.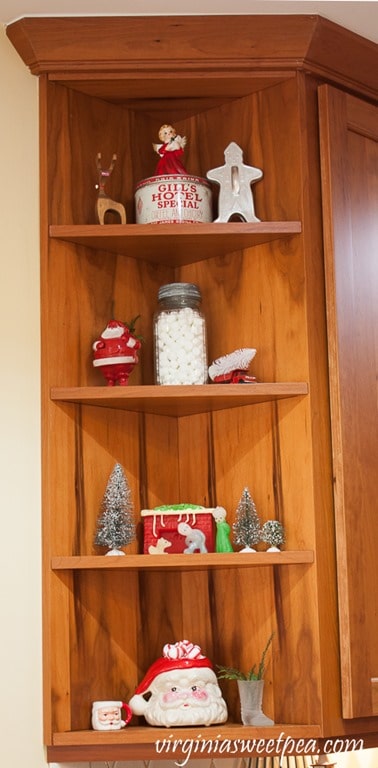 Kitchen Counter Displays
I like to keep my countertops as free of "stuff" as I can but could not resist making a few vintage vignettes for Christmas decor. I arranged my vignettes on trays so that I can easily move them to clean the counters or to easily move them out of the way if I'm doing some serious cooking.
This display is to the left of my kitchen sink where I see it multiple times per day. I started a collection of Lenox Holiday dishes when I was in high school. Over the years I have been gifted with all sorts of companion Lenox Holiday pieces including this Santa and Mrs. Claus salt and pepper set.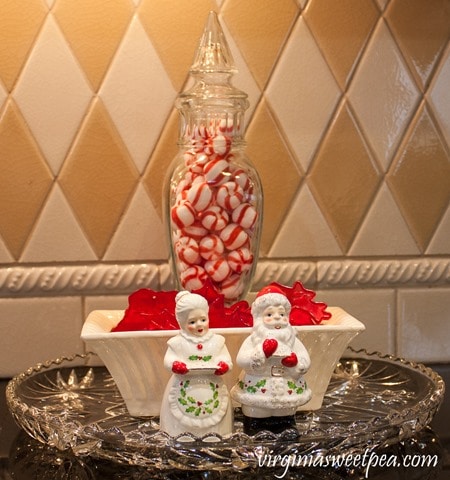 A vintage planter is filled with vintage red plastic cookie cutters. Some of these belonged to my grandmother and others were found at a local thrift shop. The candy holder was purchased at an antique shop but if I doubt that it is older than the 1970's. The tray is Princess House and belonged to the grandmother of a friend.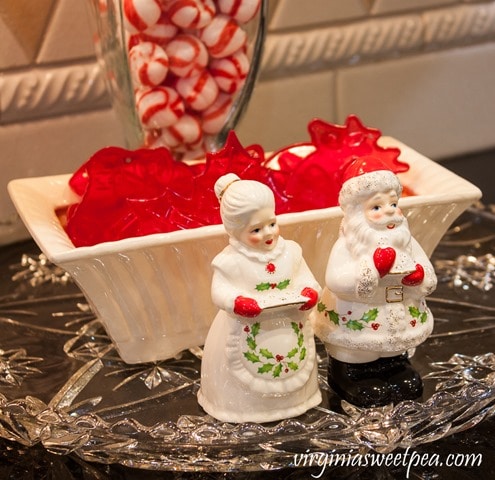 A red thermos is my latest antique shop find. I paired it with a modern tree and house ornament, both gifts from friends. The wood tray was my grandmother's and was new in the box when I inherited it from her.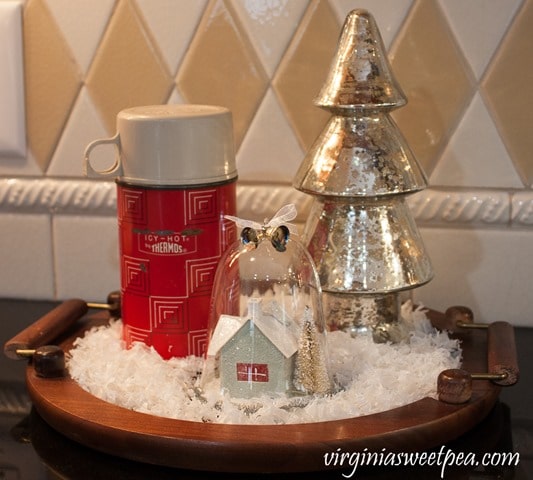 The day that I bought the red thermos, I also purchased a vintage Santa candle. One of our neighbors dropped off a small poinsettia a few weeks ago as an early Christmas gift and rather than leave it in its grocery store plastic pot covered with metallic gold foil, I planted it in a milk glass vase.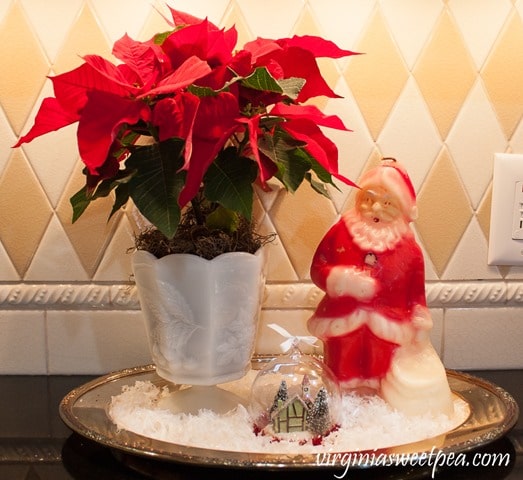 After I made this vignette, I realized that this Santa has kind of an evil glow to his eyes. Can you see it? My mom and I laughed about it the night that he was purchased.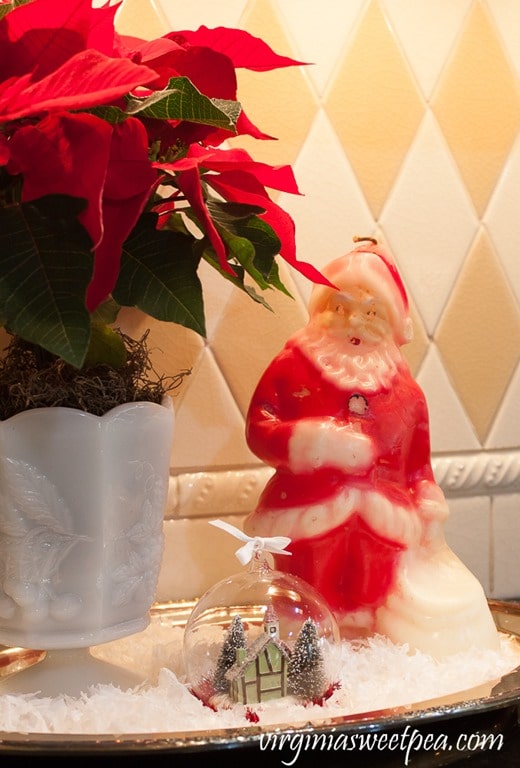 Vintage Punch Bowls and Santa Boots
Last year I wrote about my vintage Santa boot and punch bowl collection. Click over to this post to see more pictures of these collections.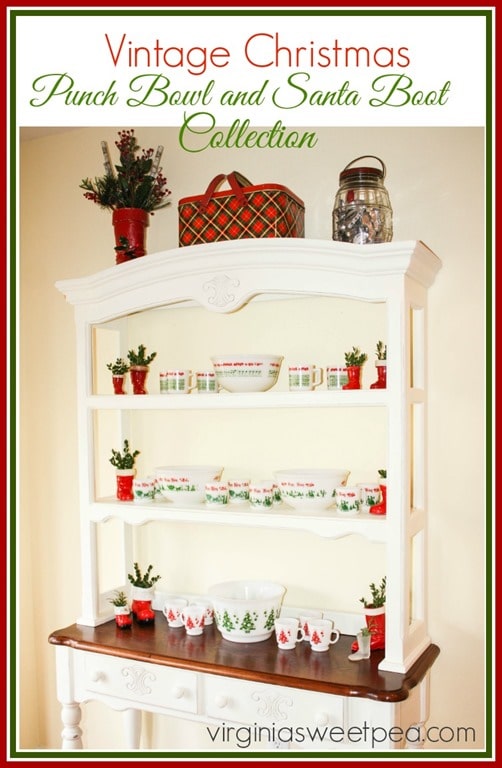 Thanks for visiting my Christmas kitchen! If you liked this post, I hope that you will pin it for others to discover.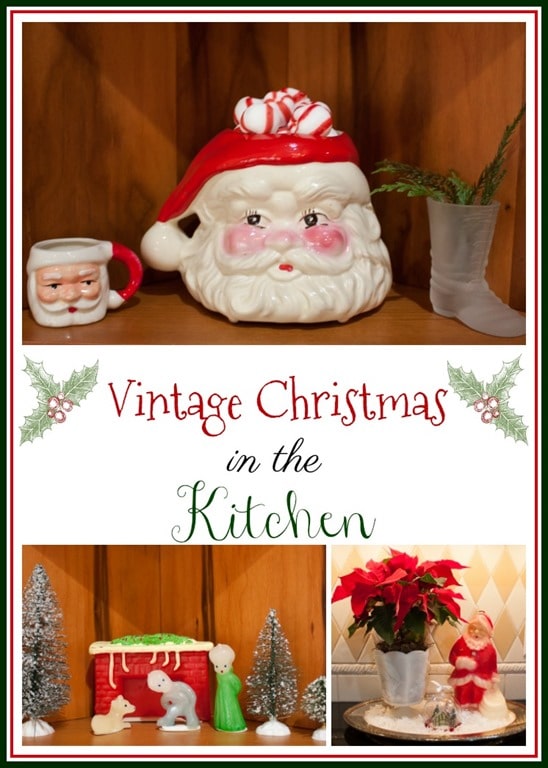 More Christmas Posts
You may also be interested in my other Christmas post for Christmas 2017.
Christmas in the Formal Living Room
DIY Wood Lanterns for Christmas
DIY Outdoor Christmas Planters
Sparkling Snowflake Christmas Ornament
31 Handmade Christmas Ornament Ideas
I hope to be back later this week to share a Christmas Tour of Homes in Bedford, VA hosted by the Bedford Council of Garden Clubs. It was a great tour and I know you'll enjoy seeing the five home that I toured decked out for Christmas.