This post and photos may contain Amazon or other affiliate links. As an Amazon Associate I earn from qualifying purchases. If you purchase something through any link, I may receive a small commission at no extra charge to you. All opinions are my own.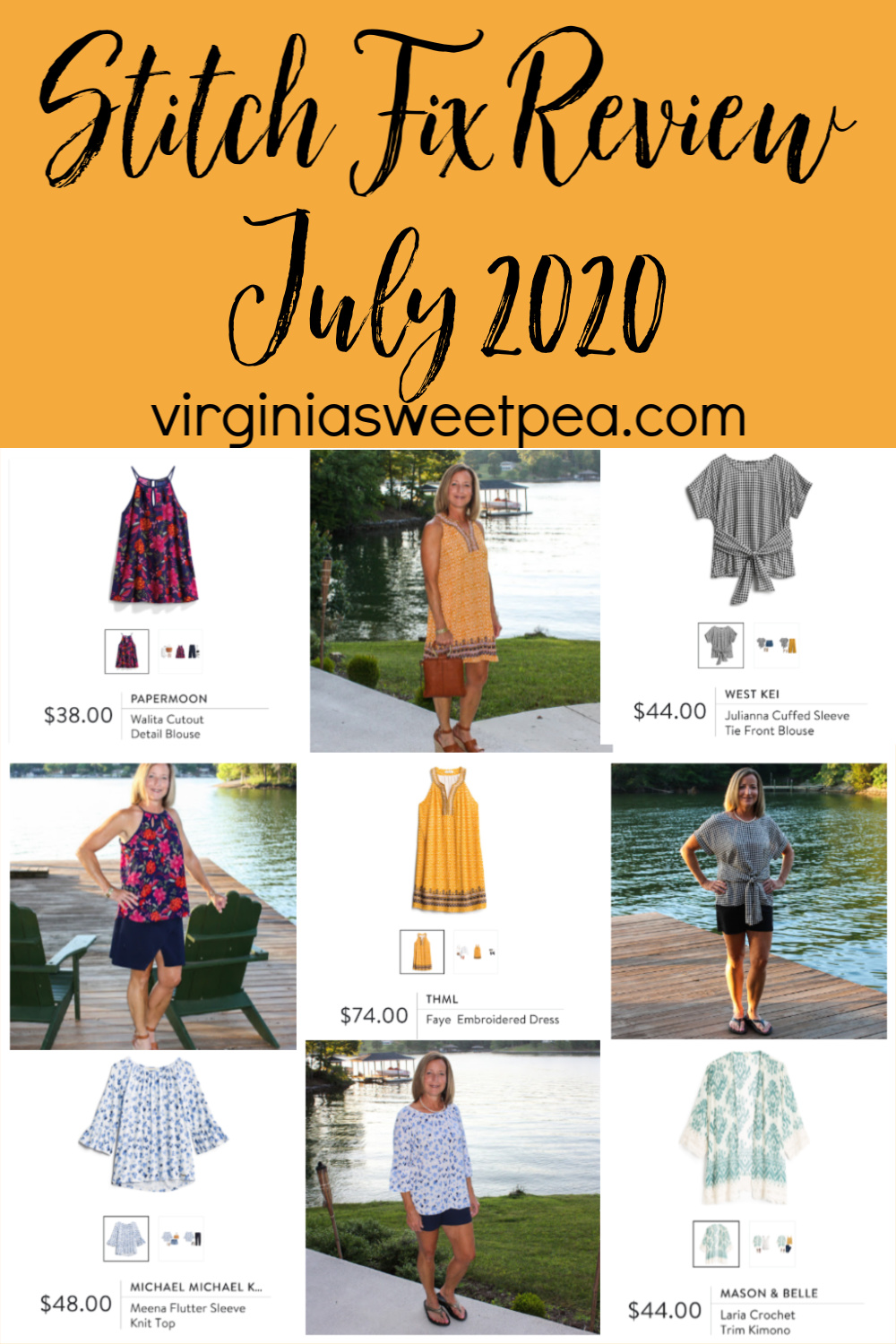 Hello, July! Every month of the year has good things but July's things are at the top of my list. I love July lake days, going places without the need for a jacket or sweater, and summer hikes in the woods. A new month brings a new Stitch Fix review.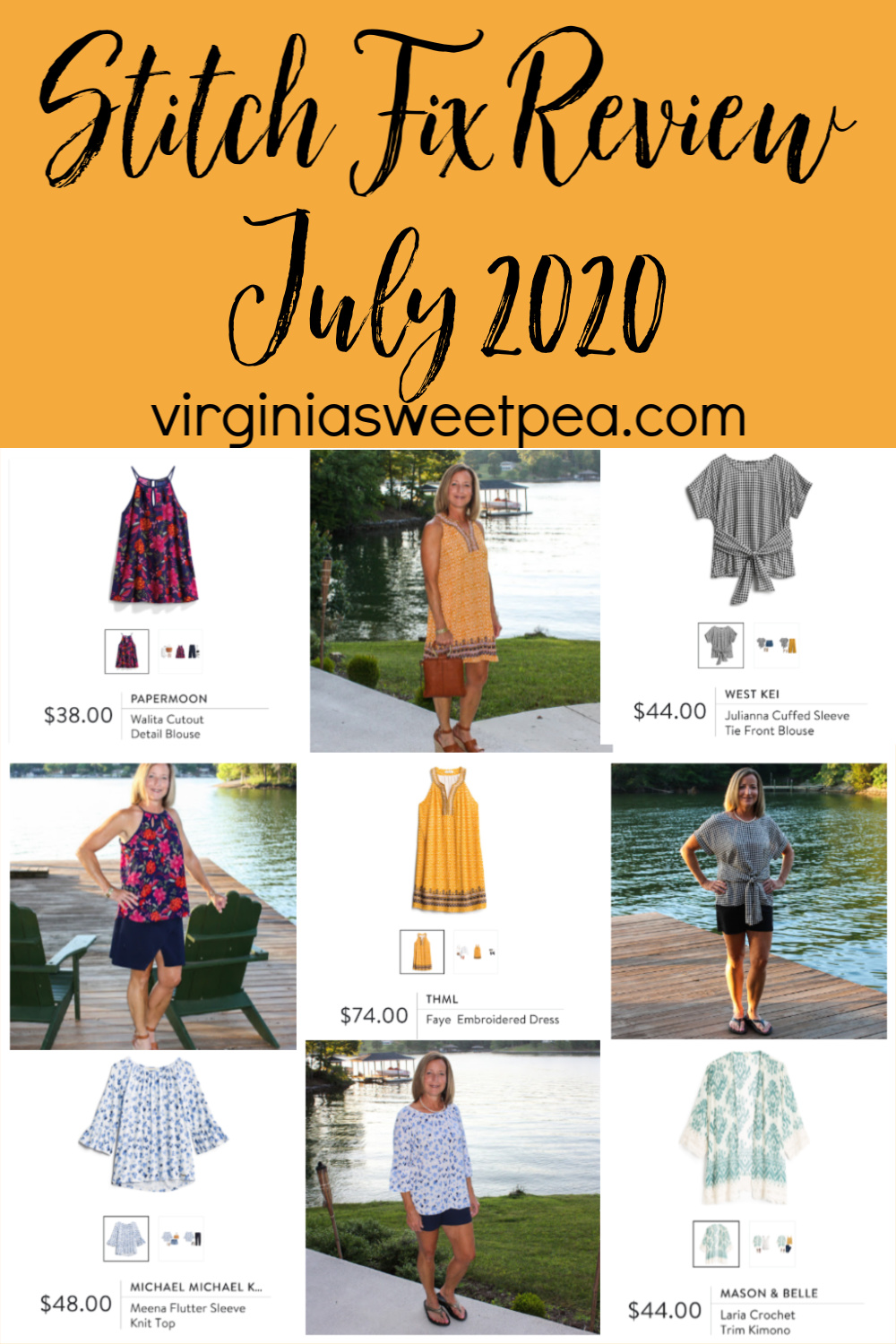 Stitch Fix Review for July 2020
If you are new to Stitch Fix, these details will help you to understand the service. If you want to try Stitch Fix, sign up here to get $25 off your first box.
Or use this code to get FREE STYLING for three months!
Stitch Fix Details
Stitch Fix is a personal styling service. When you sign up for Stitch Fix, you fill out a detailed style profile that helps your stylist know your likes and dislikes.
When a Fix arrives, you have three days to try the clothes on and to decide what to keep and what to send back. Stitch Fix includes a postage-paid envelope making returns super easy.
When you sign up for Stitch Fix, you can choose how often a box is delivered. You can pick monthly options or schedule a box when you'd like to receive one. I do not like shopping and love receiving clothing from Stitch Fix. I get clothes that I like without having to do any work other than pinning things that I like to my fashion board on Pinterest. My stylist checks my Pinterest board for inspiration and also reads my note to her each month to see if I have any special requests.
You can find links to all of my Fixes here and also be sure to check out my Stitch Fix Review Board on Pinterest where I pin my favorite looks.
If you love DIY, home decor, crafts, and recipes, you'll want to subscribe to Sweet Pea so that you never miss a post. It's free and the best way to follow along with my blog. You'll also get access to my members-only free printable library.
This Month's Stitch Fix Items
A recent trip to Old Navy was a complete success for me and I was able to find several pairs of shorts that fit me perfectly and were affordably priced.
I shared those pieces along with tops from my latest Fashom box in my Affordable Summer Fashion post.
Since I was all set on summer shorts, I asked my wonderful stylist, Brittany H., to send summer tops and a dress.
Like always, Brittany did a great job of selecting items for me to try.
THML Faye Embroidered Dress
I love Stitch Fix dresses and when I was teaching, I wore one to school nearly every day.
This THML Faye Embroidered Dress is perfect to wear during summer.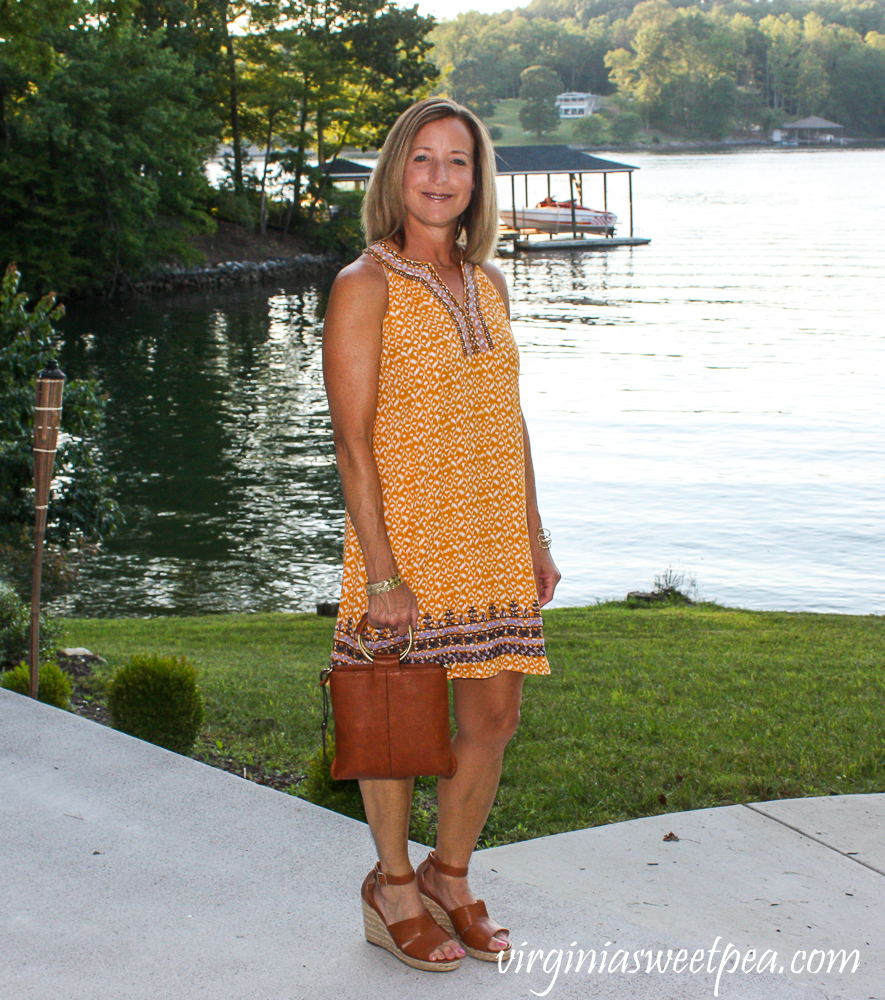 I paired the dress with wedges and a handbag from a previous Fix.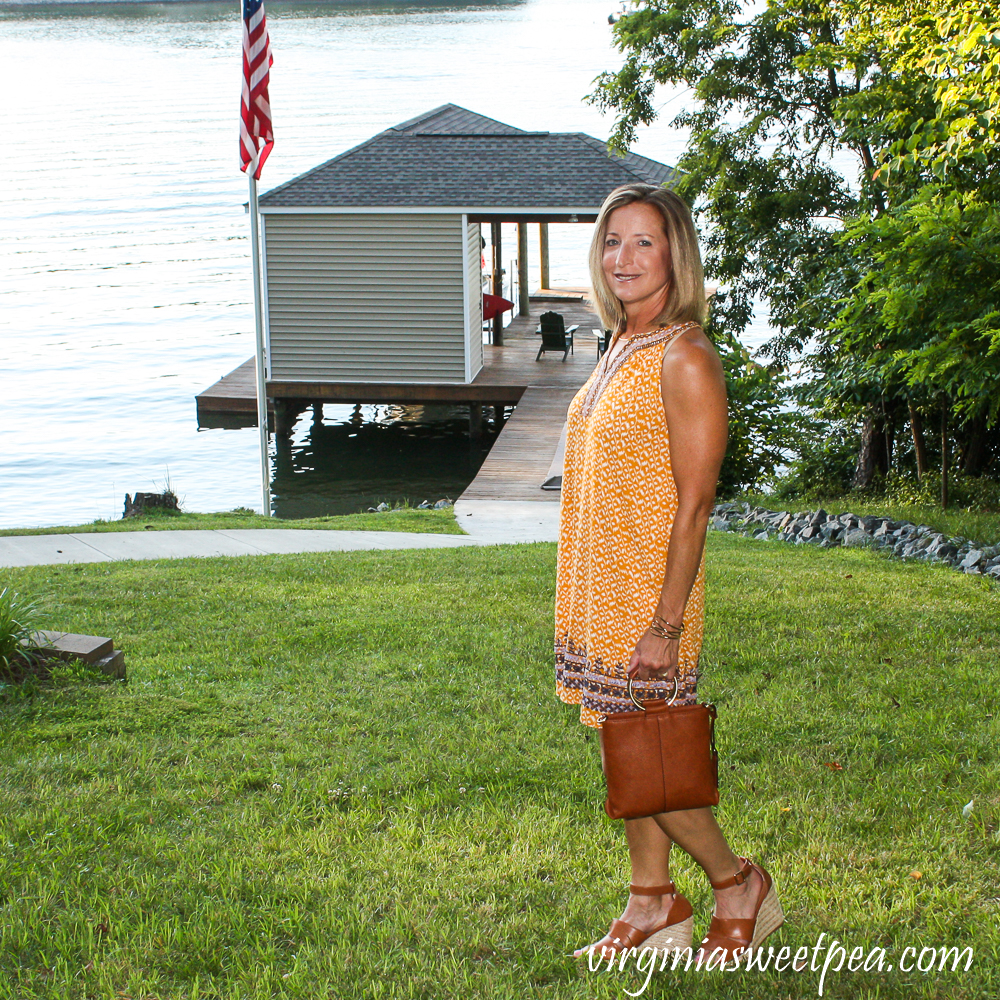 My bracelets and necklace are from Rocksbox.
Rocksbox is a jewelry subscription service that sends three pieces of jewelry that you can wear for as long as you like each month. When you send your three pieces back, or buy what you like, a new box is sent. If you'd like a free month of Rocksbox, sign up with this code: PAULABFF54.
Sherman wasn't especially cooperative when we took these pictures but he did pose for a few pictures.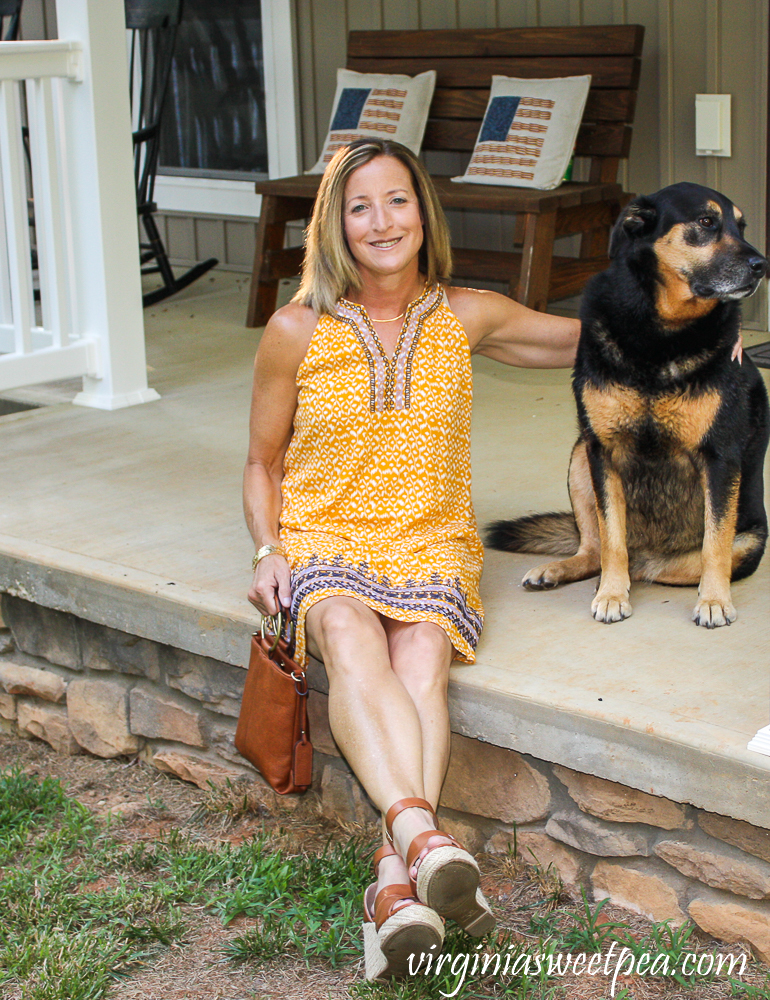 The bench that you see in the background was made using 2x4s. It's one of my most popular blog posts.
The flag pillows are also a DIY.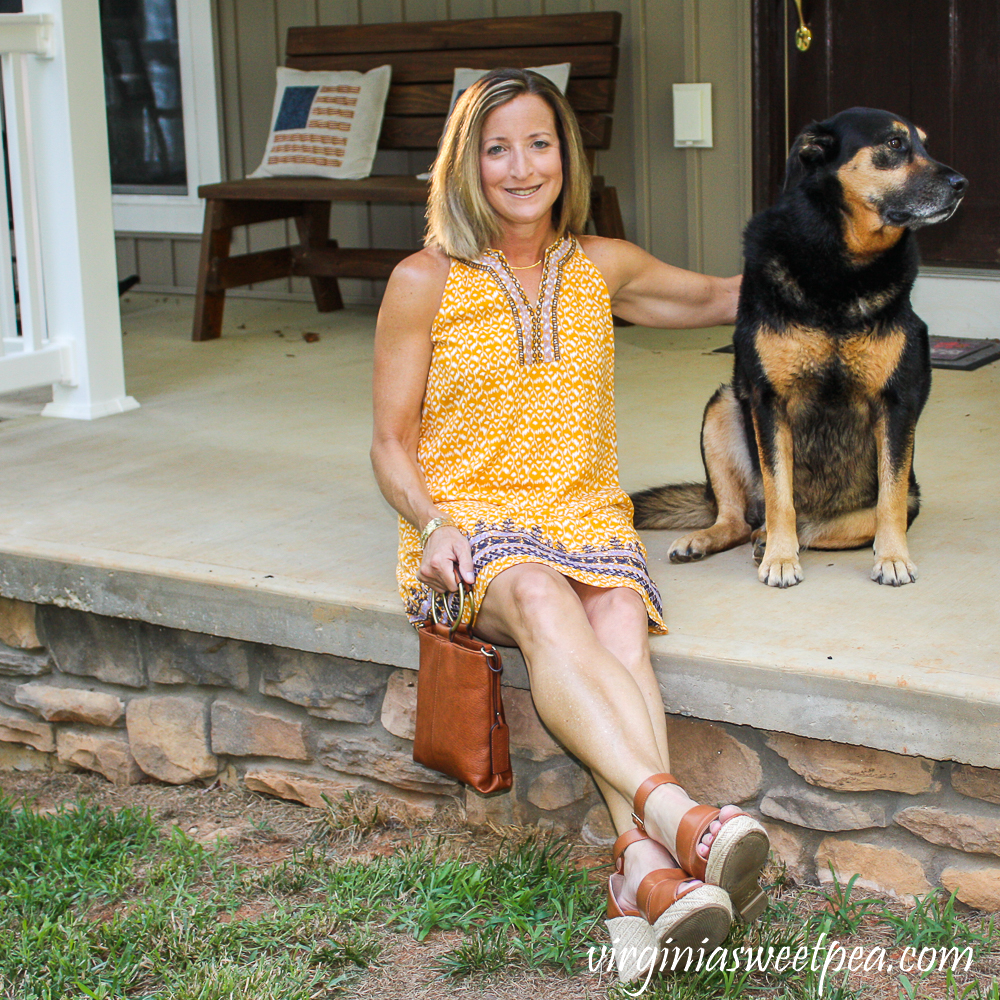 I'm still deciding if I want to keep this dress, so please let me know your opinion.
Papermoon Walita Cutout Detail Blouse
The next item I tried on was the Papermoon Walita Cutout Detail Blouse.
This blouse is exactly what I like to wear in summer. It's sleeveless, has a fun floral pattern with beautiful colors, and I love the cutouts along the neckline.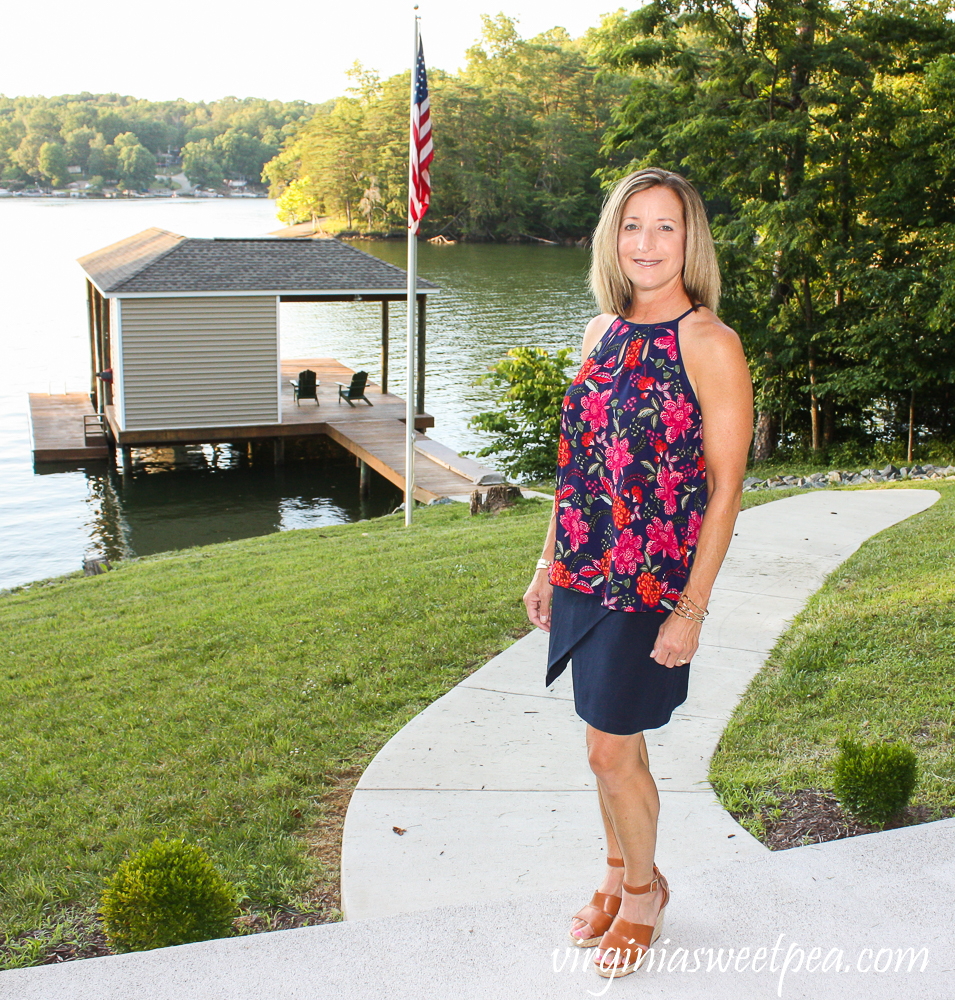 I paired this blouse with a skirt from my April 2016 box.
Would you like to hear a funny story about this skirt?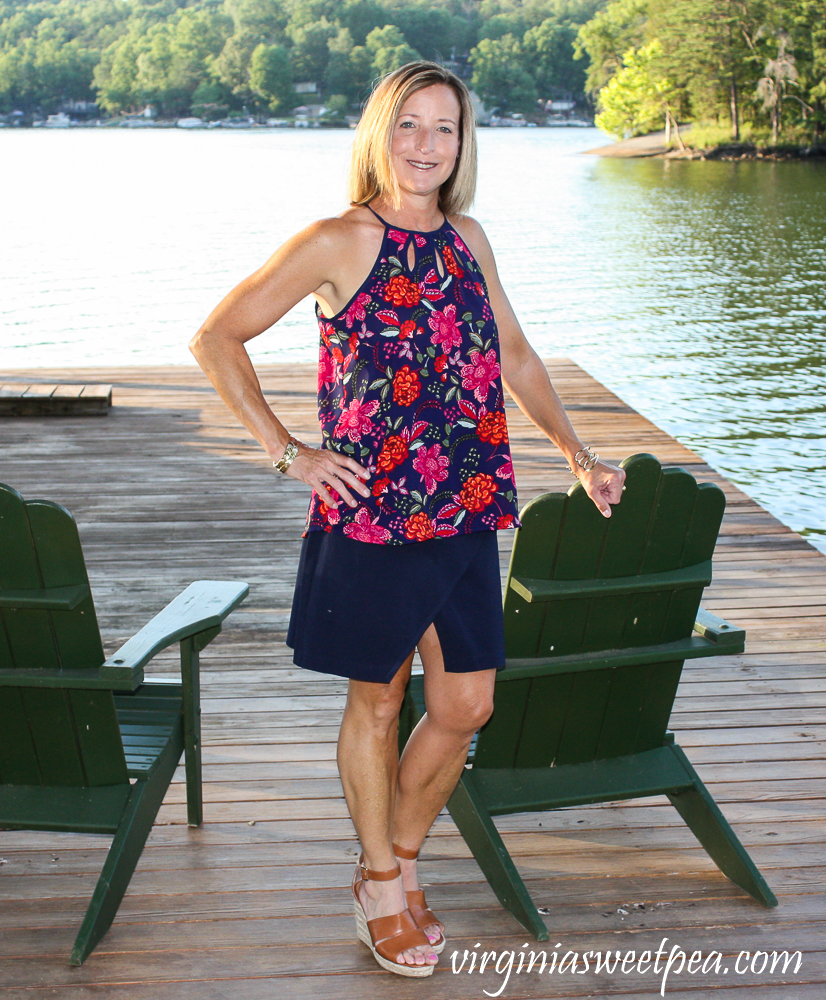 If you embarrass easily, you may want to keep scrolling.
I wore this skirt to school a few times in the spring of 2016. By 7th period, my legs were usually tired from standing all day, so I tended to sit on a bar stool that I kept by my Smartboard frequently during that class.
It also happened to be a good class and I didn't have to walk around the room as this group was very good at staying on task.
I was perched on my bar stool teaching away when a student burst into the room as somehow scared me.
I lost my balance, my legs went flying out, and a portion of the class, including the boy who burst into the room, got flashed by their teacher.
I don't remember the kids laughing but knowing me, I probably laughed like a hyena for a minute or so and then got back to the lesson.
I never wore that skirt to school after that incident.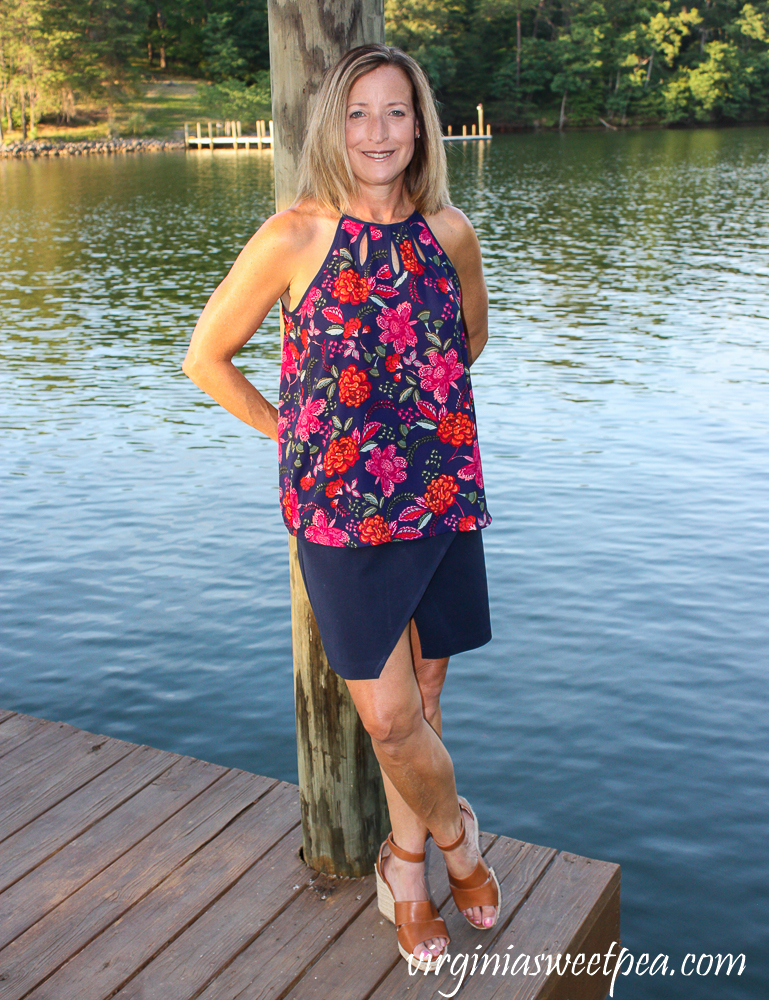 This top was a definite keeper. For summer tops like this one, I always wear this strapless bra that not only never moves, but is also super comfortable.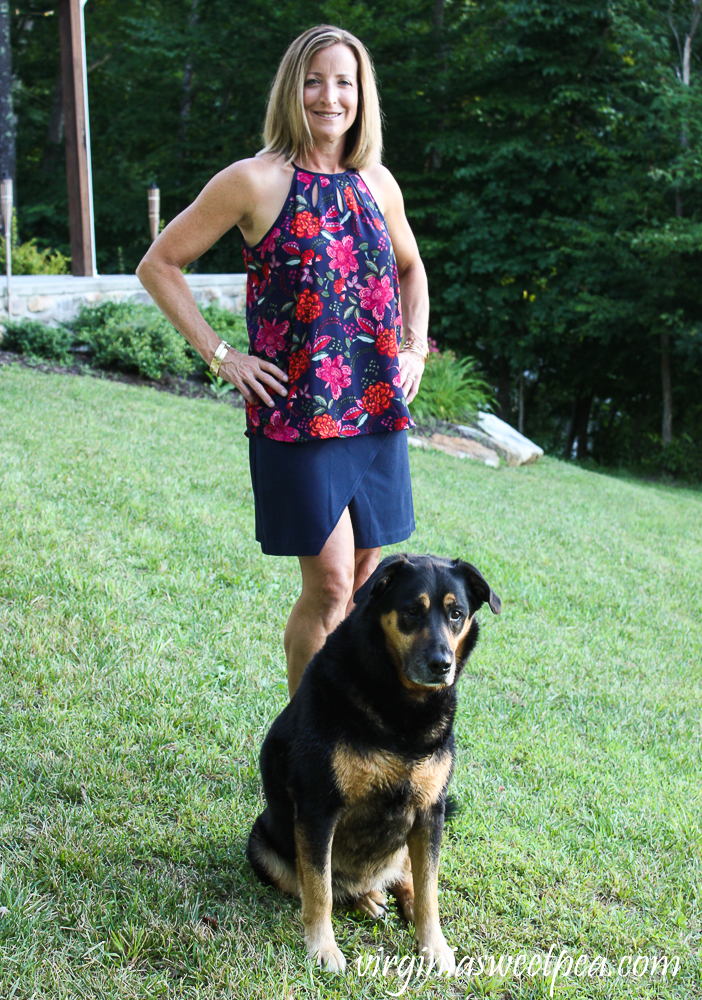 Michael Kors Meena Flutter Sleeve Knit Top
The next item to try was the Michael Kors Meena Flutter Sleeve Knit Top.
This top is butter soft and I loved its cut and pattern.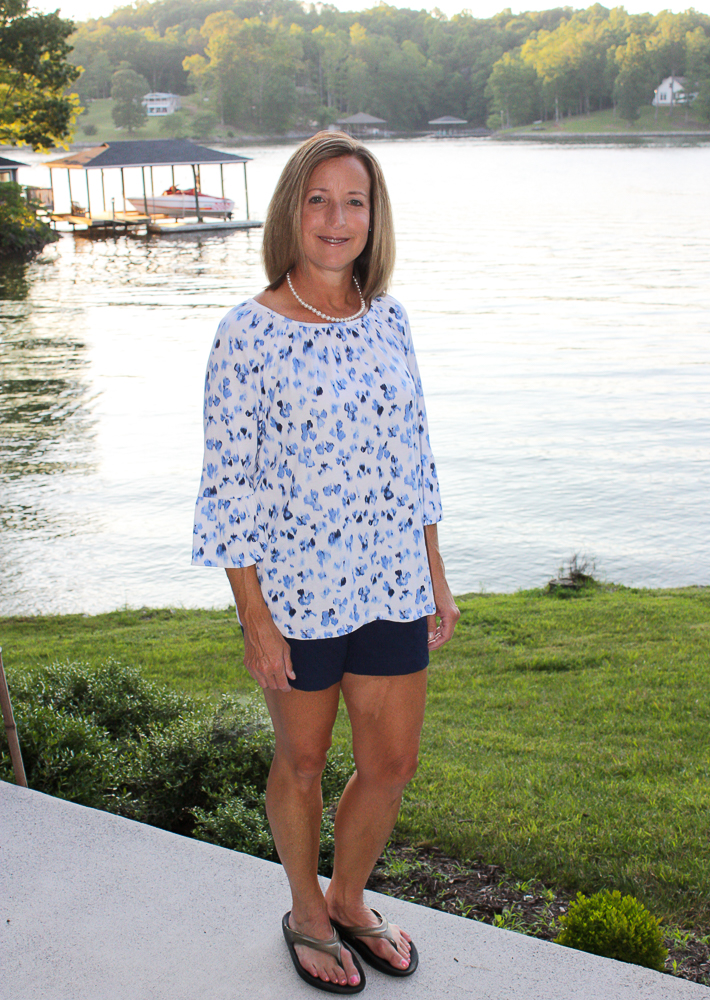 I paired the top with these Old Navy shorts.
For the rest of this post, you'll notice that I'm wearing either a black or latte pair of OOFOS flip-flops. These are the most comfortable things I have every owned. Do yourself a favor and order a pair!
I really liked this top, but it is hot in Virginia until October, so since I wouldn't wear the top in the immediate future, it was returned.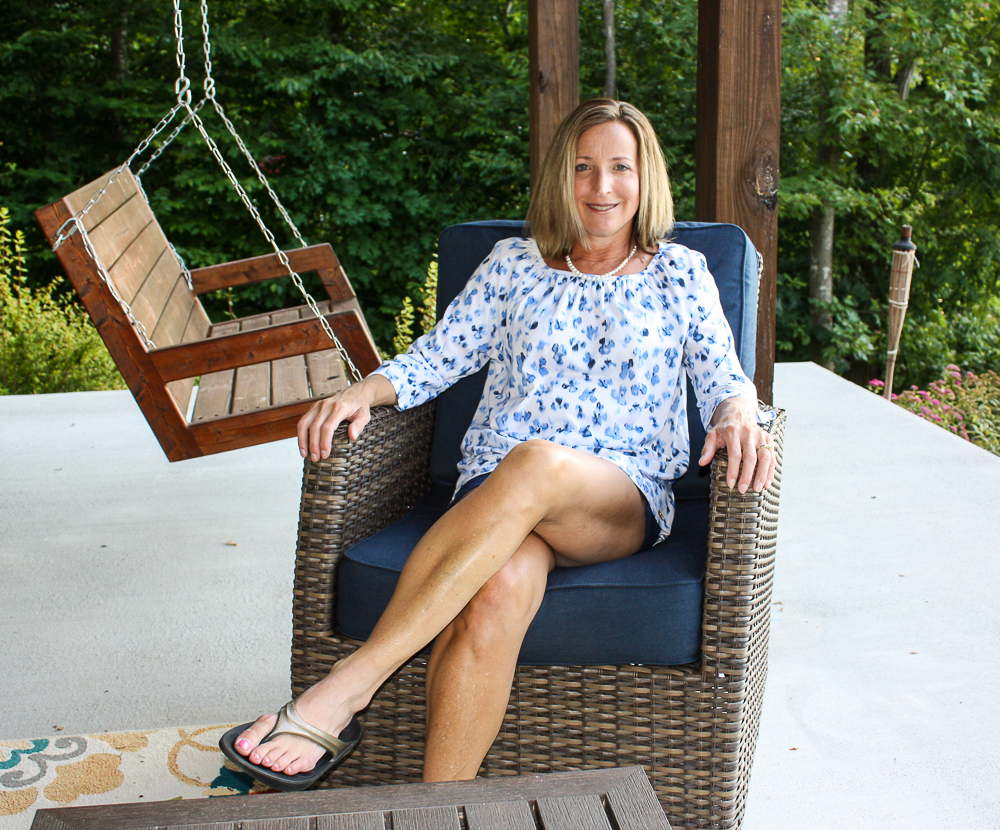 You can see how we made the 2×4 swing behind me in this post.
West Kei Julianna Cuffed Sleeve Tie Front Blouse
The next item that I tried was the West Kei Julianna Cuffed Sleeve Tie Front Blouse.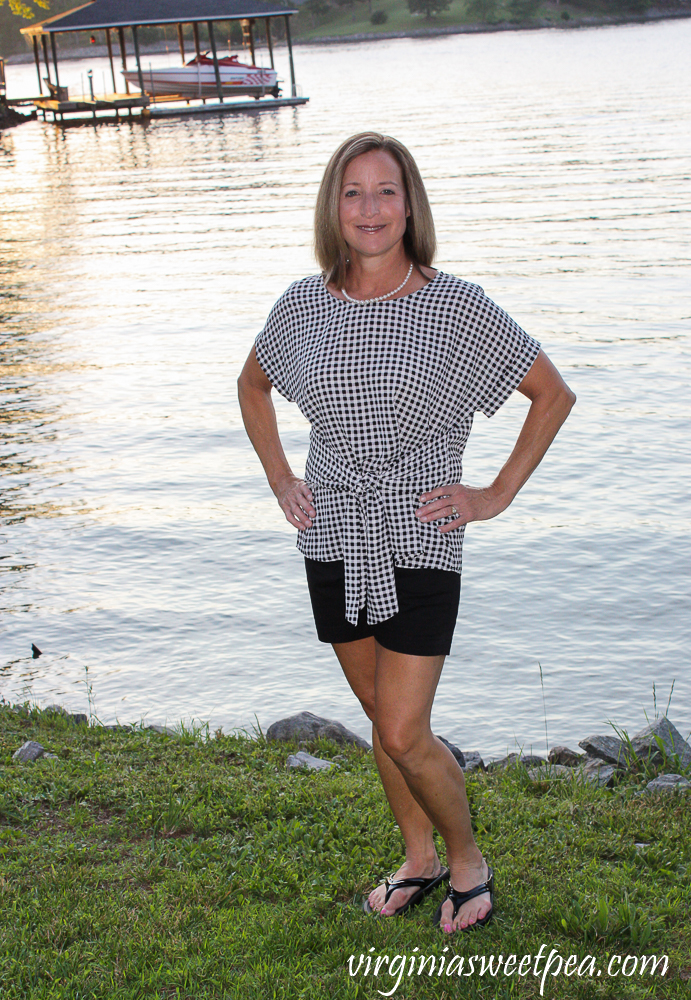 I paired this blouse with shorts from Old Navy and black OOFOS.
I loved this blouse's style but it was too big for me and I received a very similar West Kei tie front blouse in my April 2019 box.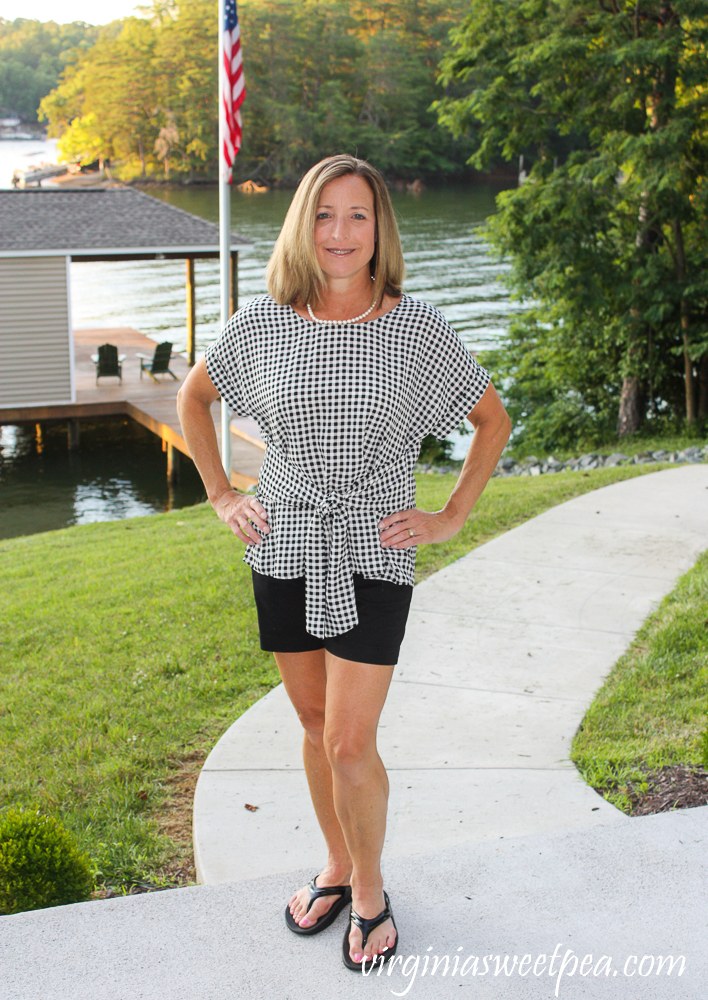 Since I already own a very similar blouse and this one was too big, it was returned.
Mason & Belle Laria Crochet Trim Kimono
The last item to try was the Mason & Belle Laria Crochet Trim Kimono.
I paired the kimono with a tee from my April Fix and black capris from Old Navy. (These similar capris are on sale now.)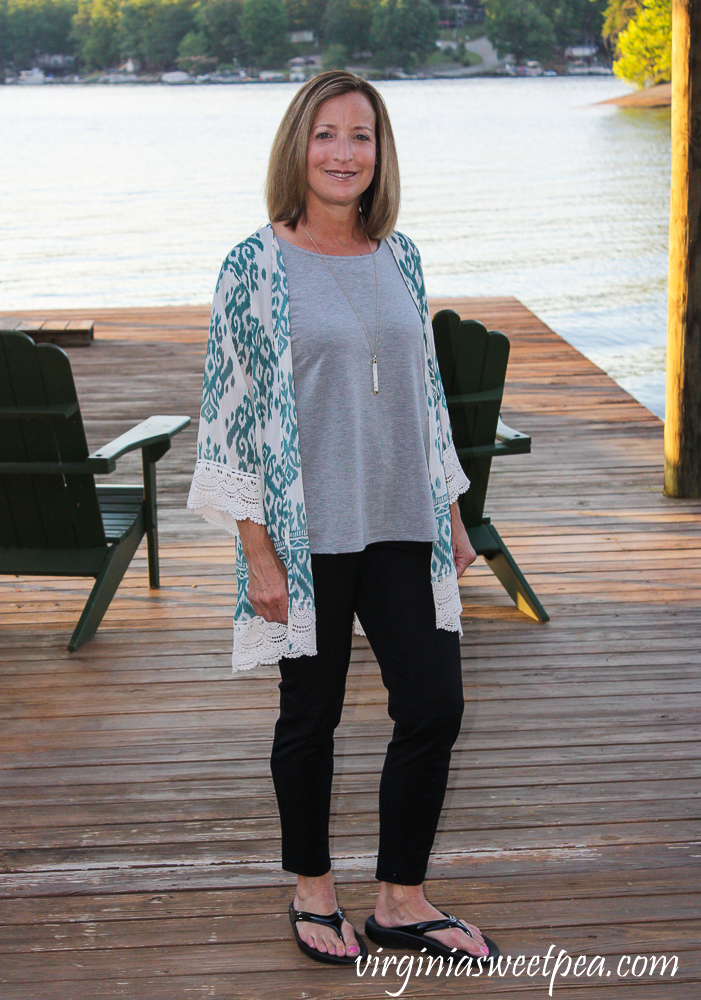 I later realized that the kimono would make a great swimsuit cover up, so the next day we snapped these pictures after we went for a boat ride.
My swimsuit is on sale right now.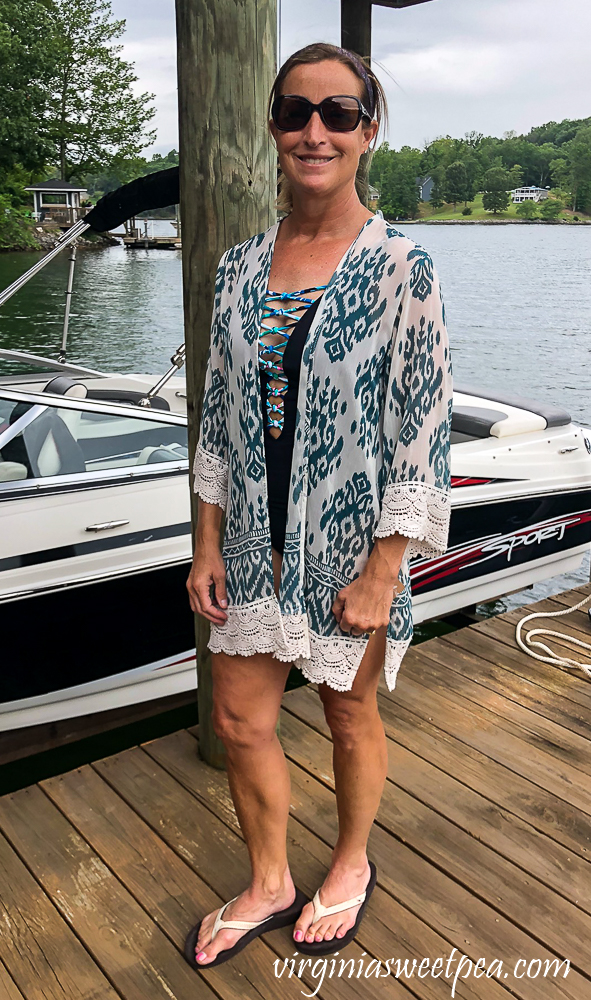 I didn't need another swimsuit cover up and a kimono isn't something that I would ever wear, so this was returned.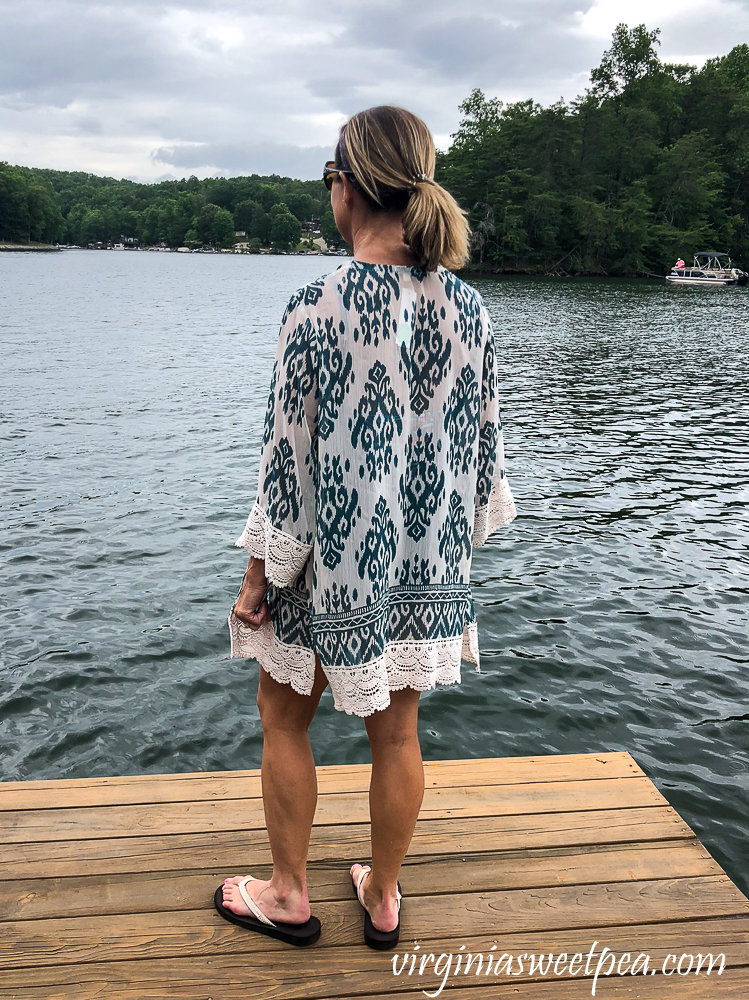 As always, it was super fun to receive my Stitch Fix box.
In Summary
THML Faye Embroidered Dress – $74 – Still deciding
Papermoon Walita Cutout Detail Blouse – $38 – Keep
Michael Kors Meena Flutter Sleeve Knit Top – $48 – Returned
West Kei Julianna Cuffed Sleeve Tie Front Blouse – $44 – Returned
Mason and Belle Laria Crochet Trim Kimono – $44 – Returned
Why not try Stitch Fix for free?
I love receiving each Stitch Fix box and really enjoy getting cute clothes without having to shop for them.
If you've been thinking about trying Stitch Fix, I encourage you to do so. If you sign up using my referral link, you'll get $25 off your first box.
That means that your styling fee will be taken care of and you'll have $5 credit toward anything that you want to keep. If you don't like your items, you've lost no money.
Why not try Stitch Fix risk-free?