Christmas in the Family Room
Christmas is getting closer and closer! Our family room is where we spend every evening relaxing. Our tree is in this room and I love having this space decorated for Christmas. Come on in and let me show you around!
The wall over the sofa used to hold a large vintage map. This summer I traded it out for a pre-WWII framed poster and then this fall I had a fall scene hanging there. I didn't know what I wanted to hang there for Christmas and then I spotted this pretty frame in my basement that my mom picked up at the dumpster. I put it over the sofa and added a wreath that I made using Boxwood from our yard. I'm loving how it looks!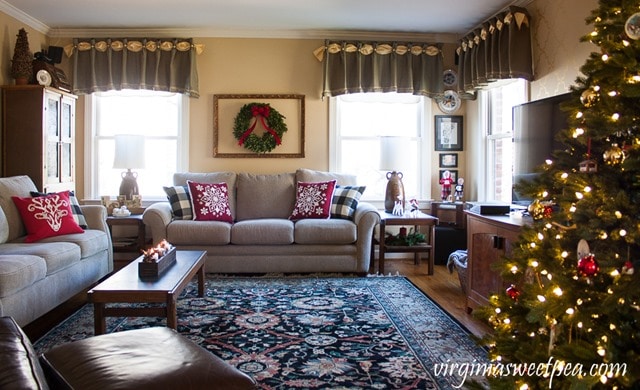 Affiliate links are used in this post.
The snowflake pillows are from Lowe's. I saw them one day while shopping for building supplies and couldn't help but plop them in my cart. The black and white buffalo check pillow covers were found on Amazon. At $6 each, I couldn't resist ordering them and I love how they look with our mostly black rug. The reindeer pillows are from a local shop.
Our dog, Sherman, relaxes in the chair and ottoman at night. I have to move the blanket and pillow each evening because he won't get into the chair unless it is empty. He stares at one of us to let us know what he wants and as soon as the chair is cleared, he climbs into it and sleeps all evening.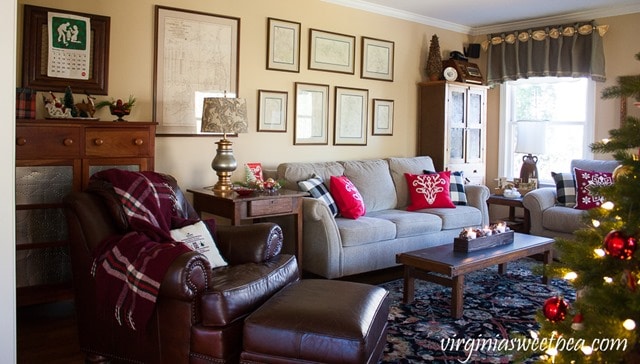 Here you can see the December page of the 1968 calendar that I've shared several times this fall. The tartan plaid box is a sewing kit that belonged to my great aunt.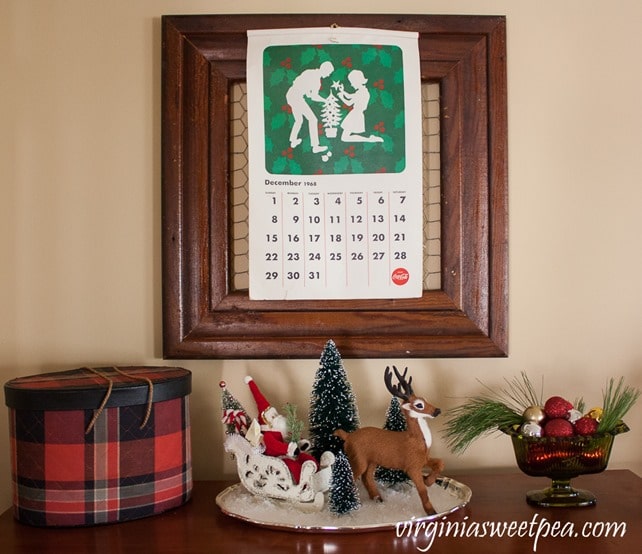 Santa in his sled was a Vermont Country Store purchase long ago. He needed a reindeer to pull him and this Byer's one does the job.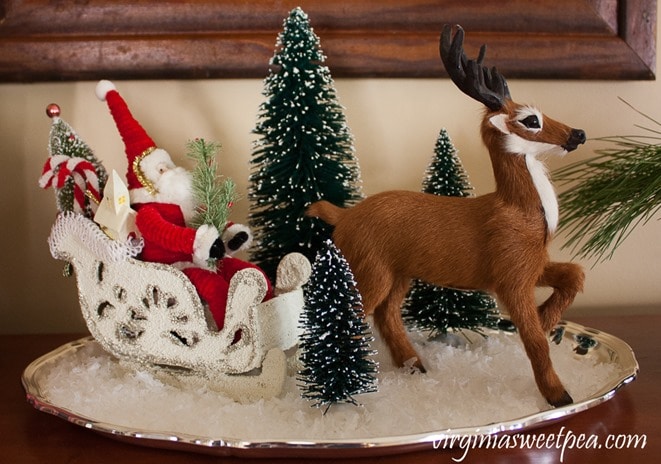 The blanket that is on Sherman's chair is vintage and belonged to my grandmother. I made the cross stitch pillow long ago when cross stitch was popular. Do you see Sherman's treats in the red bowl on the table?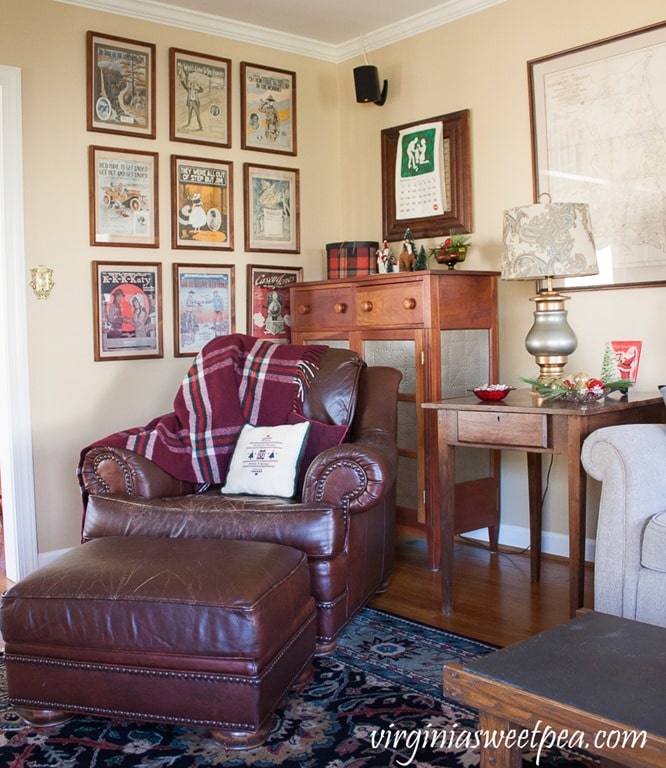 My first grade teacher gave me The Night Before Christmas book back in 1976. Vintage ornaments and greenery fill a Princess House tray.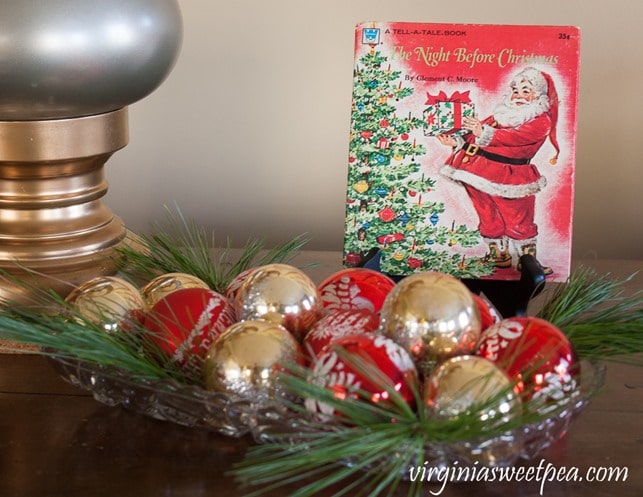 This room is on the North side of the house and is never brightly lit which makes it cozy at any time of the day.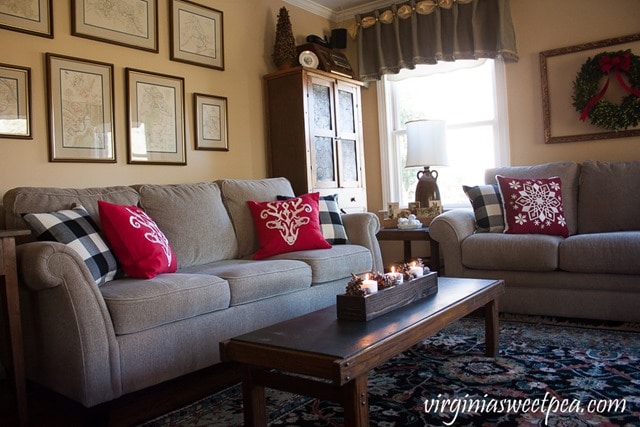 I made the wood box on the coffee table and enjoy decorating it for each season. Currently it holds candles and glittered pine cones.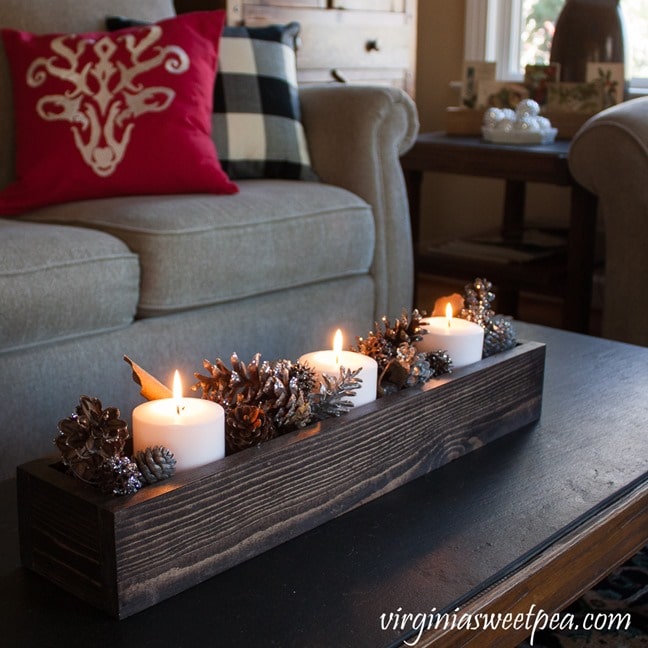 I love my vintage post card collection and have some favorites displayed using a card holder that I made last spring. A milk glass ash tray holds Christmas ornaments.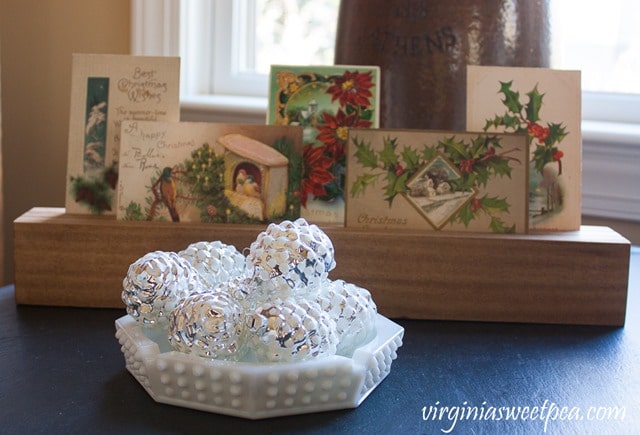 I made these sparkly reindeer a few years ago. Byer's skating carolers and a cat are in the background atop a vintage radio.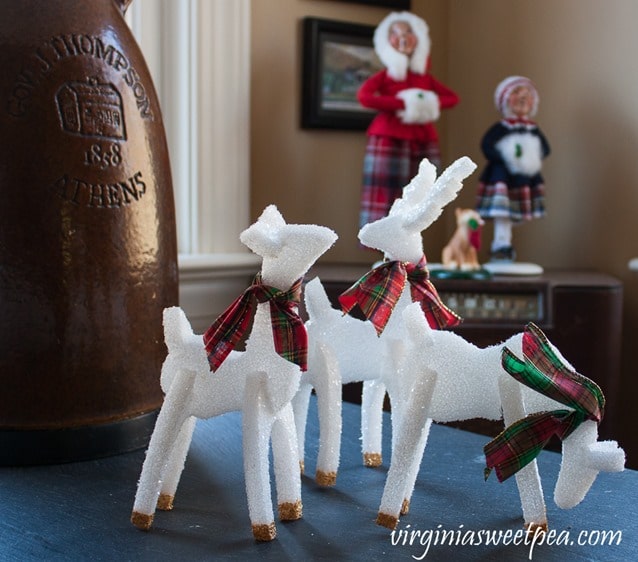 We are lucky to have a great spot for our tree beside our tv. The hutch in our breakfast room holds vintage Christmas treasures including my Santa boot and Christmas punch bowl collection. You can see more here.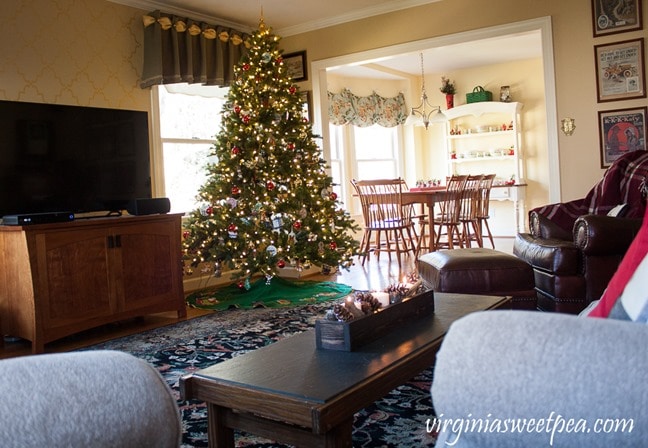 Our tree is filled with ornaments that we've collected during our 23 year marriage. Decorating the tree each year is always a trip down memory lane. My grandmother made our tree skirt in the 1970's.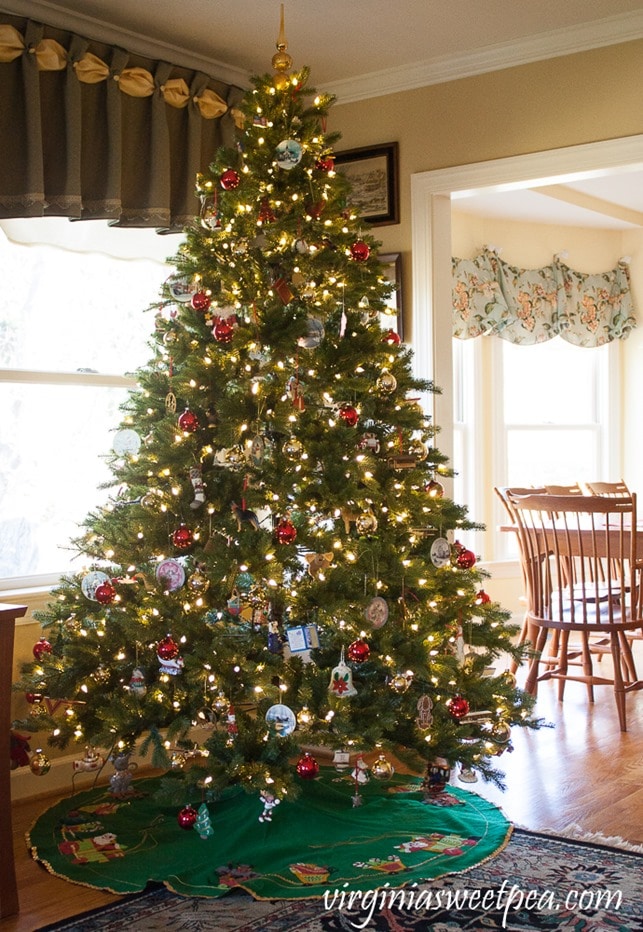 The skirt is made from felt and I can imagine that my grandmother worked many hours to make it for us.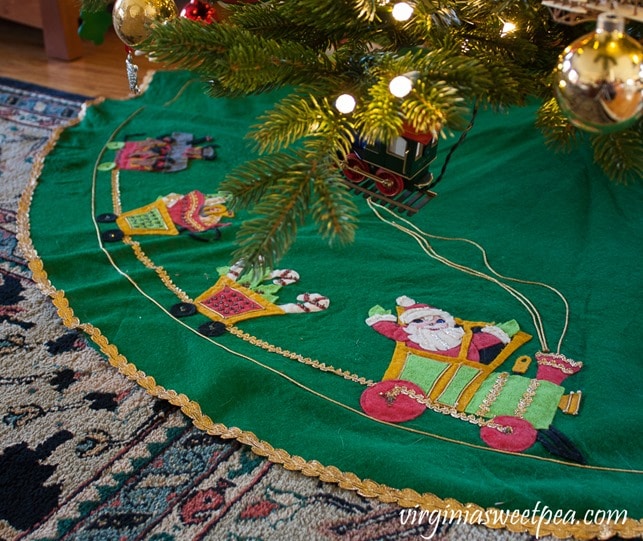 I believe that kits like this were popular in the 1970's.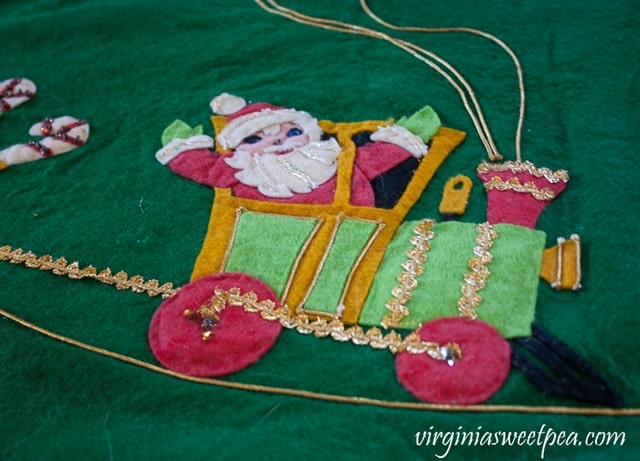 Here's another view of our tree.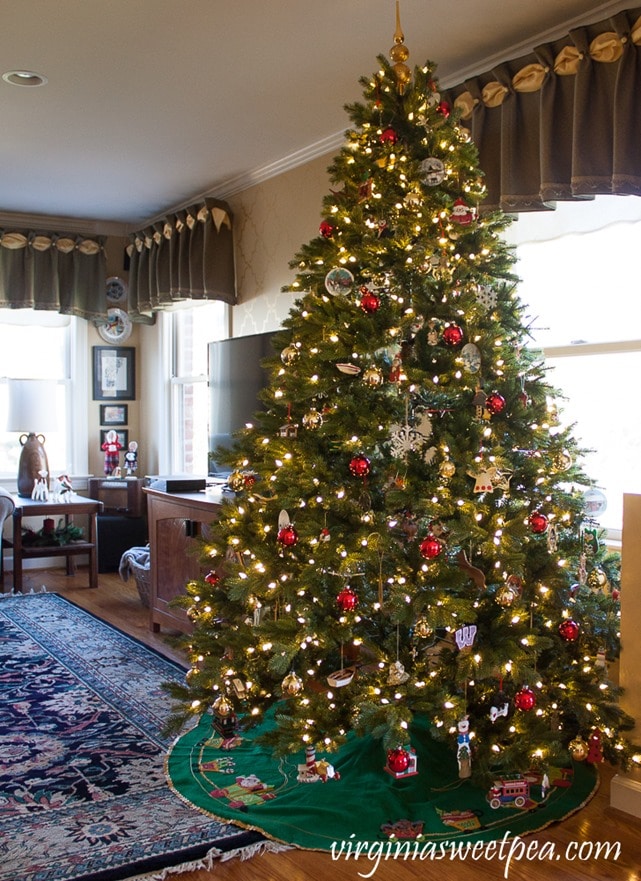 At night the tree is so pretty and as a bonus, our neighbors can see it in the window as they drive past.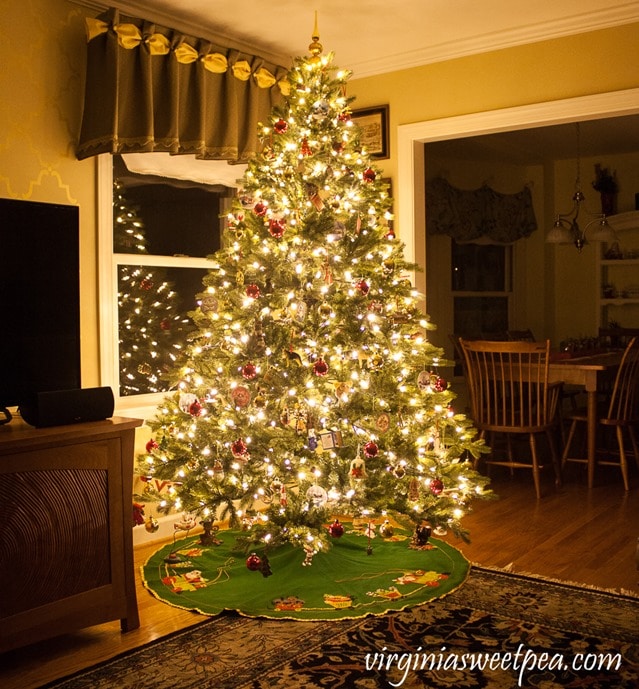 Do you want to know a secret? This is the neatest that this room has been in weeks! If you were to visit us, the floor would be covered in dog toys and surrounding our sofas you would find piles of books and magazines. It's a cozy space that we truly enjoy!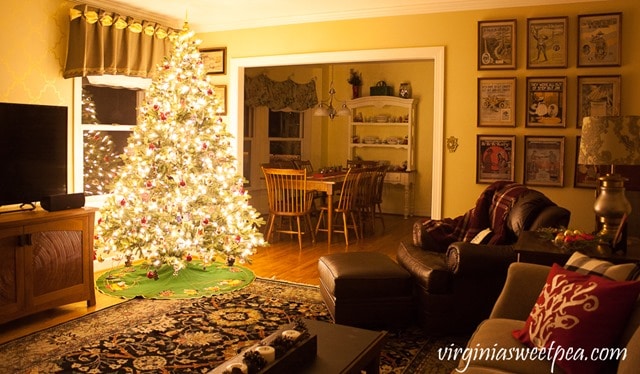 Thanks for visiting our decorated for Christmas family room. I hope you enjoyed the tour!