Vintage Christmas in the Family Room
It's been a whirlwind few week of sharing Christmas decor and I've loved every minute of it. We spend our evening in our family room and I like for it to look cozy and festive for the holidays. Today I'm sharing this room decorated for Christmas.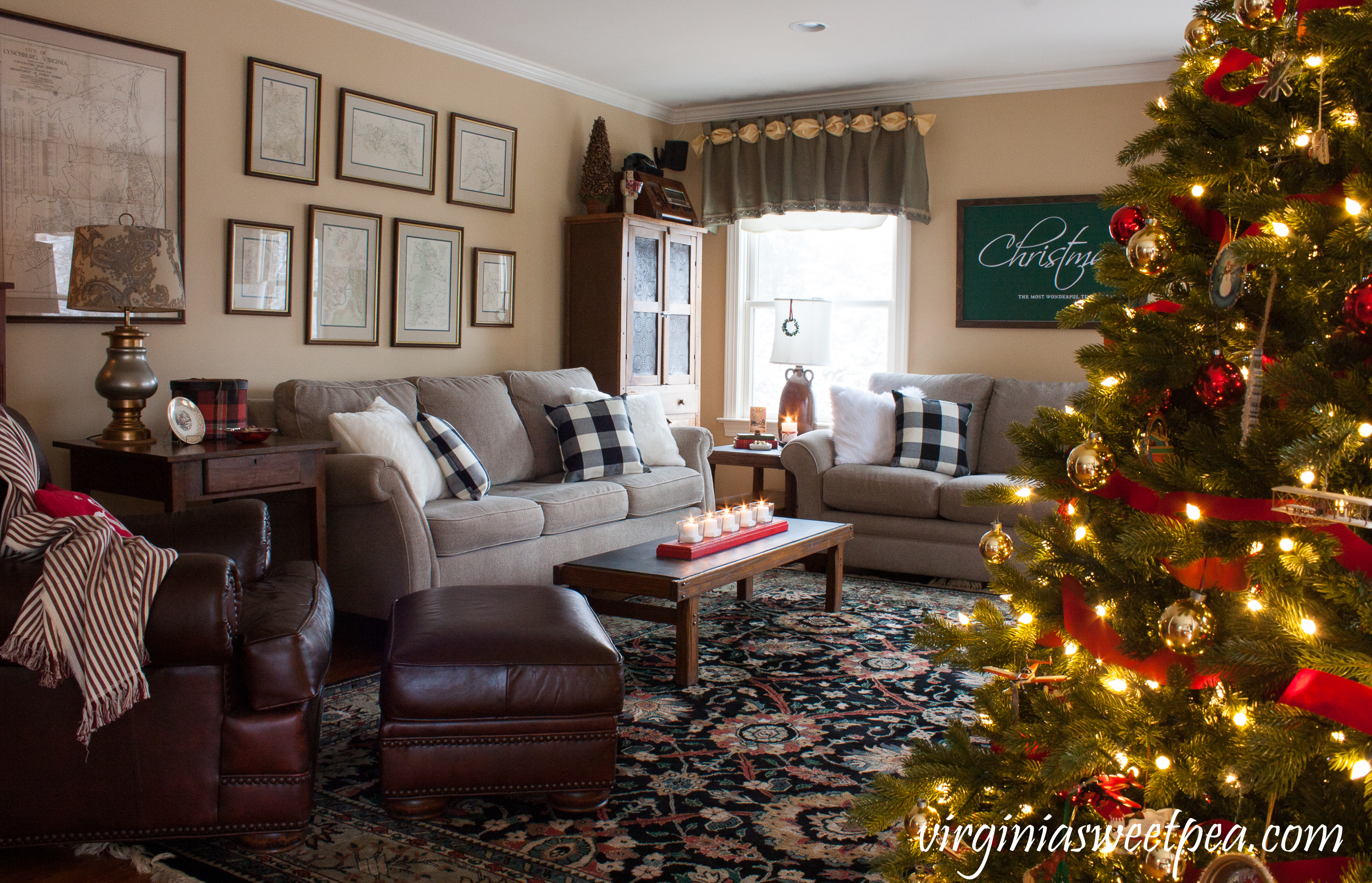 I'm sharing my family room along with a talented group of bloggers for a Farmhouse Home Christmas Tour hosted by Kelly from North Country Nest. You'll find links to all of the homes shared at the end of this post.
Vintage Christmas in the Family Room
Our family room is on the north side of our house and stays on the dark side all day. That's not a bad thing for this room because the space always has a cozy feeling, even in the middle of the day.
My husband helped me make the Christmas sign hanging over the sofa. All of the other decor in this room is vintage or items that I've enjoyed using for many years.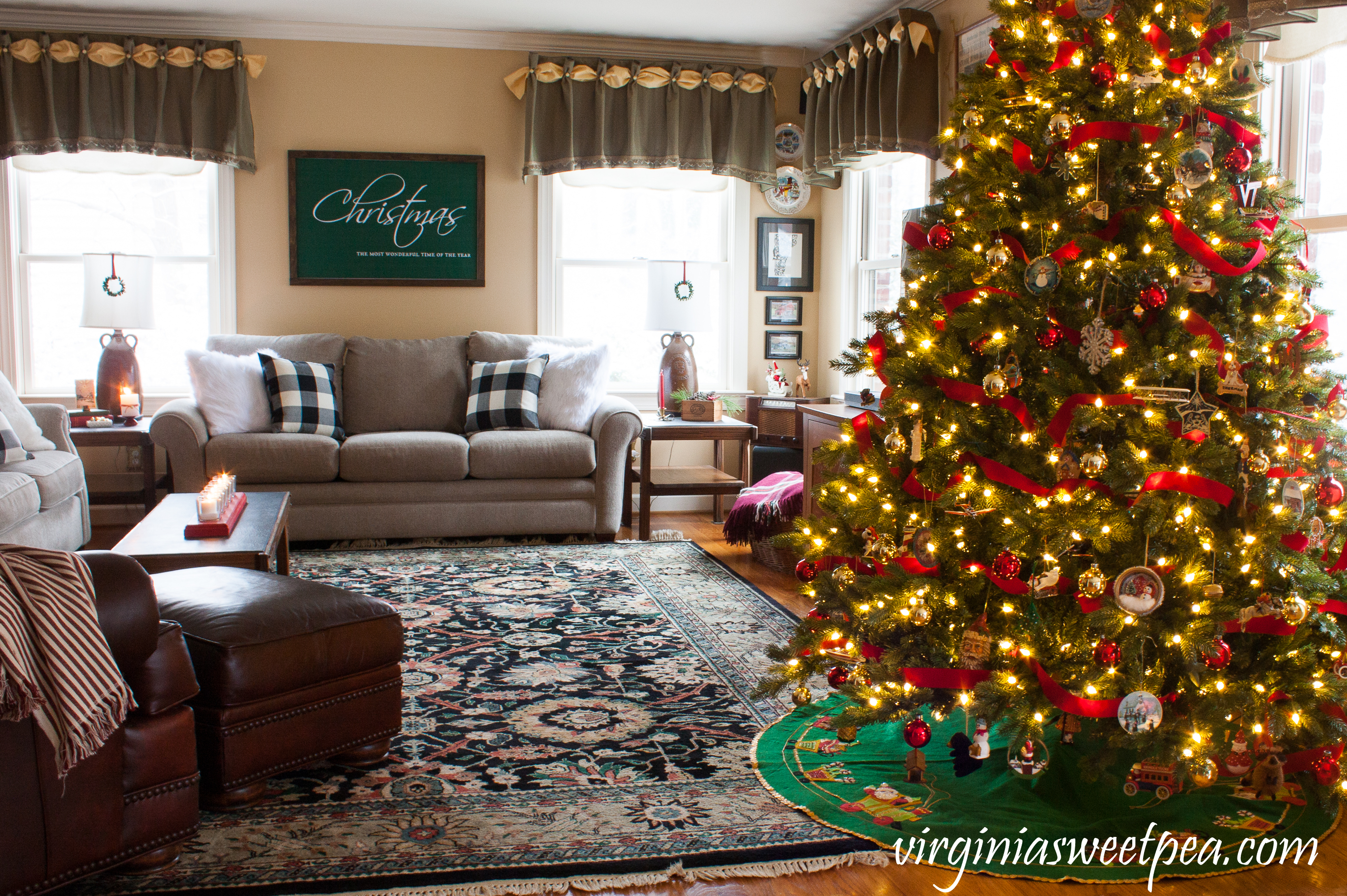 The coffee table, end tables, and lamps on the end tables were purchased by my parents in 1968 when they were married. This furniture has been used in several homes and now in mine. My parents surprised me with the pie safe one Christmas. The recessed glass votive centerpiece on the coffee table was one of my first woodworking projects.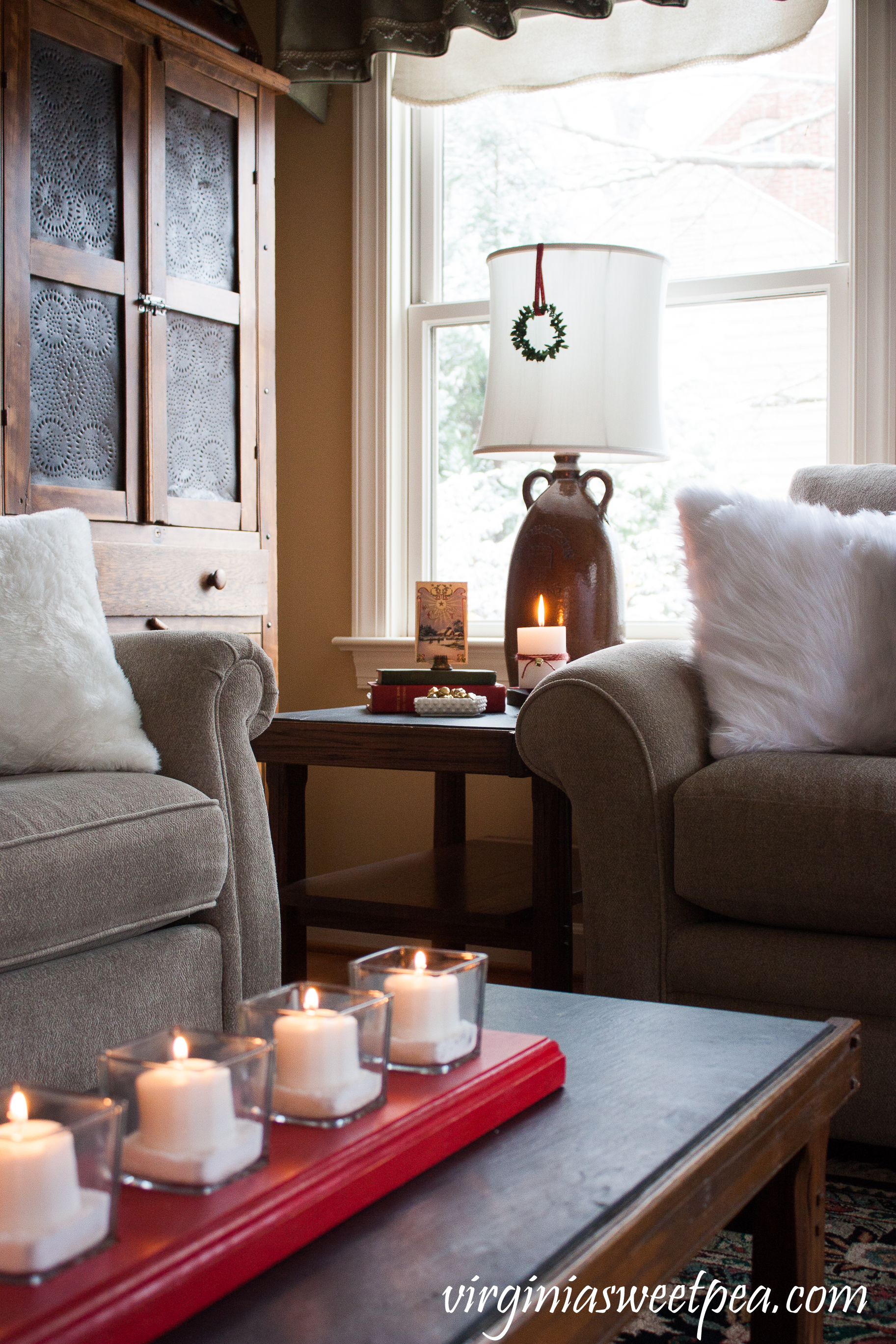 The red hymnal was my dad's and the green 1933 Rumford Complete Cookbook was my grandmother's. A milk glass ashtray holds bells.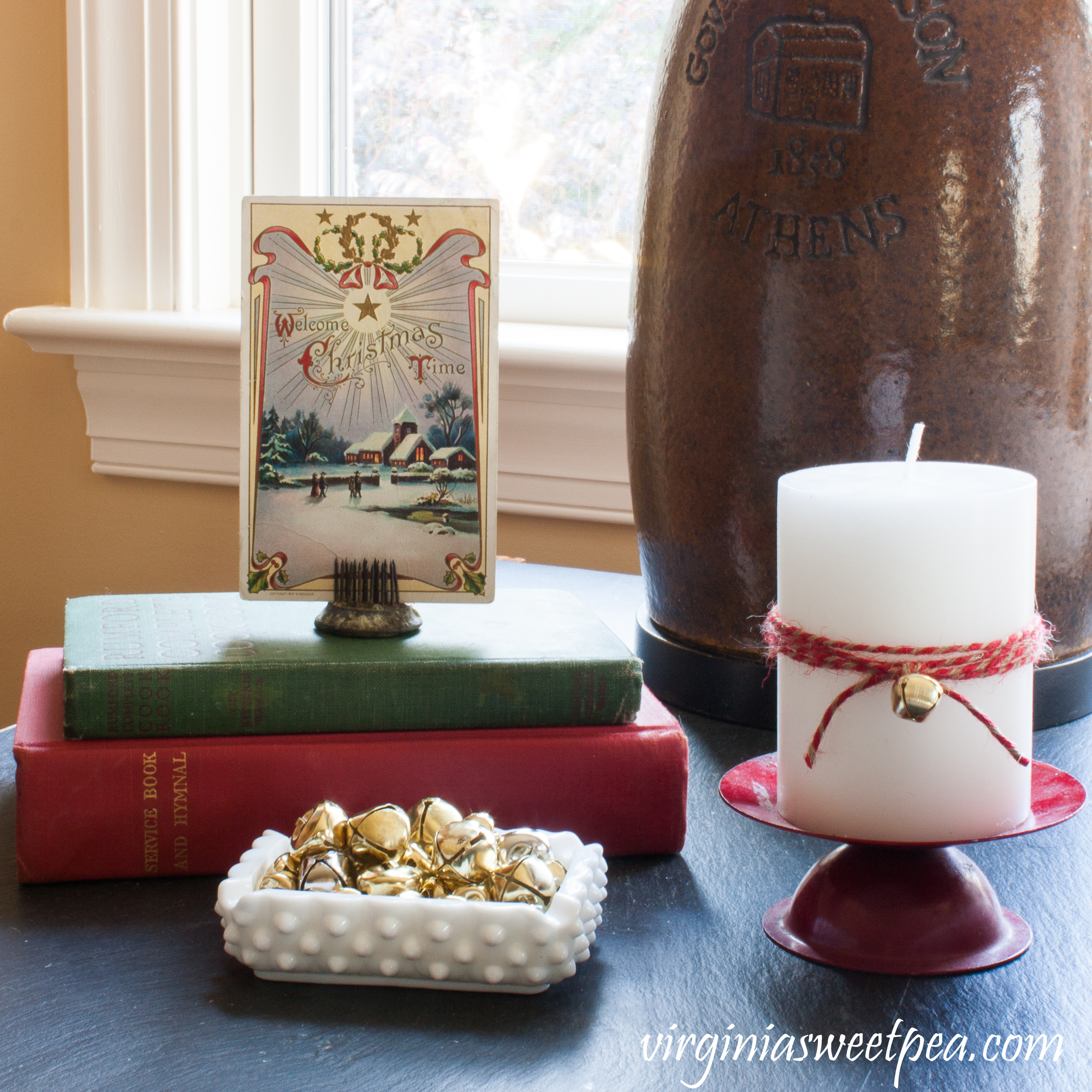 At night I recline on one sofa and my husband on the other. We've been watching a Hallmark movie every night since early November.
The framed newspapers hanging over our tv are from 1945. I found them at an estate sale this fall and couldn't resist buying them. The basket to the left of the tv console came from my grandfather's family farm in Maryland. The throw on top of the basket is a wool stadium blanket that also belonged to my grandfather.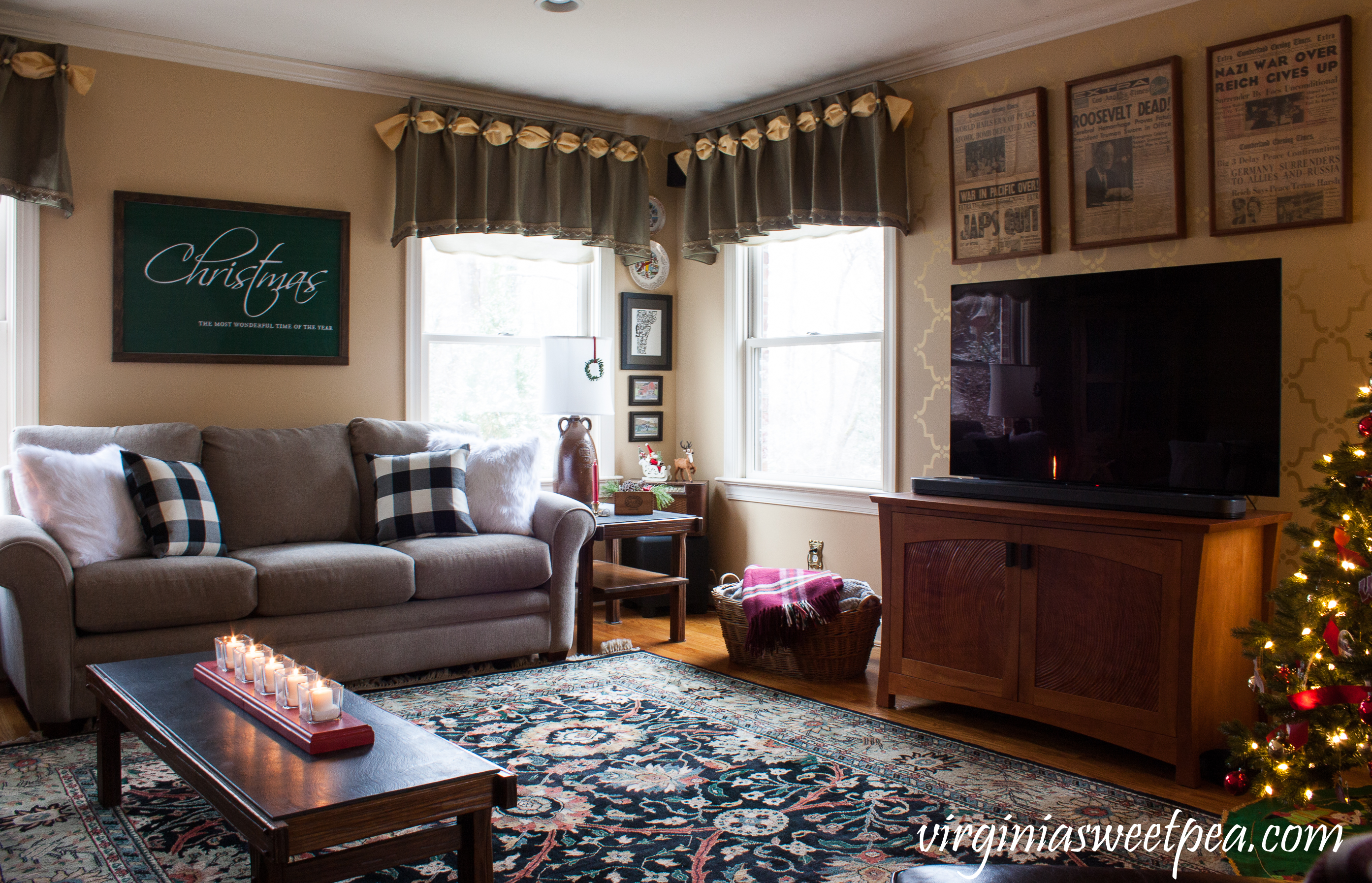 I made mini wreaths for the lamps using faux boxwood garland from Target's dollar spot. This corner of the room is my Vermont corner. We love vacationing in Vermont in any season.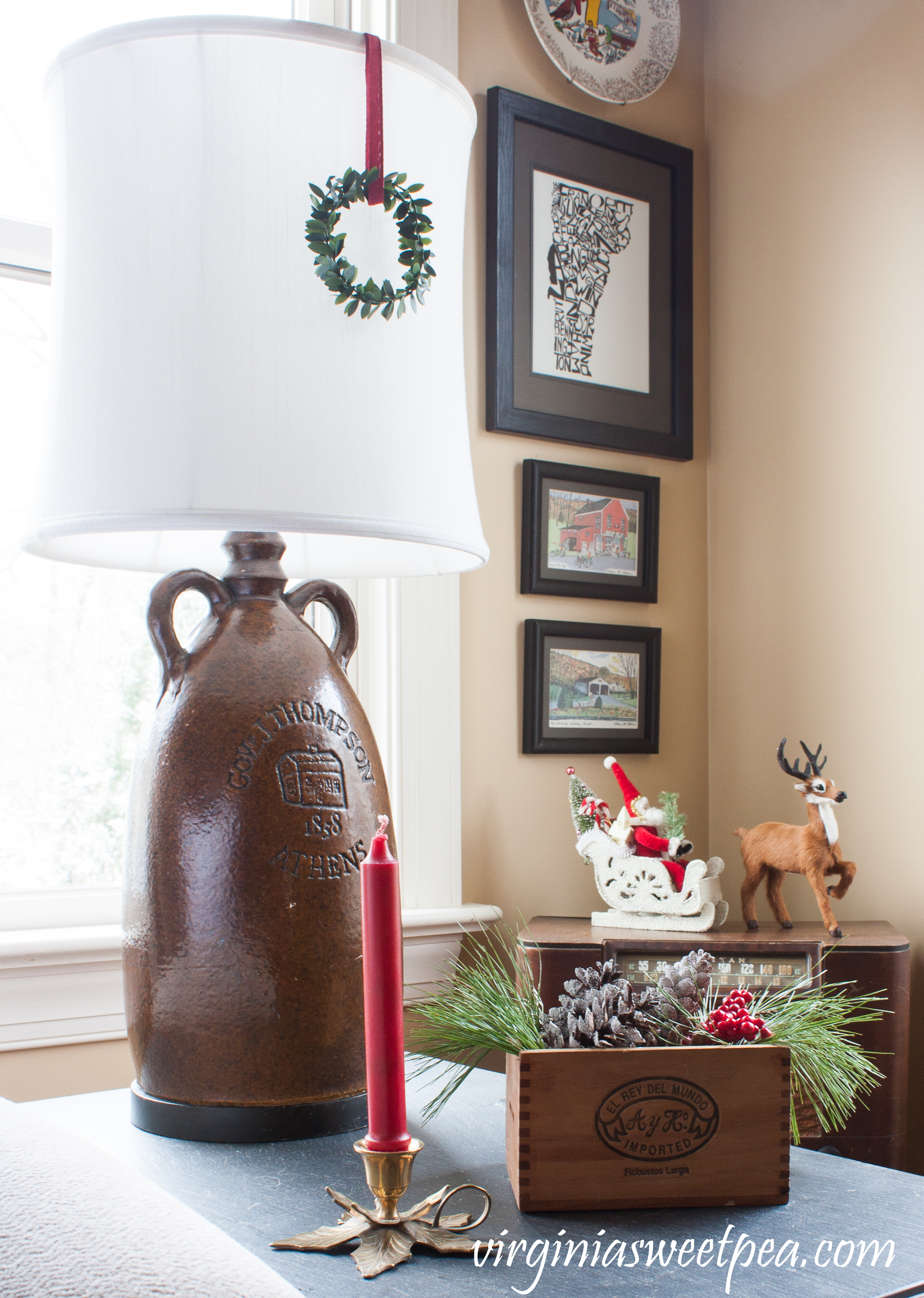 I found the brass holly candlestick holder at Goodwill. The wooden cigar box was picked from a trash pile. (I can't help myself…) Santa was purchased at The Vermont Country Store on one of our vacations.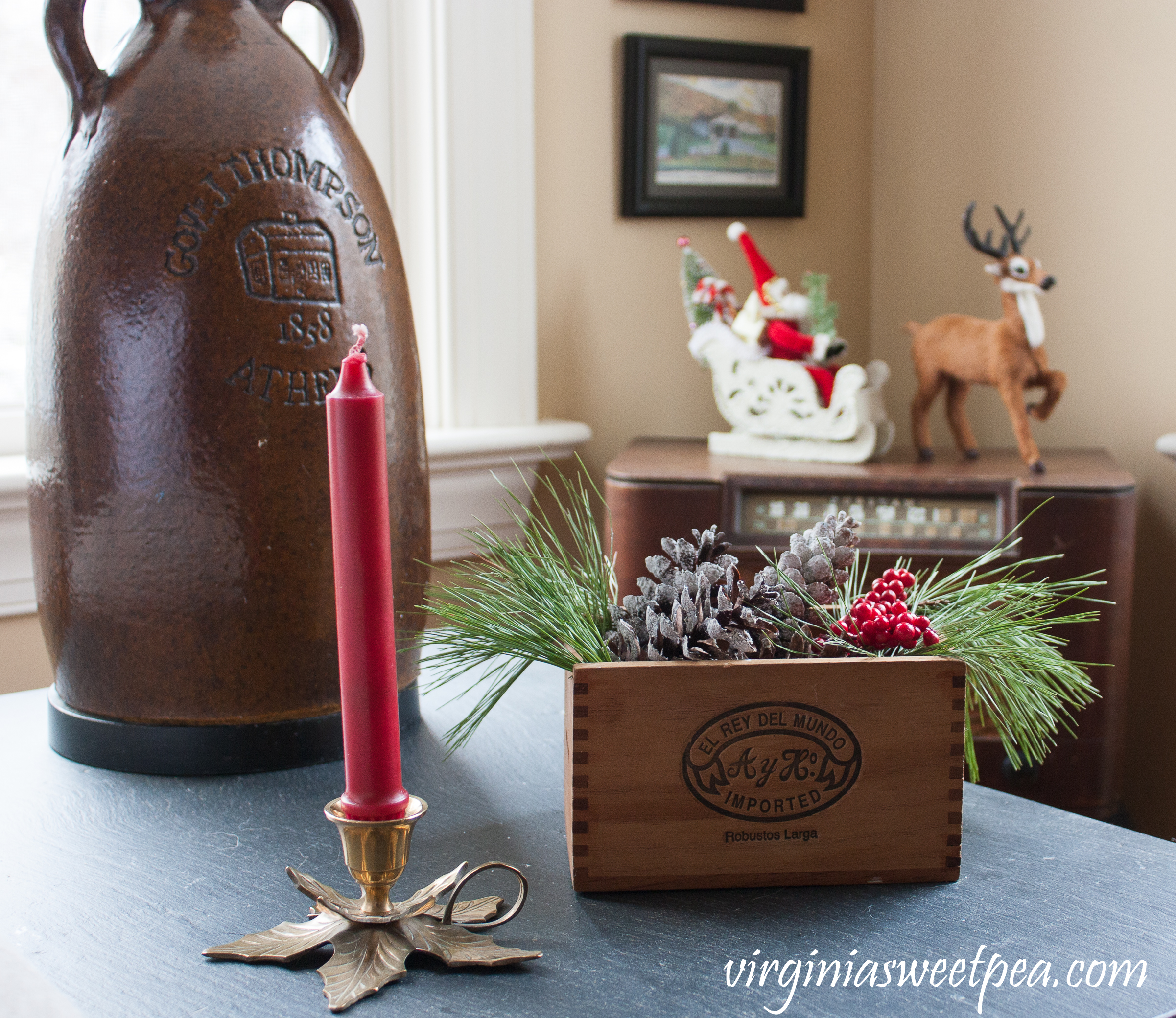 My husband used to sit in this leather chair every evening but now our dog has claimed it as his chair.
The framed sheet music is all WWI era and belonged to Maggie Scanlon, my grandmother's cousin. My mother's 1913 home was built by Maggie's father and the piano that Maggie played is still in Mama's home. In fact, I played it as a child. The cherry pie safe was made from wood harvested on my grandfather's family farm.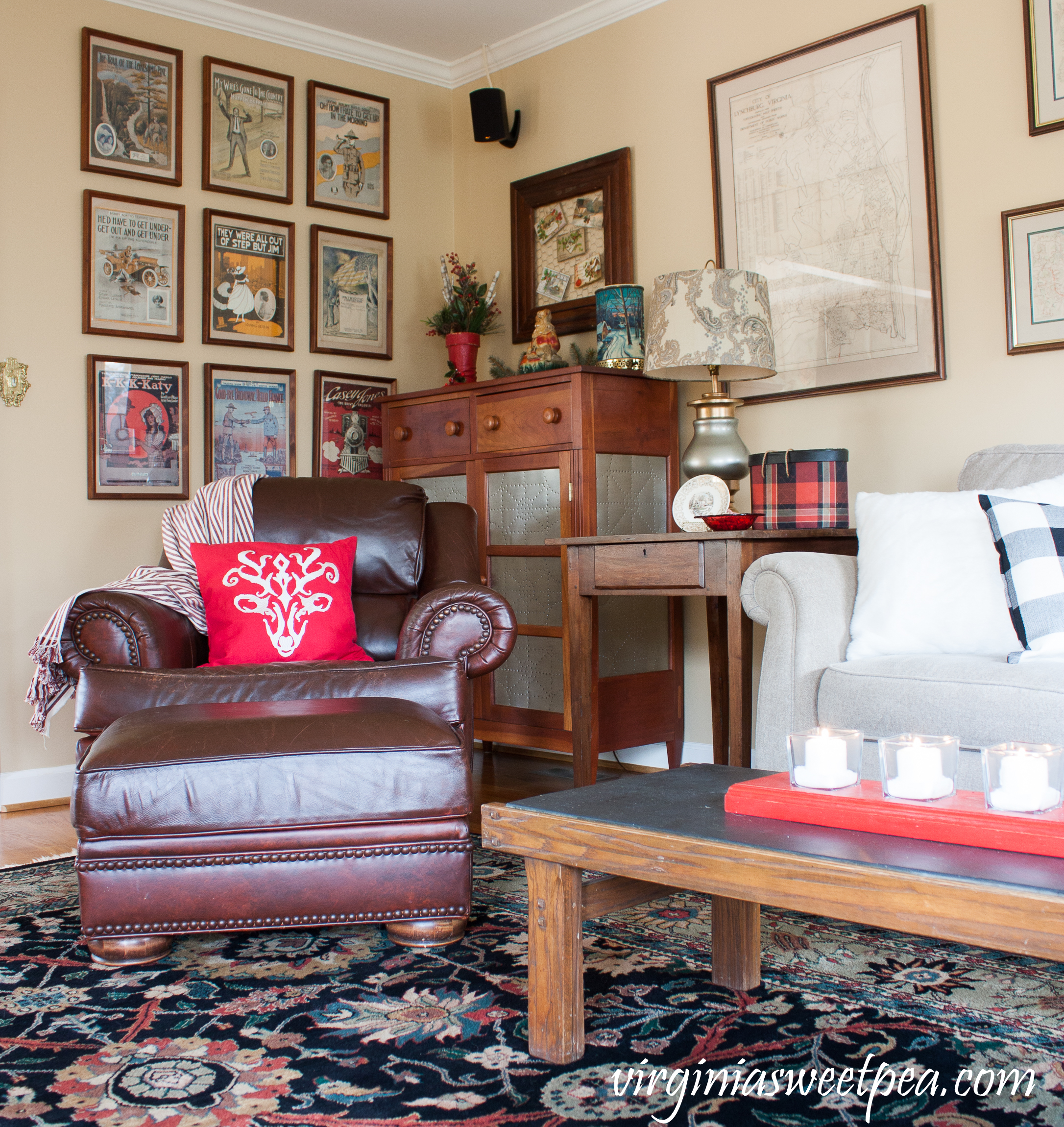 Our dog shamelessly begs for treats all evening, so we keep them handy in a reindeer bowl that was a gift from a friend. The plaid sewing box belonged to my great-great aunt.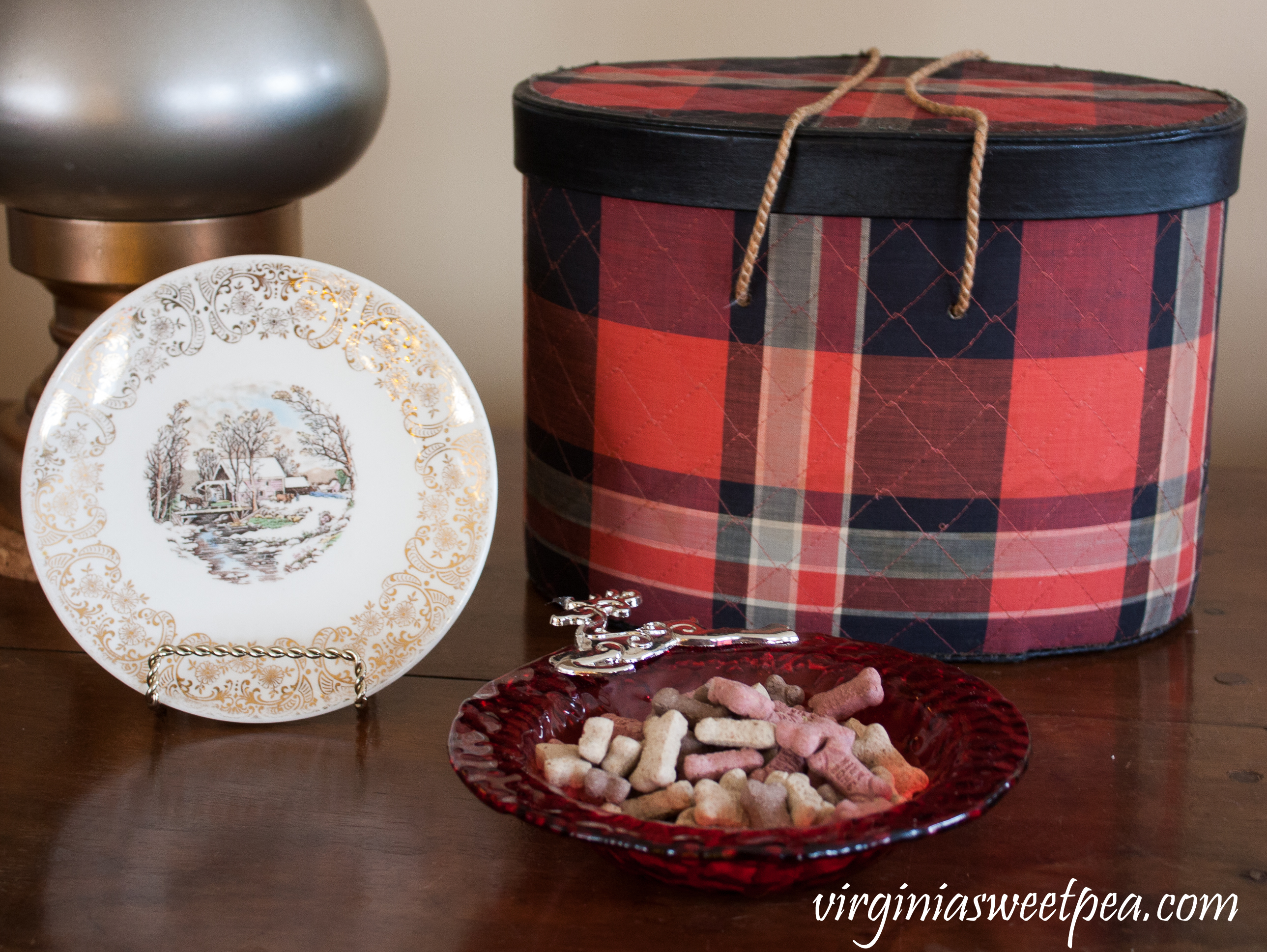 The pie safe top makes a great spot for seasonal decor. I found the large vintage santa boot in an antique shop in Staunton. The Santa in the middle of the display is a bank. The lamp is an Econolite from the 1950's and it turns and looks like its snowing when it's on. The frame hanging over the pie safe was made from wood from the school my grandfather attended as a child. On it are vintage postcards from the early 1900's that belonged to family members.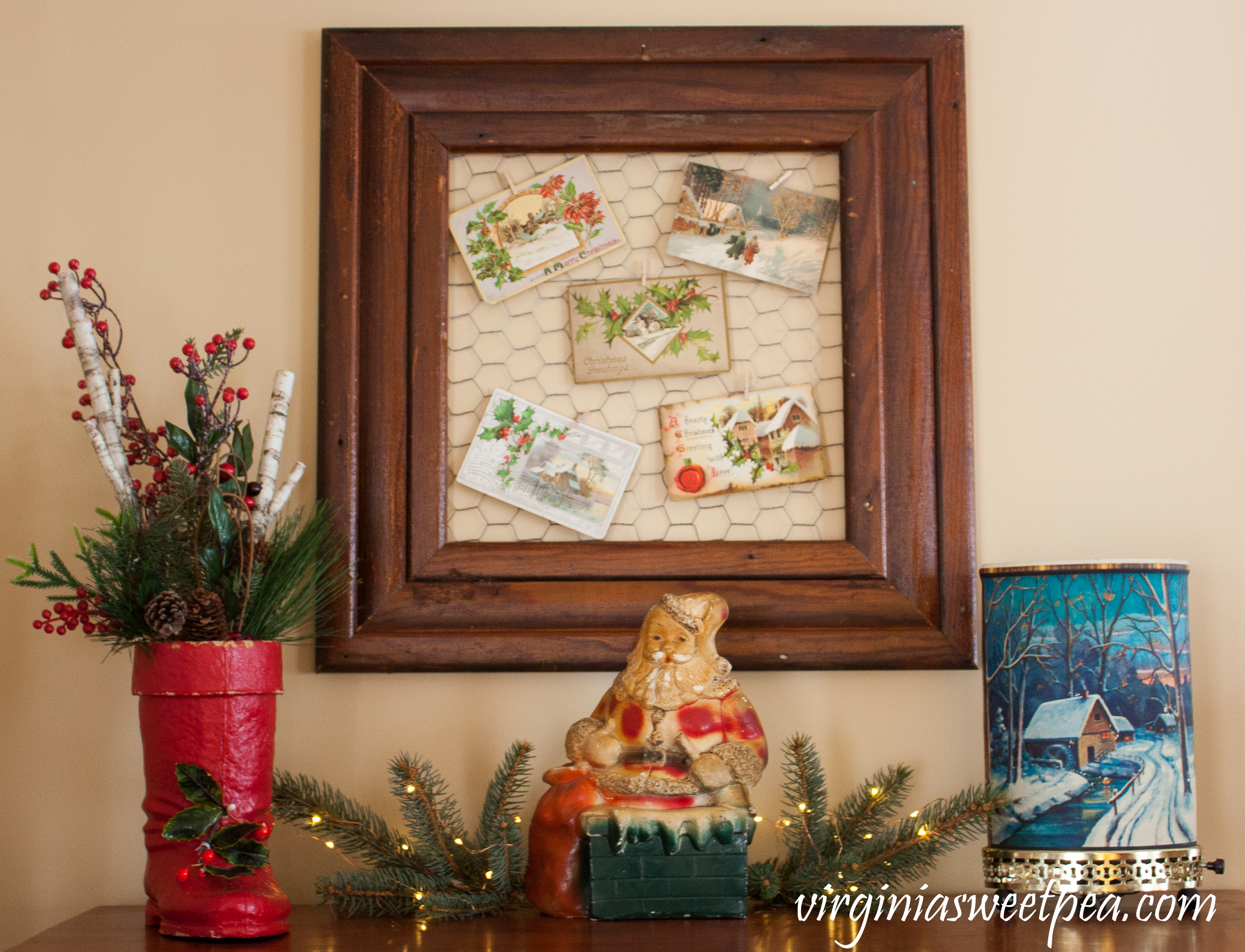 Santa is a bank but the only way to get money out is through the slot where money goes in. I doubt that anyone ever actually used this as a bank as it would be mighty difficult to empty it.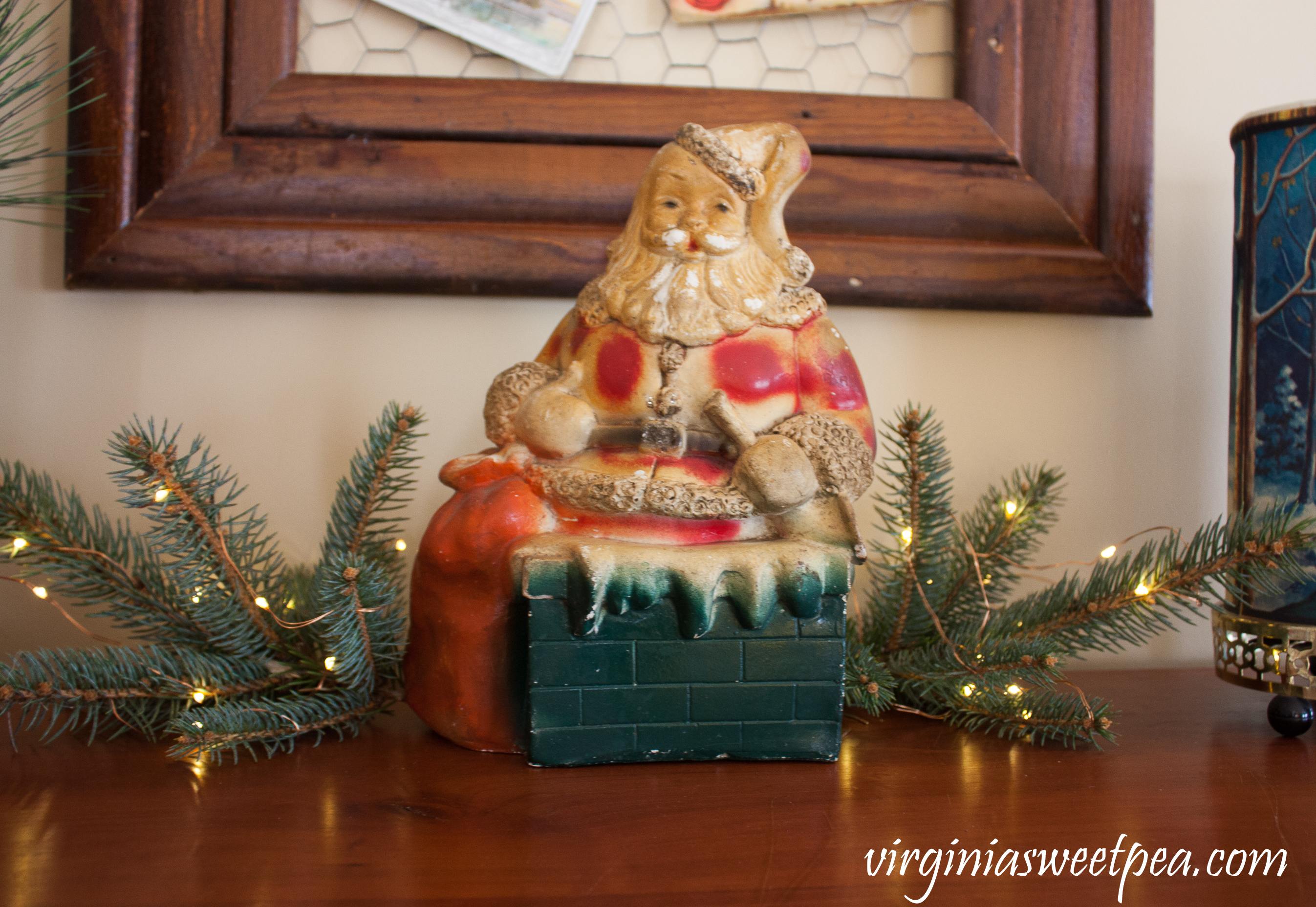 I love vintage postcards and enjoy using them for decor. When it's not a holiday, I display vintage Lynchburg postcards.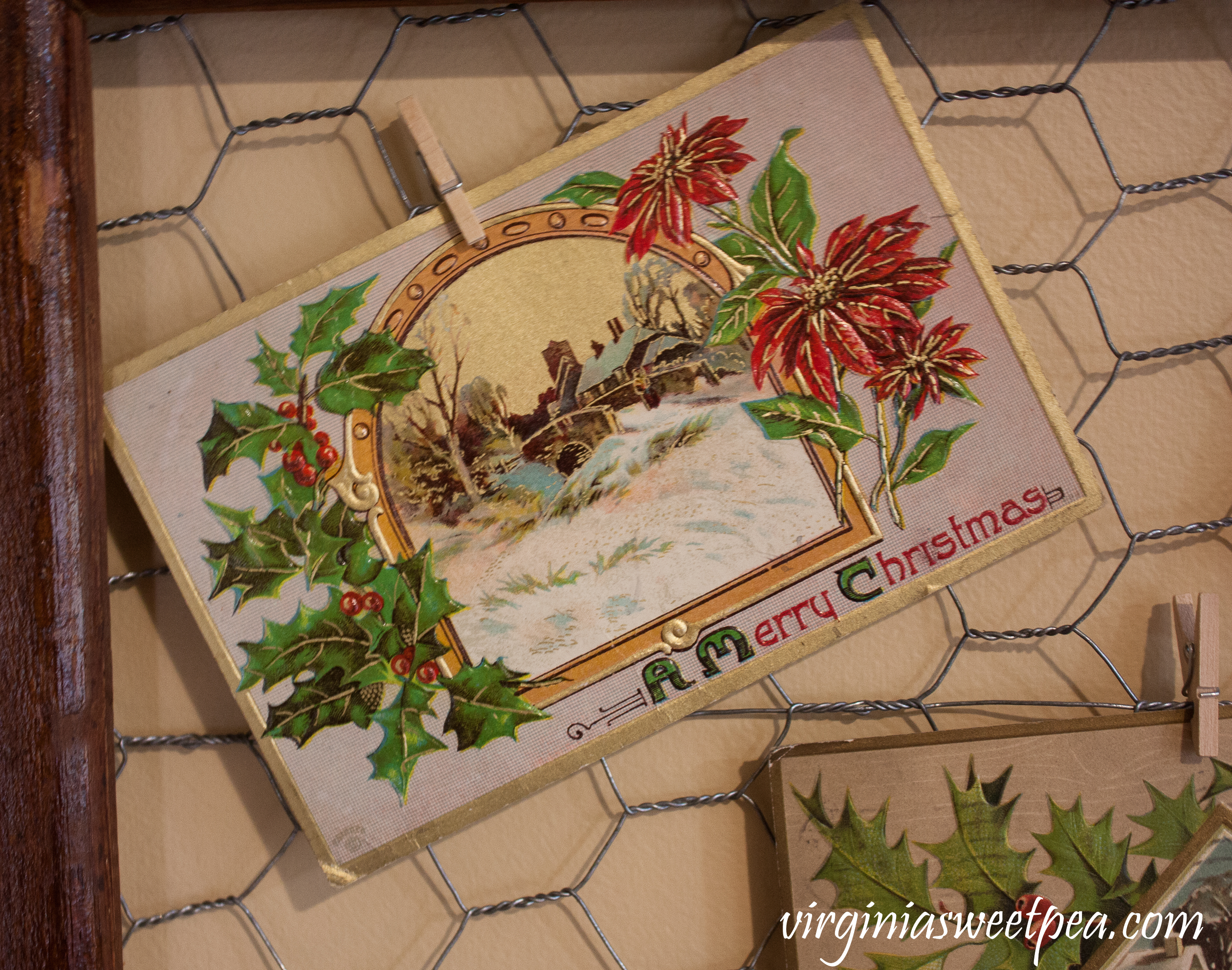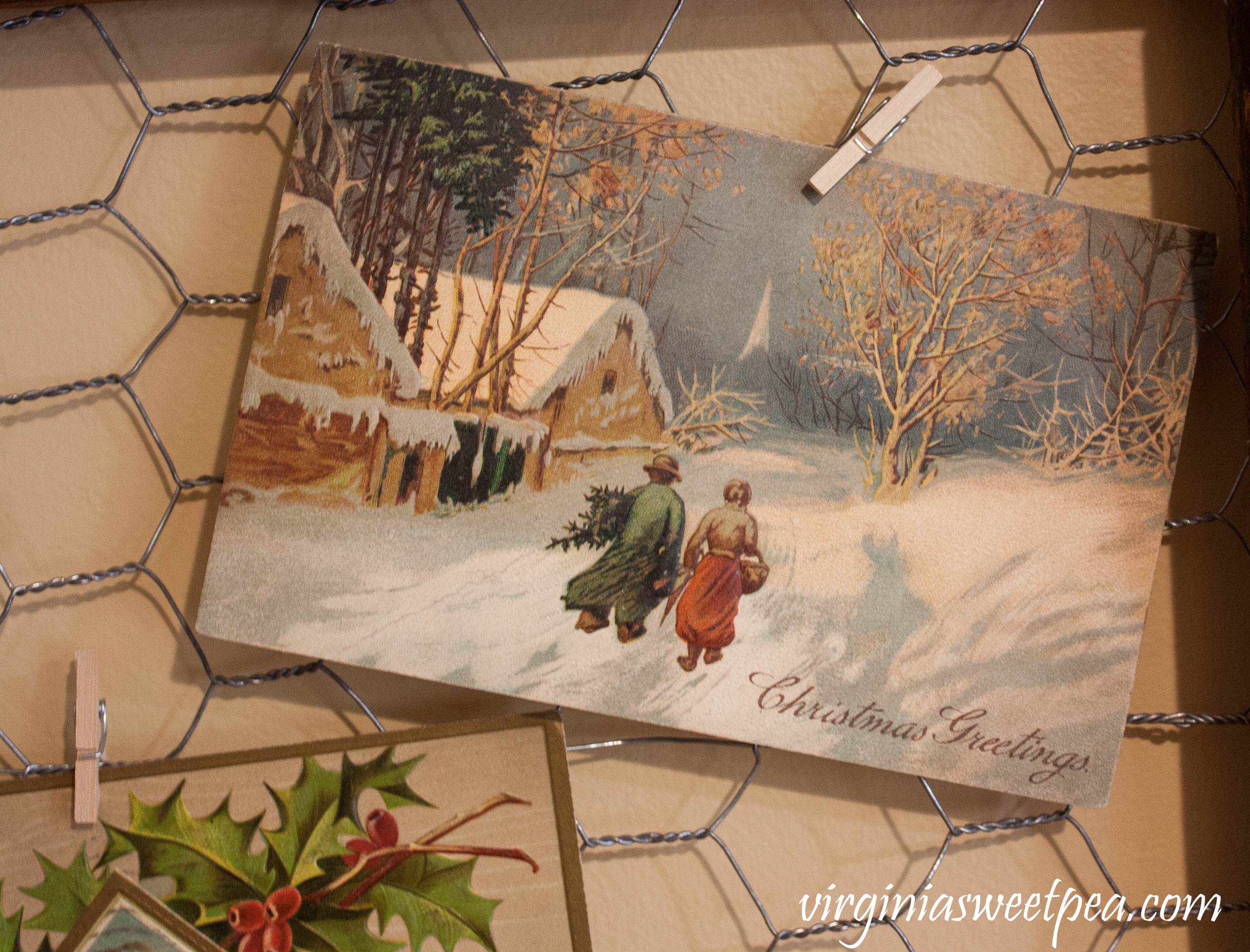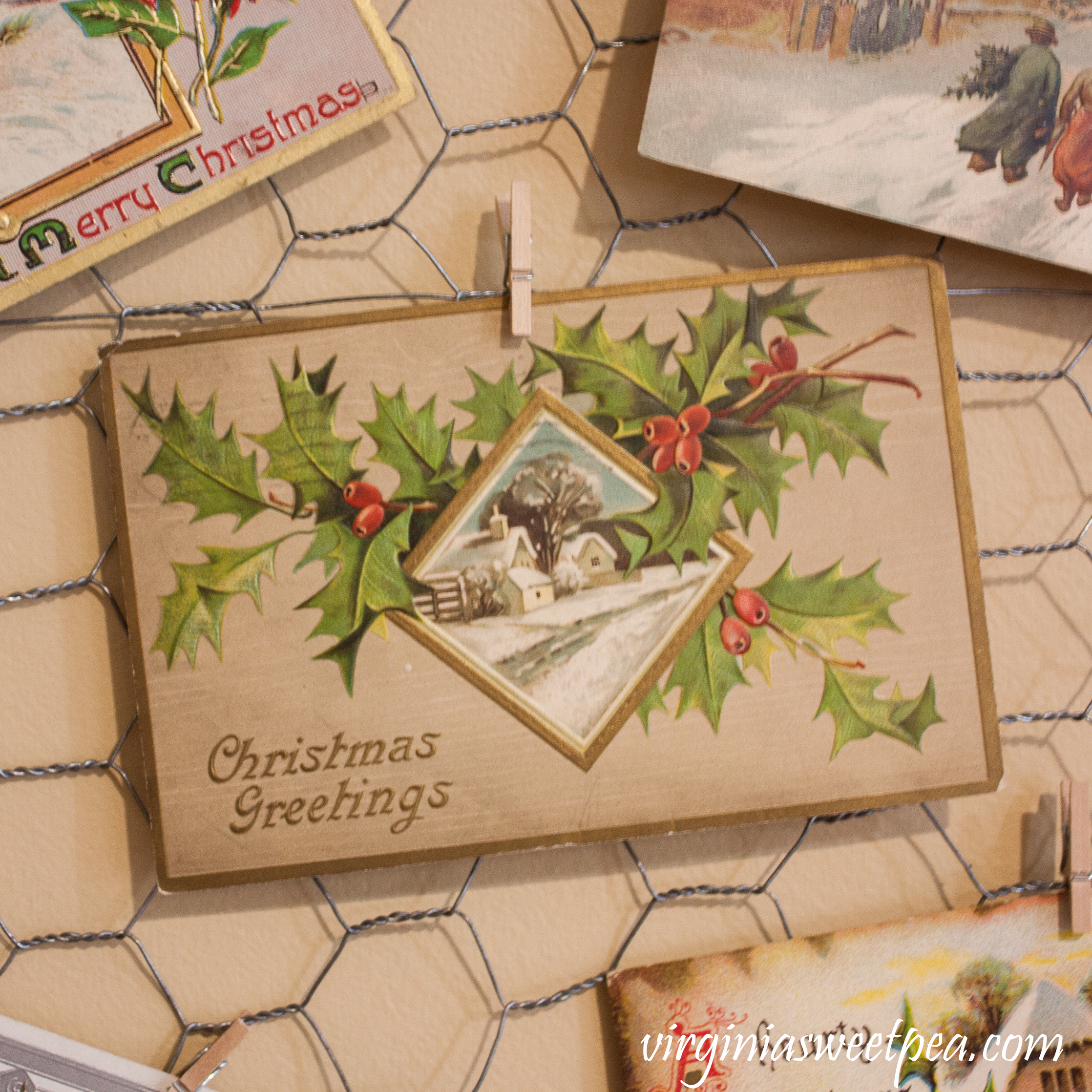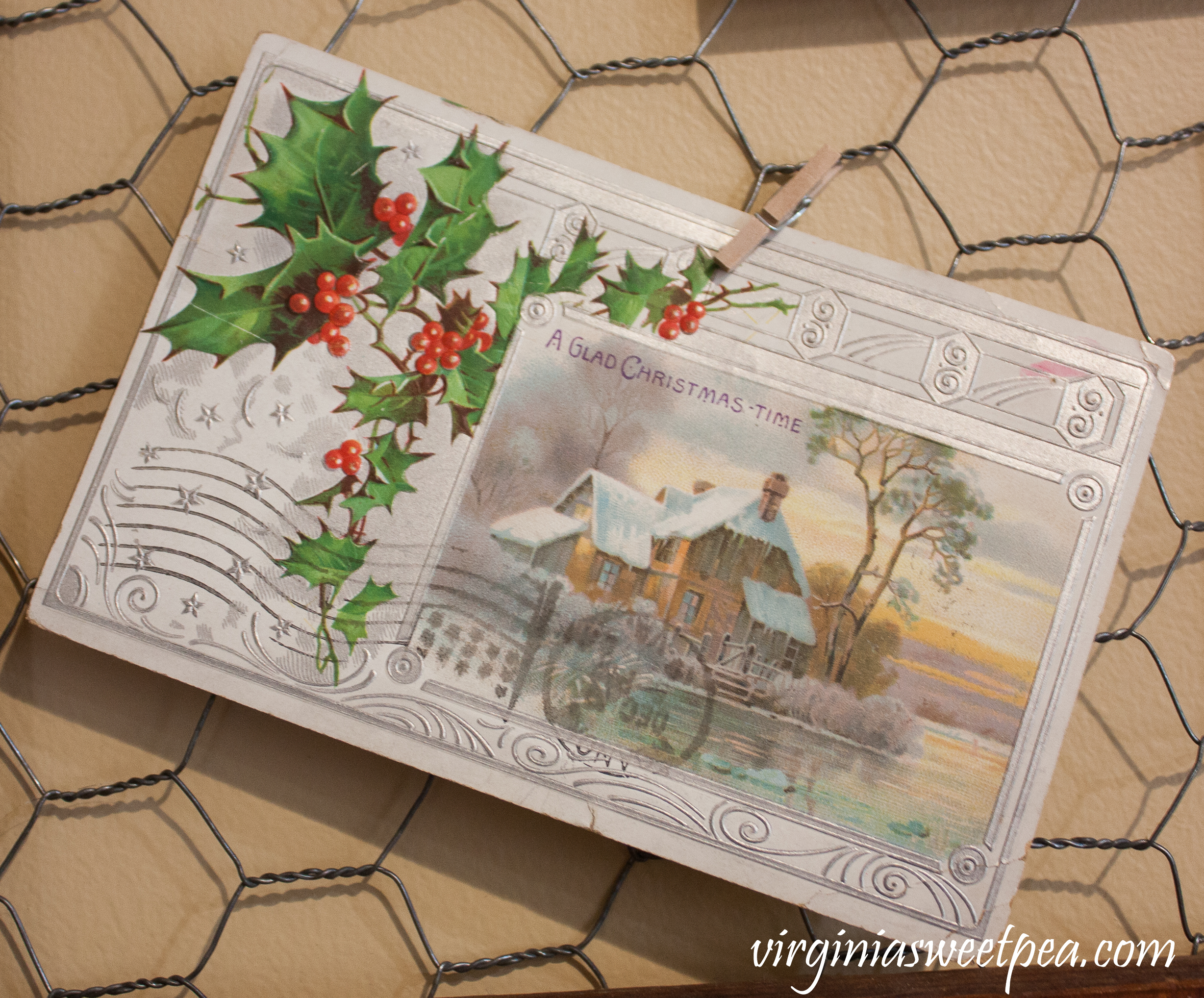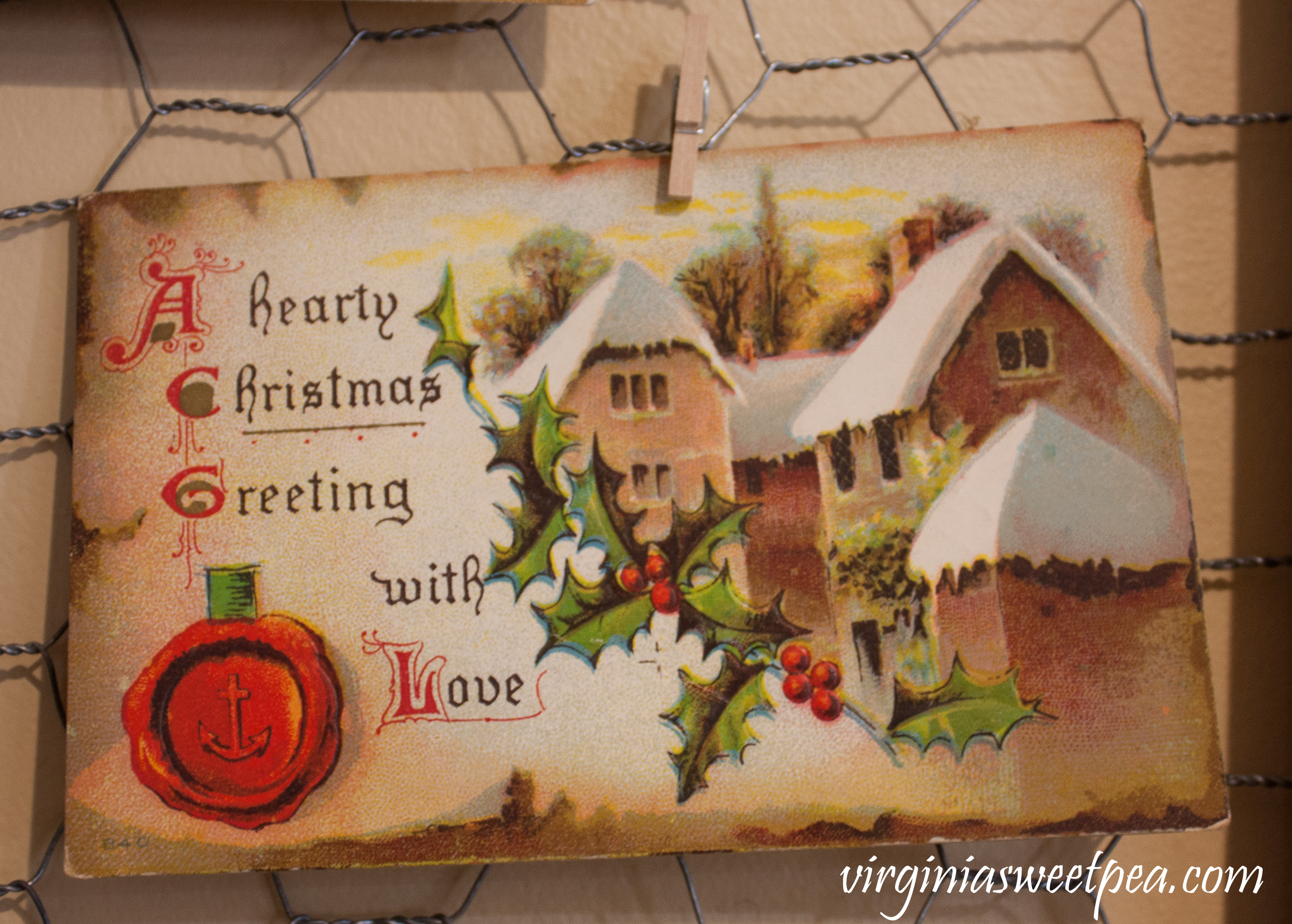 Our Christmas tree is filled with ornaments that we've collected over our 24 year marriage. My grandmother made our Christmas tree in the 1970's for our family and my mother passed it along to me. You can see pictures of some of our special Christmas ornaments and also get a closer look at Granny's tree skirt here.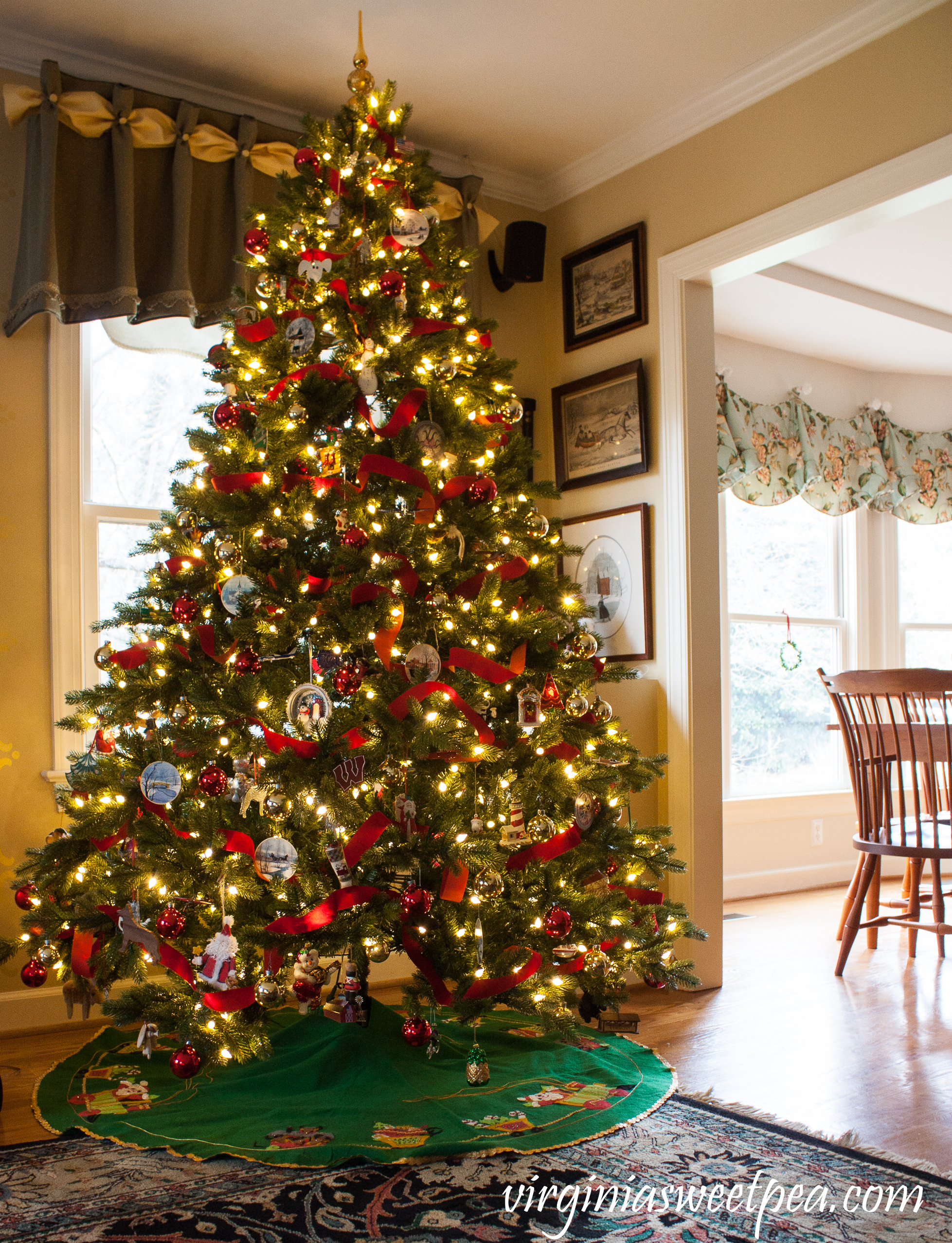 Hanging in the corner behind the Christmas tree is a collection of vintage winter art. I completed the P. Buckley Moss skating scene cross stitch back in 1989 when cross stitch was the rage. Byer's skaters are skating on an angel hair pond.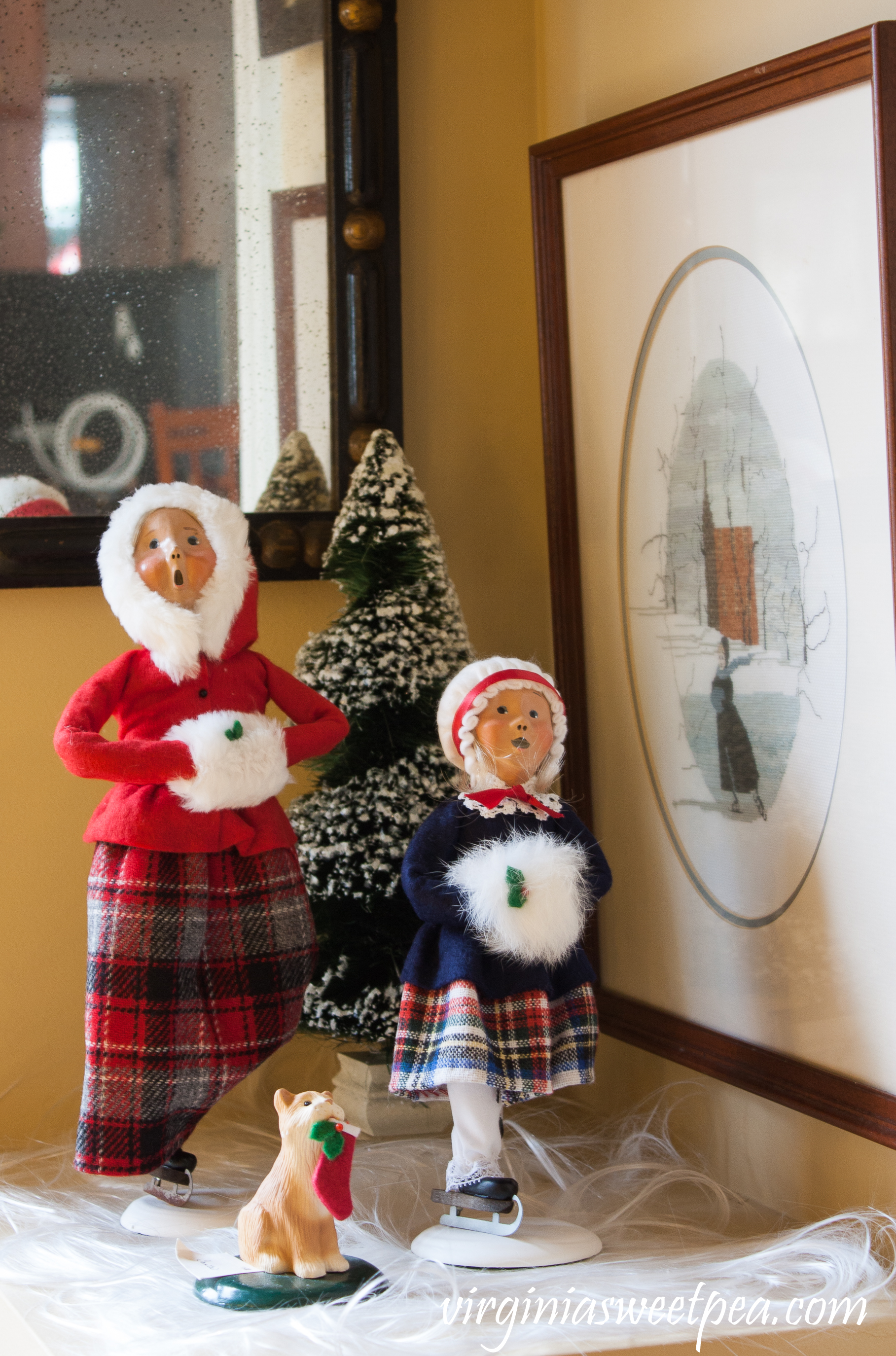 If you enjoyed this post, I would love for you to pin it for others to discover.
More Christmas Decor to Enjoy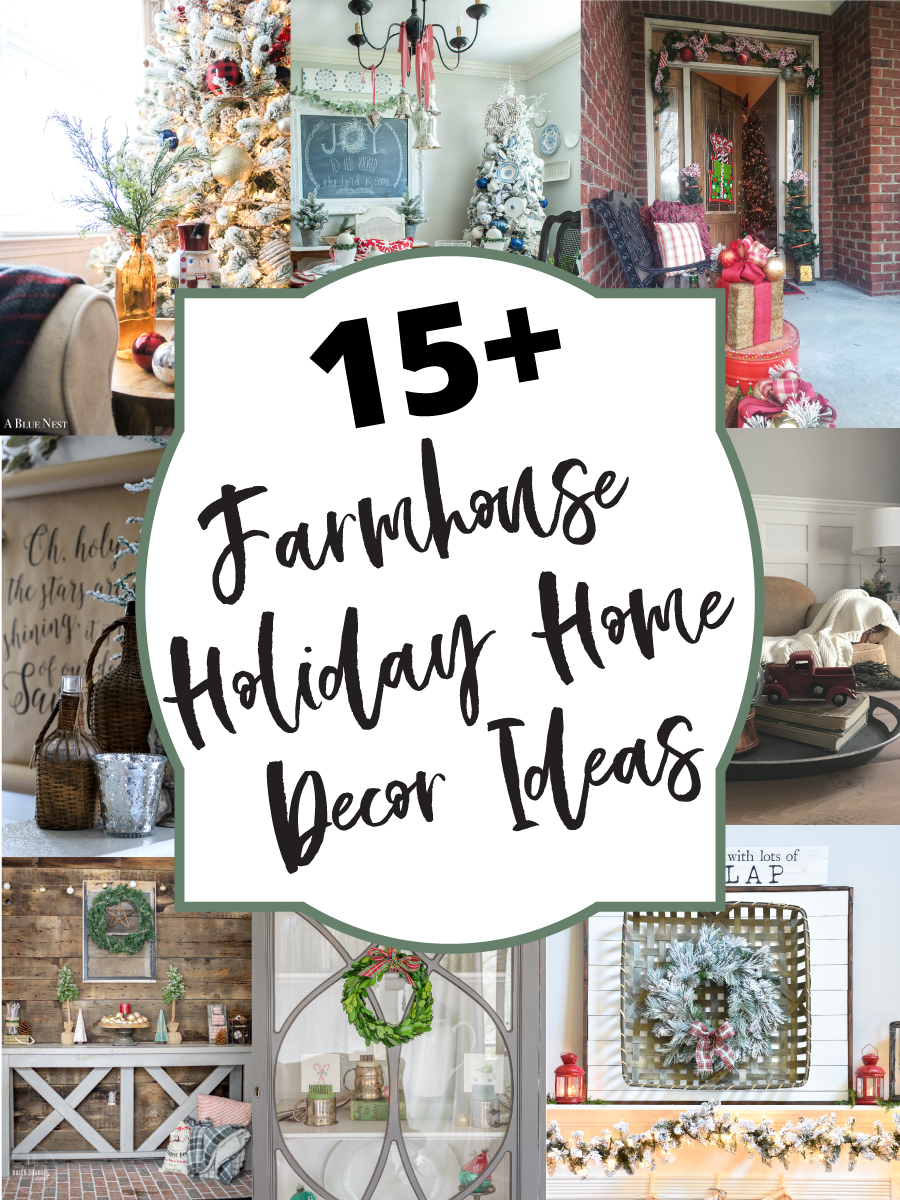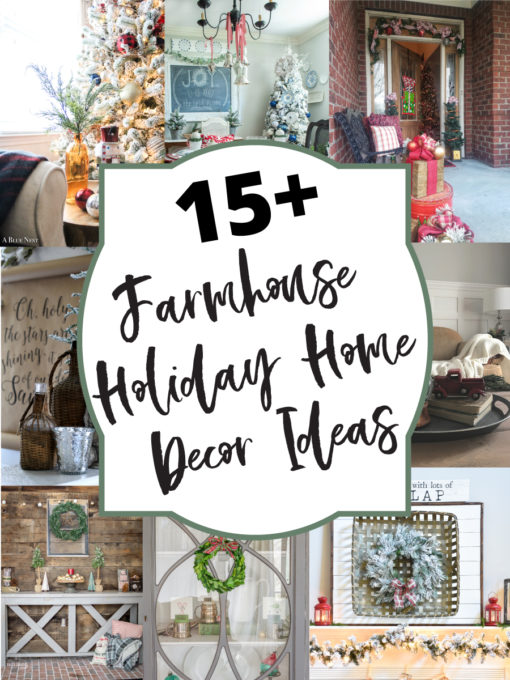 Enjoy visiting the blogs below for more Christmas decor to enjoy. You are sure to get decorating ideas to use in your home.

North Country Nest // Joy in Our Home // Postcards from the Ridge // Sand Dollar Lane // Town and Country Living

A Blue Nest // DIY Beautify // Making it in the Mountains // Twelve on Main

The Frugal Homemaker // Virginia Sweet Pea// A Tattered Pew
Aratari At Home // The Honeycomb Home // Life on the Bay Bush Blog // Frazzled Joy // Cozy Traditional Home