This post and photos may contain Amazon or other affiliate links. As an Amazon Associate I earn from qualifying purchases. If you purchase something through any link, I may receive a small commission at no extra charge to you. All opinions are my own.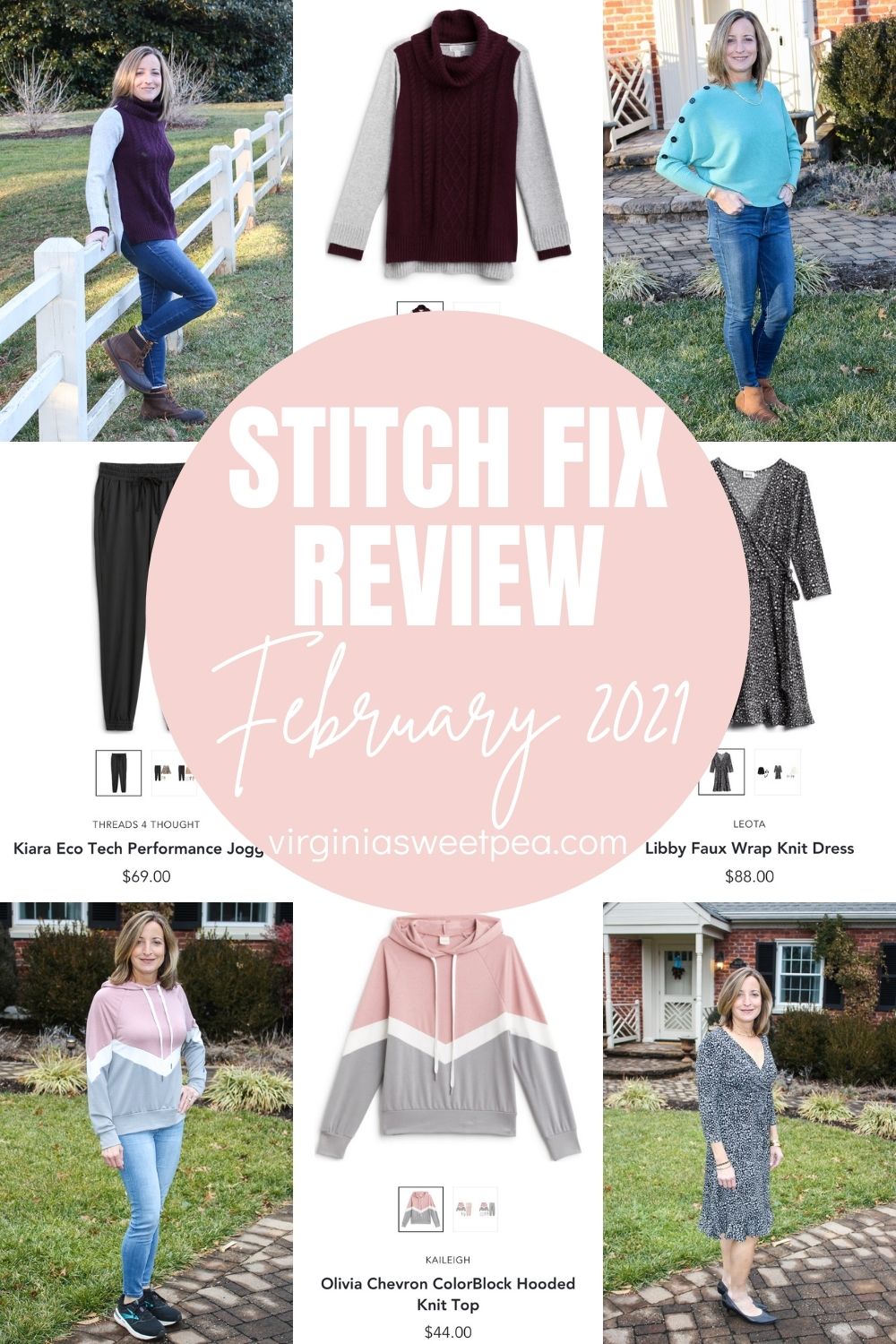 Hello February and hello to another Stitch Fix review.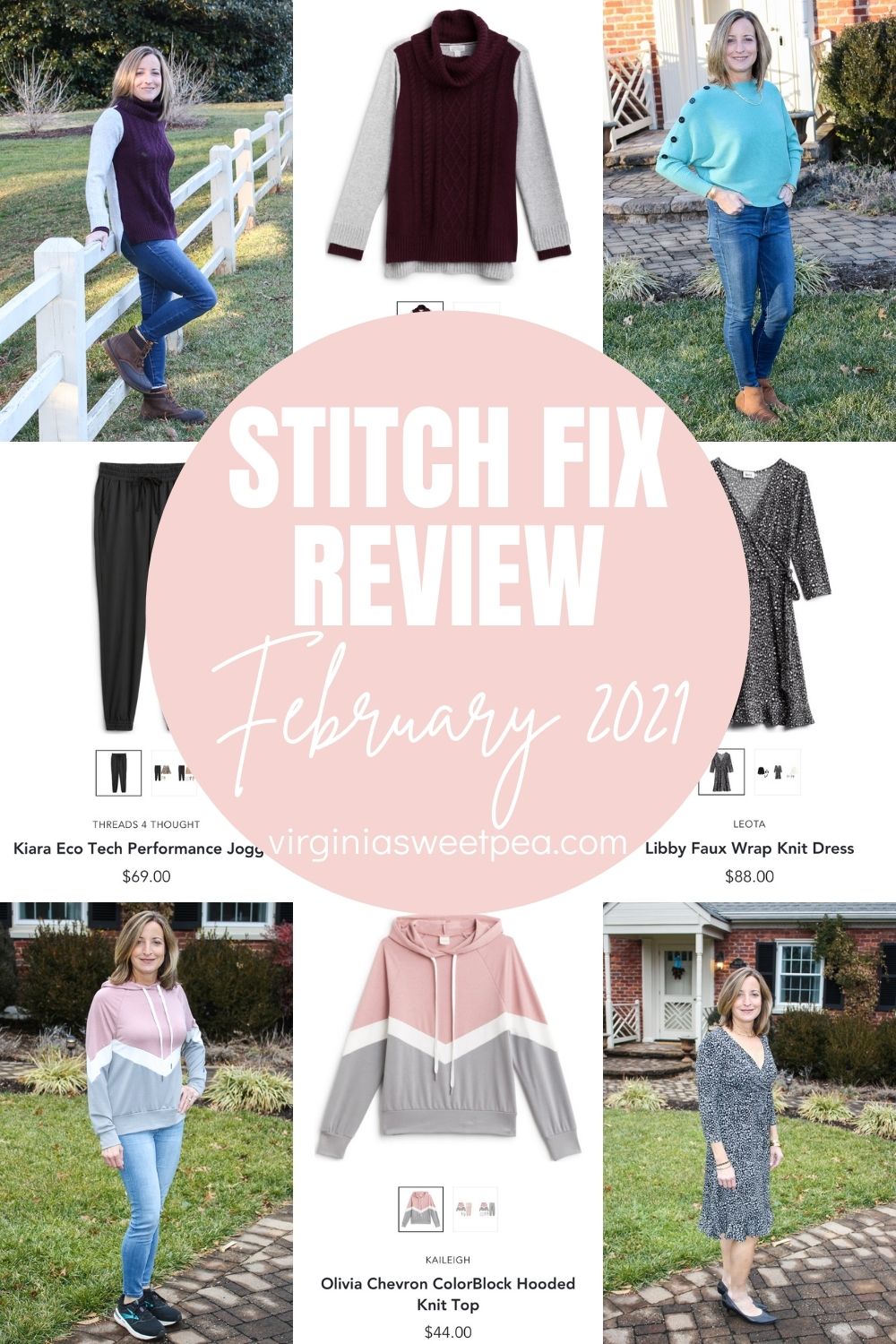 I don't know about your January, but mine flew. When each month comes to an end, I love receiving a Stitch Fix box.
This month I asked Jennifer, my stylist, for winter fashions and she sent the cutest things for me to try!
If you love DIY, home decor, crafts, and recipes, you'll want to subscribe to Sweet Pea so that you never miss a post. It's free and the best way to follow along with my blog. You'll also get access to my members-only free printable library.
Stitch Fix Review for February 2021
If you are new to Stitch Fix, these details will help you to understand the service. If you want to try Stitch Fix, sign up here to get $25 off your first box.
Stitch Fix is a personal styling service. When you sign up for Stitch Fix, you fill out a detailed style profile that helps your stylist know your likes and dislikes.
When a Fix arrives, you have three days to try the clothes on and to decide what to keep and what to send back. Stitch Fix includes a postage-paid envelope making returns super easy.
When you sign up for Stitch Fix, you can choose how often a box is delivered. You can pick monthly options or schedule a box when you'd like to receive one. I do not like shopping and love receiving clothing from Stitch Fix. I get clothes that I like without having to do any work other than pinning things that I like to my fashion board on Pinterest. My stylist checks my Pinterest board for inspiration and also reads my note to her each month to see if I have any special requests.
You can find links to all of my Fixes here and also be sure to check out my Stitch Fix Review Board on Pinterest where I pin my favorite looks.
This Month's Stitch Fix Items
This month Jennifer selected a dress, two sweaters, a hoodie, and a pair of joggers for me to try.
Faith + Zoe Tibi Doman Sleeve Ribbed Pullover
We'll start with my favorite item from the month's box, the Faith + Zoe Tibi Doman Sleeve Ribbed Pullover.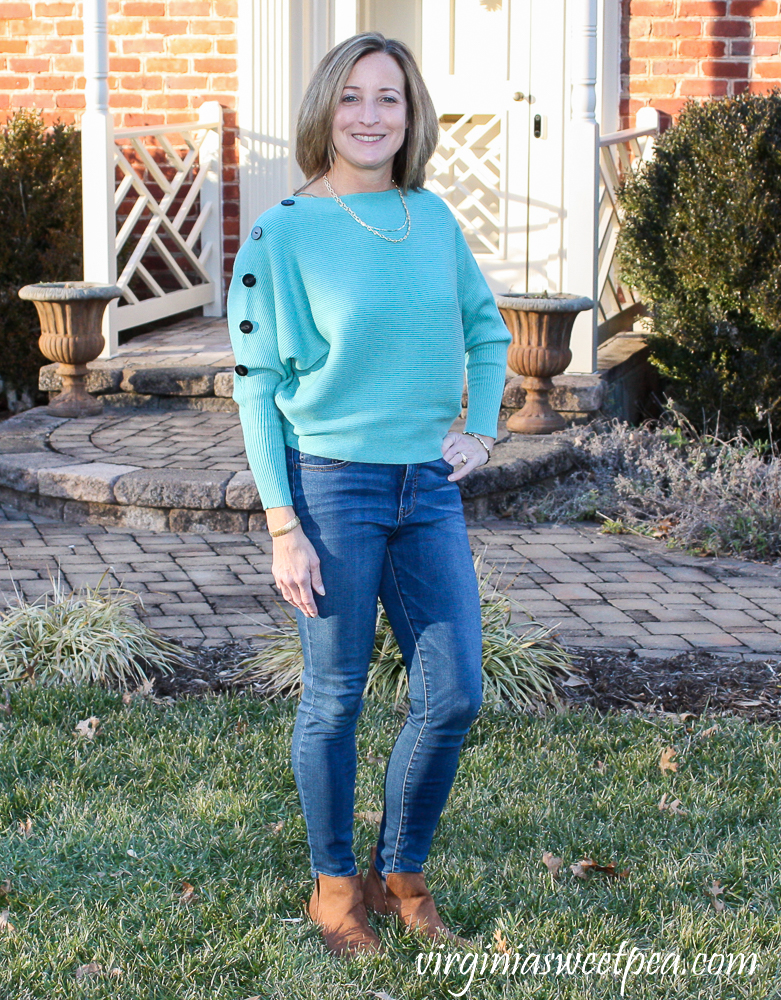 I loved this sweater's style with the looseness through the upper arms and chest area and the fitted lower arm area. I also liked the buttons on one side of the sweater and the sweater's length.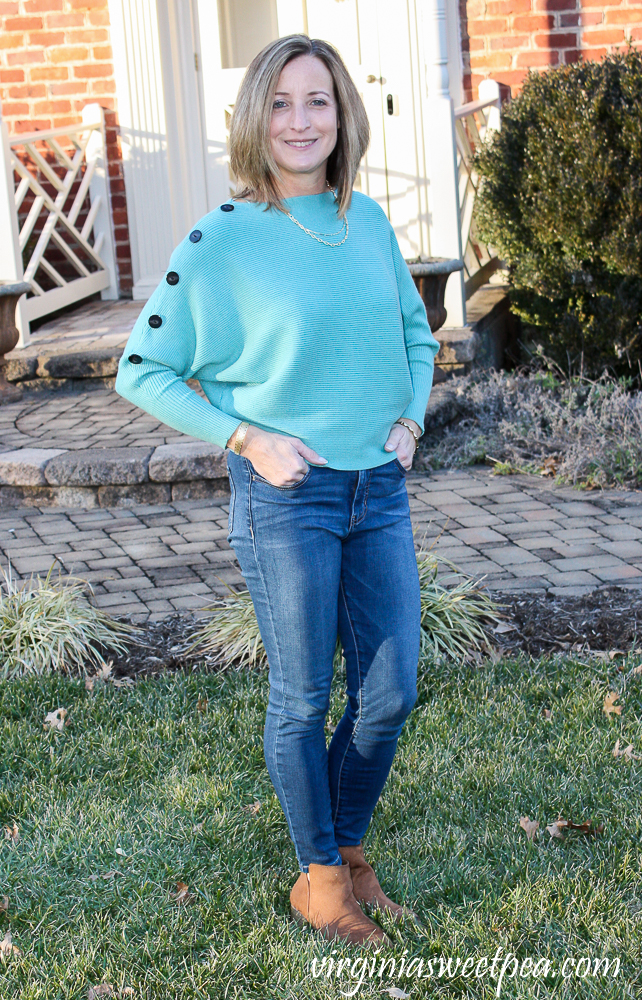 I paired this sweater with Prosperity Torrie Skinny jeans from my February 2020 Fix, booties, and the Slate Presley Layered Necklace from my most recent Rocksbox jewelry box.
Rocksbox is a jewelry subscription service that sends three pieces of jewelry that you can wear for as long as you like each month. When you send your three pieces back, or buy what you like, a new box is sent. If you'd like a free month of Rocksbox, sign up with this code: PAULABFF54.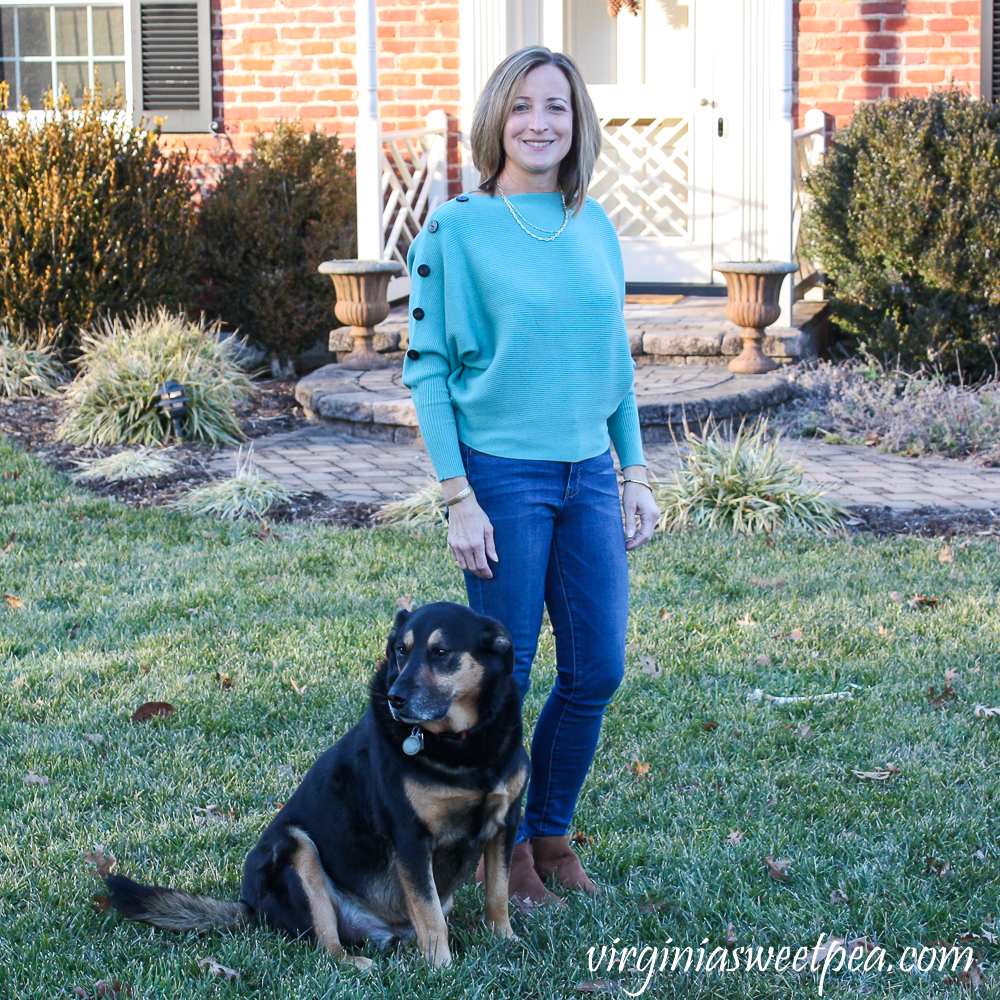 Sherman is quite the scavenger and if you look behind us, you can see one of his many deer bones that he loves to bring home to snack on.
This sweater looks great with jeans and I also can dress it up by wearing it with a skirt or dress pants.
The preview picture made me think that I was getting a green sweater but mine is blue which is fine with me. I kept this and am looking forward to wearing it.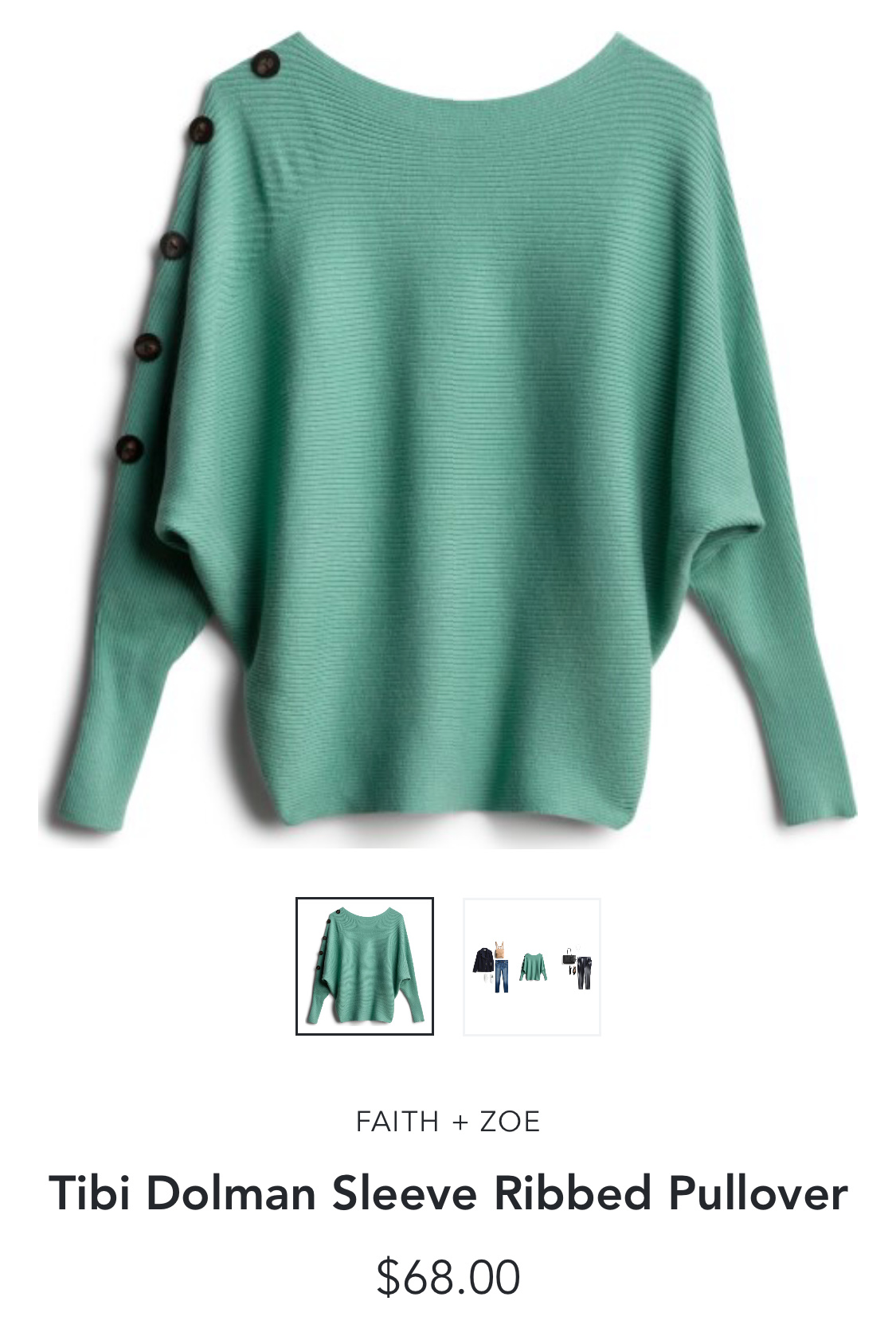 Market & Spruce Bernice Cowl Neck Pullover
I asked Jennifer to send sweaters and she did a great job of picking out two that I really liked.
It was freezing cold the day that we took pictures and this Market & Spruce Bernice Cowl Neck Pullover did a great job of keeping me warm.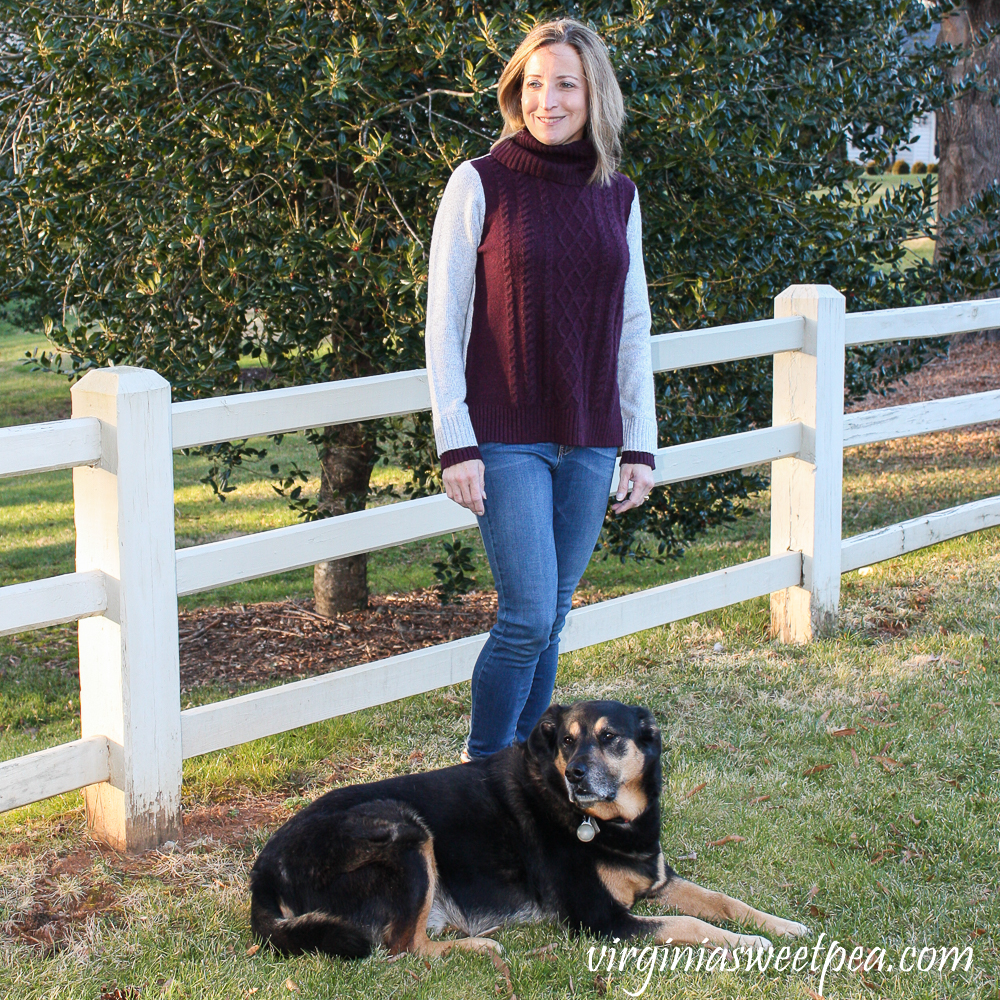 This sweater is unique because the front and neck are one color and knit pattern and the back and sleeves are another.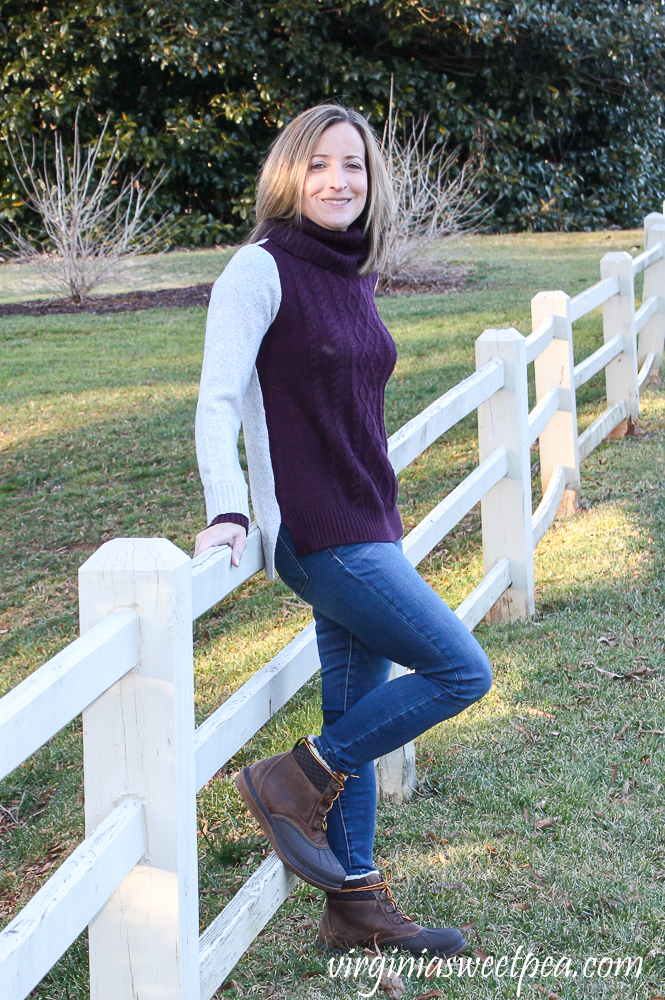 Virginia has had two recent snows and the snow boots that I bought at LLBean in Vermont have come in handy. I like how these boots look with this sweater and jeans.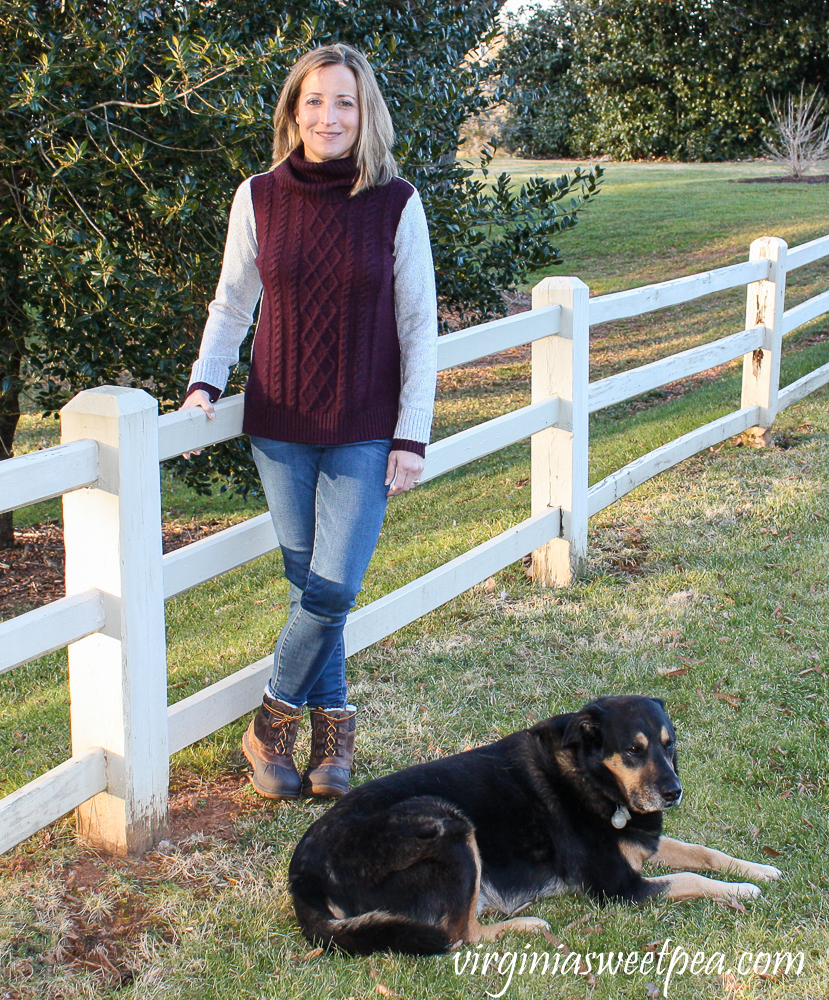 I liked this sweater but a cowl neck makes a mess of my hair so I didn't keep it.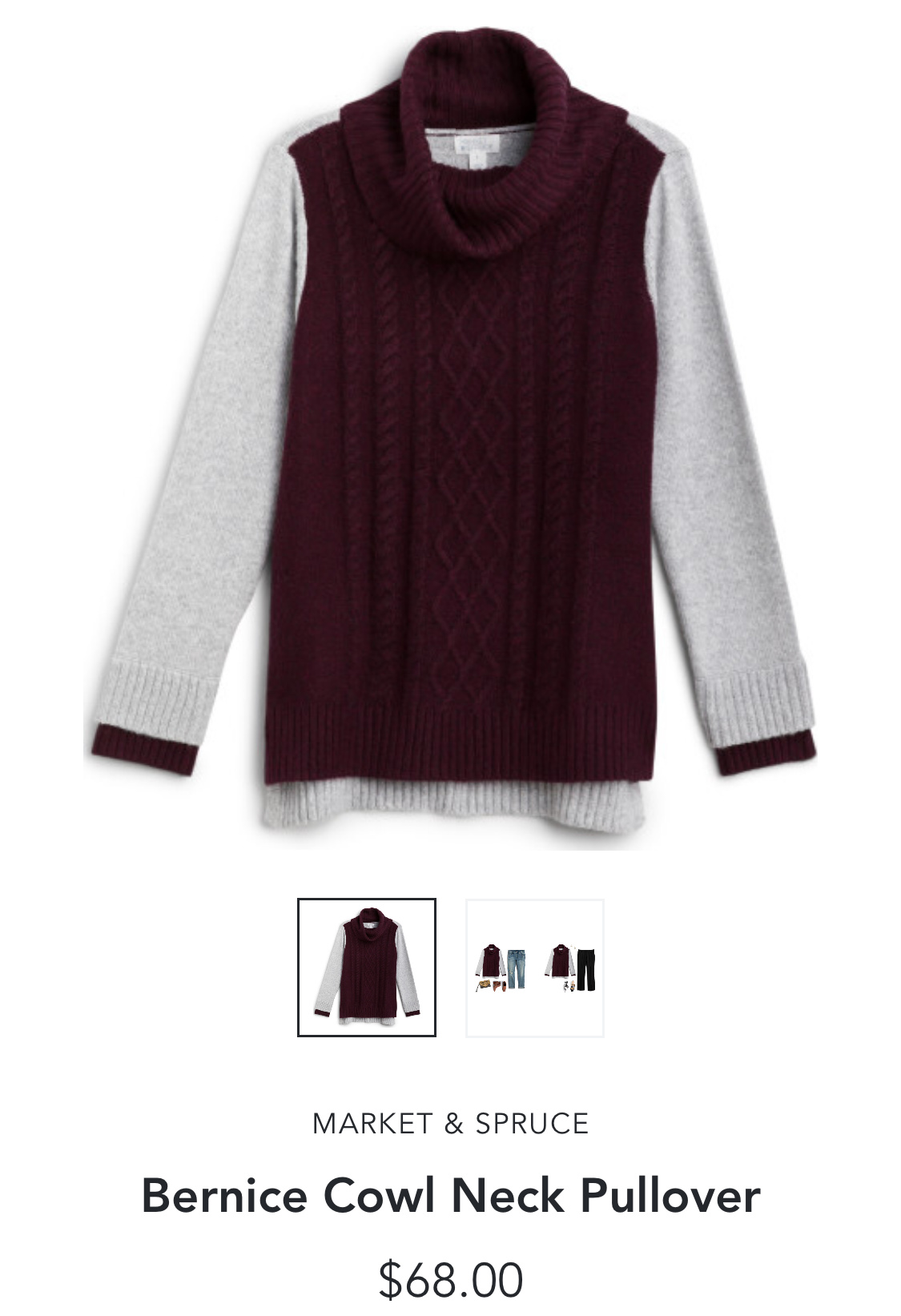 Leota Libby Faux Wrap Knit Dress
I love a Stitch Fix dress and this Leota Libby Faux Wrap Knit Dress is exactly my style.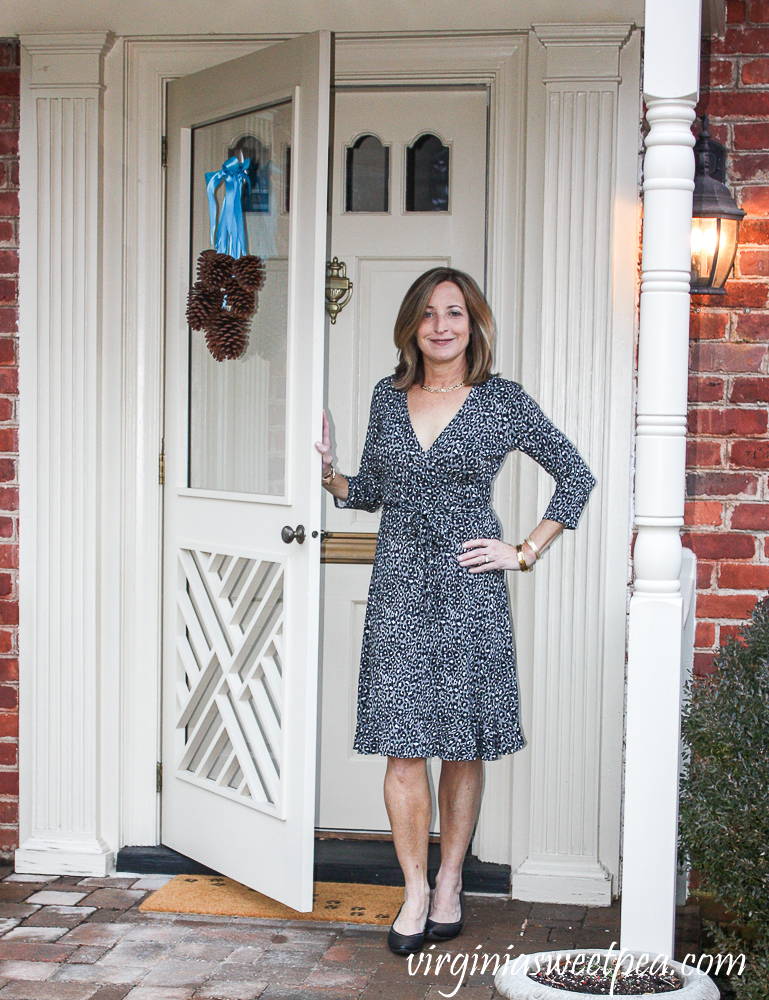 I love a wrap style dress as I find that they are very figure flattering. This dress has leopard pattern and a cute ruffle detail on the hemline.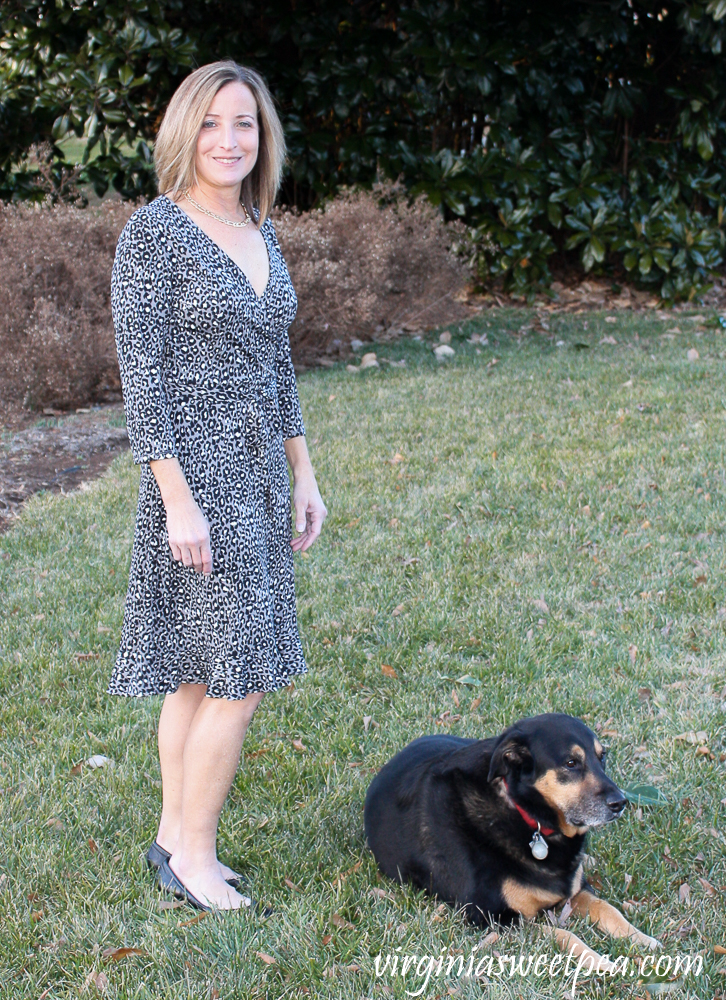 My necklace and bracelets are all from Rocksbox.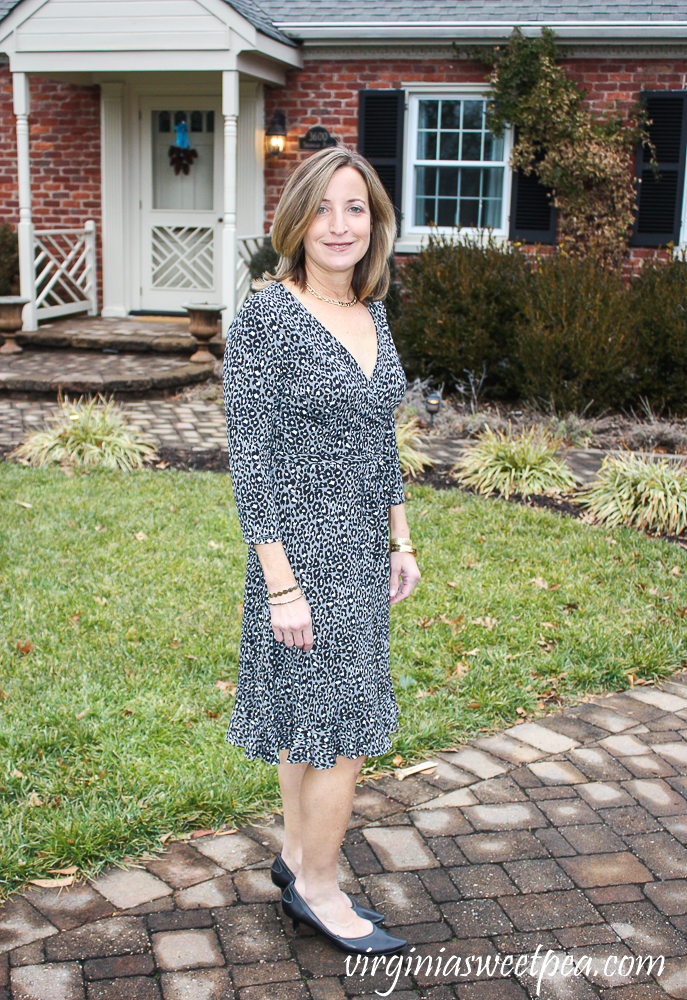 If you are super observant, you noticed that in the middle picture I'm not wearing bracelets. For the first time ever, we had to do two photoshoots to get pictures to use for this post.
The leopard print didn't photograph well, so it took two tries to get enough pictures that I liked to share.
If I were still teaching, I would have kept this dress. Jennifer 100% nailed my style when she picked this dress for me.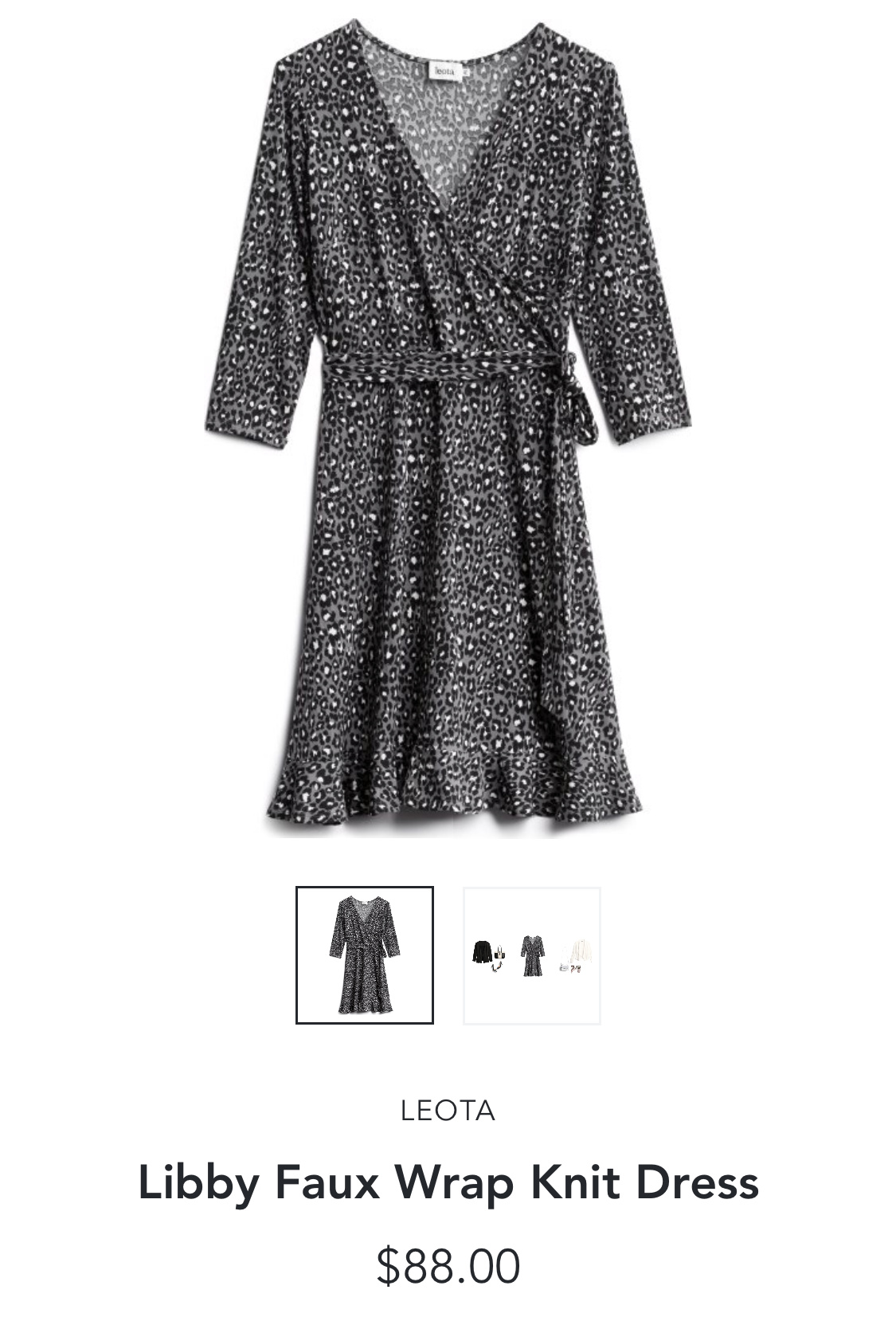 Kaileigh Olivia Chevron ColorBlock Hooded Knit Top
This Kaileigh Olivia Chevron ColorBlock Hooded Knit Top also took two photoshoots and I'll explain why. I first paired the hoodie with joggers also included in this Fix. (More on them in a moment.)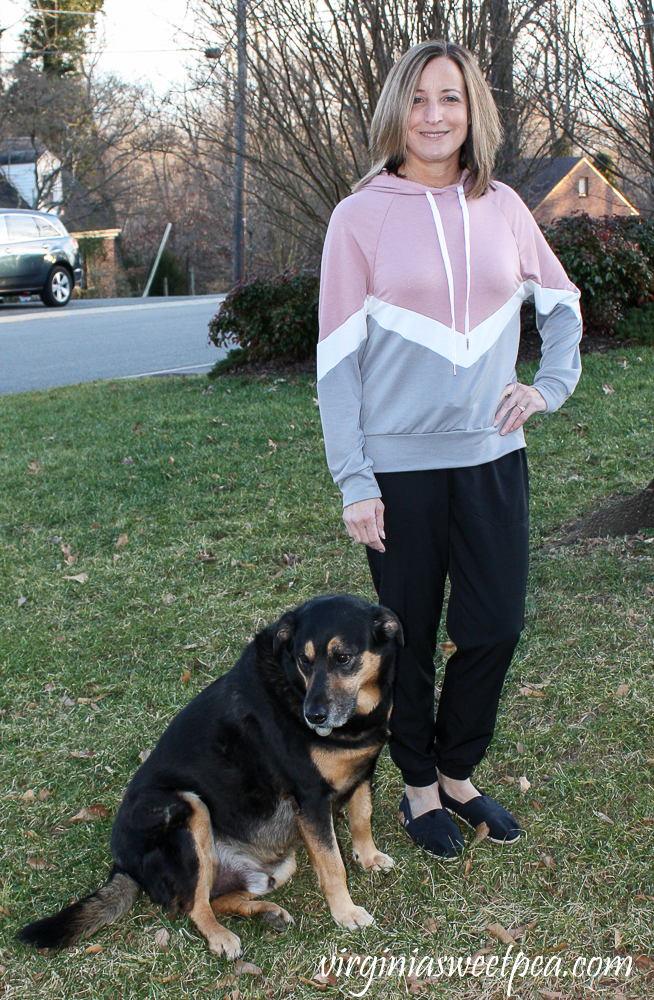 When I saw the pictures of these two times together, I couldn't stop thinking about matching jogging suits from the early nineties. In fact, Golden Girls kept running through my mind.
For the second photo shoot, I paired the hoodie with Liverpool Kaylee Skinny Jeans from my October 2019 Fix and I liked this look much better.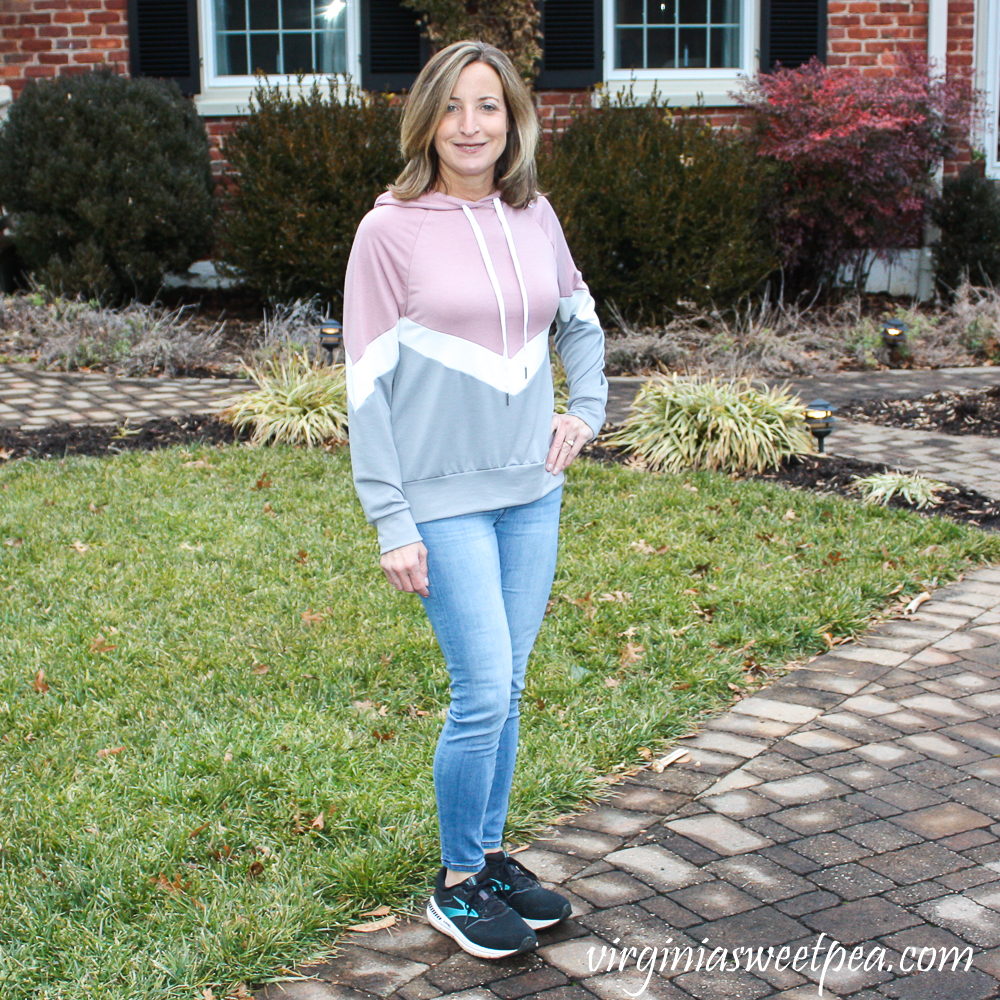 This hoodie was super comfortable and the chevron design isn't like anything else in my closet.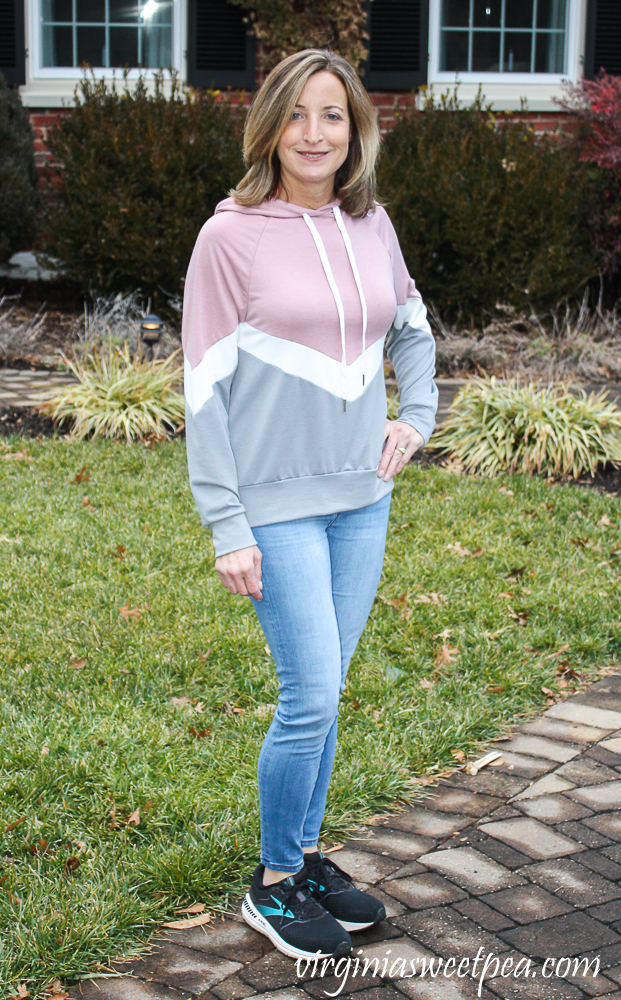 The pink and gray color combination took me back to the 1980s when it was also super popular.
For some reason, I saved a pink and gray checked skirt with a matching top from high school. I remember wearing it to school and to 4-H Club Congress at Virginia Tech. (I am a third-generation 4-H All Star.)
I couldn't resist putting this on and taking a quick cell phone picture of this skirt and top since the hoodie reminded me of it. I managed to squeeze myself into the top but I couldn't button the skirt. (I can't wait for my Mama to see this picture!)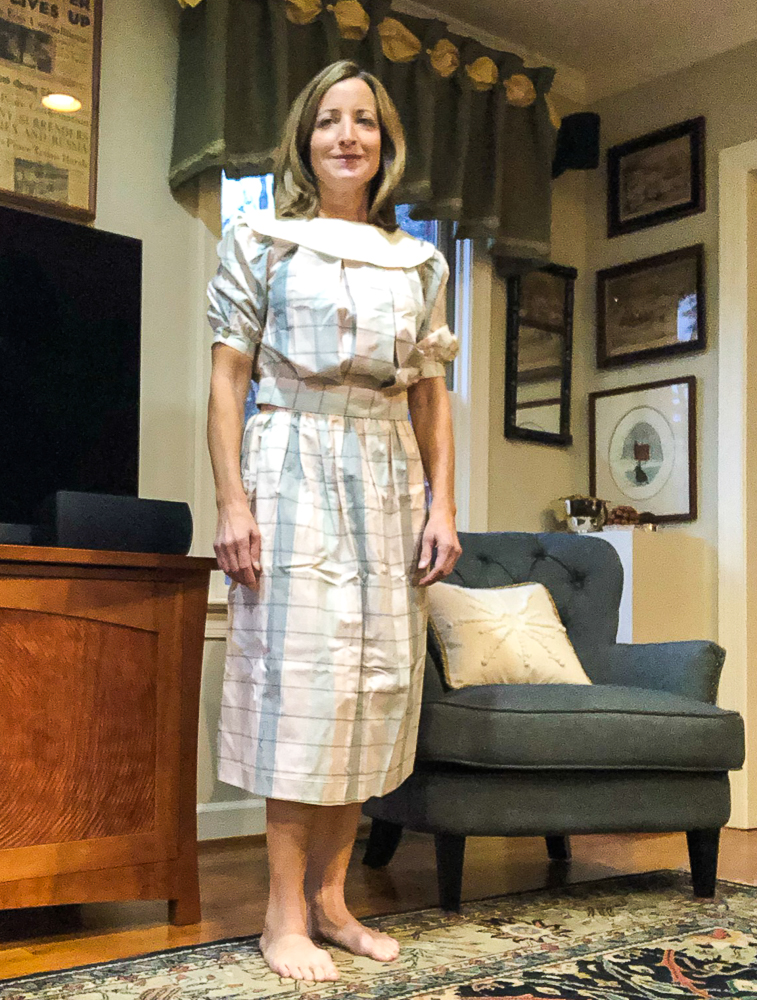 The collar is trimmed in the pink and gray fabric and the top buttons up the back.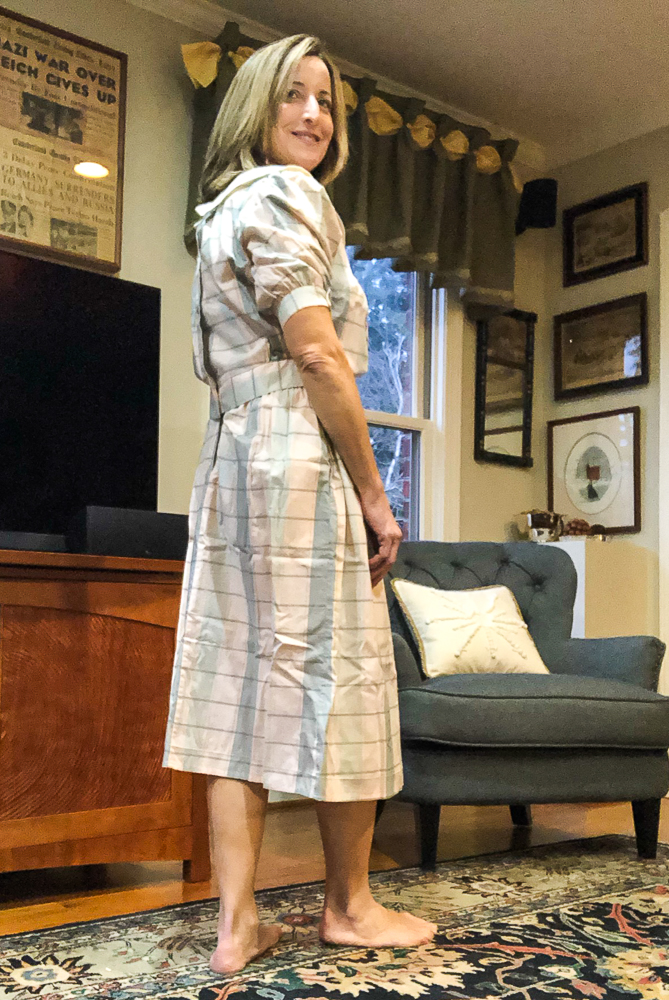 I debated keeping this hoodie but I just couldn't get the 80s and 90s out of my head. It kind of reminded me of something that DJ or Stephanie wore on Full House.
Since I didn't 100% love this hoodie, it was returned.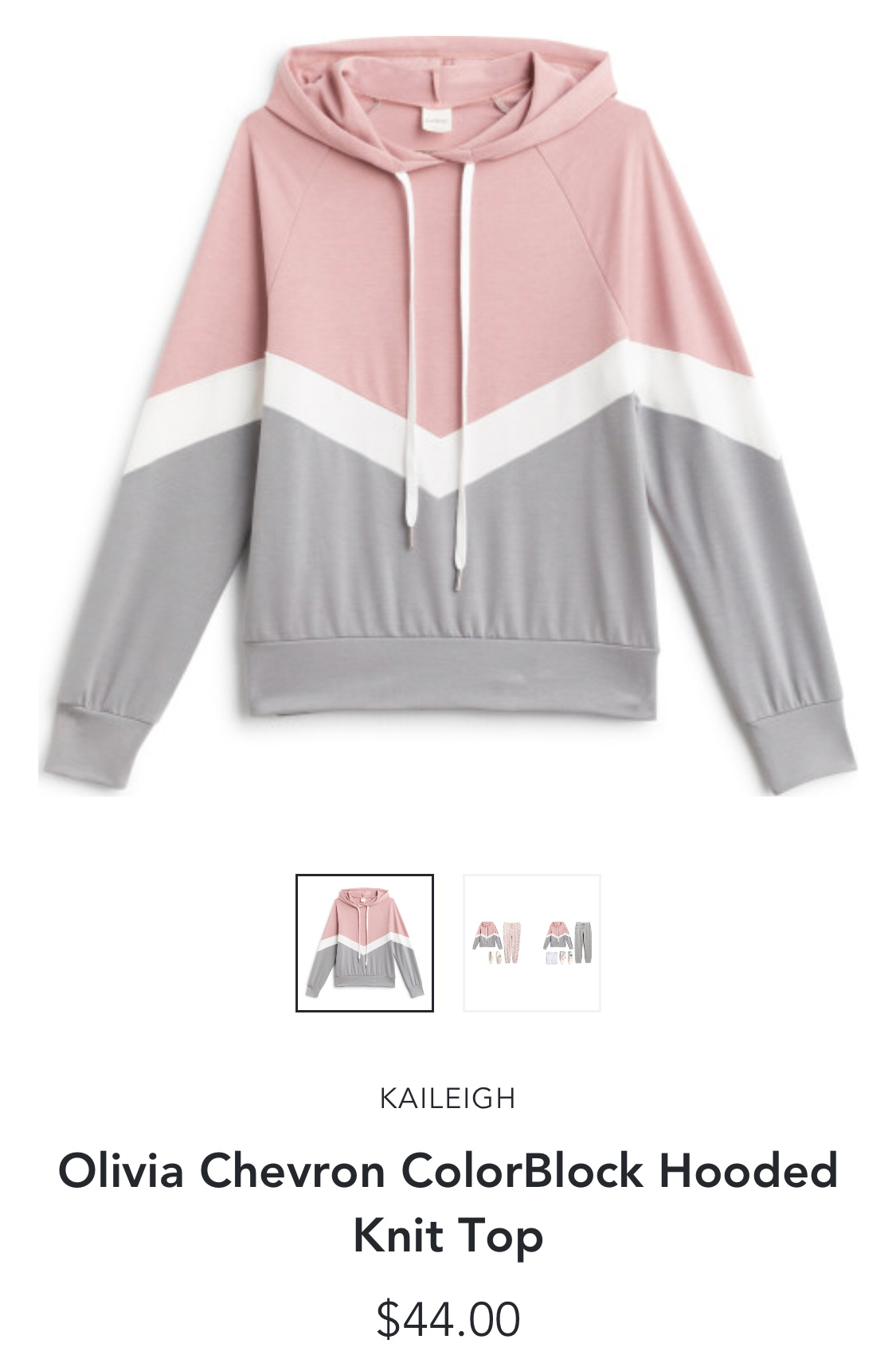 Threads 4 Thought Kiara Eco Tech Performance Jogger
You've already seen that I didn't like the way I styled the Threads 4 Thought Kiara Eco Tech Performance Jogger for our first photo shoot. I didn't like the way they looked with the hoodie so I had to think of a better way to style them.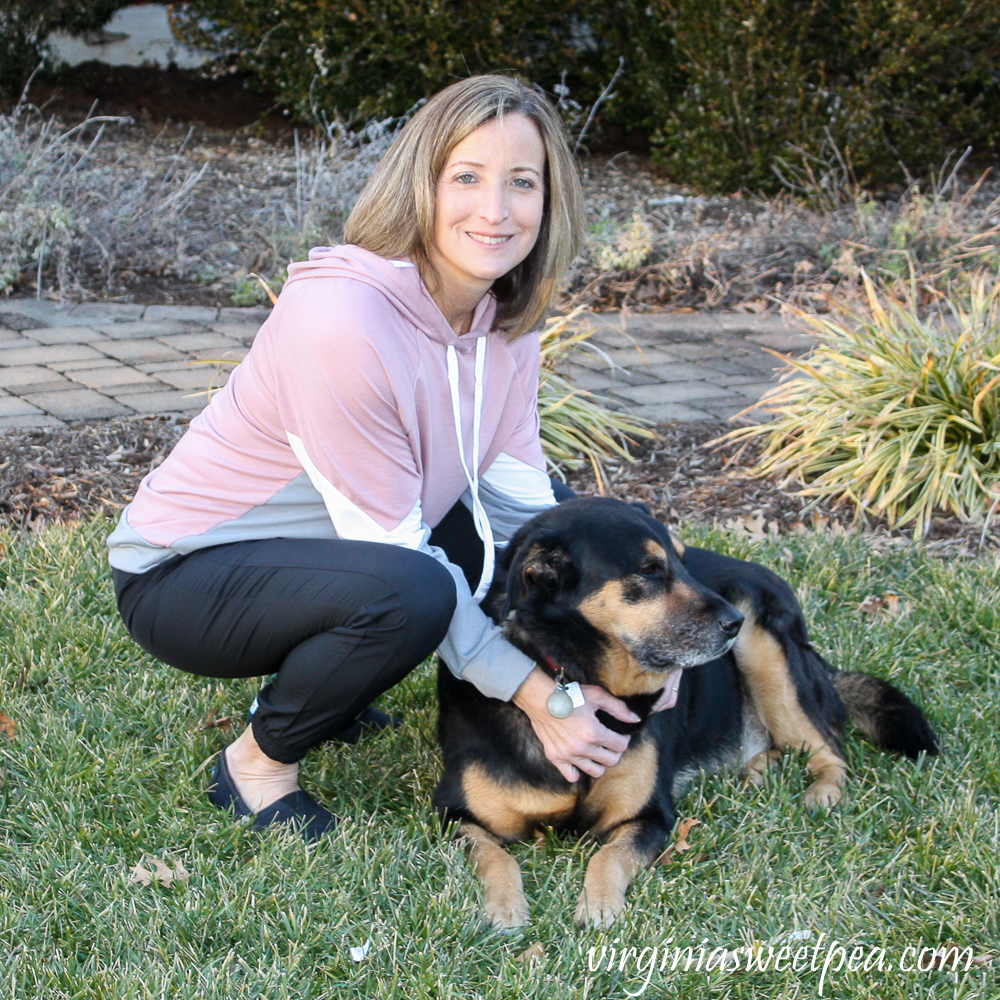 I watch way too much TikToc and when I see young ladies wearing joggers on my nightly TicToc watching session, I see that they frequently wear them with a crop top.
I didn't have a crop top, so I bought a tee at Walmart and cut it off to make my own.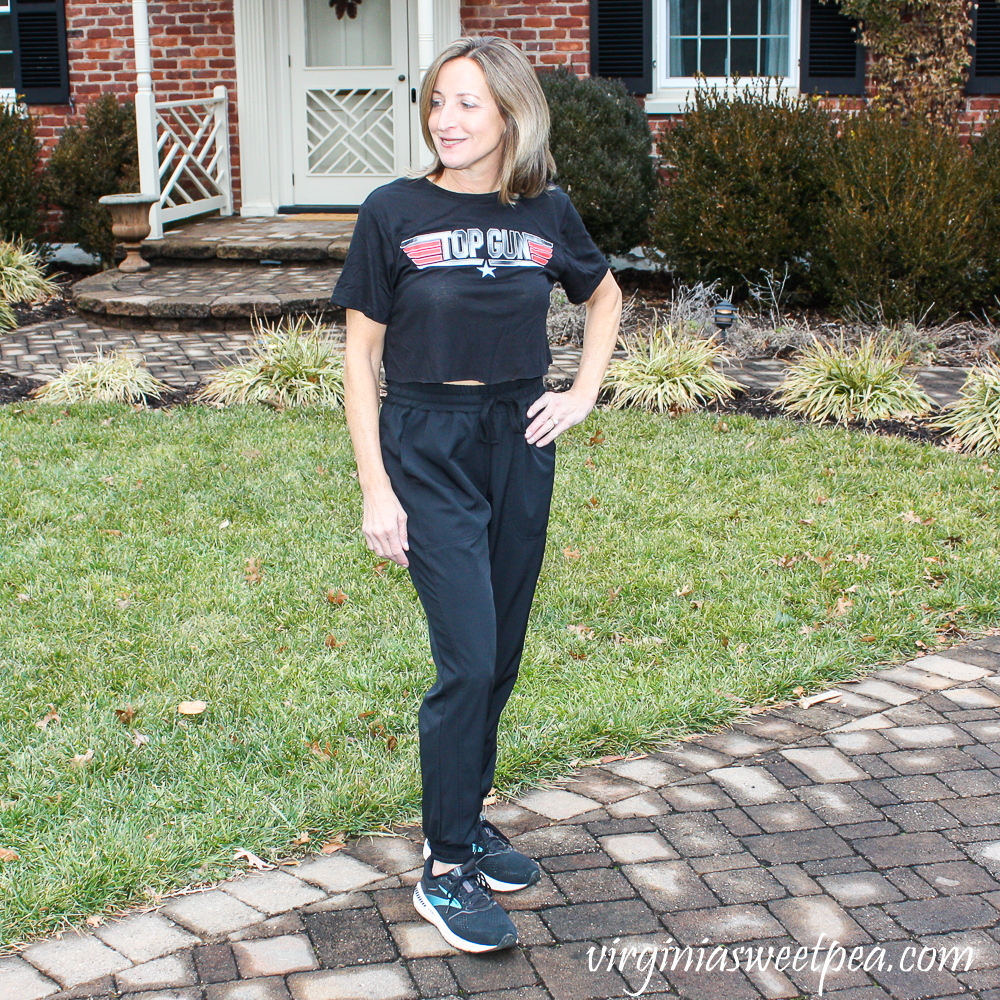 After styling these joggers with a cropped tee, they no longer reminded me of a shiny neon jogging suit from the 90s. I loved how they looked paired with a cropped tee.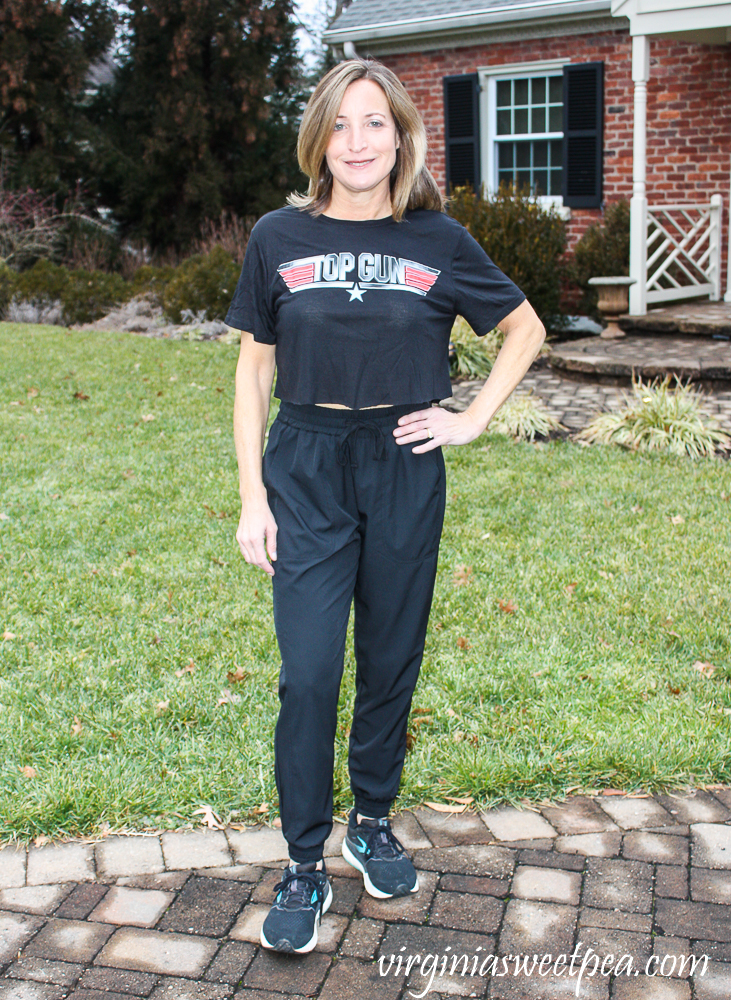 These joggers were so comfortable but I didn't keep them because I already have tons of leggings that I wear to the gym or for loungewear.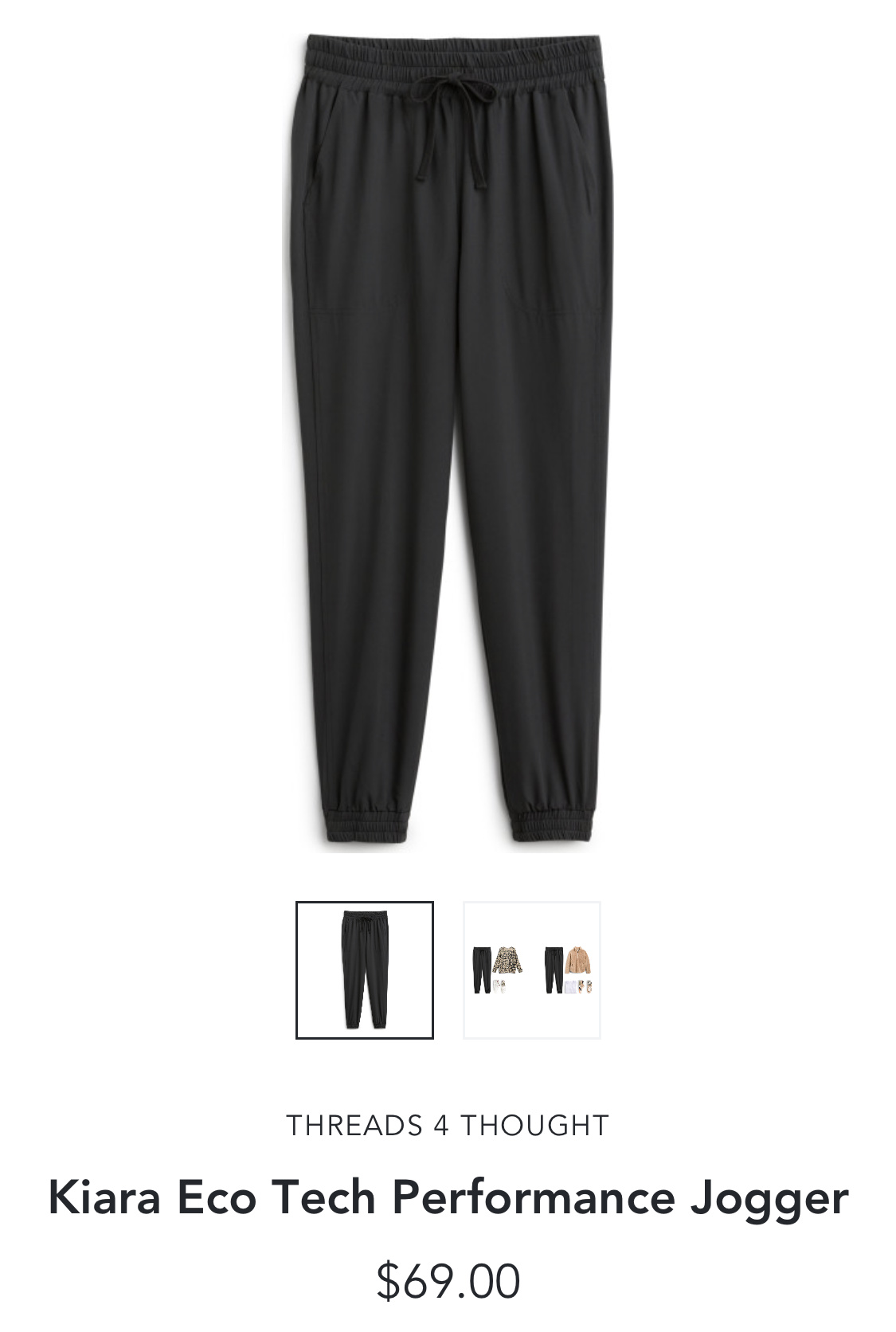 Like always, it was super fun to receive my Stitch Fix box and to try everything on. Jennifer did a great job of selecting items for me to try this month. I really appreciate that she picks things for me to try that if I out shopping, I would never consider.
In Summary
Faith + Zoe Tibi Doman Sleeve Ribbed Pullover – $68 – Keep
Market & Spruce Bernice Cowl Neck Pullover – $68 – Return
Leota Libby Faux Wrap Knit Dress – $88 – Return
Kaileigh Olivia Chevron ColorBlock Hooded Knit Top – $44 – Return
Threads 4 Thought Kiara Eco Tech Performance Jogger – $69 – Return
Try Stitch Fix
I love receiving each Stitch Fix box and really enjoy getting cute clothes without having to shop for them.
If you've been thinking about trying Stitch Fix, I encourage you to do so. If you sign up using my referral link, you'll get $25 off your first box.
That means that your styling fee will be taken care of and you'll have $5 credit toward anything that you want to keep. If you don't like your items, you've lost no money.
Why not try Stitch Fix risk-free?