DIY Candle Holders Using Upcycled Bedposts
I am thrilled with my latest DIY project! Back in June, I spotted a few bedposts in a trash pile that were quite pretty. I used those upcycled bedposts to create candlesticks holders for our lake house fireplace.
Today is our monthly Power Tool Challenge, so be sure to check out the projects that my friends completed at the end of this post. This month's theme is "Wildcard" and I can't wait to see what my friends made.
Shopping a Trash Pile
Before I show you more of what I created, let me share the "before" picture of these bedposts with you.
I spotted these bedposts on a walk with our dog and then high-tailed it home to get the truck to claim these bedposts as my own.
I got there just before the trash truck arrived, saving them from the dump.
Candlesticks made from Upcycled Bedposts
I made these candlestick holders at home and then took them to our lake house because I thought that they would look great on the mantel with our rock fireplace. I love how they look there!
These four were the first that I tried there.
I love the thick and chunky look of these candlestick holders.
My mom made the burlap wreath and I added the small gourds to it. I really like how it looks hanging on our fireplace.
The mantel was made from a carriage house beam from the farm where my grandfather was raised.
I was able to create different styles of candlestick holders using different parts of the bedposts. Here you can see two more styles.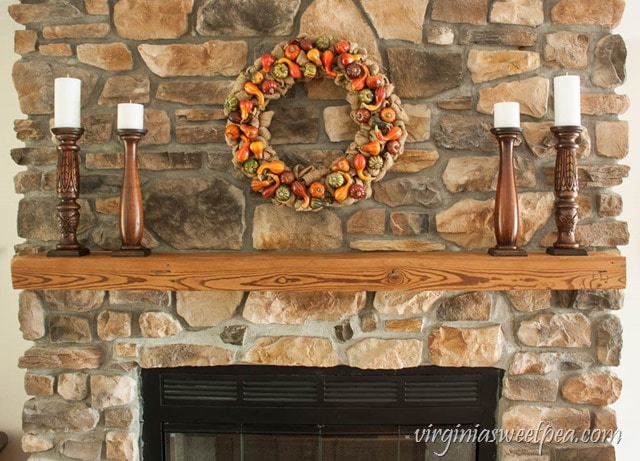 The farmhouse tray on the cedar chest and the ammunition crate side table are both previous Power Tool Challenge projects.
The lamp made from a thermos is DIY project as is the Primrose lamp on the ammunition table.
After I tested out the second set of candlestick holders on the mantel, I put the first set back into place and then grouped the remaining candlestick holders in front of the fireplace.
I like the look of an abundance of candles for fall and winter.
Wouldn't it be cozy to have all of these candles lit on a cool fall night? I can dream about that, but I don't think that my husband (aka Mr. Fire Safety) will go for it.
Let's see how easy it is to make a set of candlestick holders from bedposts for your home.
How to Make Candlestick Holders from Bedposts
Supplies
Bedposts
Miter Saw or Chop Saw
Lumber for Candlestick Bases – (I used a 10" board that we had on hand.)
Carpenter's Square and Pencil
Router with Ogee Bit
4" Circle Plaques – (I purchased these rather than make my own.)
Stain and Polyurethane
Procedure
Cut the Bedposts
I used a sliding compound miter saw to cut the bedposts into pieces that I thought would look good as candlestick holders.
Make the Bases
We had this board in our stash of wood and I used it to make the candlestick holder bases.
I wanted the finished size of each candlestick holder base to be a 4" square, so I set up a jig to let me easily cut 4" pieces from the board.
Here you can better see that the board is set to cut each piece at 4".
Here are the 4" width pieces cut.
After I cut the 4" widths, I cut them again to make 4" squares.
I wanted the squares to have some detail, so I used an Ogee Bit to route the edges.
After routing the edges, each square was sanded smooth.
Apply Stain and Polyurethane
I stained the square bases with Rustoleum Wood Stain in Dark Walnut that was leftover from another project.
I wasn't sure if it would be successful, but after staining the bases, I rubbed a light coat of stain on each bedpost to see if it would even our the wood stain already there and sure enough it worked like a charm.
Rather than cut out circles and route the edges, I saved myself time by buying 4" wood circles that cost just $1 each from AC Moore.
After they were stained, I gave the squares and circles a coat of Minwax Polycrylic.
Can you see the uneven stain on the backs of the circles? The labels were incredibly hard to remove and even after I sanded and sanded, some residue was left. I knew that the candles would hide the uneven stain, so I didn't worry about it.
Glue
After everything was stained and polyed, it was time to glue the candlestick holders together.
I glued each candlestick to its base and after the glue set, glued the circle to the top of each candlestick.
I had to reglue a few after they dried because since the wood wasn't clamped down, the wood slid.
This was an easy fix. I used a hammer to pop off the crooked piece and then reglued it into a better position, this time holding each piece in place until the glue set just a bit.
Enjoy
I really do love how these look on our fireplace at the lake.
Other DIY Bedpost Candlestick Projects
I certainly wasn't the first to come up with this idea. Be sure to check out Gail from My Repurposed Life's How to Make Candlesticks from Repurposed Bedposts and also Wendi from H2O Bungalow's Bed Spindle Candle Holders.
This Month's "Wildcard" Projects
Now it's time to enjoy the "Wildcard" projects that my friends made for this month's Power Tool Challenge.
The Kim Six Fix Vintage Surveyors Tripod Lamp
Virginia Sweet Pea DIY Candlesticks Using Upcycled Bedposts
H2OBungalow Upcycled Metal and Wood Table
Create and Babble Little Round Stool
My Love 2 Create Small Decorative Caddy
My Repurposed Life Easy One Pallet Project
Designed Decor Build Your Own Tufted Bench