This post and photos may contain Amazon or other affiliate links. As an Amazon Associate I earn from qualifying purchases. If you purchase something through any link, I may receive a small commission at no extra charge to you. All opinions are my own.
May is here and that means it's time for another Stitch Fix review. I'm excited to share what my stylist picked for me to try for this month.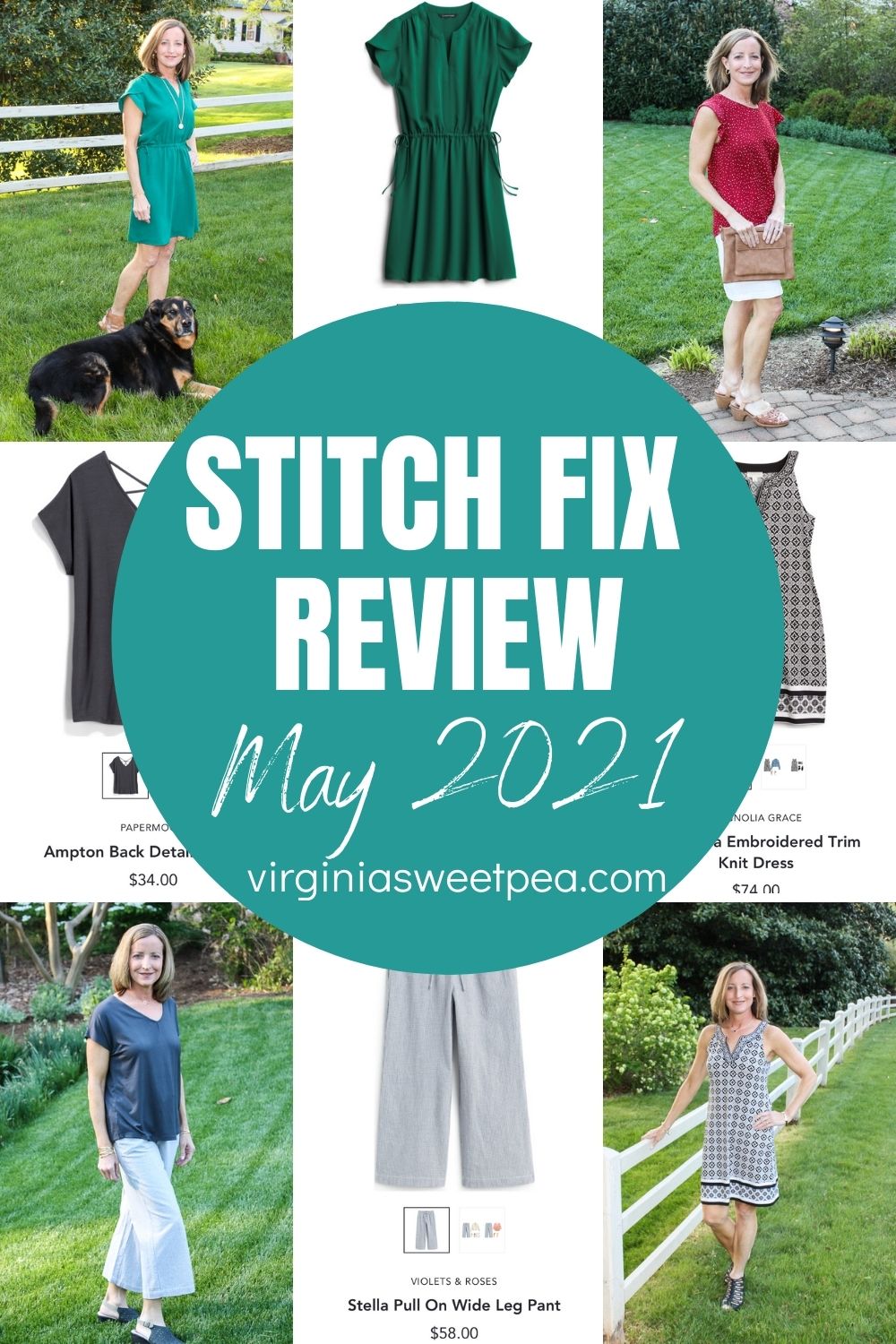 May is one of my favorite months of the year because the weather is warm but not hot and so many things are in bloom.
It's always a pleasure to receive my Stitch Fix box and to try everything on. This month I'm sharing six things rather than the usual five. Why? Stitch Fix now has a shop category on their website. It's divided into sections and you can buy items individually. My sweet aunt sent me a Stitch Fix gift card and I used it to buy a cute summer top. This top is the extra item that I'm sharing this month.
These pictures were taken on April 20th after my 6th of 17 radiation treatments. I wanted to take the pictures while my hair was still full and on my head. As of today, May 1, I still have hair but it thin. This week's treatment was rough on my body and by Thursday, my platelets had dropped too low to have a treatment. Friday morning I had more bloodwork and an infusion of fluids and anti-nausea medication. My platelets were even lower on Friday, so again, no treatment. We'll repeat bloodwork on Monday and if my platelet numbers are high enough, I'll have a treatment. There are only five left and it will be great to get them behind me. I'm struggling with eating and drinking. Food isn't appealing and most of it is either tasteless or doesn't taste at all good to me. I can only handle small sips of fluids right now. Trying to swallow too much chokes me. I'm hanging in there and doing my best to just keep on keeping on.
Stitch Fix Review for May 2021
If you are new to Stitch Fix, these details will help you to understand the service. If you want to try Stitch Fix, sign up here to get $25 off your first box.
Stitch Fix is a personal styling service. When you sign up for Stitch Fix, you fill out a detailed style profile that helps your stylist know your likes and dislikes.
When a Fix arrives, you have three days to try the clothes on and to decide what to keep and what to send back. Stitch Fix includes a postage-paid envelope making returns super easy.
When you sign up for Stitch Fix, you can choose how often a box is delivered. You can pick monthly options or schedule a box when you'd like to receive one. I do not like shopping and love receiving clothing from Stitch Fix. I get clothes that I like without having to do any work other than pinning things that I like to my fashion board on Pinterest. My stylist checks my Pinterest board for inspiration and also reads my note to her each month to see if I have any special requests.
You can find links to all of my Fixes here and also be sure to check out my Stitch Fix Review Board on Pinterest where I pin my favorite looks.
Let's see what my stylist, Jennifer, picked for me to try this month.
41 Hawthorne Celia Sleeve Detail Dress
The first item to share is my favorite from this month's box, the 41 Hawthorne Celia Sleeve Detail Dress. I loved the sleeve detail of this dress and how the waist is a drawstring that ties on either side.
I can't wait to wear this dress out and about for the first time!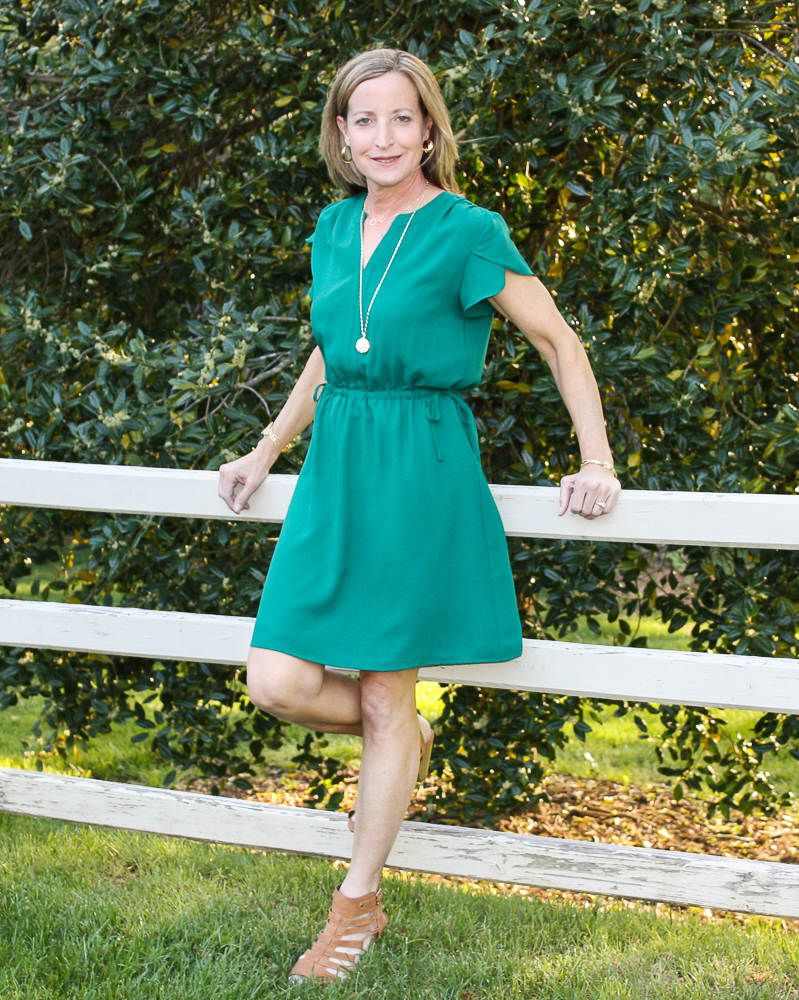 All of my jewelry is from my latest Rocksbox box. I kept this beautiful Kendra Scott Natalie Pendant Necklace in Gold and White Mussel because I loved how it looked with this dress. The bracelets were purchased from past Rocksbox boxes and the earrings are from my current box. I'm not keeping them, but I am enjoying wearing them until I send them back.
Rocksbox is a jewelry subscription service that sends three pieces of jewelry that you can wear for as long as you like each month. When you send your three pieces back or buy what you like, a new box is sent. If you'd like a free month of Rocksbox, sign up with this code: PAULABFF54.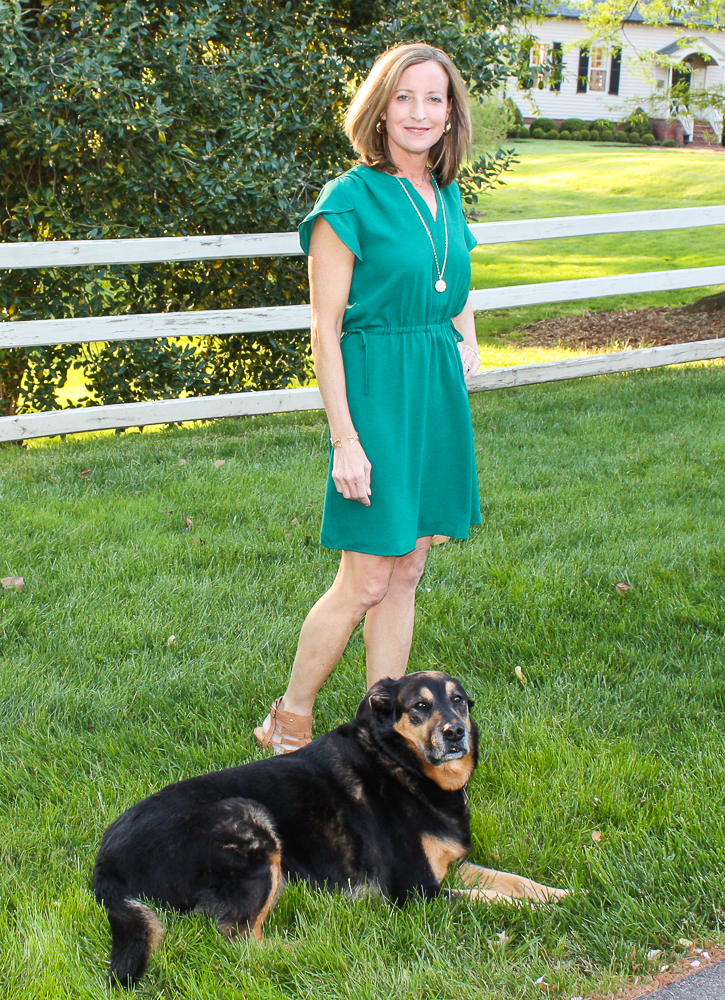 This has been the most beautiful spring and the day we took these pictures was spectacular. Sherman agreed to pose with me while I had on this dress but wasn't as cooperative as the photo shoot continued.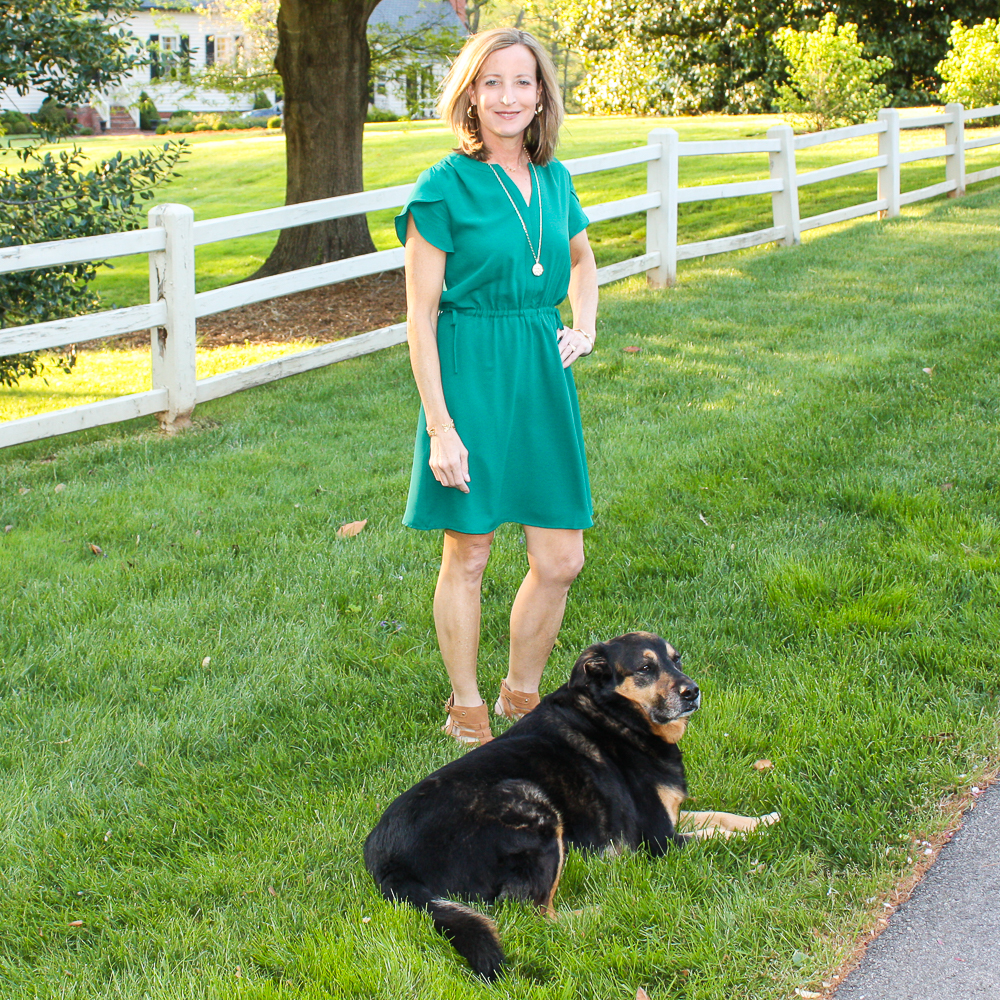 I loved this dress and knew it was a keeper as soon as I put it on.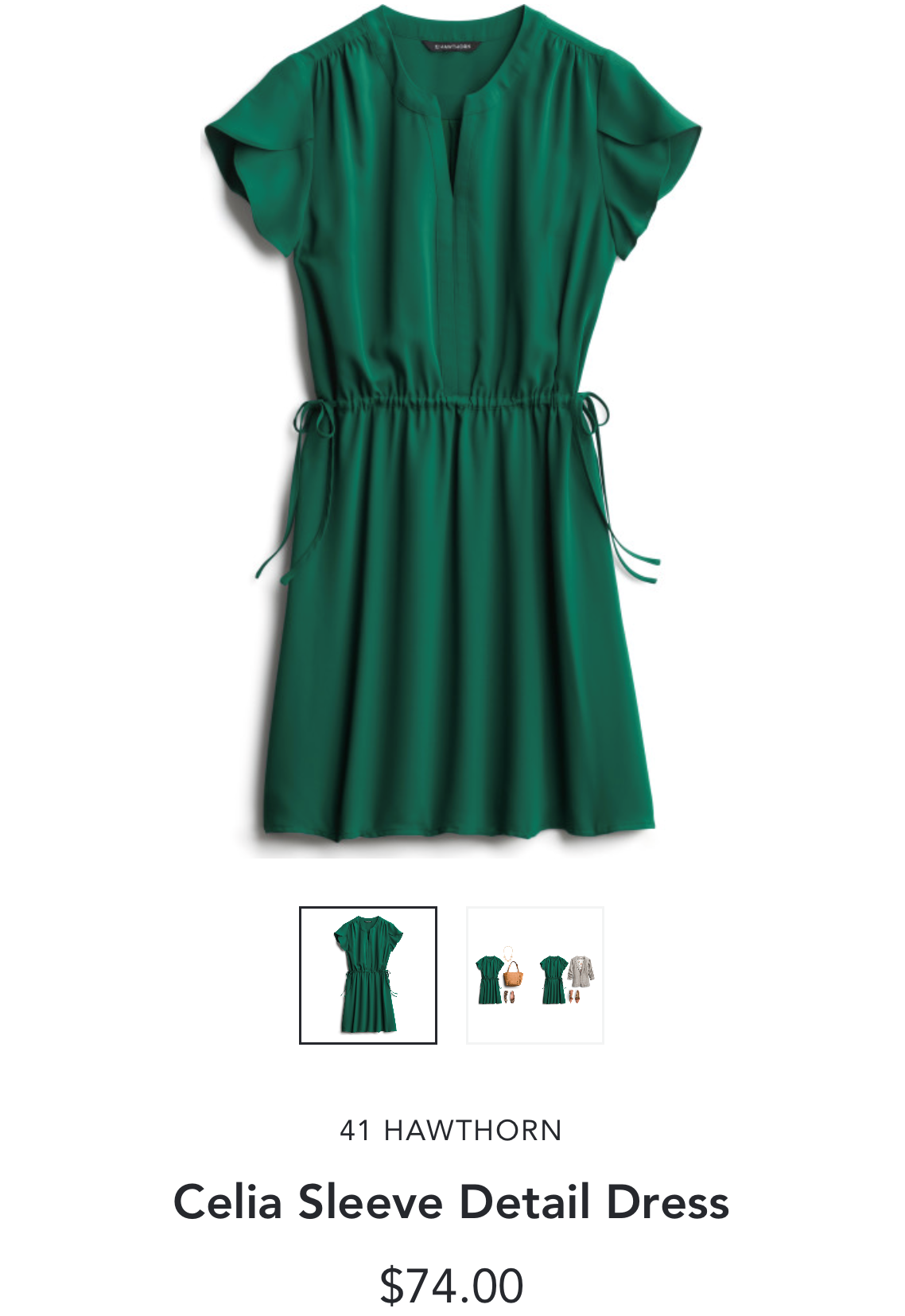 Magnolia Grace Alhambra Embroidered Trim Knit Dress
The next item to try from this month's box was the Magnolia Grace Alhambra Embroidered Trim Knit Dress. When Mr. SP first saw this dress, his immediate response was, "Don't you already have that dress?" He was remembering a dress that I bought about ten years ago at Dress Barn and frequently wore to school.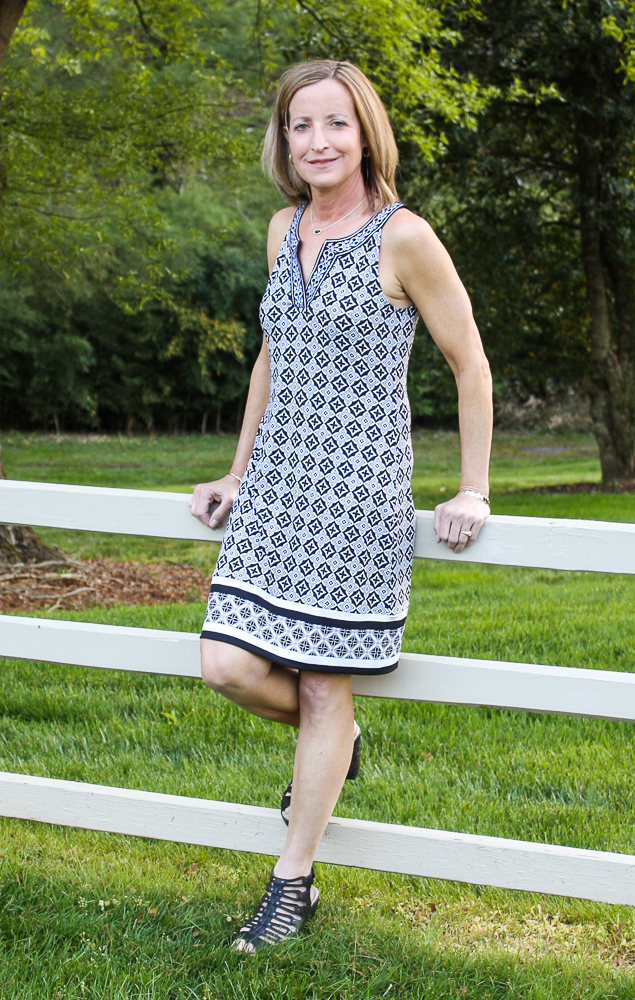 This dress is a cute style, was super comfortable, and its made of a material that can be folded and packed in a suitcase and not wrinkle.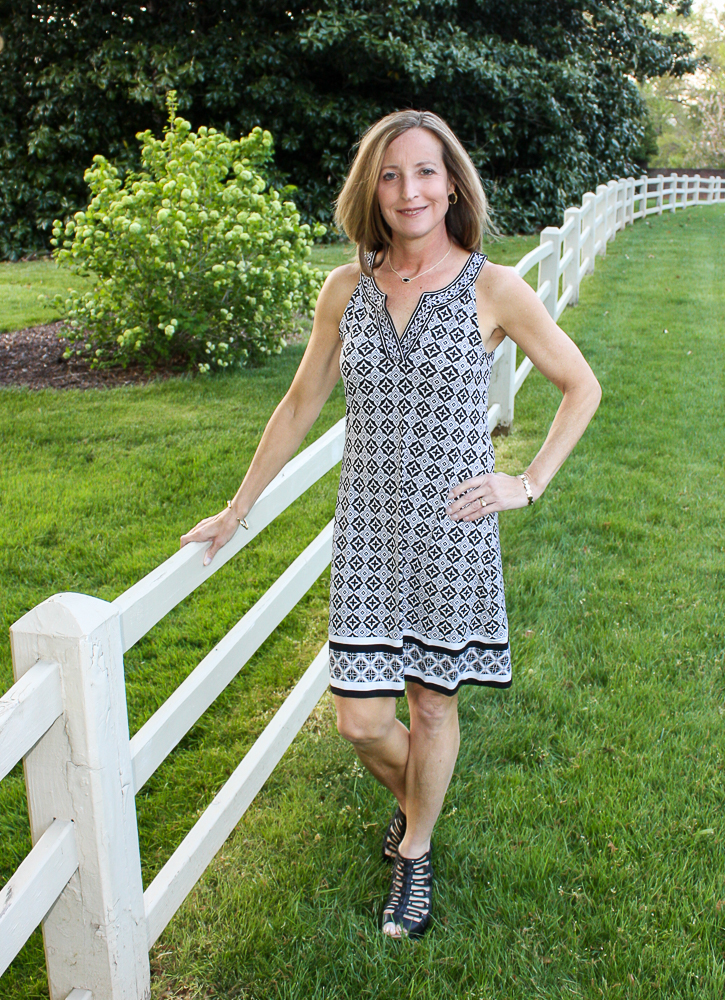 I paired the dress with another Rockbox necklace, the Kendra Scott Elisa Necklace in black and more bracelets from past Rocksbox boxes.
My shoes are Jambu from my teaching days. Even though they are heels, I could stand on concrete all day in them.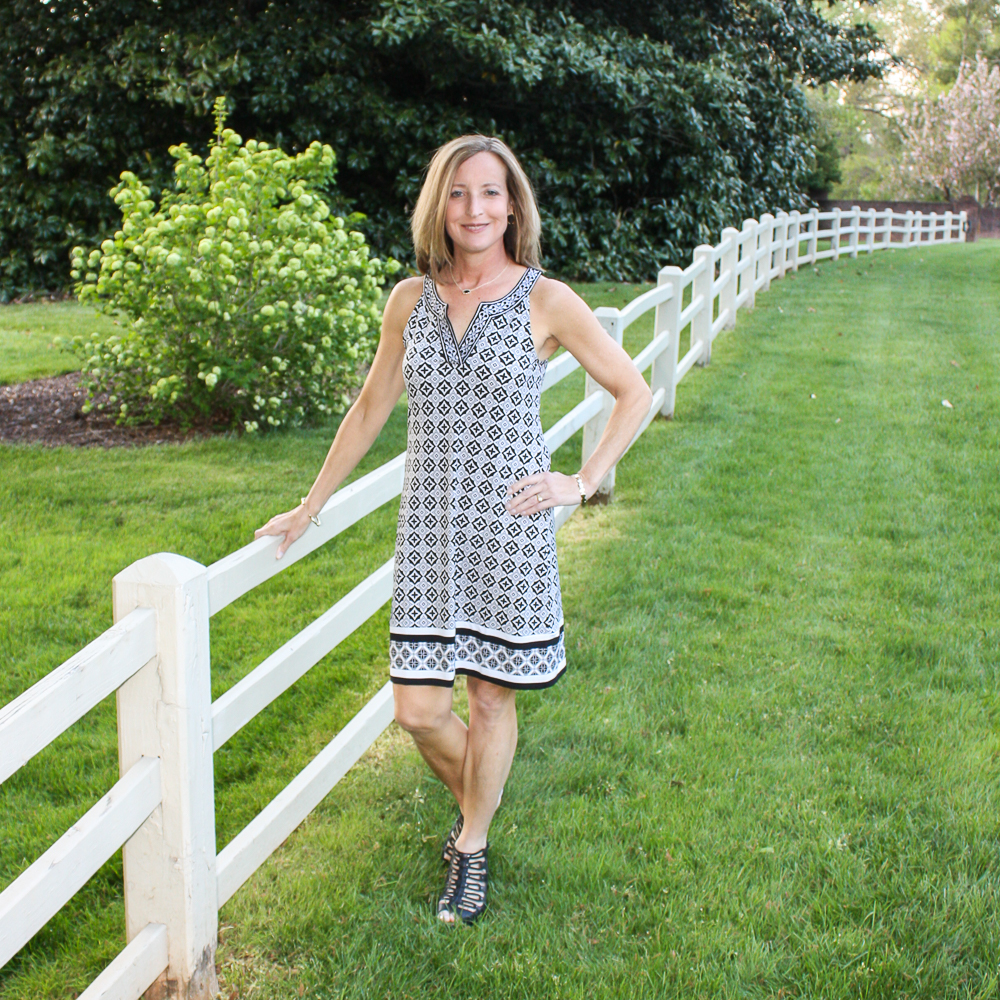 I liked this dress but not enough to keep it.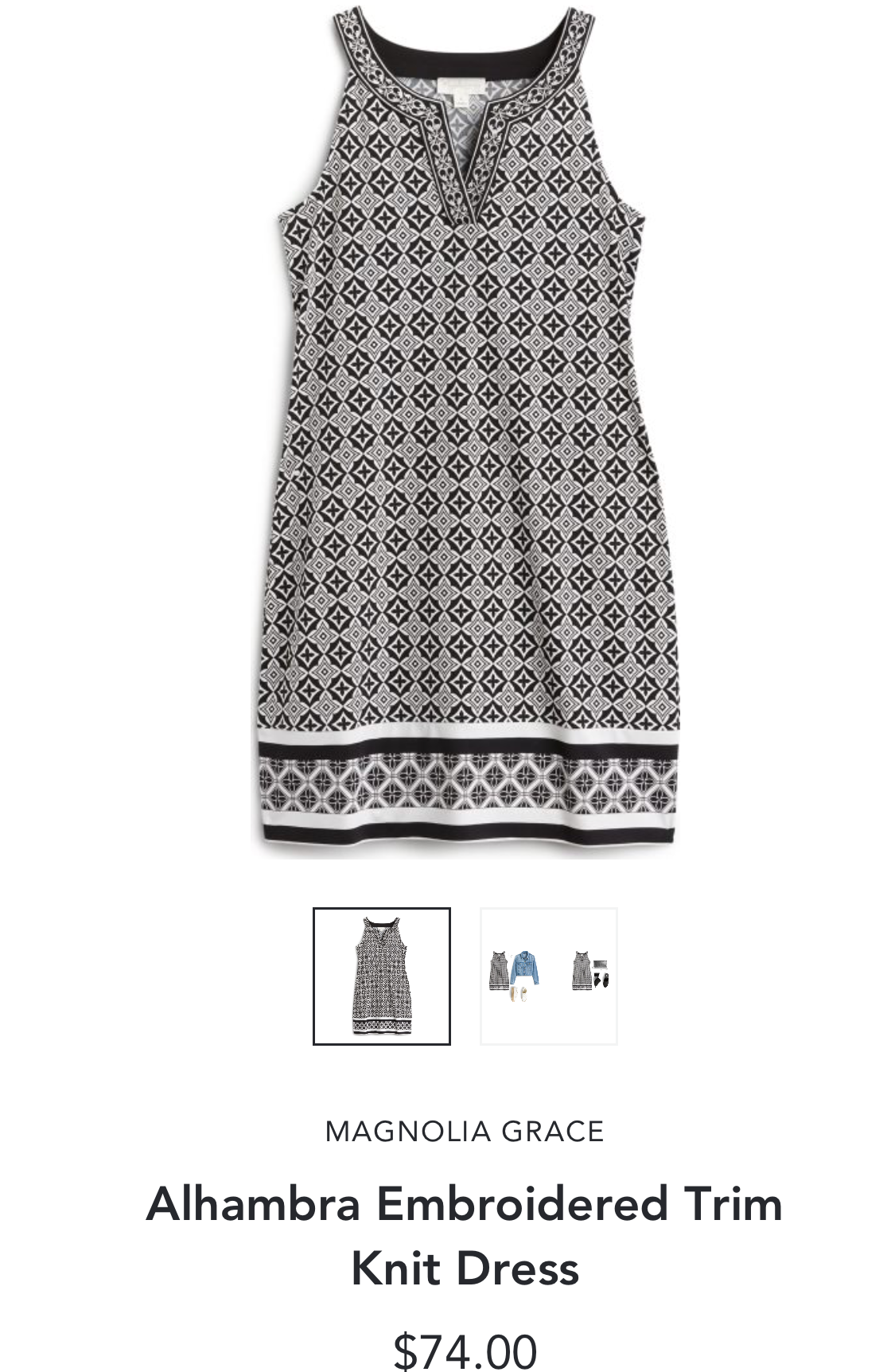 Papermoon Ampton Back Detail Knit Top with Violets & Roses Stella Pull On Wide Leg Pant
I love it when my stylist picks an outfit for me. Next to try was the Papermoon Ampton Back Detail Knit Top with Violets & Roses Stella Pull On Wide Leg Pant.
The top is an athletic top designed to wear at the gym or for casual wear. The fabric was buttery soft and the top could not have been more comfortable.
The pants are not a style that I would try on in a store but receiving them is a reason I love Stitch Fix. I lets me try on things that I wouldn't pick for myself. These pants have a cute wide leg style and an elastic waist with a drawstring. They were super comfortable.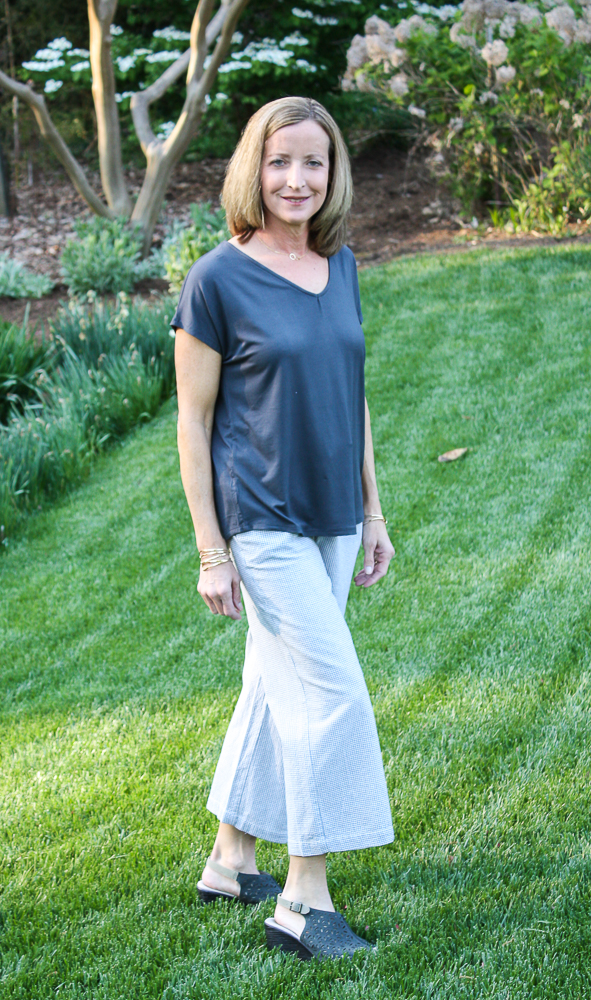 The necklace that I'm wearing here is another recent Rocksbox purchase, the Sophie Harper Interlocking Circles Necklace in Gold. I purchased this from Rockbox in March and then in April when it was Easter, my very fashionable sister-in-law was wearing a similar necklace. Susan keeps up with the trends, so I'm guessing that this necklace is on-trend right now.
My shoes are another pair of Jambus from my teaching days. I don't wear dress shoes much these days so when it is time for Stitch Fix pictures, I wear what I already have.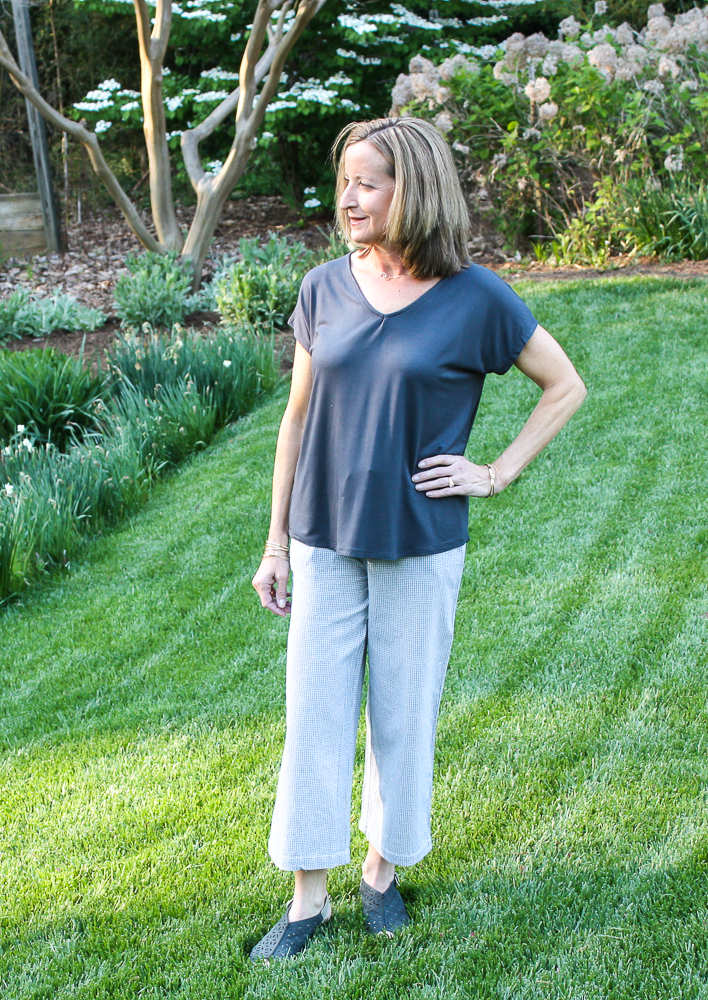 Look at this top's adorable back detail!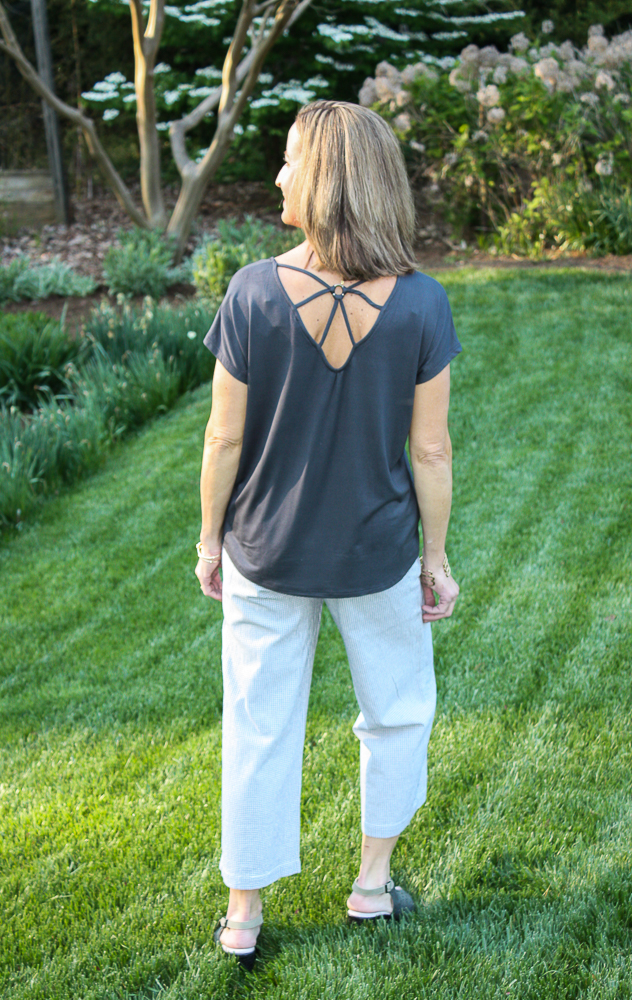 I liked this top but it was too similar to the Corinne Performance Cross Back Tee from my April Fix to keep.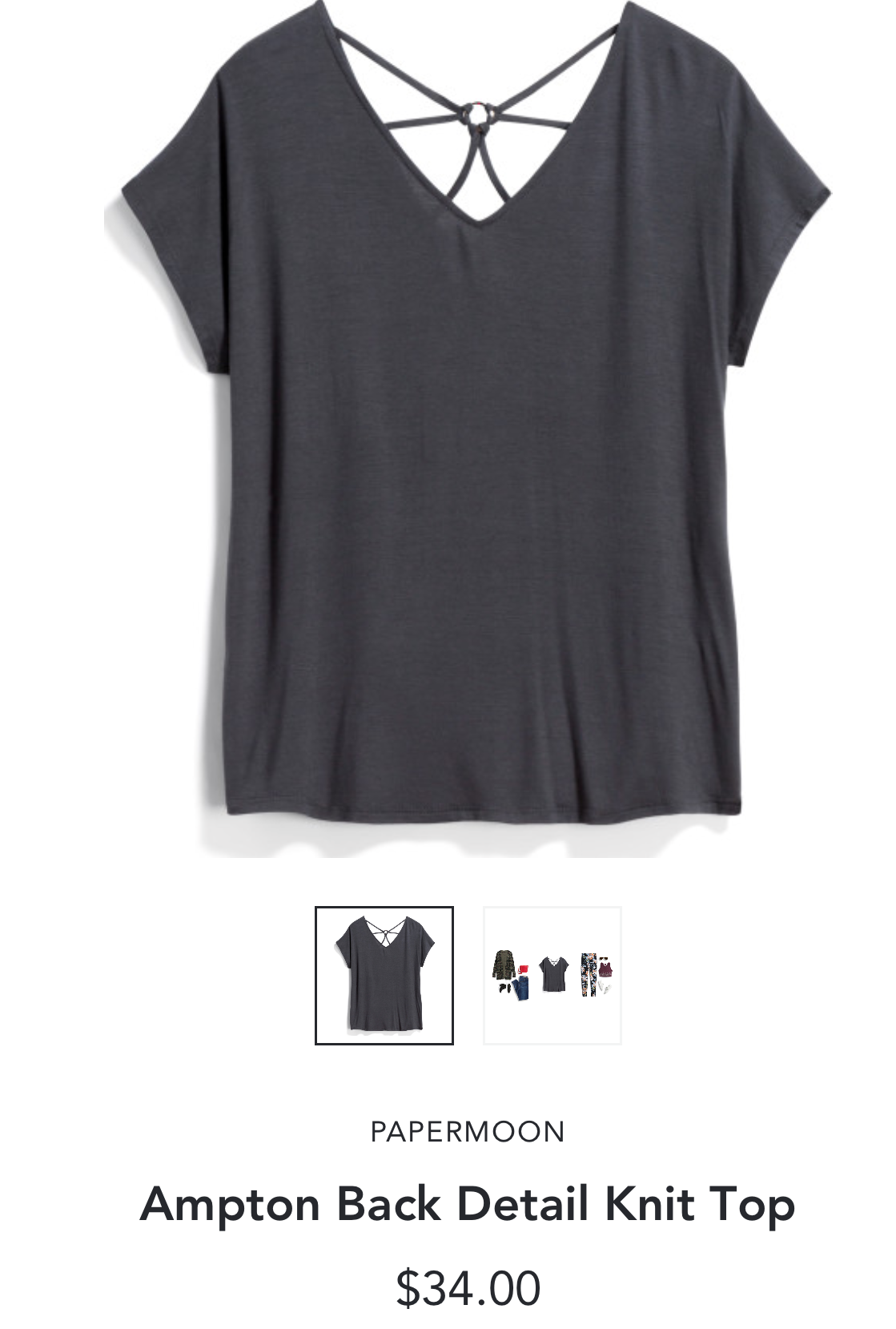 I liked these pants but not enough to keep them. I did enjoy trying them as they were not something that I would pick to try if shopping in a store.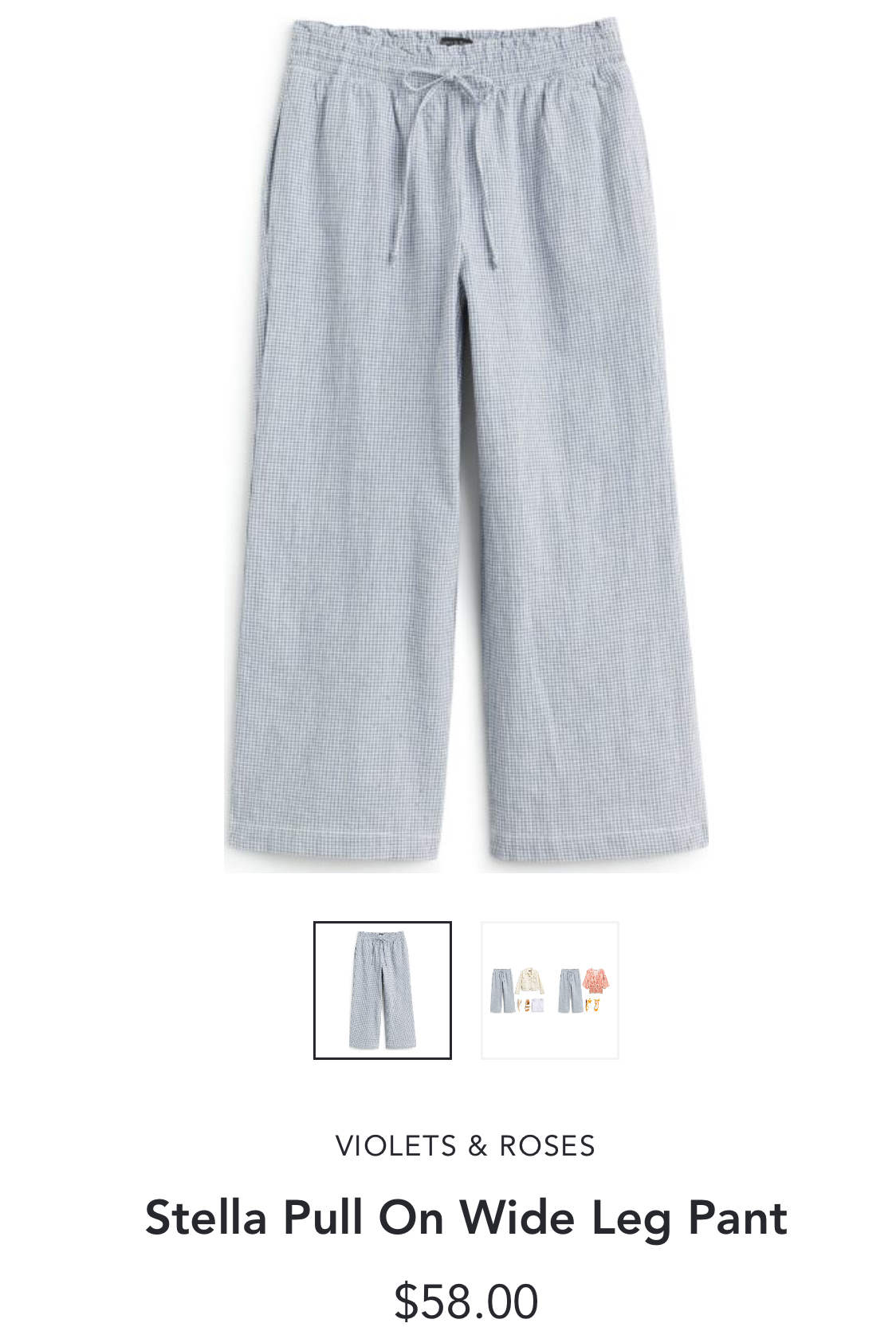 Papermoon Kiera Keyhole Back Blouse
This Papermoon Kiera Keyhole Back Blouse is the bonus item that I'm sharing this month. I purchased it from the shop section on the Stitch Fix website with a gift certificate that my sweet aunt sent to me.
By the way, my aunt and I look so much alike and I even have a lot of her mannerisms even though I didn't see her frequently growing up. Genetics are an amazing thing.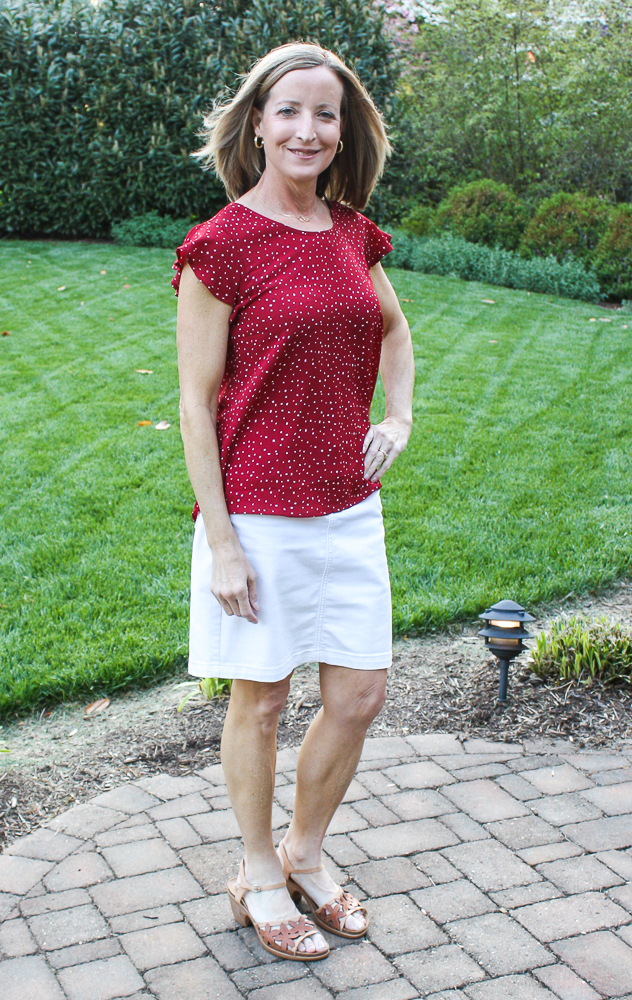 My favorite color is red and I have always been a polka dot fan. I also loved this blouse's sleeve detail. I paired it with a white Old Navy skirt and Danskos from my teaching days.
For 4th of July, I'll wear this with blue shorts.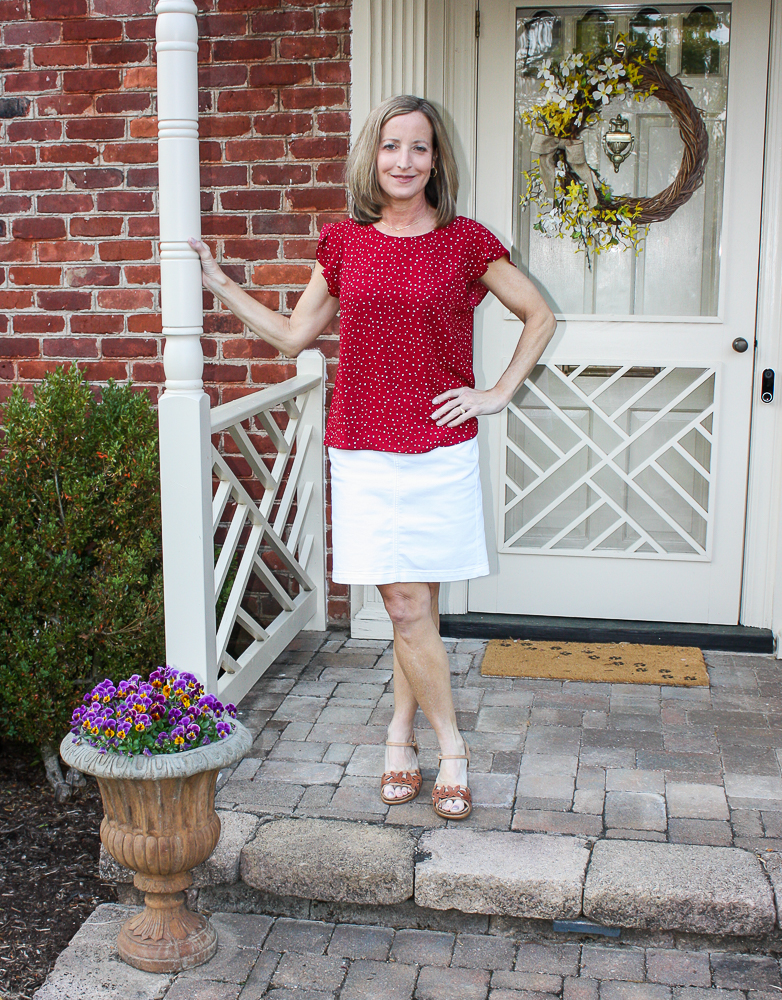 I don't have any white shorts and buying a pair to wear with this blouse is on my "to-do" list. I actually asked for a pair of white shorts for this Fix but Jennifer wasn't able to find a pair to send to me.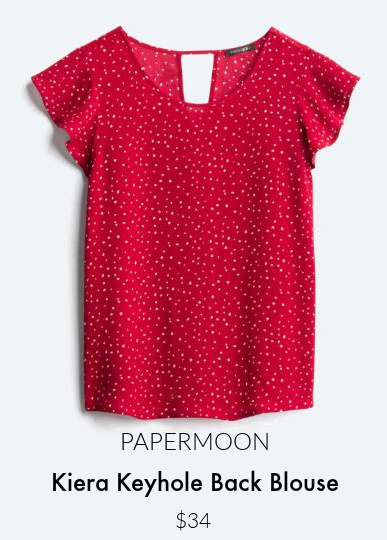 Shiraleah Jesse Crossbody Bag
The last item to share is the Shiraleah Jesse Crossbody Bag.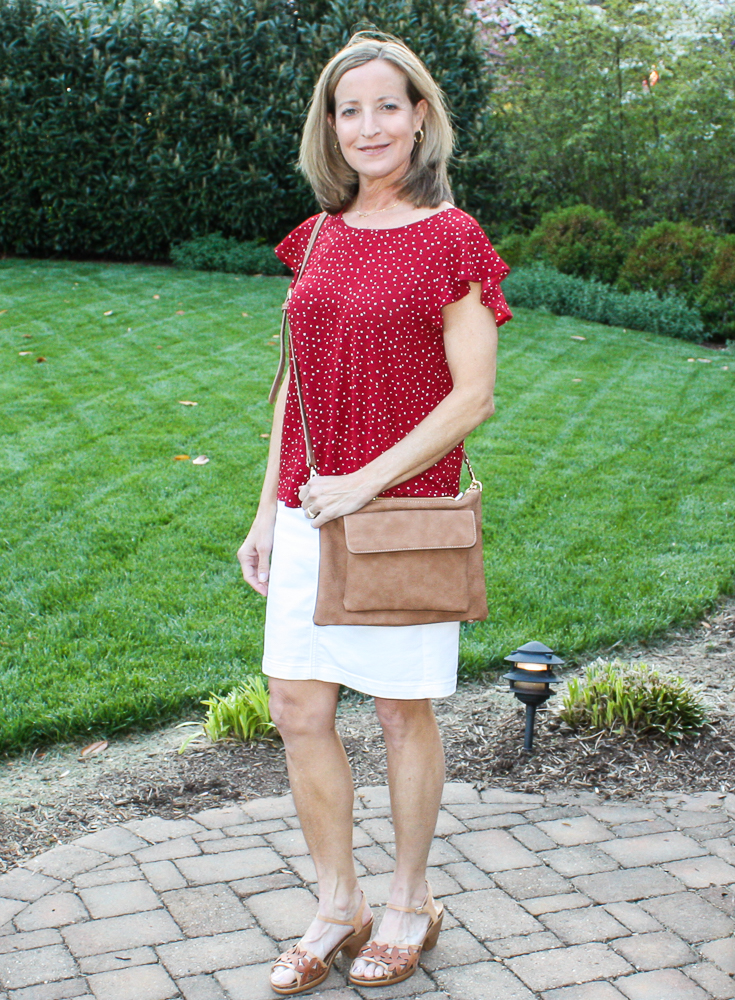 This bag can be enjoyed as a crossbody or you can take the strap off and carry it as a clutch.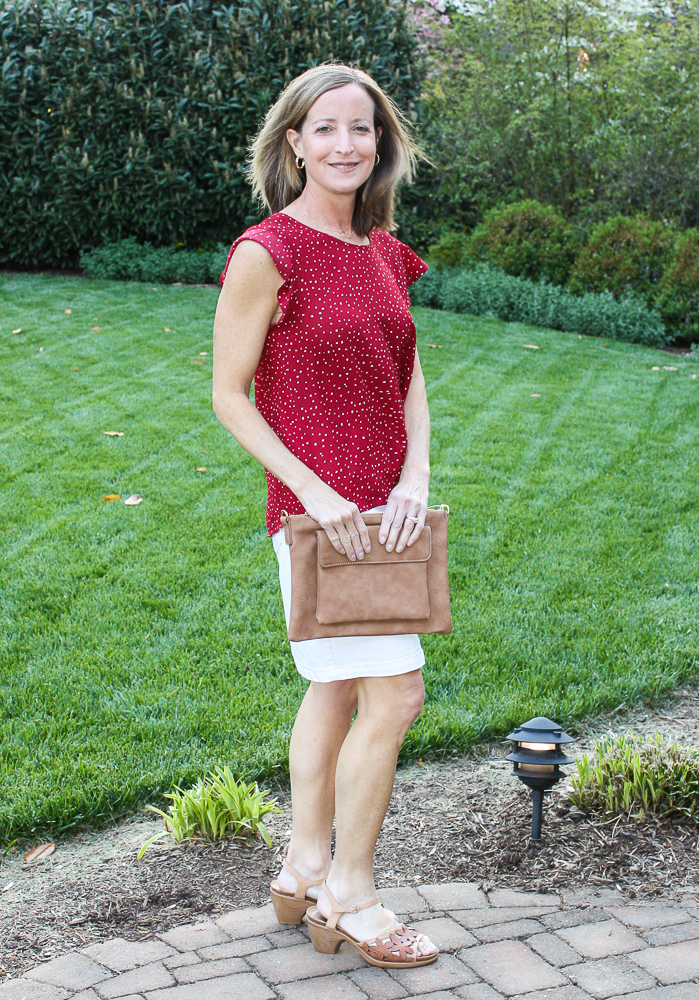 I wasn't at all a fan of this bag. First, like I said in my March Stitch Fix Review, I don't want to carry a suede bag in spring or summer. Second, the bag had no structure and was really floppy which was annoying.
This was an automatic no from the time I pulled it out of the box.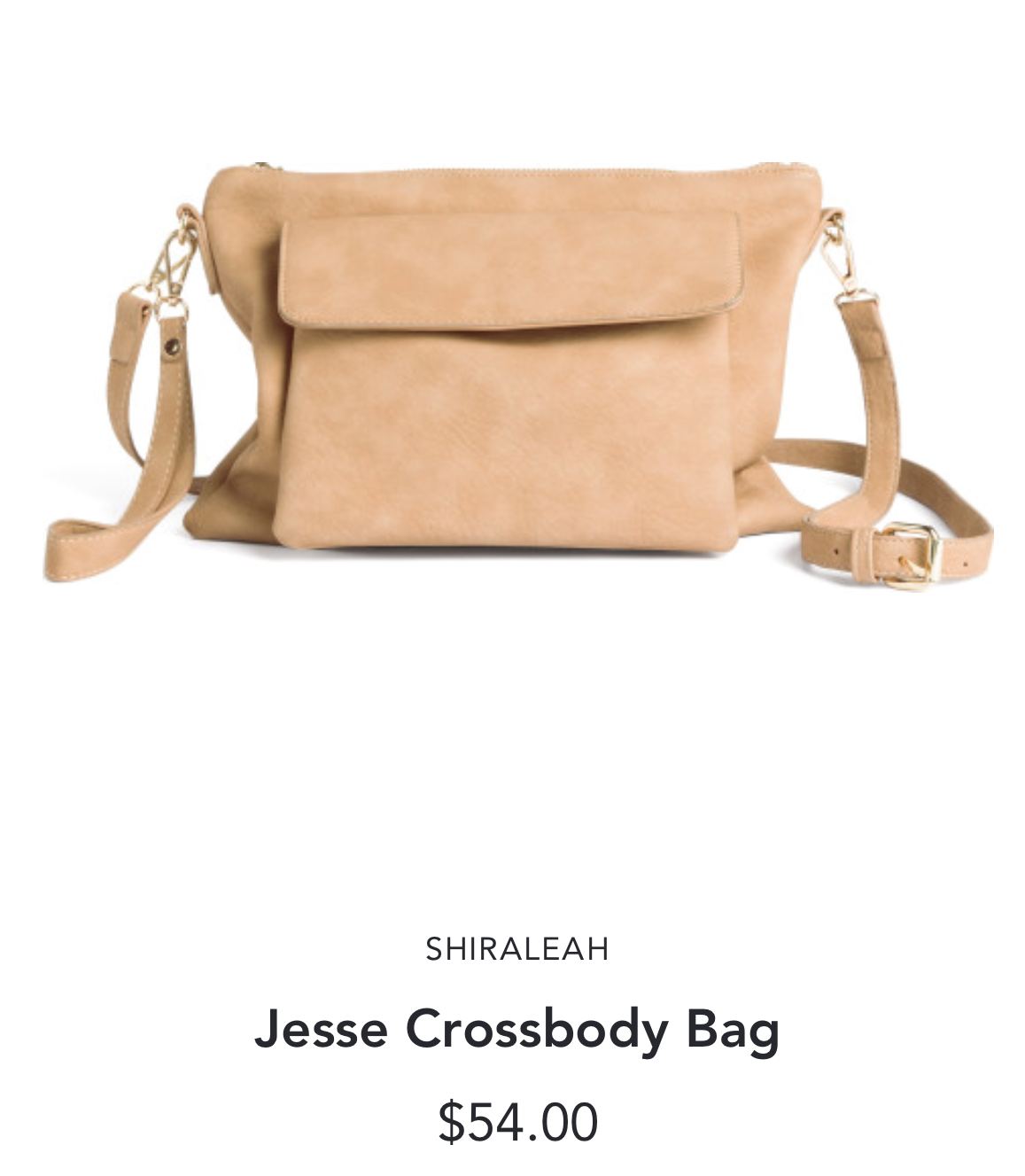 In Summary
41 Hawthorne Celia Sleeve Detail Dress – $74 – Keep
Magnolia Grace Alhambra Embroidered Trim Knit Dress – $74 – Return
Papermoon Ampton Back Detail Knit Top – $34 – Return
Violets & Roses Stella Pull On Wide Leg Pant – $58 – Return
Shiraleah Jesse Crossbody Bag – $54 – Return
That means that your styling fee will be taken care of and you'll have $5 credit toward anything that you want to keep. If you don't like your items, you've lost no money.
Why not try Stitch Fix risk-free?