Stitch Fix Review–July 2018-Fix #59
July means we are now in full-on summer mode. My July Stitch Fix box included five pieces perfect for hot summer days.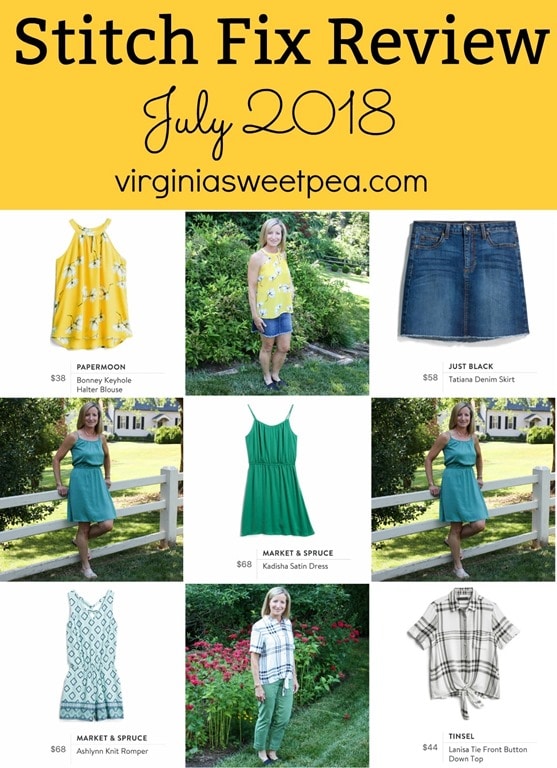 I am a Stitch Fix affiliate and if you make a purchase, I make a small commission. My love for Stitch Fix is genuine and all opinions are truthful and my own.
July 2018 Stitch Fix Review
If you are new to Stitch Fix, these details will help you to understand the service.
Stitch Fix Details
Stitch Fix is a personal styling service. When you sign up for Stitch Fix, you fill out a detailed style profile that helps your stylist know your likes and dislikes. Since I've received 58 Stitch Fix shipments, my stylist knows my likes and dislikes very well and I almost always like every item in my Fix, a good problem to have!
When a Fix arrives, you have three days to try the clothes on and to decide what to keep and what to send back. Stitch Fix includes a postage paid envelope making returns super easy.
When you sign up for Stitch Fix, you can choose how often a box is delivered. You can pick a monthly options or schedule a box when you'd like to receive one.
I do not like shopping and love receiving clothing from Stitch Fix. I get clothes that I like without having to do any work other than pinning things that I like to my fashion board on Pinterest. My stylist, Brittany H., checks my Pinterest board for inspiration and also reads my note to her each month to see if I have any special requests.
You can find links to all of my Fixes here and also be sure to check out my Stitch Fix Review Board on Pinterest where I pin my favorite looks.
For more Stitch Fix looks, be sure to check out my other Stitch Fix reviews. And if you haven't tried Stitch Fix, what are you waiting for? It's so much fun to received a box of five items picked just you.
This Month's Stitch Fix Items
Like always, my stylist, Brittany H., did a fabulous job of picking out summer items for me to try. Let's see what she sent this month!
Papermoon Bonney Keyhole Halter Blouse
I loved the design, color, and floral pattern of this blouse. The only problem is I have nearly the identical blouse in blue from my May 2017 Fix. I will say that every time I wear my blue blouse, I get a ton of compliments on it. It's halter style is perfect for summer and it is figure flattering.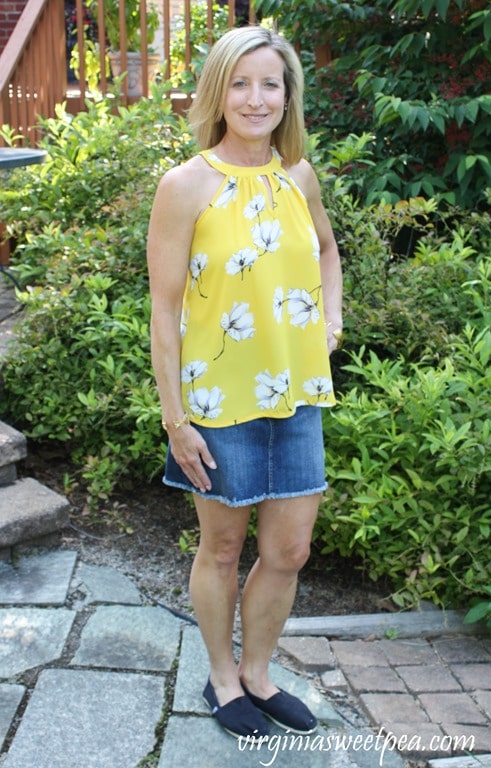 The back of this top is really cute.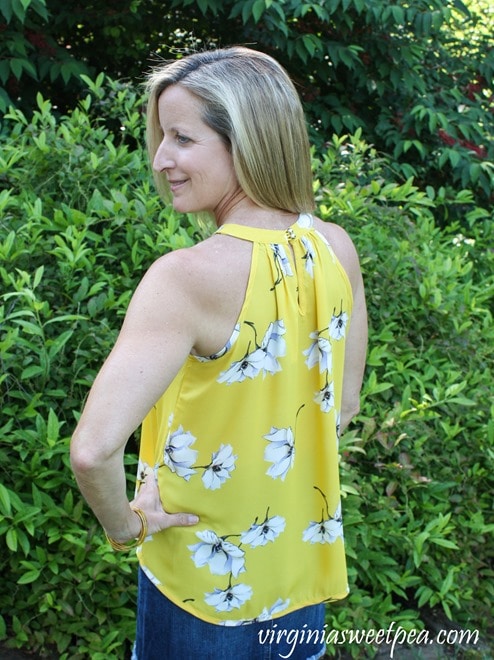 If I didn't already own this top in blue, I would have kept it. But since I have one version of it, this was returned.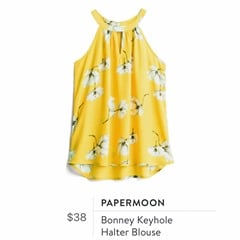 Just Black Tatiana Denim Skirt
At 49, I think this is the third time that I've witnessed denim skirts of this length being in style. I distinctly remember having one in the late 1980's and then again in the late 1990's. I really like this skirt's color, stretch, and raw-edged hemline.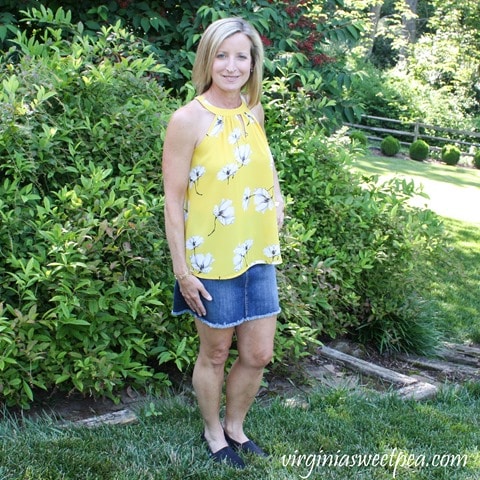 This skirt was super comfortable and I thought about keeping it, but I didn't need it in my wardrobe, so I returned it.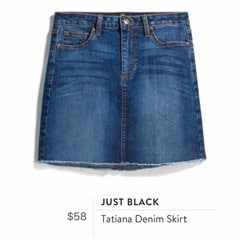 Market & Spruce Kadisha Satin Dress
I love Stitch Fix dresses and wear them constantly in the summer. This Market & Spruce dress is so soft and could be dressed up or down by changing out shoes and jewelry.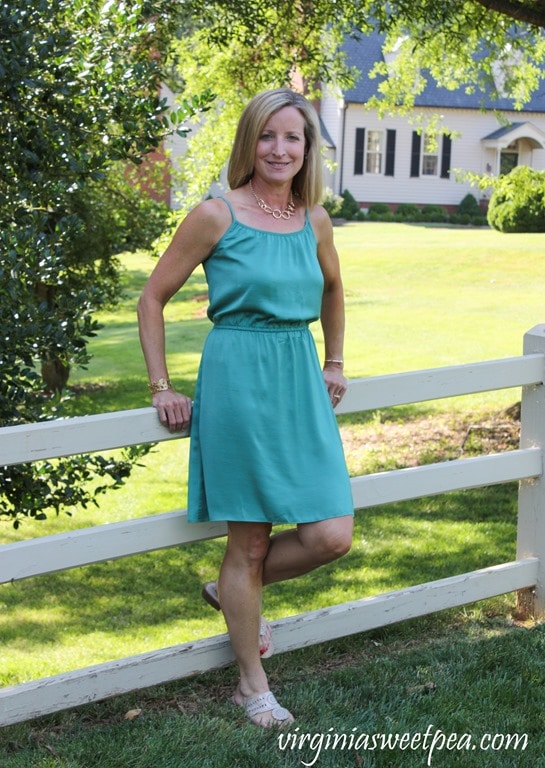 My bracelets and necklace are all from Rocksbox shipments. Rocksbox is a jewelry subscription service that sends three pieces of jewelry that you can wear for as long as you like each month. When you send your three pieces back, or buy what you like, a new box is sent. If you'd like a free month of Rocksbox, sign up with this code: PAULABFF54. I rejoined Rocksbox in January and am LOVING their service. I've received the cutest jewelry and have purchased quite a few items.
This pretty green dress is very lightweight and would fold to nothing if packed in a suitcase. It isn't lined, so in the old days, your Mama would have you wear it with a slip. Young people have no idea what I'm talking about when I say slip.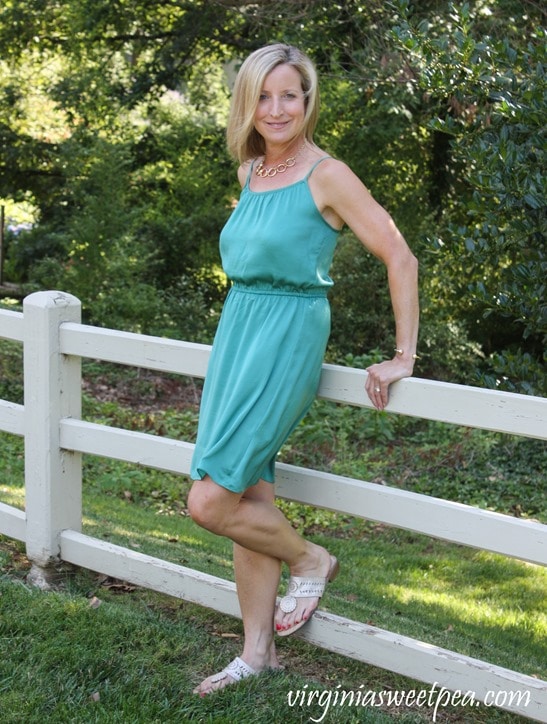 This dress has an adorable lace-up back detail.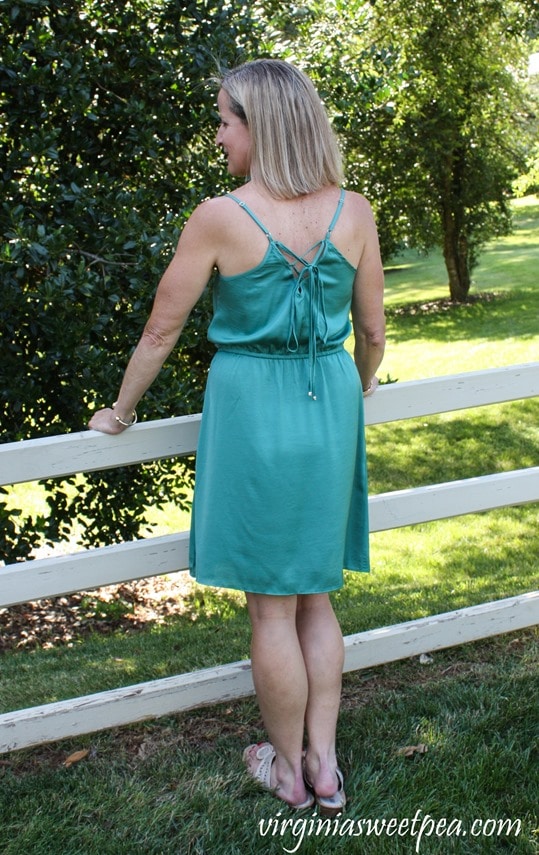 If I didn't already own a closet full of Stitch Fix summer dresses, I would have kept this for sure.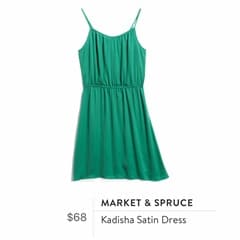 Market and Spruce Ashlynn Knit Romper
Rompers are another trend that I'm now witnessing for the third time. My first rompers were worn in the early eighties and were terry cloth. If you are around my age, you probably remember them well. The second go around with rompers came in the early 90's and I distinctly remember two that I had that I wore to school frequently. My June 2016 Fix contained a romper that I purchased and have enjoyed wearing, even at my age. Since I already have a romper, I really don't need this one although it is cute.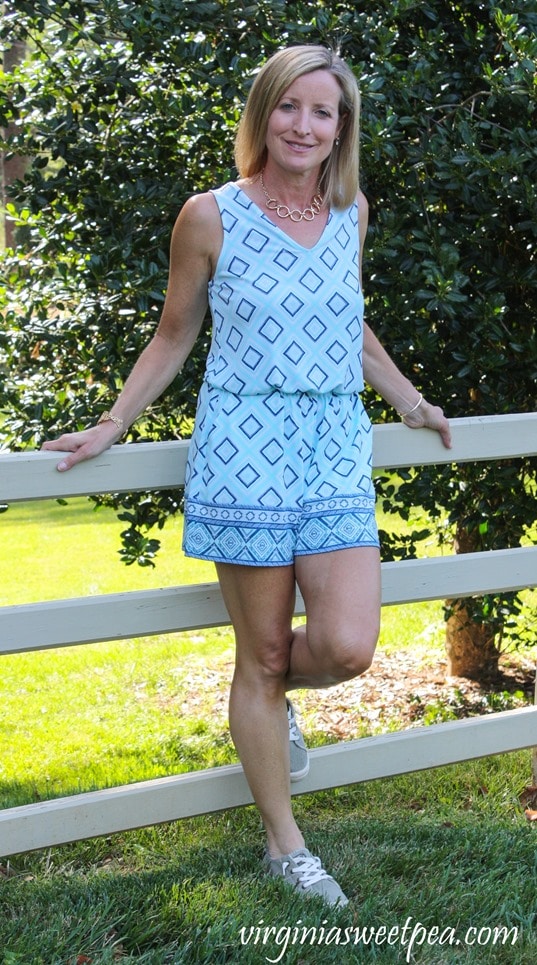 This romper is stretchy and super comfortable. It also has a very cute back detail.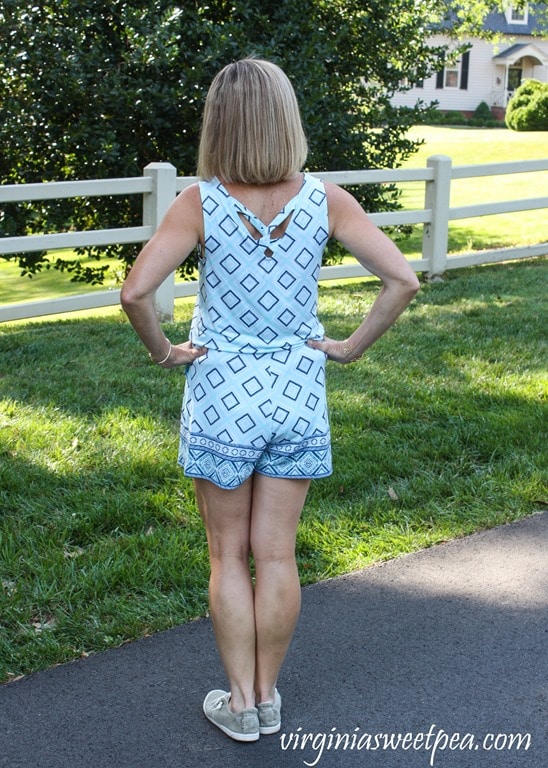 Brittany recommended wearing this with brown sandals and a brown belt. I don't own either, so I wore no belt and paired it with sneakers.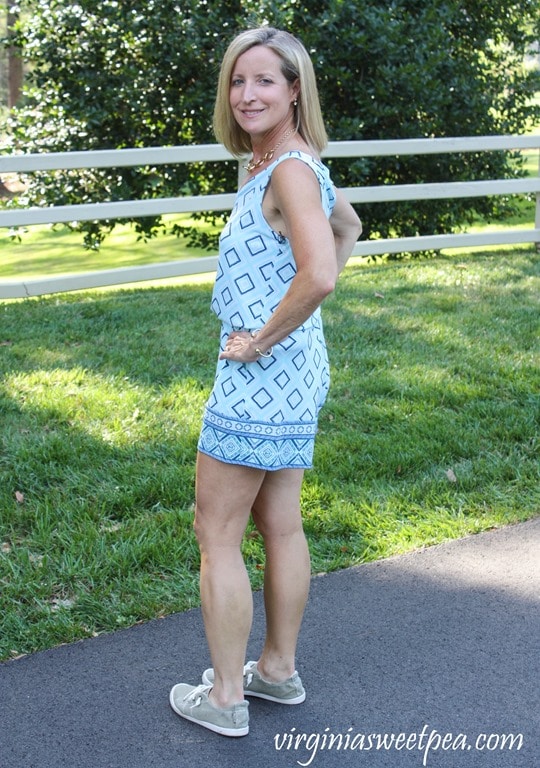 If I didn't already own a romper, I would have purchased this. It would be so comfortable to wear on hot summer days.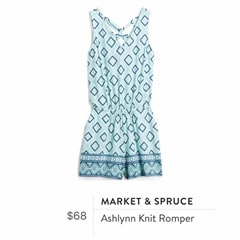 Tinsel Lanisa Tie Front Button Down Top
I love plaid and Brittany thought that I would like this cute top. The fabric is super soft and I love how it ties at the waist. I paired it with my Lila Ryan Kati Chino Cargo Straight Leg Pants from my June 2018 Fix but in retrospect, I think I would have liked this outfit better had I paired it with black or denim.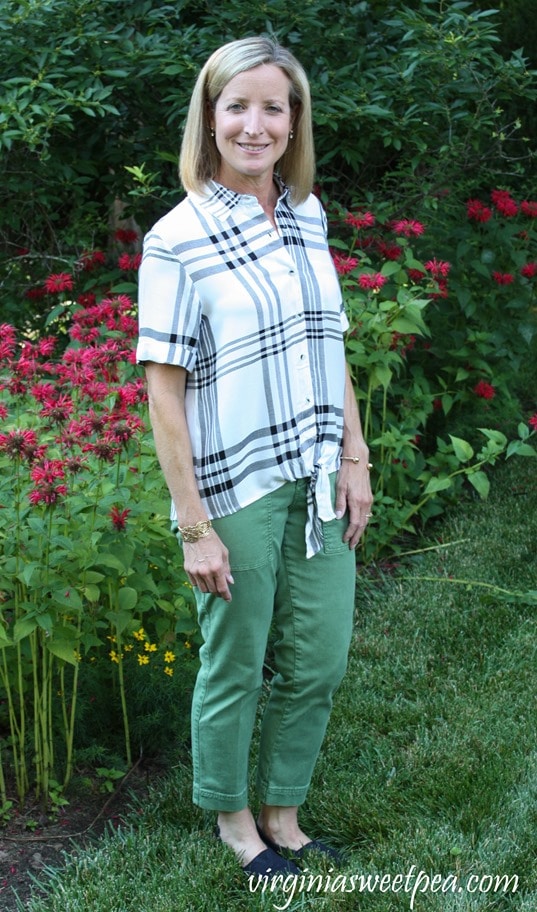 This top really isn't my style and I knew I wouldn't wear it, so I returned it.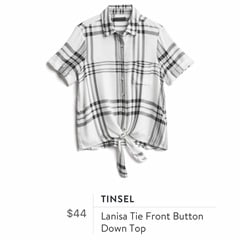 In Summary
It was so much fun to try on this month's Fix. I really liked four of the five items and if I didn't already have a closet full of summer clothing, I would have purchased several of these items.

Try Stitch Fix
If you've been thinking about trying Stitch Fix but haven't, I encourage you to give it a try. I love receiving my box each month and have so much fun trying on all of the styles sent to me. Stitch Fix also offers gift cards, so if you need to give a special lady or gentleman a gift, consider a gift card for a Stitch Fix purchase.