Lake House Fall Bedroom Decor – Pinterest Challenge
If you are looking for ideas for fall bedroom decor ideas, I hope I can inspire you with a few.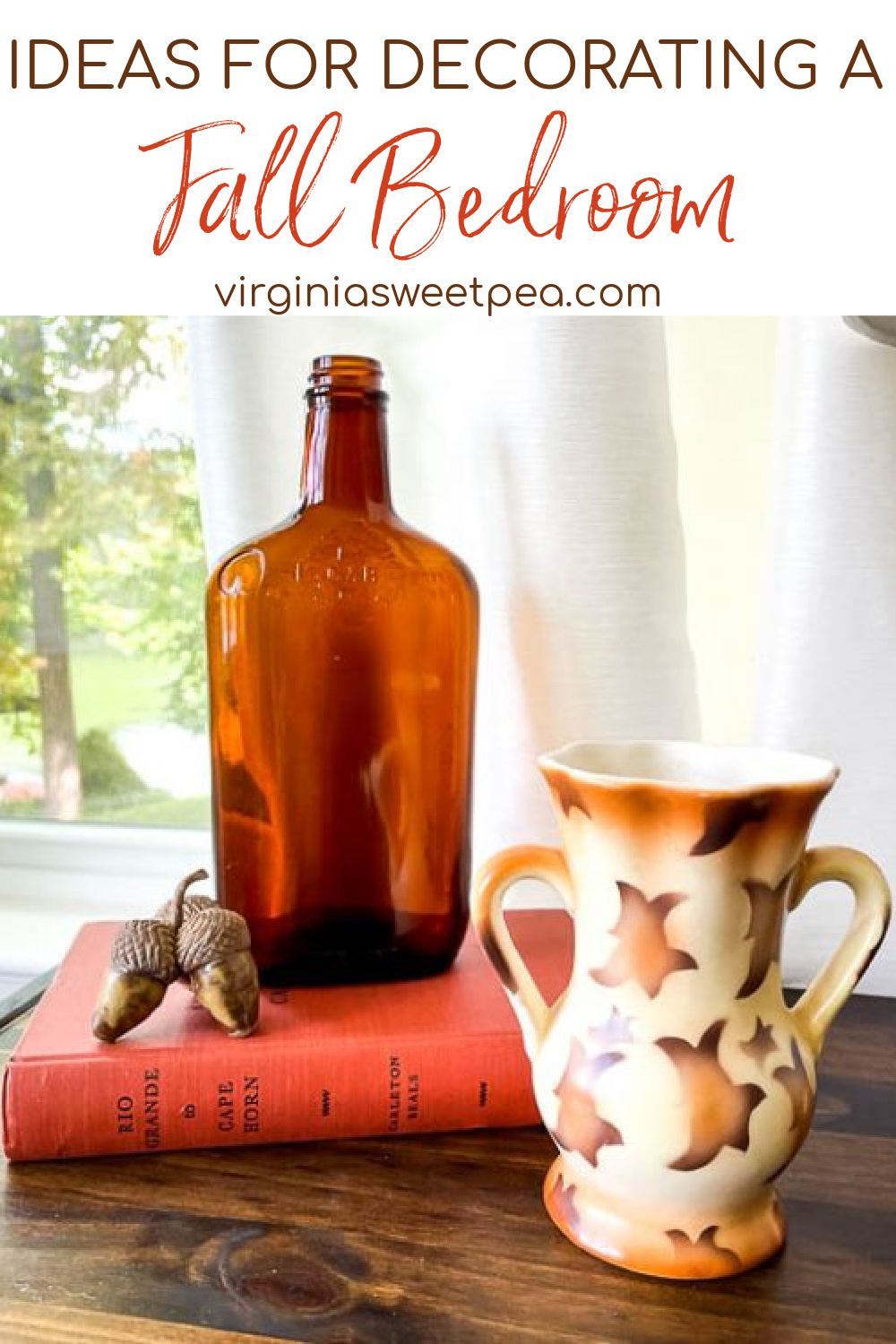 I recently shared my fall mantel, the fall decor in my living room and dining room, the fall decor in my family room and breakfast room, and the fall decor in my lake house master bedroom.
Today I'm sharing my decorated for fall lake house master bedroom
---
For each month's Pinterest Challenge, Cindy from County Road 407, picks a theme and then selects a picture from Pinterest to use as our inspiration.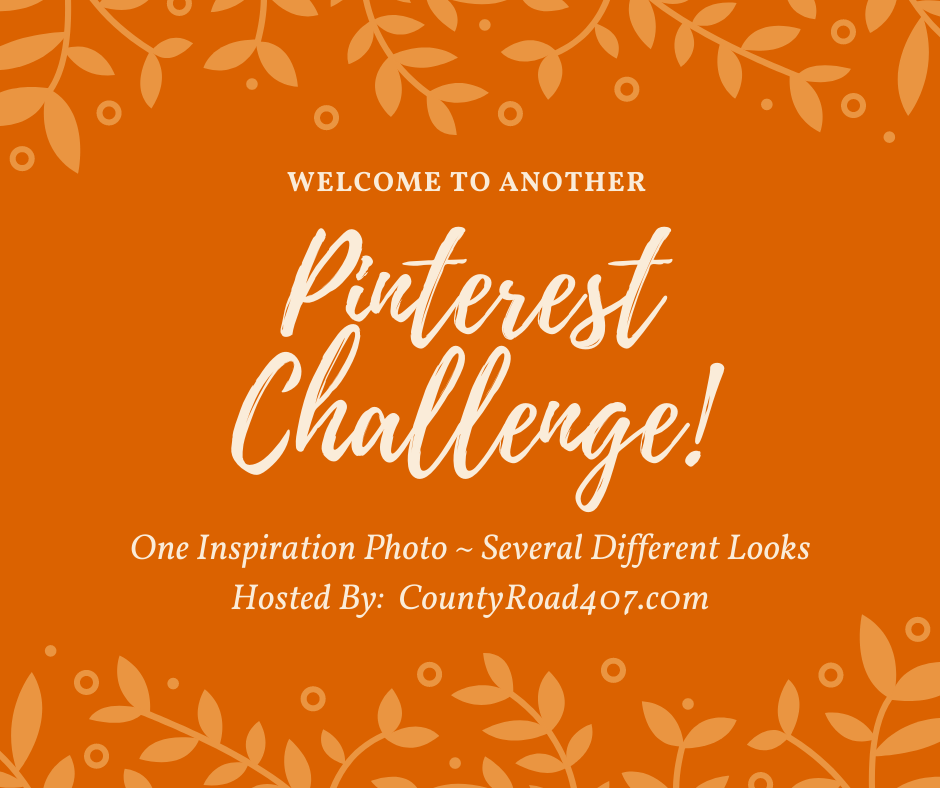 Our job is to create our own version of the inspiration picture.
Cindy isn't able to participate this month because her son was in a serious motorcycle accident. Please pray for Cindy's son and the rest of the family.
If you arrive here via Decor to Adore, welcome!
OUR INSPIRATION FOR THIS MONTH'S CHALLENGE
Our inspiration for this month's challenge is from Golden Boy and Me.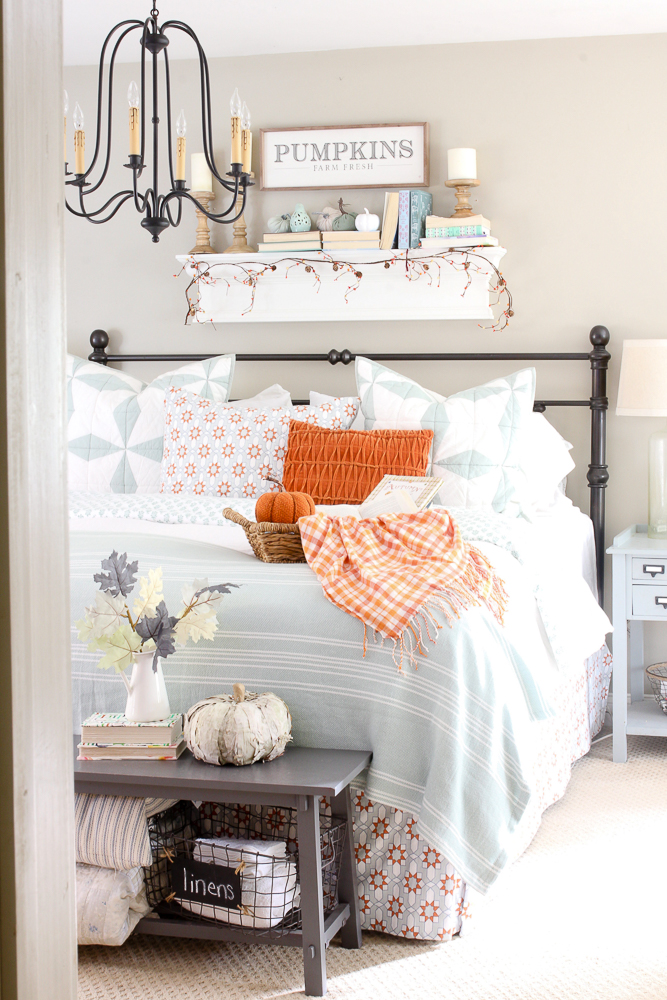 Courtney decorated her fall bedroom with pumpkins, a fall leaf arrangement, candles, vintage books, and a fall vignette on her bed.
Lake House Fall Bedroom Decor
For this challenge, I decorated our lake house master bedroom for fall.
Don't miss the lake house guest room reveal that I recently shared. I am so happy with the end result and it has been wonderful to have guests enjoy this room when visiting.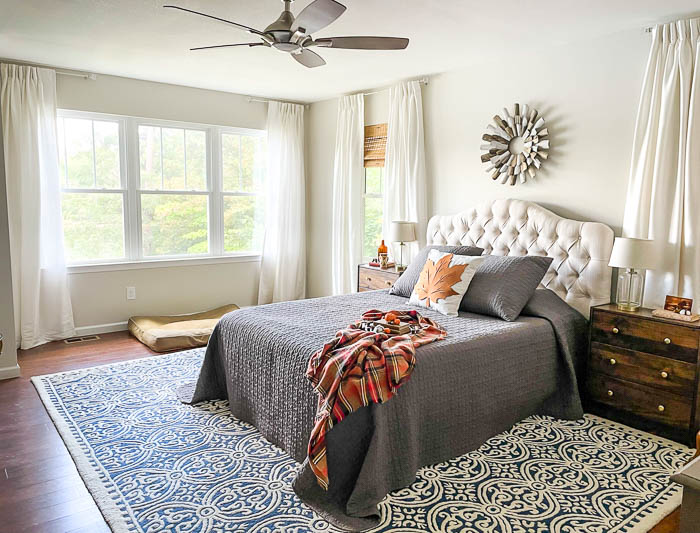 The bedspread is temporary. I ordered this bedspread over the summer for this room but somehow lost it in the days following a seizure that I had due to brain radiation.
The fall pillow is a Dollar Store DIY. A fall throw and a fall vignette on my grandmother's tray decorate the bed.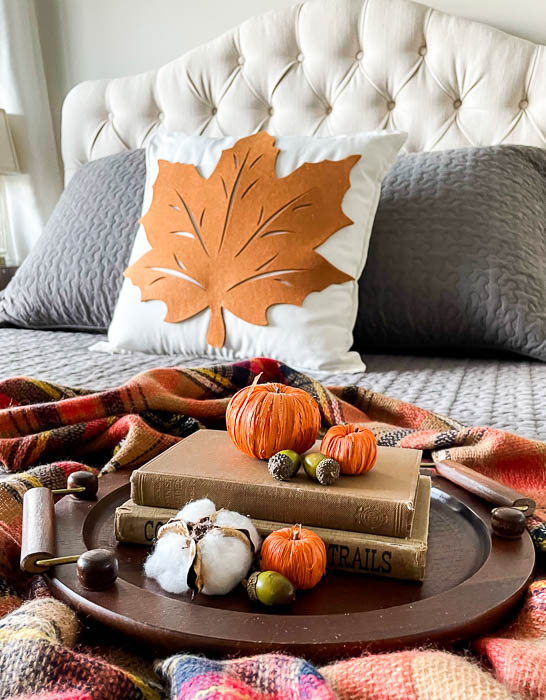 Each end table is decorated with a fall vignette.
The vase is Czech and the acorns are a made in North Carolina pottery piece.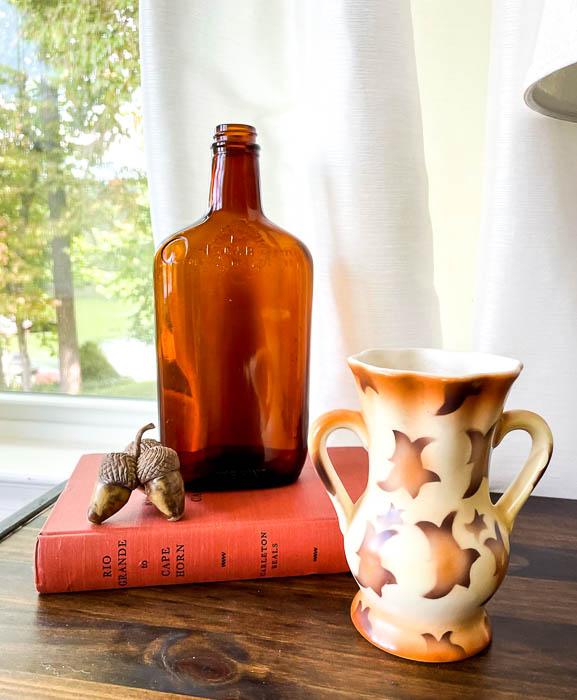 The other nightstand is decorated with a book, vintage postcard, cotton boll, and faux acorn.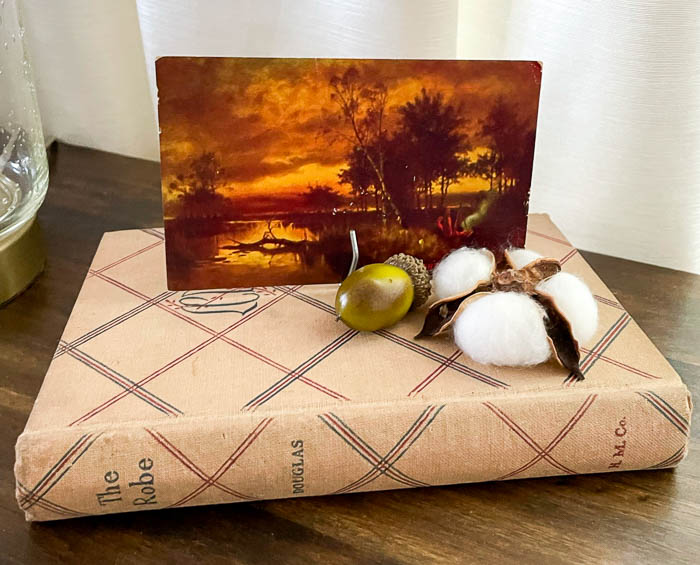 This is the other view of the room. Not seen is the awesome vintage tennis racket table in the corner.
The dresser was a trash day find that got a makeover and the mirror over it a Goodwill score. The antique rocking chair to the left of the dresser is from the family farm in Maryland.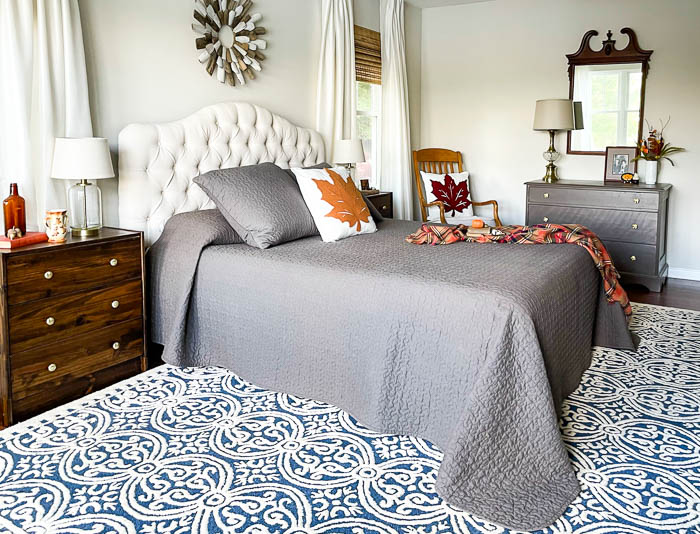 On the dresser is a fall faux floral arrangement, a photo of my grandparents on their wedding day, my grandmother's wedding day belt buckle (the yellow was originally white), and a vintage Avon cat in a basket lotion container.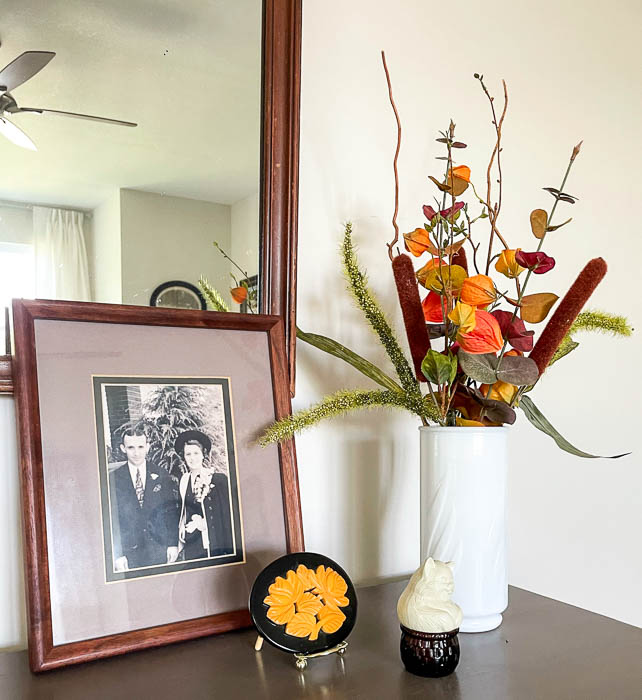 This dresser was purchased from a retired teacher friend who purchased it when she was first married.
The fish plates and platters are from my fish platter collection. The fans belonged to a biking friend's grandparents.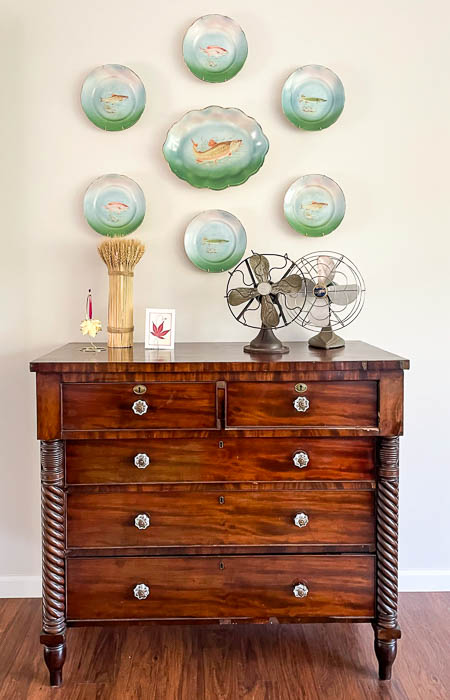 I've had the wheat sheave for many years, the ornament is a preserved Sugar Maple leaf, and my grandmother made the pressed Japanese Maple leaf card.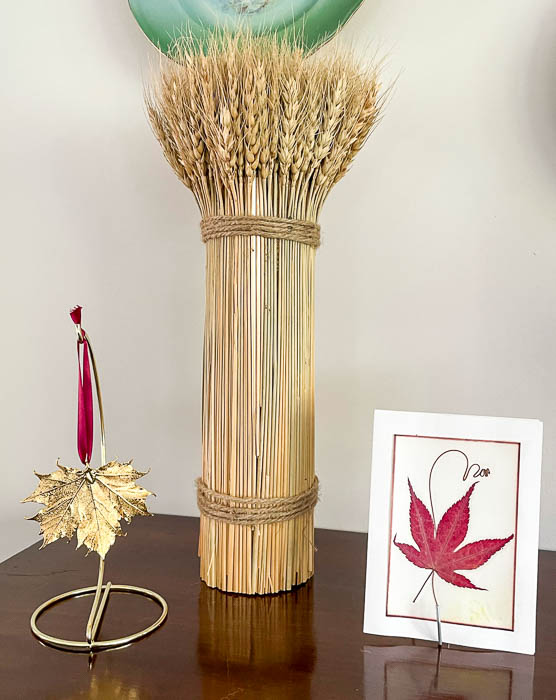 I hope you enjoyed seeing how I decorated my lake house master bedroom for fall.
A few years ago I shared my Lynchburg master bedroom decorated for fall.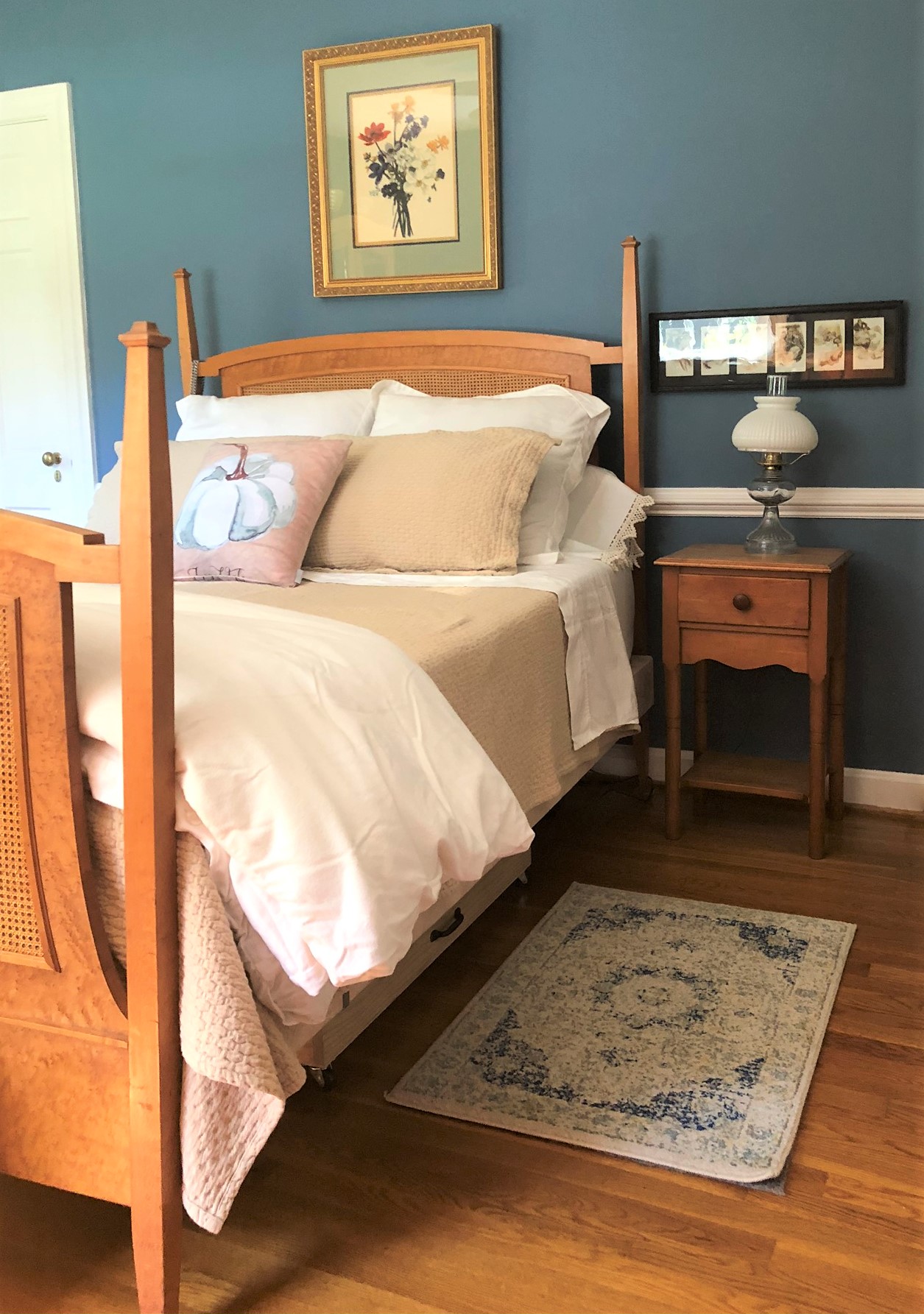 Next up is the talented Cindy from DIY Beautify.