This post and photos may contain Amazon or other affiliate links. As an Amazon Associate I earn from qualifying purchases. If you purchase something through any link, I may receive a small commission at no extra charge to you. All opinions are my own.
I'm sharing my December Stitch Fix review one day early because tomorrow starts a week of Christmas tours on the blog.
I'm so excited to share my Christmas decor with you but first, we need to see what my new stylist, Jennifer, picked for me to try for December.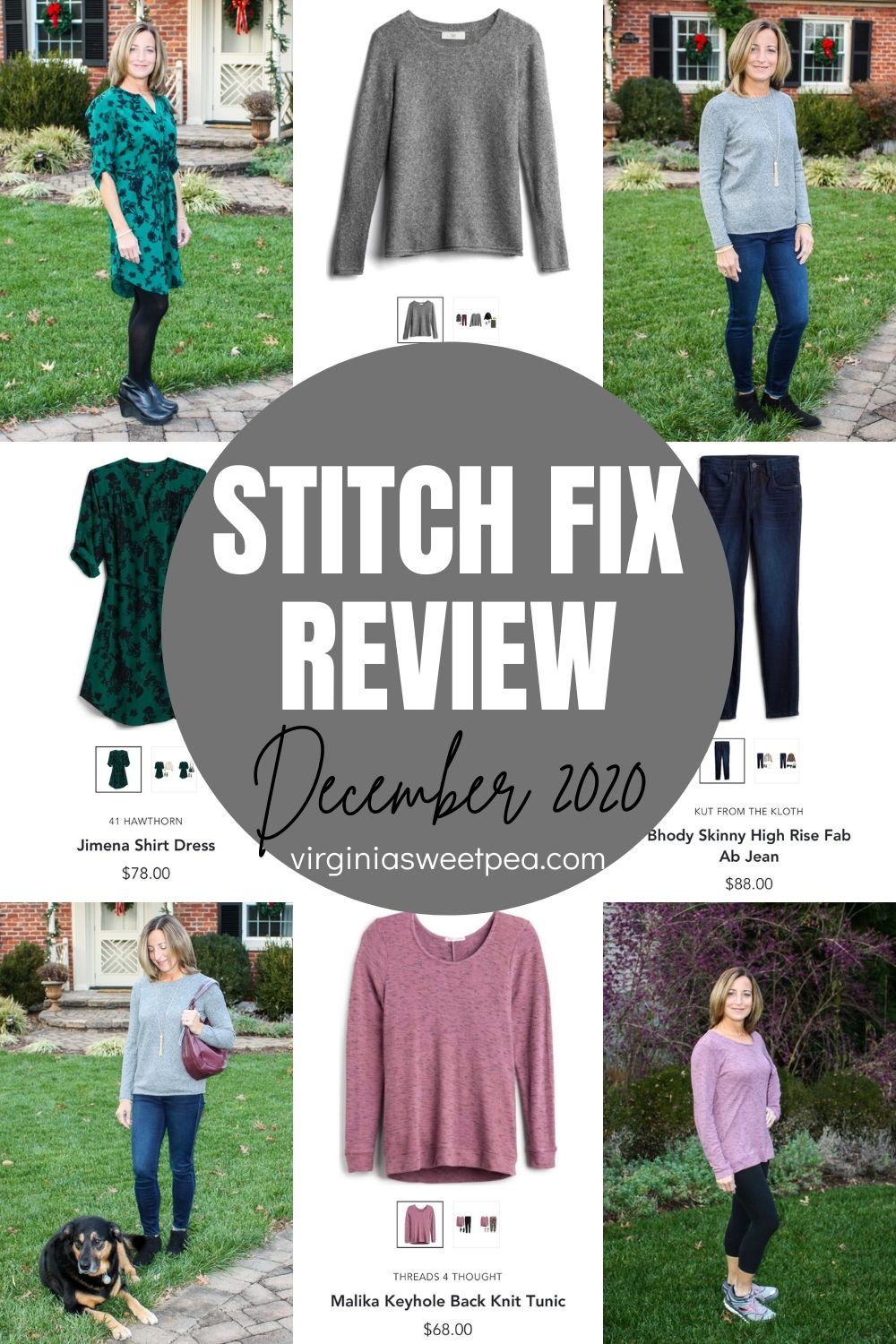 Jennifer did a great job styling my November box and also this one.
Before we see what Jennifer selected for me, let's get the skinny on Stitch Fix details.
Stitch Fix Review for December
If you are new to Stitch Fix, these details will help you to understand the service. If you want to try Stitch Fix, sign up here to get $25 off your first box.
Stitch Fix is a personal styling service. When you sign up for Stitch Fix, you fill out a detailed style profile that helps your stylist know your likes and dislikes.
When a Fix arrives, you have three days to try the clothes on and to decide what to keep and what to send back. Stitch Fix includes a postage-paid envelope making returns super easy.
When you sign up for Stitch Fix, you can choose how often a box is delivered. You can pick monthly options or schedule a box when you'd like to receive one. I do not like shopping and love receiving clothing from Stitch Fix. I get clothes that I like without having to do any work other than pinning things that I like to my fashion board on Pinterest. My stylist checks my Pinterest board for inspiration and also reads my note to her each month to see if I have any special requests.
You can find links to all of my Fixes here and also be sure to check out my Stitch Fix Review Board on Pinterest where I pin my favorite looks.
This Month's Stitch Fix Items
For this month's Stitch Fix box, I asked Jennifer to send items great to wear for Christmas and into winter.
41 Hawthorn Jimena Shirt Dress
The first item that I tried on this month was the 41 Hawthorn Jimena Shirt Dress. I love a Stitch Fix dress and this one would be perfect to wear for Christmas.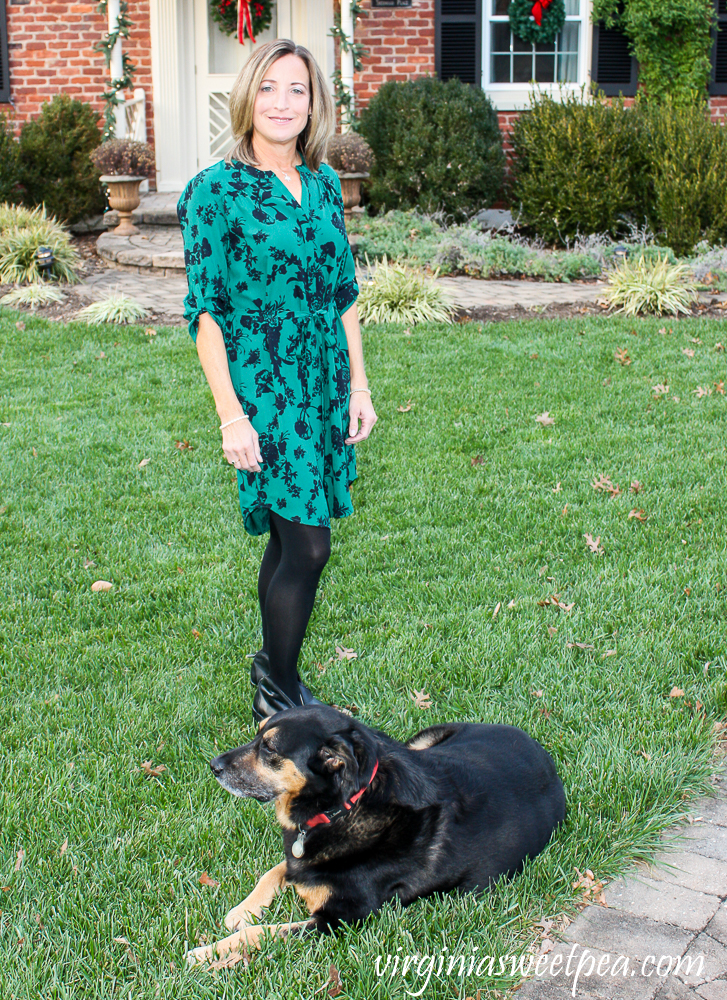 Sherman was being stubborn when we took pictures this month and didn't want to look at the camera.
This dress had soft and silky fabric and a cute tie waist, a feature that I like in a dress. It's nice to be able to make the tie as loose or as tight as you want.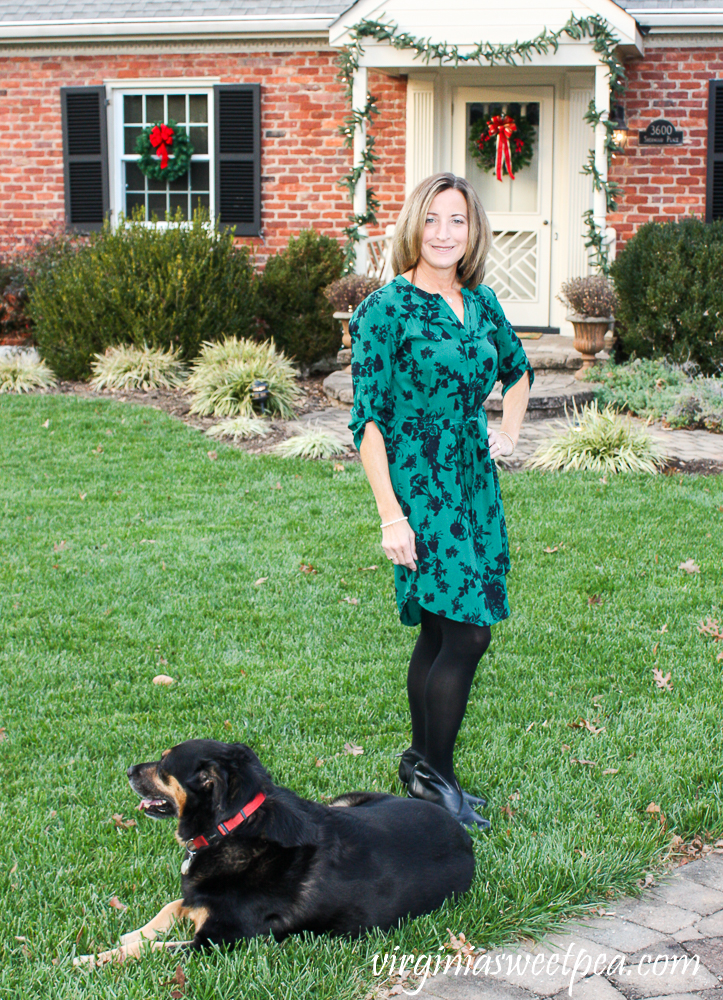 I also liked its flattering neckline. The sleeves are tabbed and with the button buttoned, it felt a bit awkward when I bent my arms.
The dress can also be worn with the tabs unbuttoned. Unbuttoned, the sleeves are 3/4 length.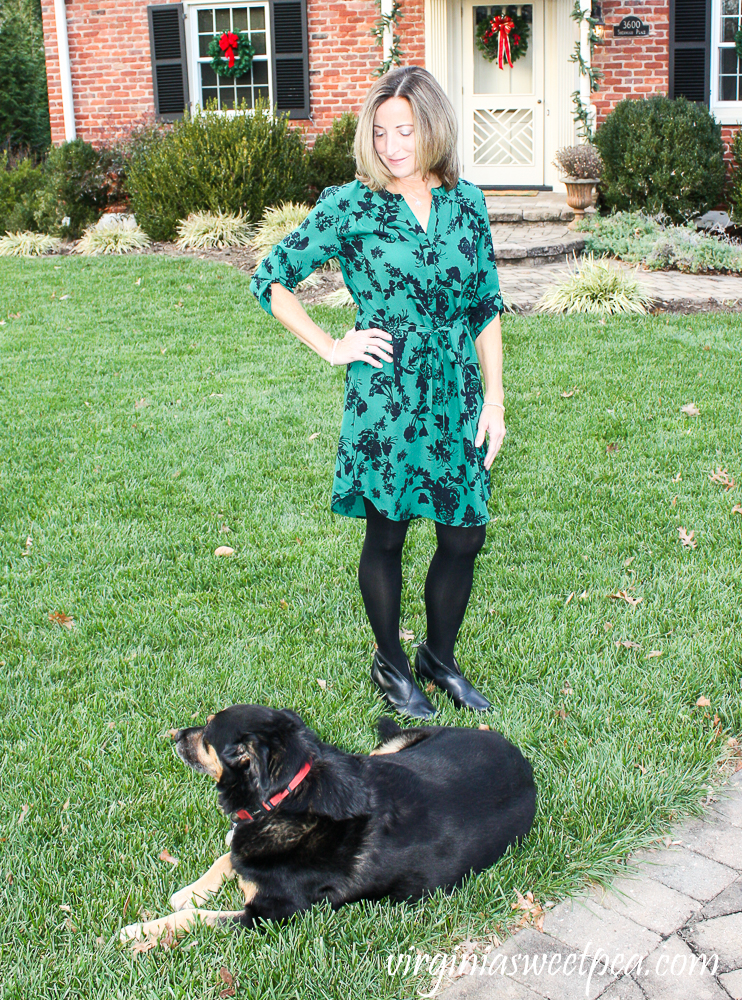 I liked this dress, but not enough to keep it.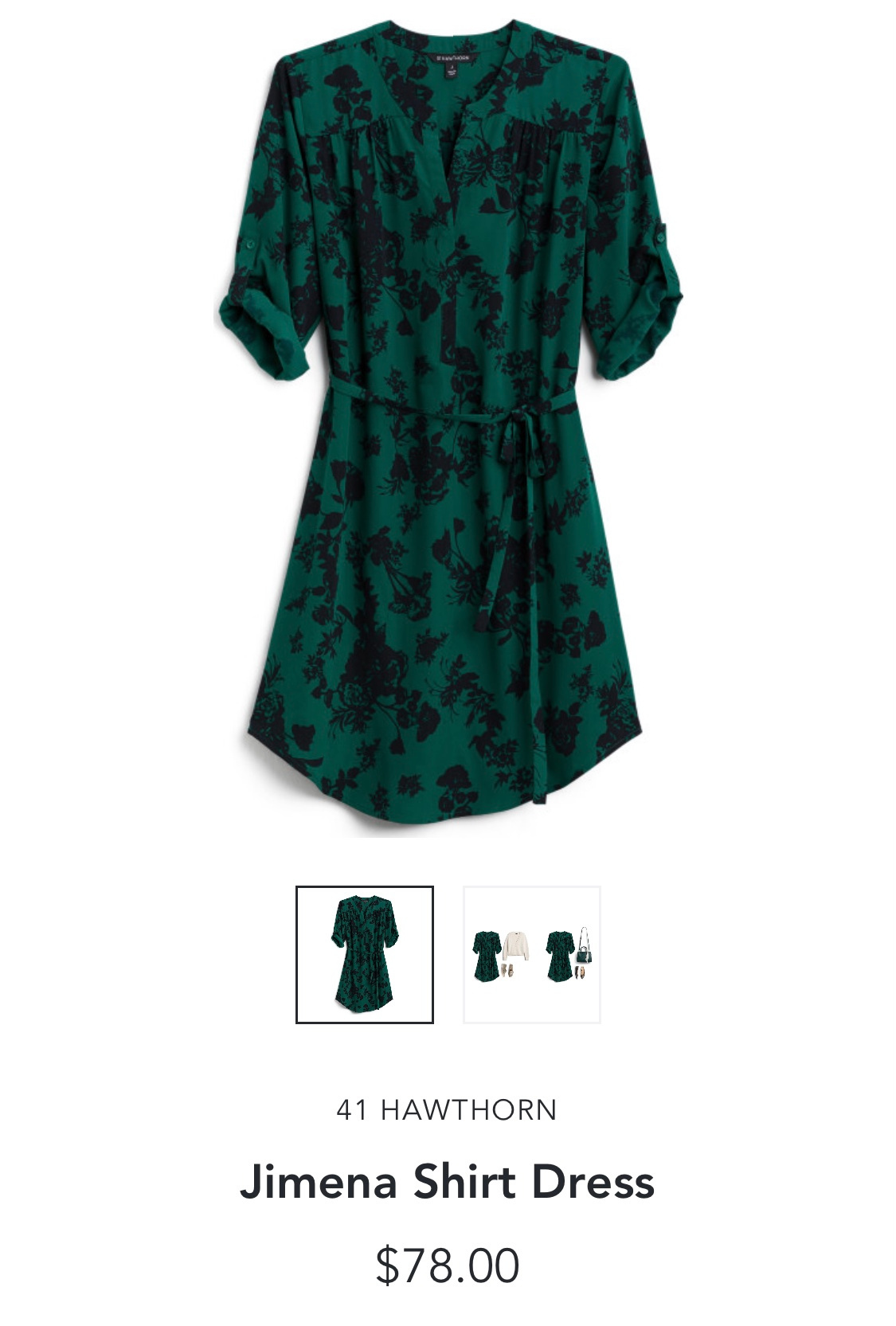 Pinque Gina Crew Neck Pullover
The next thing I tried on was the Pinque Gina Crew Neck Pullover. This sweater was soft and very comfortable.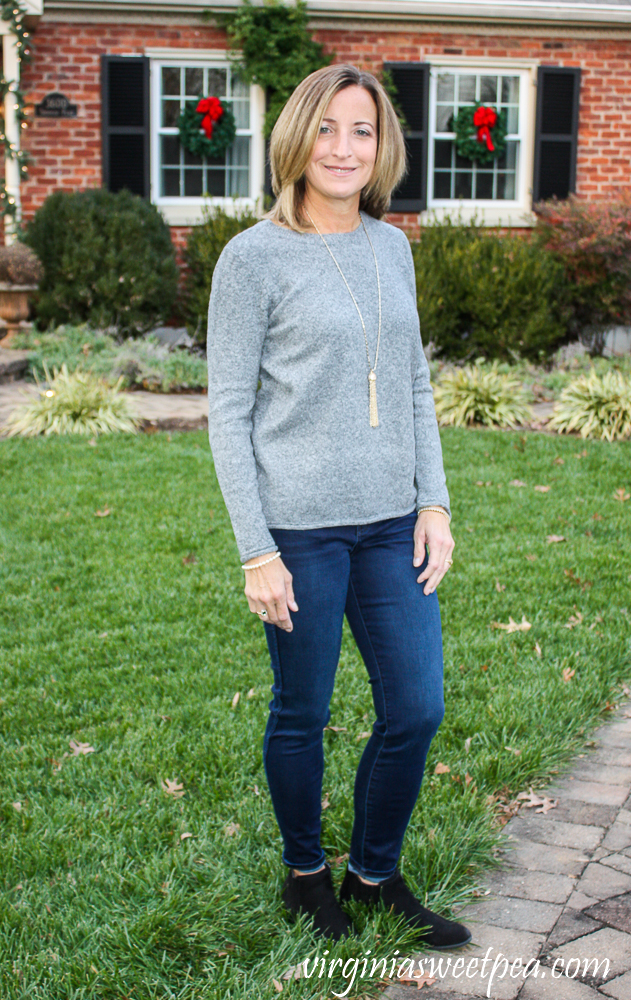 I paired it with a tassel necklace from Rocksbox, jeans that I'll talk about below, and booties from Payless.
Rocksbox is a jewelry subscription service that sends three pieces of jewelry that you can wear for as long as you like each month. When you send your three pieces back or buy what you like, a new box is sent. If you'd like a free month of Rocksbox, sign up with this code: PAULABFF54.
This sweater has a cute rolled hem on the arms and on the bottom of the sweater.
I debated over if I wanted to keep it or not and finally decided to keep it. It's a great basic that I can wear with jeans, dress pants, or a skirt.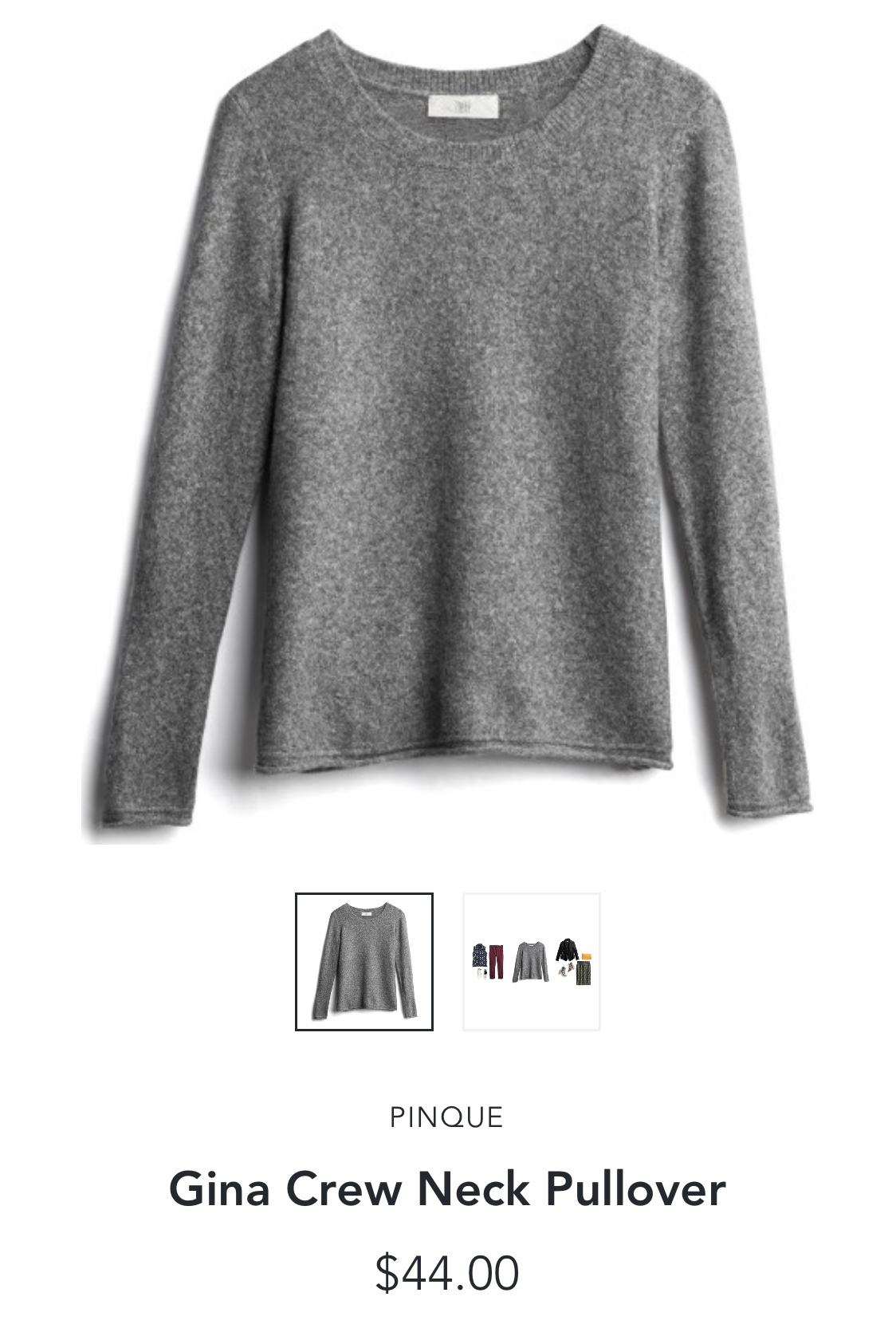 Kut from the Kloth Bhody Skinny High Rise Fab Ab Jean
I was excited to try the Kut from the Kloth Bhody Skinny High Rise Fab Ab Jean.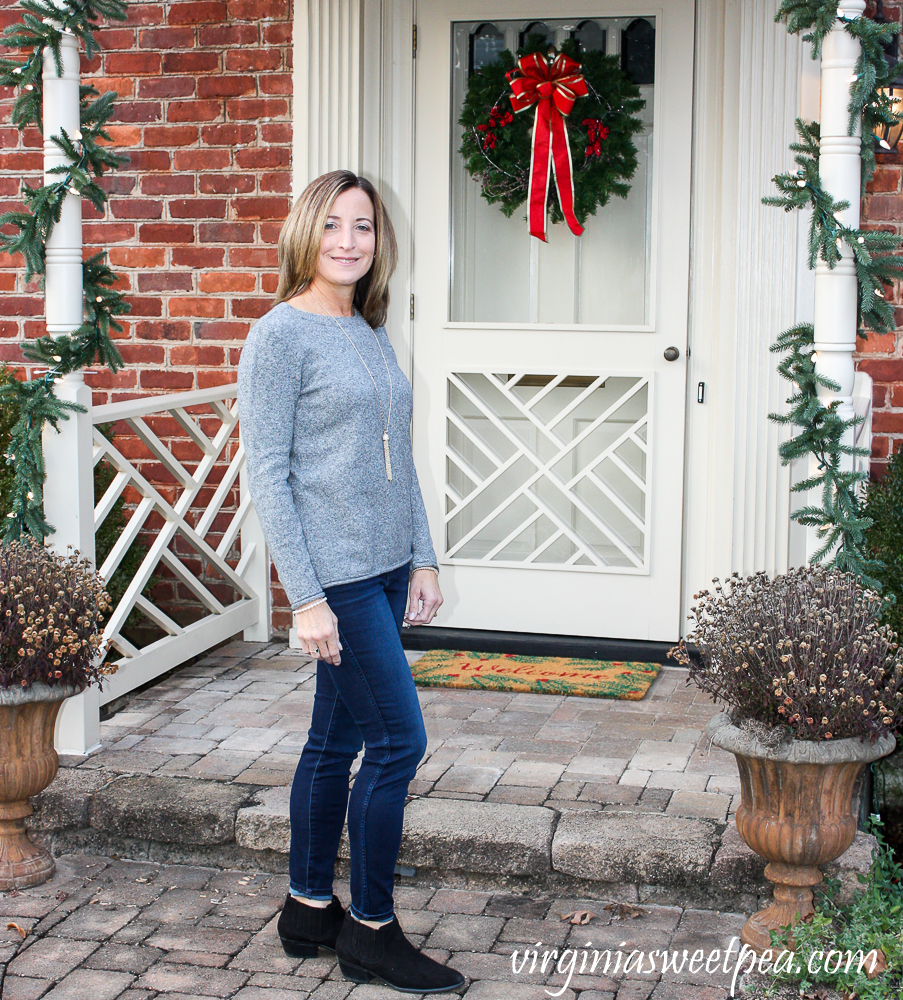 I loved the dark wash of these jeans and the high rise.
The pockets on these jeans are stretch and extend all the way to the zipper. This construction makes these jeans flattening for the tummy area.
These jeans were another item that I debated over. Even though they have stretch, they were a tad bit too tight for my legs. If I'm going to pay $88 for jeans, they have to be perfect. These jeans were returned.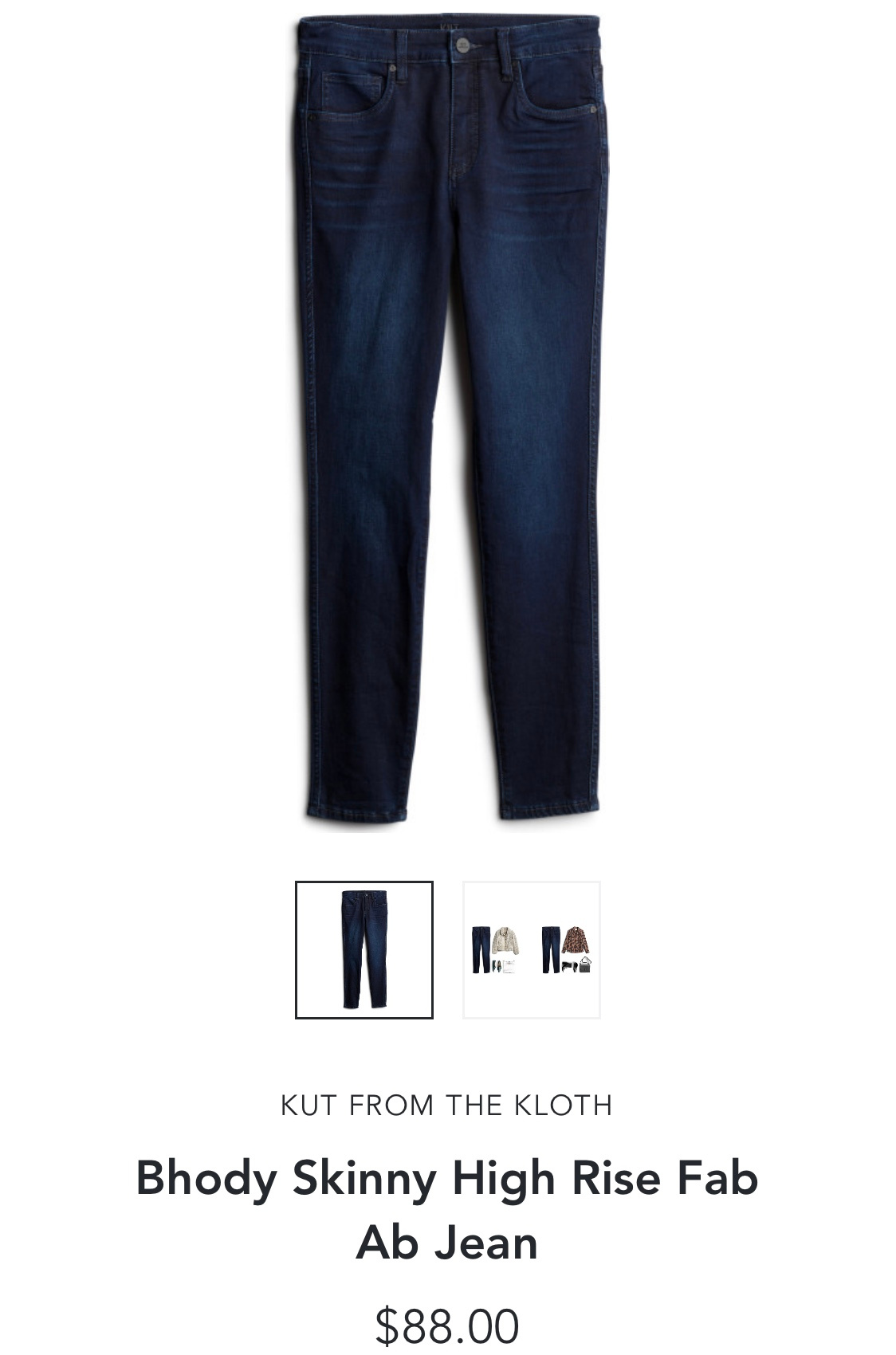 Moda Luxe Daniella Suede Hobo
I'm always up for trying a purse from Stitch Fix and Jennifer sent me this Moda Luxe Daniella Suede Hobo to try.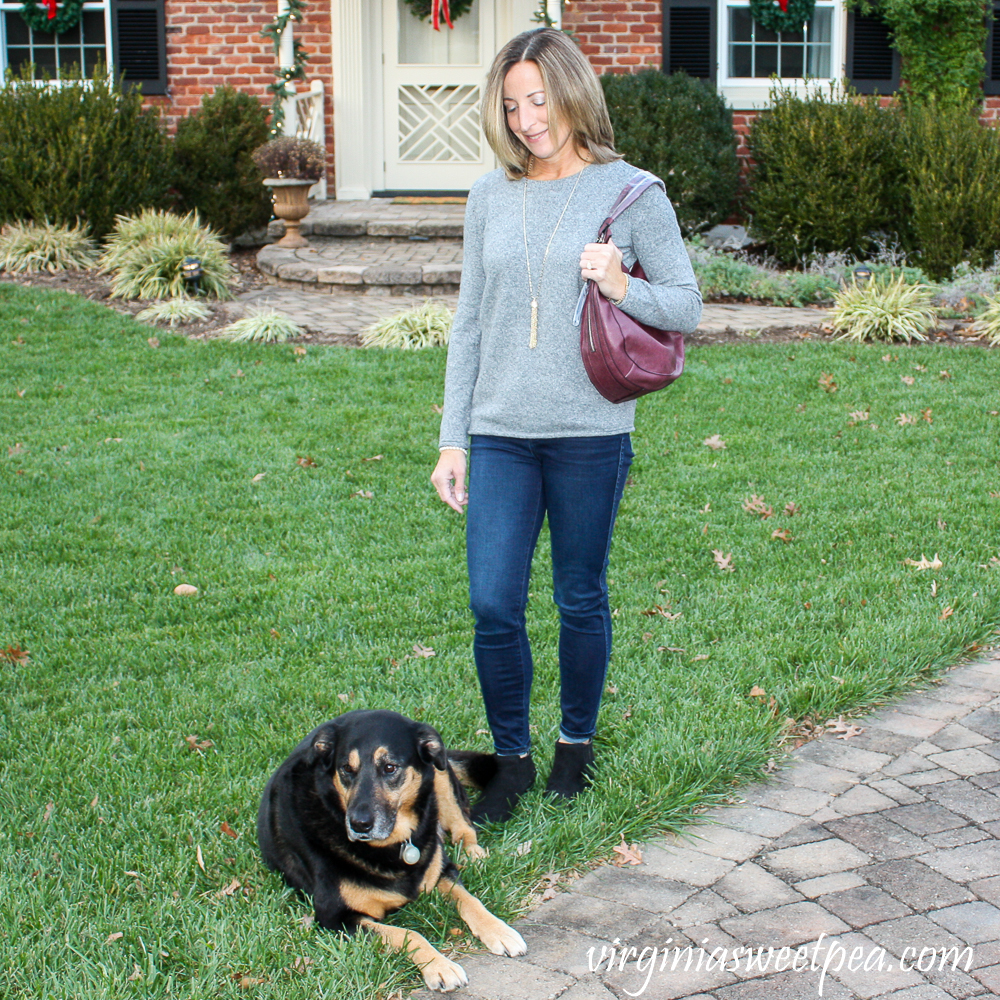 This handbag has a short strap but also comes with a longer narrow strap that can be attached to the handbag.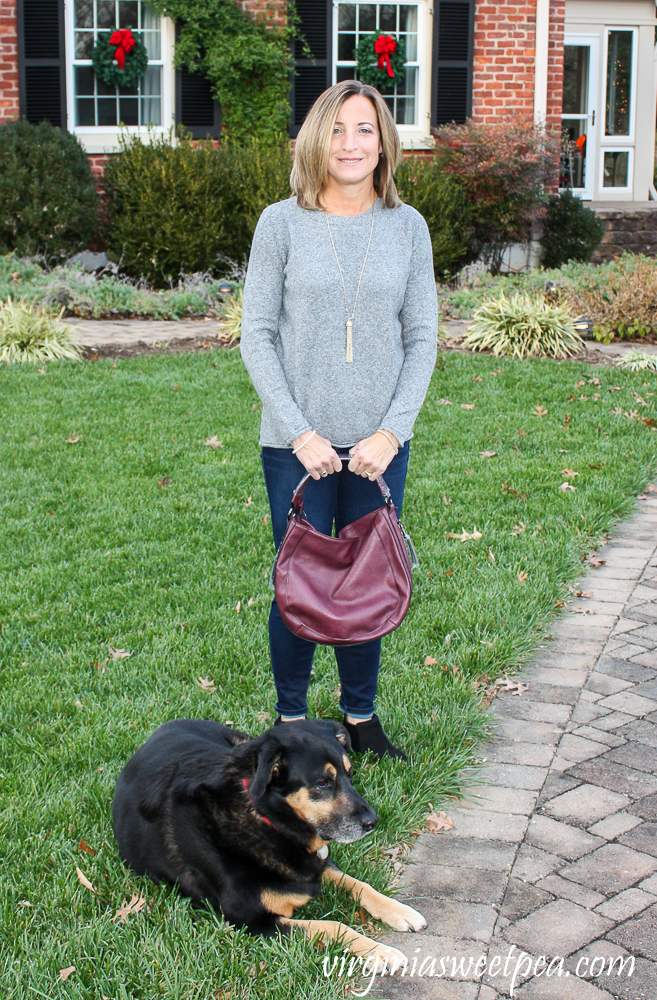 I like a more structured handbag and I also wasn't sold on this handbag's color. I didn't like this enough to keep it.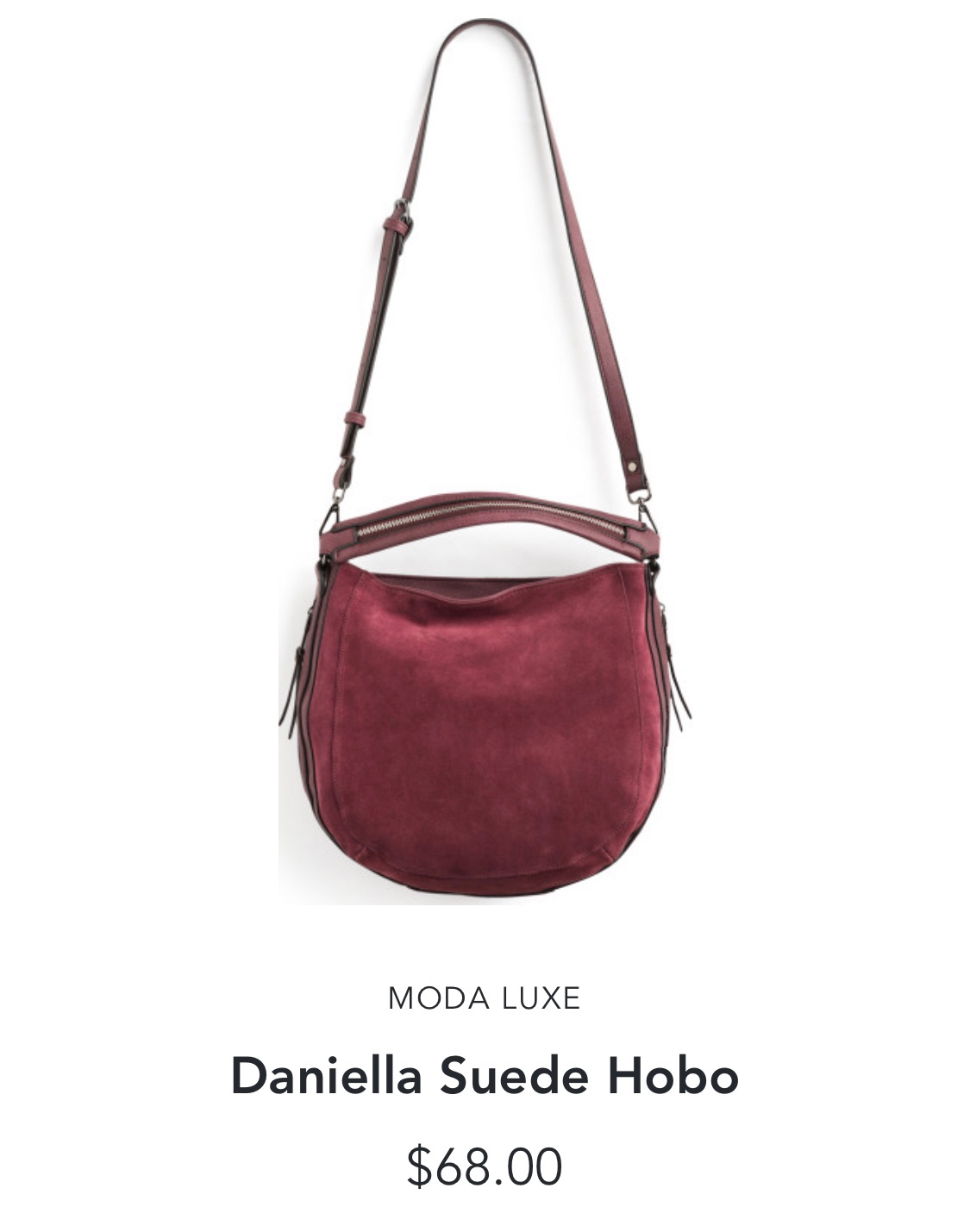 Threads for Thought Malika Keyhole Back Knit Tunic
The last item to try from this month's Stitch Fix box was the Threads for Thought Malika Keyhole Back Knit Tunic.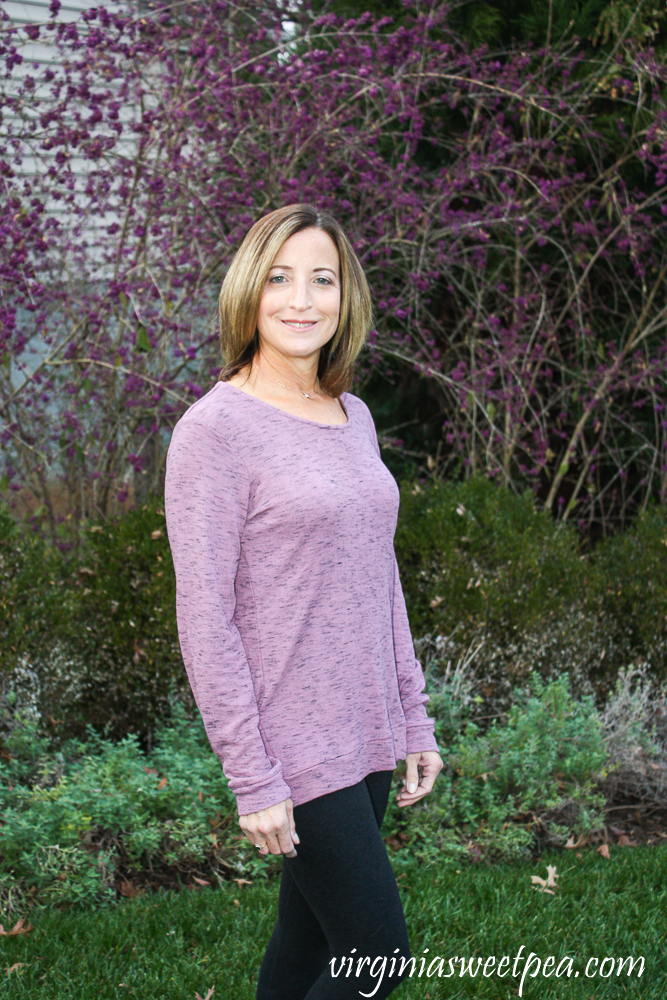 I paired this tunic with Beyond Yoga Harlow Space-Dye Capri Leggings from my September 2019 Fix. I love these capri leggings and they are the favorite out of all that I own.
I'm wearing a favorite Rocksbox necklace and my favorite athletic shoes, Brooks Ariel.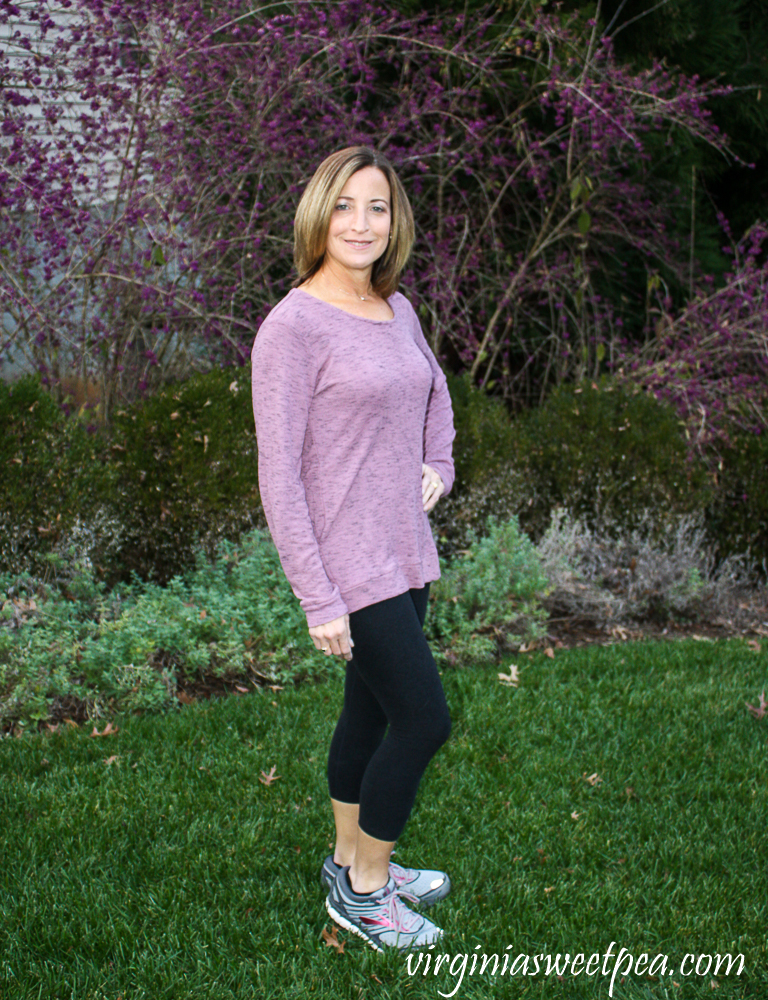 Isn't my Beautyberry pretty? We had to take pictures with it in the background since it coordinates so nicely with this tunic.
This tunic has an open back which would be great if you wore it to the gym or on a walk on a day that wasn't chilly.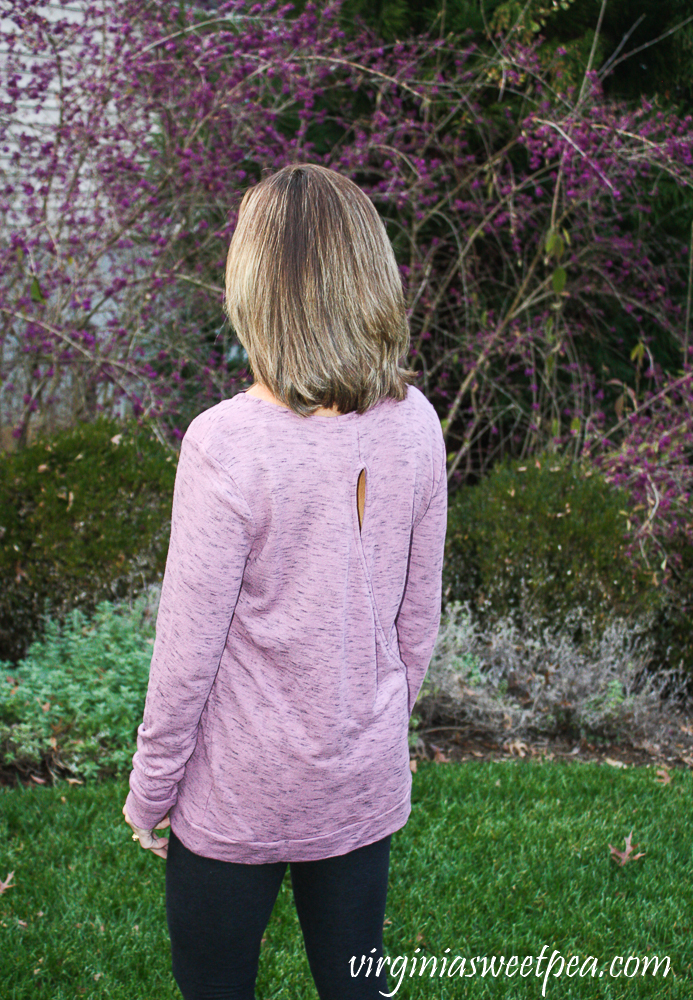 We finally got a picture with Sherman looking interested and alert. He heard a truck coming and thought it might be the UPS man who always gives him treats.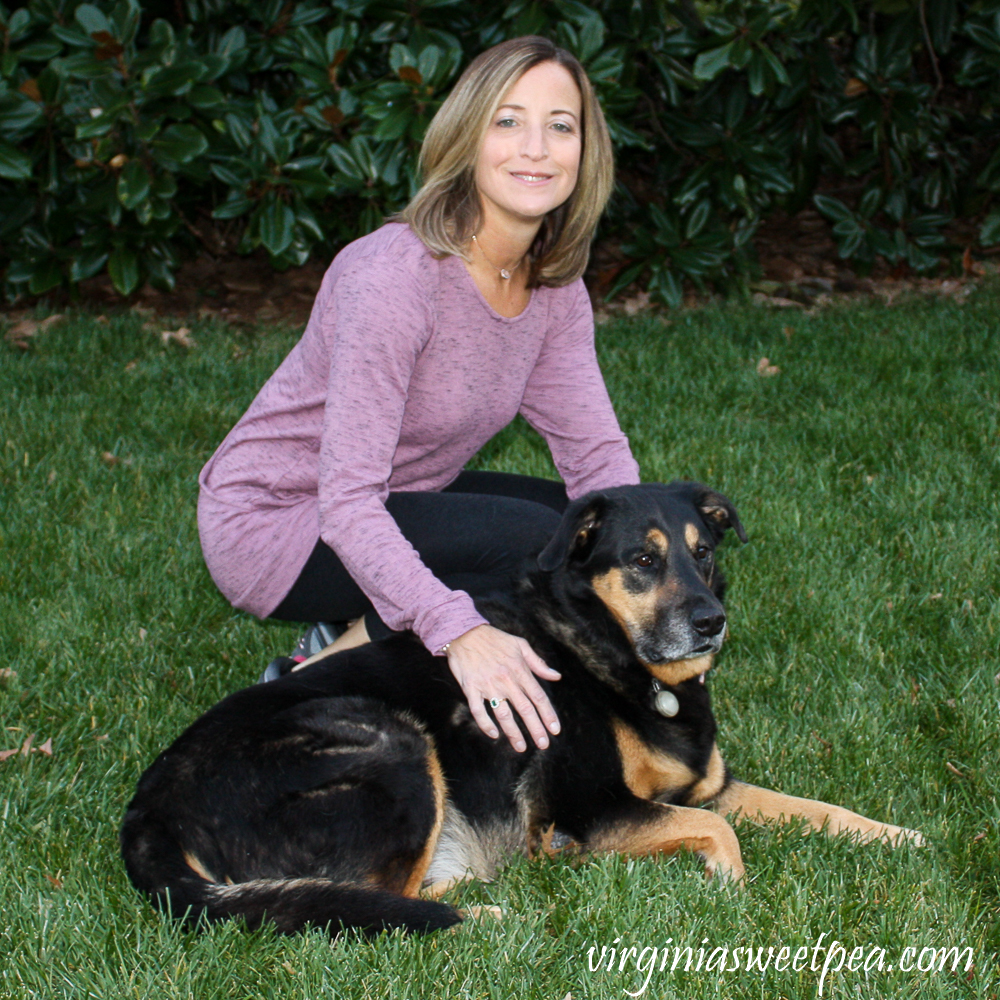 I liked this tunic's color and the unique back but I knew that I wouldn't wear it very often, so I returned it.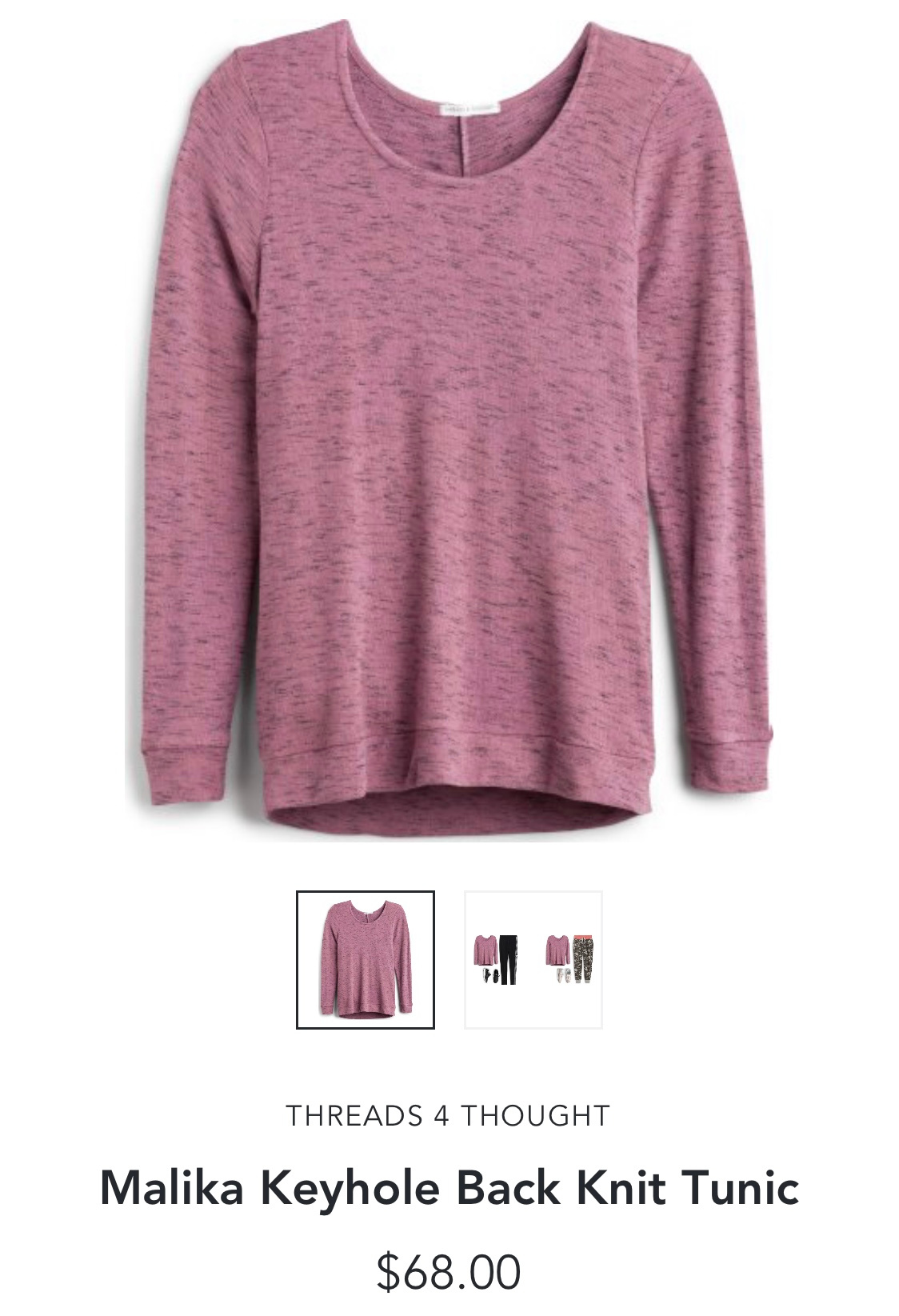 Like always, it was super fun to receive my Stitch Fix box and to try everything on.
In Summary
41 Hawthorn Jimena Shirt Dress – $78 – Returned
Pinque Gina Crew Neck Pullover – $44 – Keep
Kut from the Kloth Bhody Skinny High Rise Fab Ab Jean – $88 – Returned
Moda Luxe Daniella Suede Hobo – $68 – Returned
Threads for Thought Malika Keyhole Back Knit Tunic – $68 – Returned
Try Stitch Fix!
That means that your styling fee will be taken care of and you'll have $5 credit toward anything that you want to keep. If you don't like your items, you've lost no money.
Why not try Stitch Fix risk-free?