This post and photos may contain Amazon or other affiliate links. As an Amazon Associate I earn from qualifying purchases. If you purchase something through any link, I may receive a small commission at no extra charge to you. All opinions are my own.
Hello 2021 and hello to my first Stitch Fix review for the year.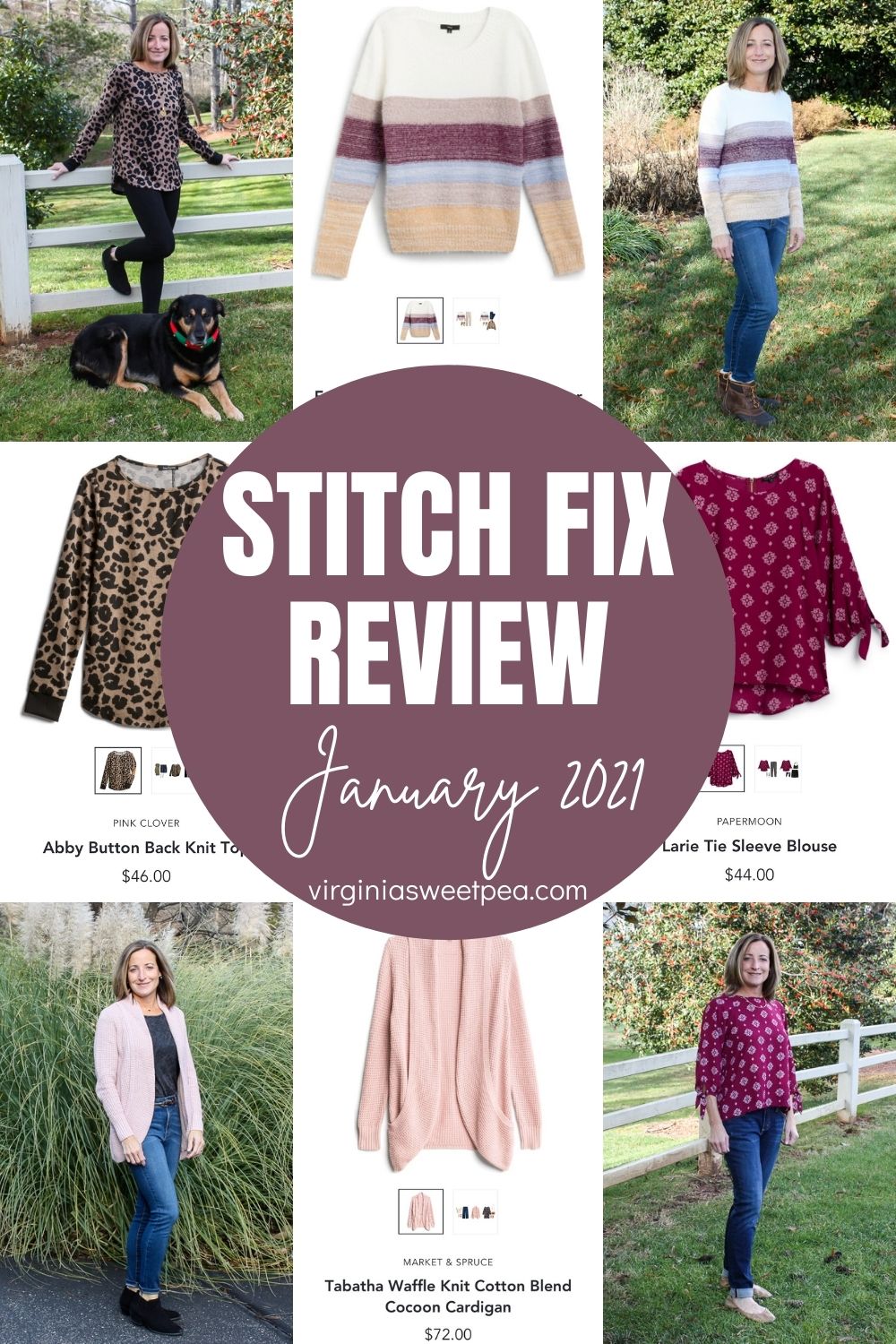 For my last few Stitch Fix boxes, when the box arrives, I've shared opening it with a Facebook live video. You can see the live for this box here or over on my YouTube channel.
If you love DIY, home decor, crafts, and recipes, you'll want to subscribe to Sweet Pea so that you never miss a post. It's free and the best way to follow along with my blog. You'll also get access to my members-only free printable library.
Stitch Fix Review for January 2021
If you are new to Stitch Fix, these details will help you to understand the service. If you want to try Stitch Fix, sign up here to get $25 off your first box.
Stitch Fix is a personal styling service. When you sign up for Stitch Fix, you fill out a detailed style profile that helps your stylist know your likes and dislikes.
When a Fix arrives, you have three days to try the clothes on and to decide what to keep and what to send back. Stitch Fix includes a postage-paid envelope making returns super easy.
When you sign up for Stitch Fix, you can choose how often a box is delivered. You can pick monthly options or schedule a box when you'd like to receive one. I do not like shopping and love receiving clothing from Stitch Fix. I get clothes that I like without having to do any work other than pinning things that I like to my fashion board on Pinterest. My stylist checks my Pinterest board for inspiration and also reads my note to her each month to see if I have any special requests.
You can find links to all of my Fixes here and also be sure to check out my Stitch Fix Review Board on Pinterest where I pin my favorite looks.
This Month's Stitch Fix Items
For this month's Stitch Fix box, I asked Jennifer (my new stylist) for sweaters and other cozy winter clothes.
Pink Clover Abby Button Back Knit Top
We'll start with my favorite item from this box, the Pink Clover Abby Button Back Knit Top.
We took these pictures on Christmas day, so Sherman was wearing the Christmas collar that his Aunt Sue made for him for his first Christmas.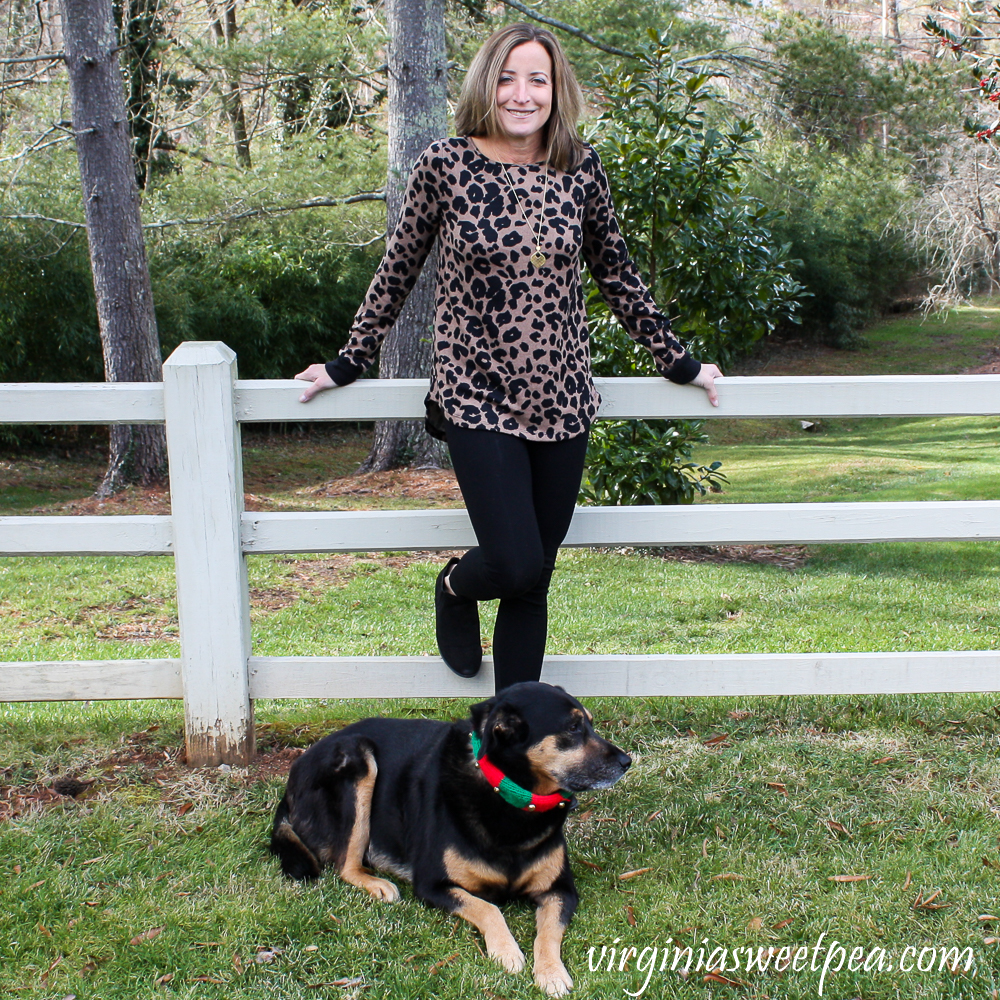 This top, which feels more like a light-weight sweater, is super soft and I love its animal pattern.
I paired it with leggings from a previous Fix and black booties from Payless.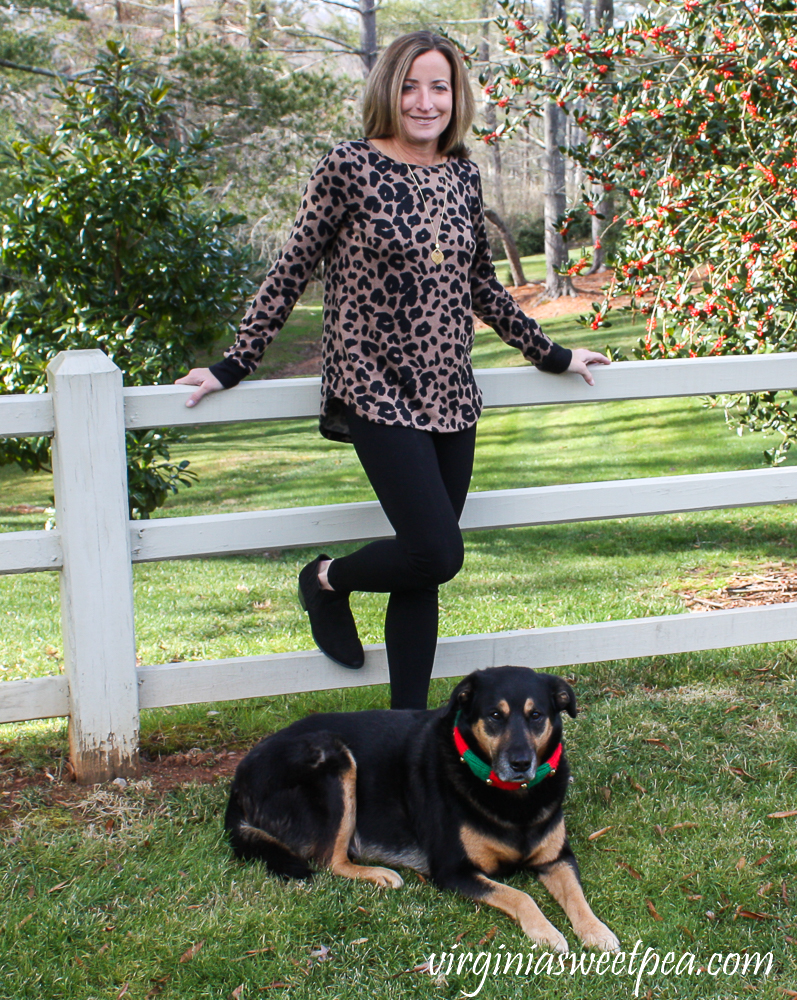 I received a new Rocksbox jewelry box just before Christmas. This Ava Rose Torrance necklace is from that box and it's a keeper.
Rocksbox is a jewelry subscription service that sends three pieces of jewelry that you can wear for as long as you like each month. When you send your three pieces back or buy what you like, a new box is sent. If you'd like a free month of Rocksbox, sign up with this code: PAULABFF54.
I really liked the black cuffs on this top, also super soft.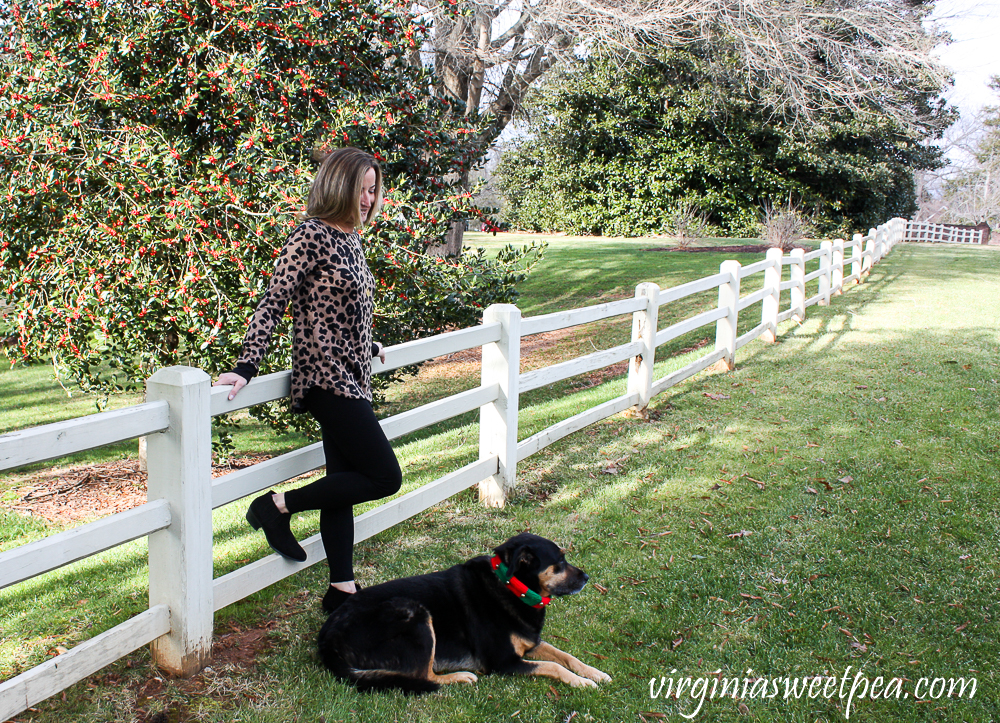 This top has the cutest button back.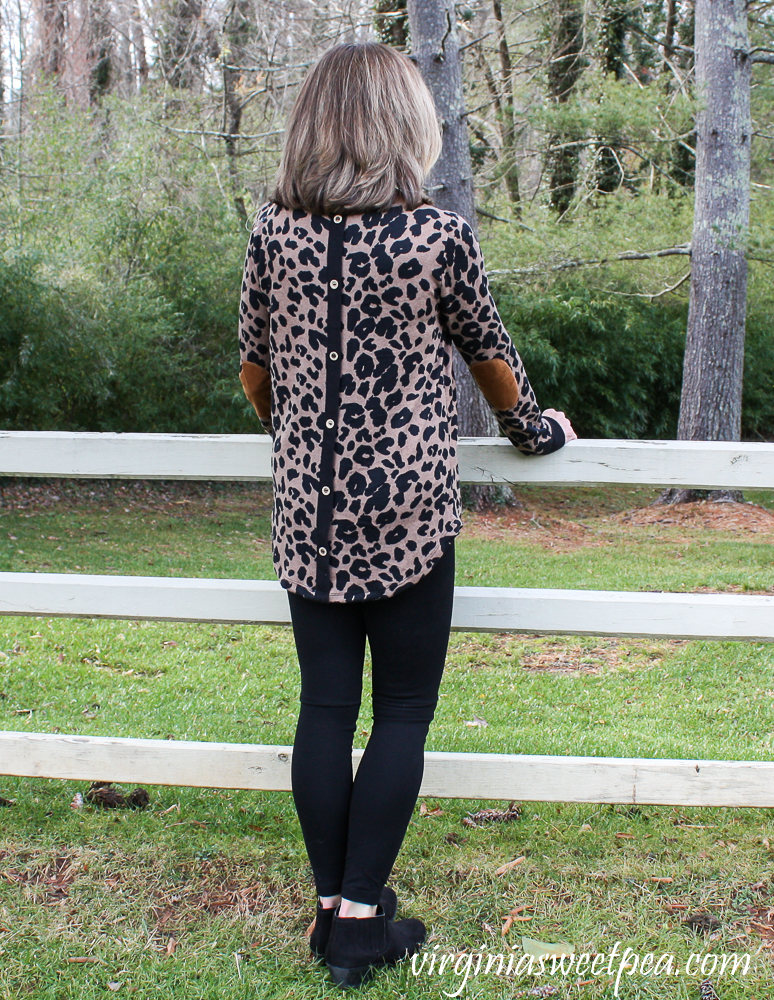 And it has brown suede like patches on the elbows.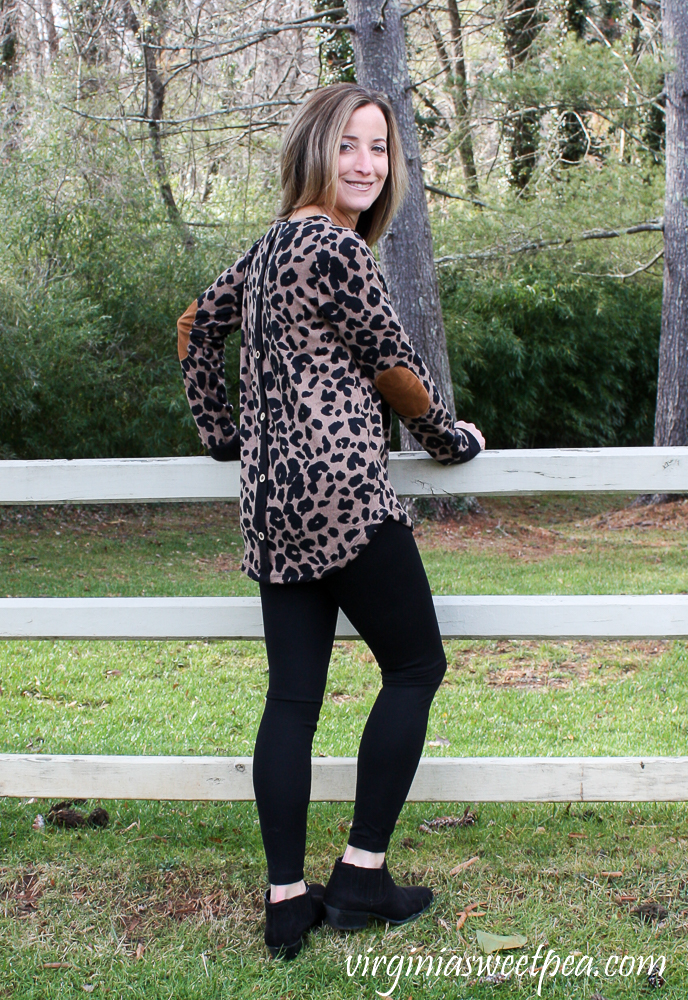 I kept this top and have already worn it.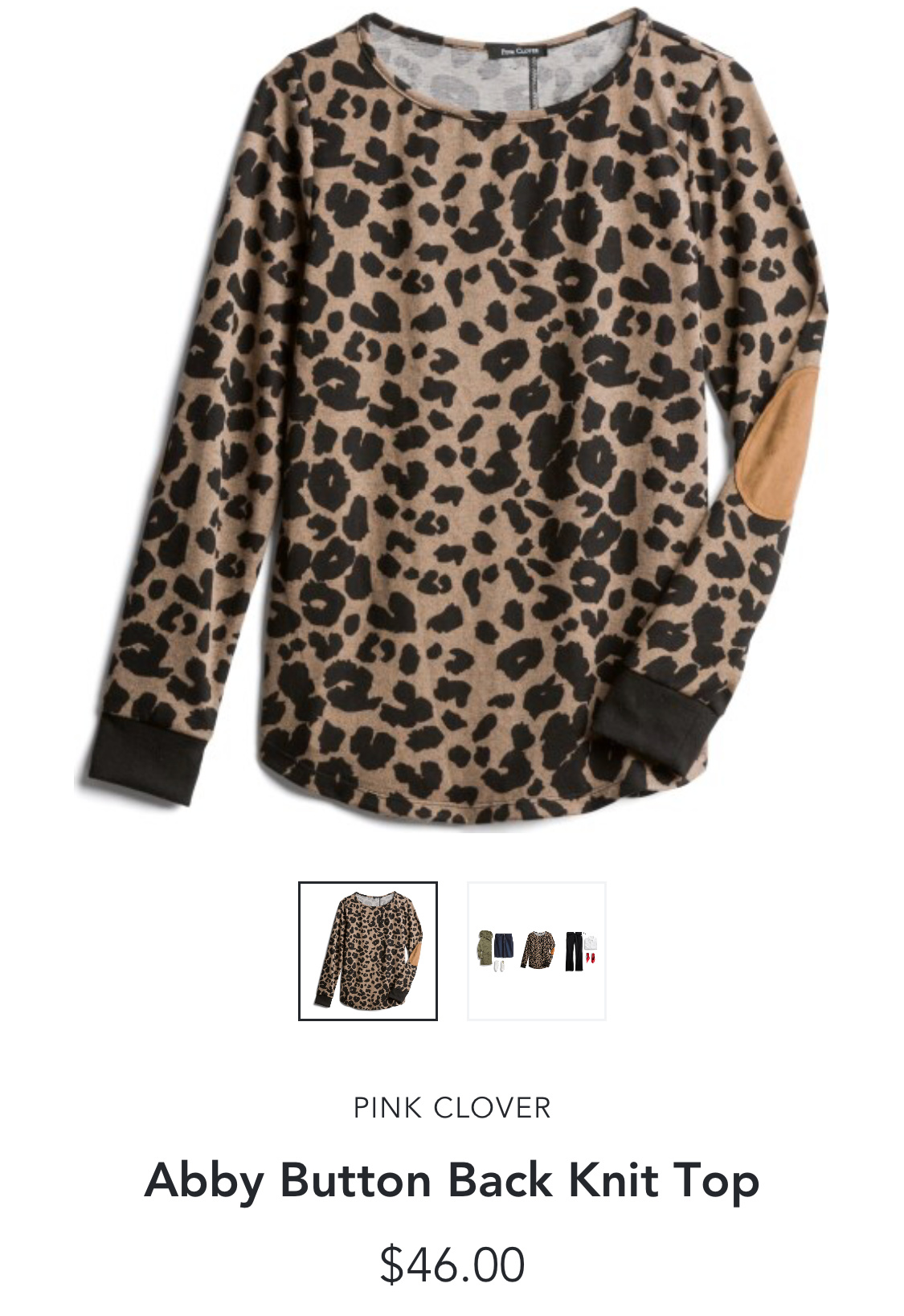 Fate Formosa Color Block Fuzzy Pullover
The next item that I tried was the Fate Formosa Color Block Fuzzy Pullover.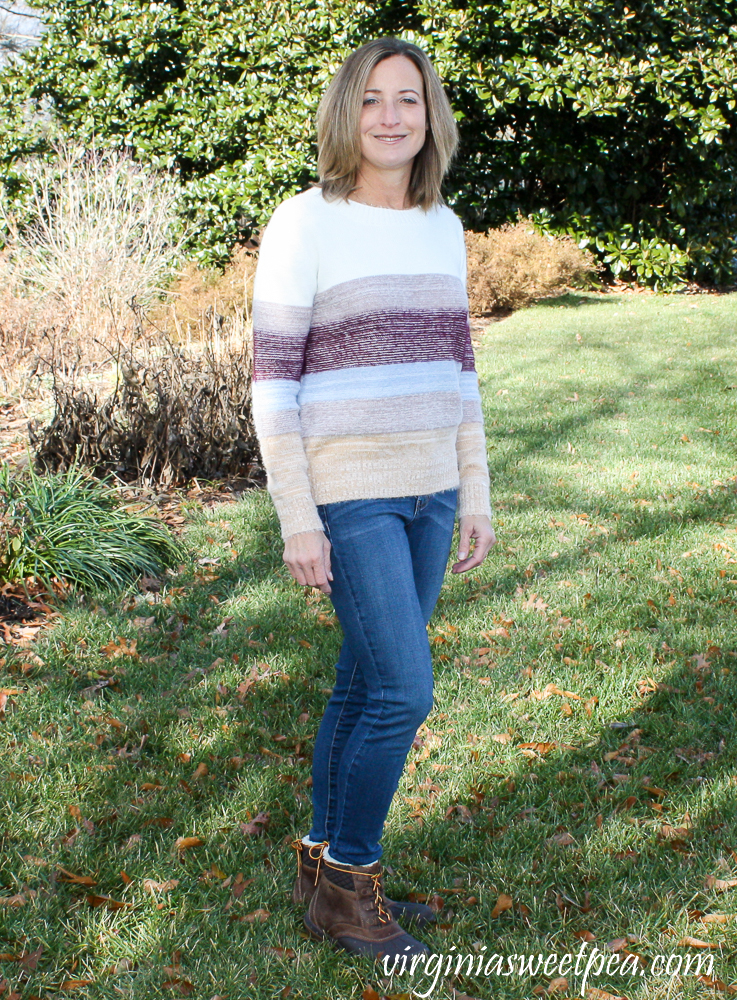 I paired the sweater with Prosperity Torrie Skinny Jeans from my February 2020 Fix and boots that I bought at LLBean when we got an unexpected 2′ of snow on our recent Vermont trip.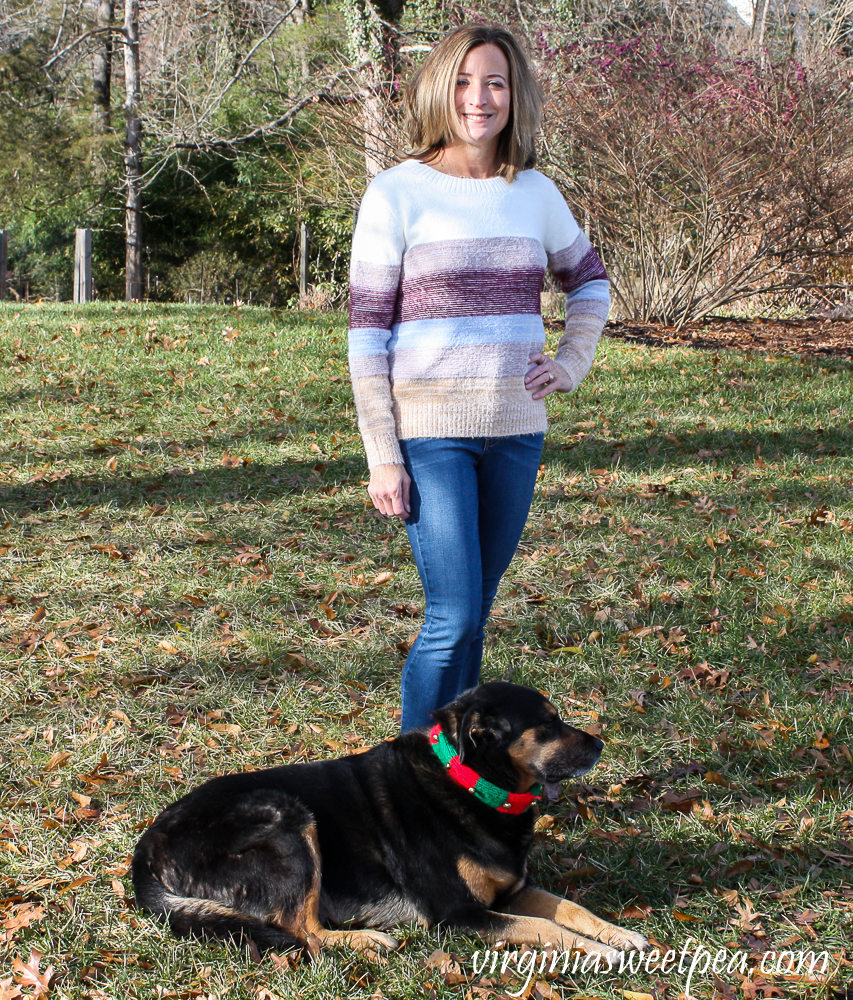 I really liked the fit and style of this sweater but it was slightly itchy making it an automatic no.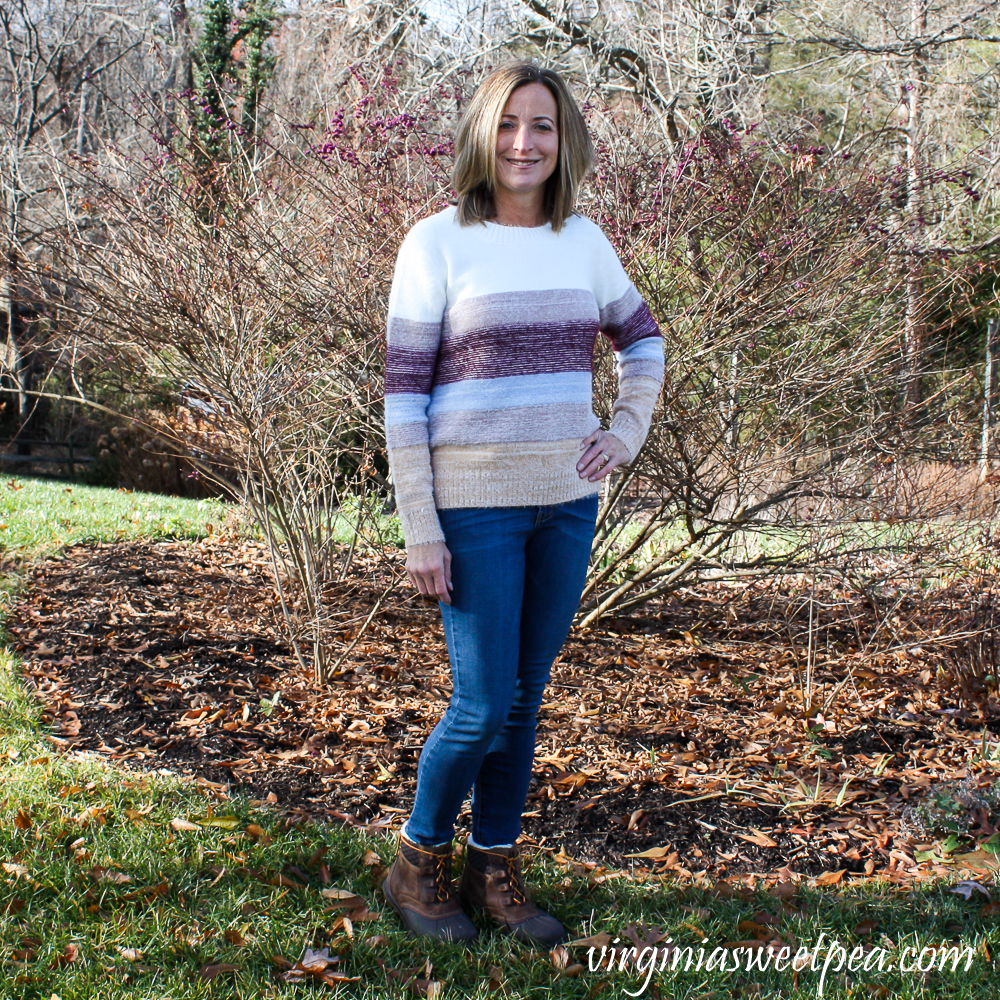 When I made my request for sweaters for January, I wanted warm and cozy sweaters like this one. It's too bad that it was itchy.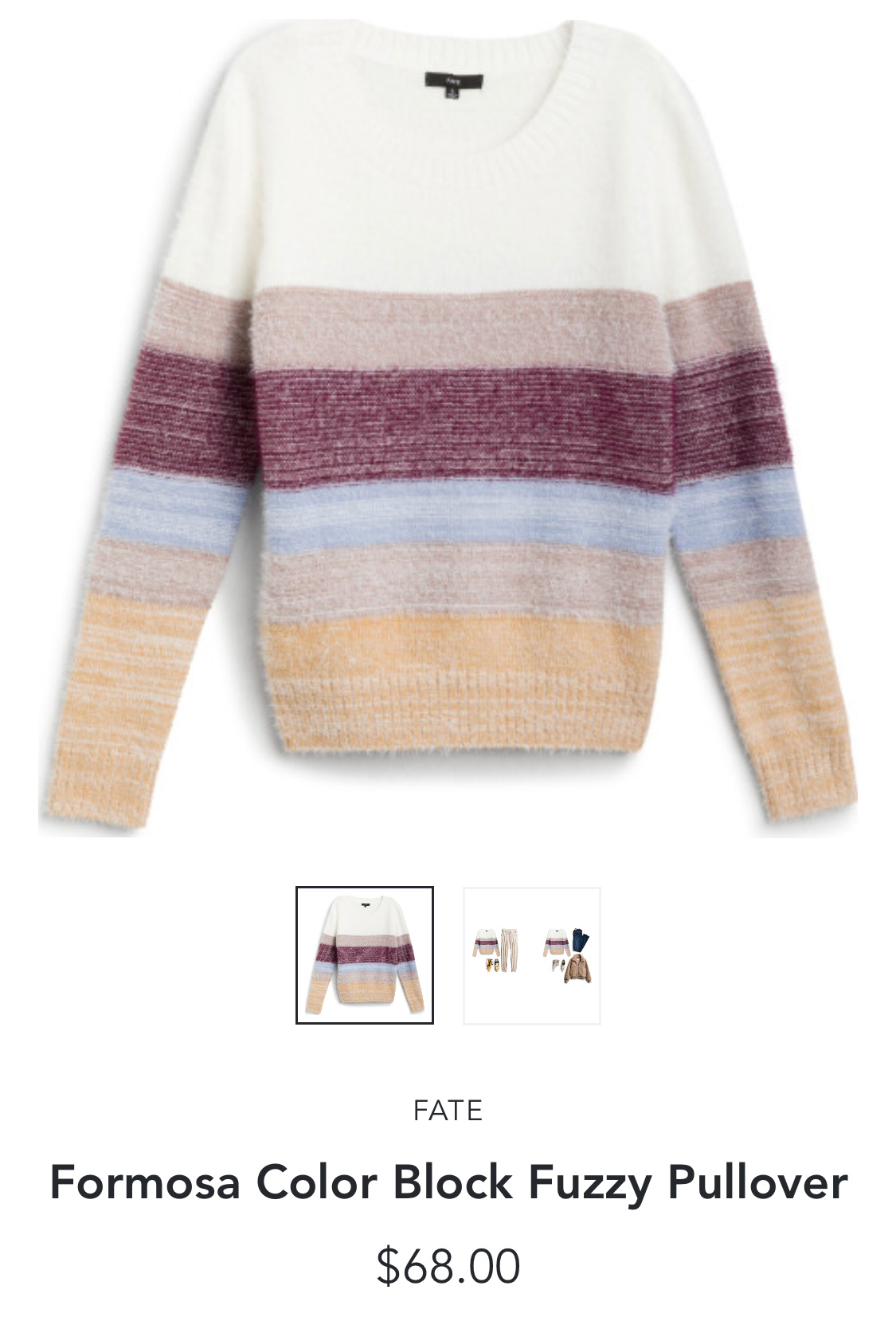 Papermoon Larie Tie Sleeve Blouse & Silver Jeans Co Sam Boyfriend Jean
The next two items that I tried were the Papermoon Larie Tie Sleeve Blouse paired with Silver Jeans Co Sam Boyfriend Jean.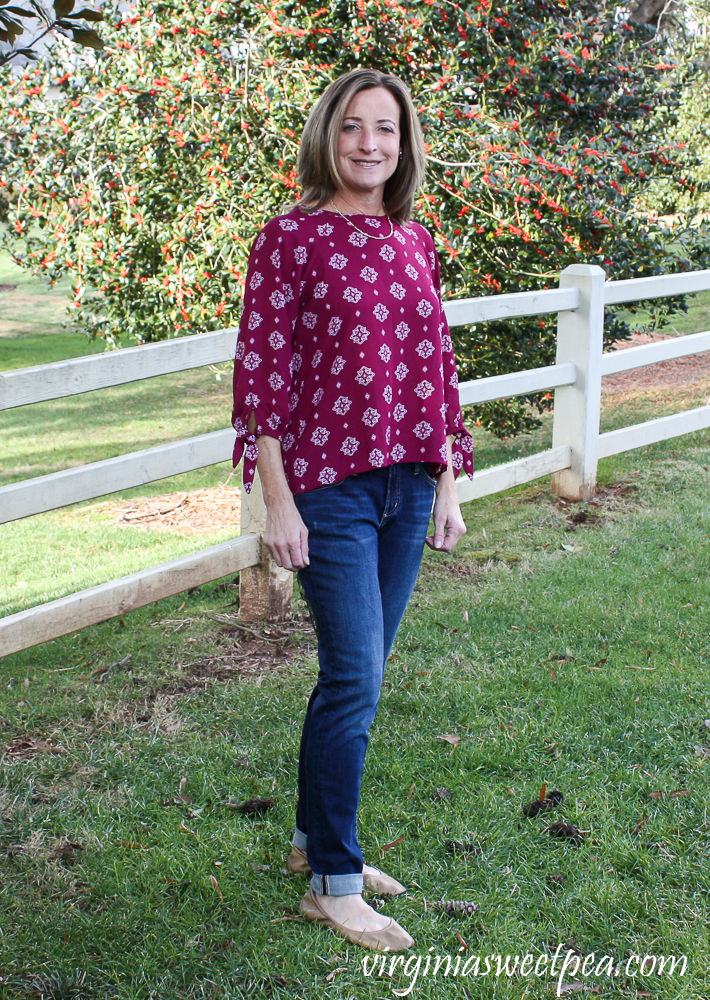 This was my first time trying Silver Jeans Co jeans and this particular pair didn't fit me well.
They were mid-rise and I now only want high-rise jeans because they are so much more comfortable. They also were too big and too long.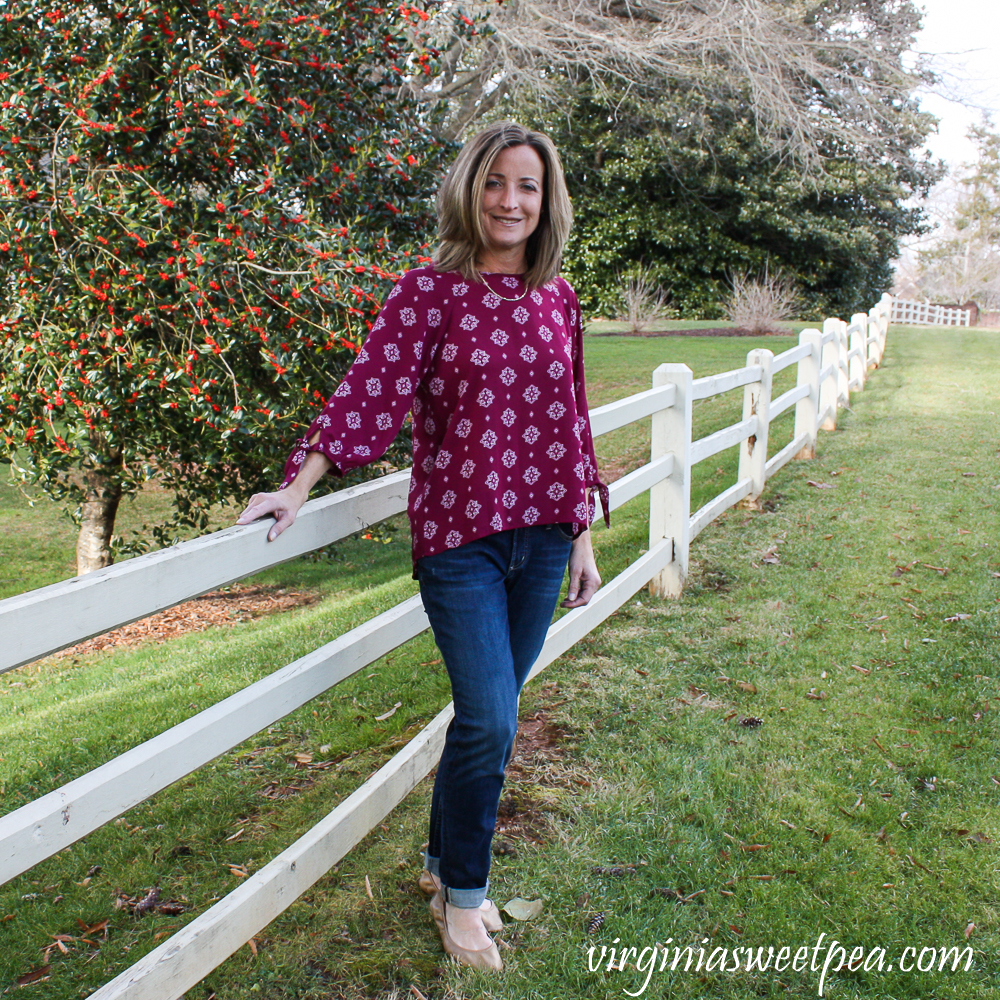 My cousin has a pair of Silver Jean Co jeans from Stitch Fix that she adores. In a future Fix, perhaps I will receive a different style that I will like better.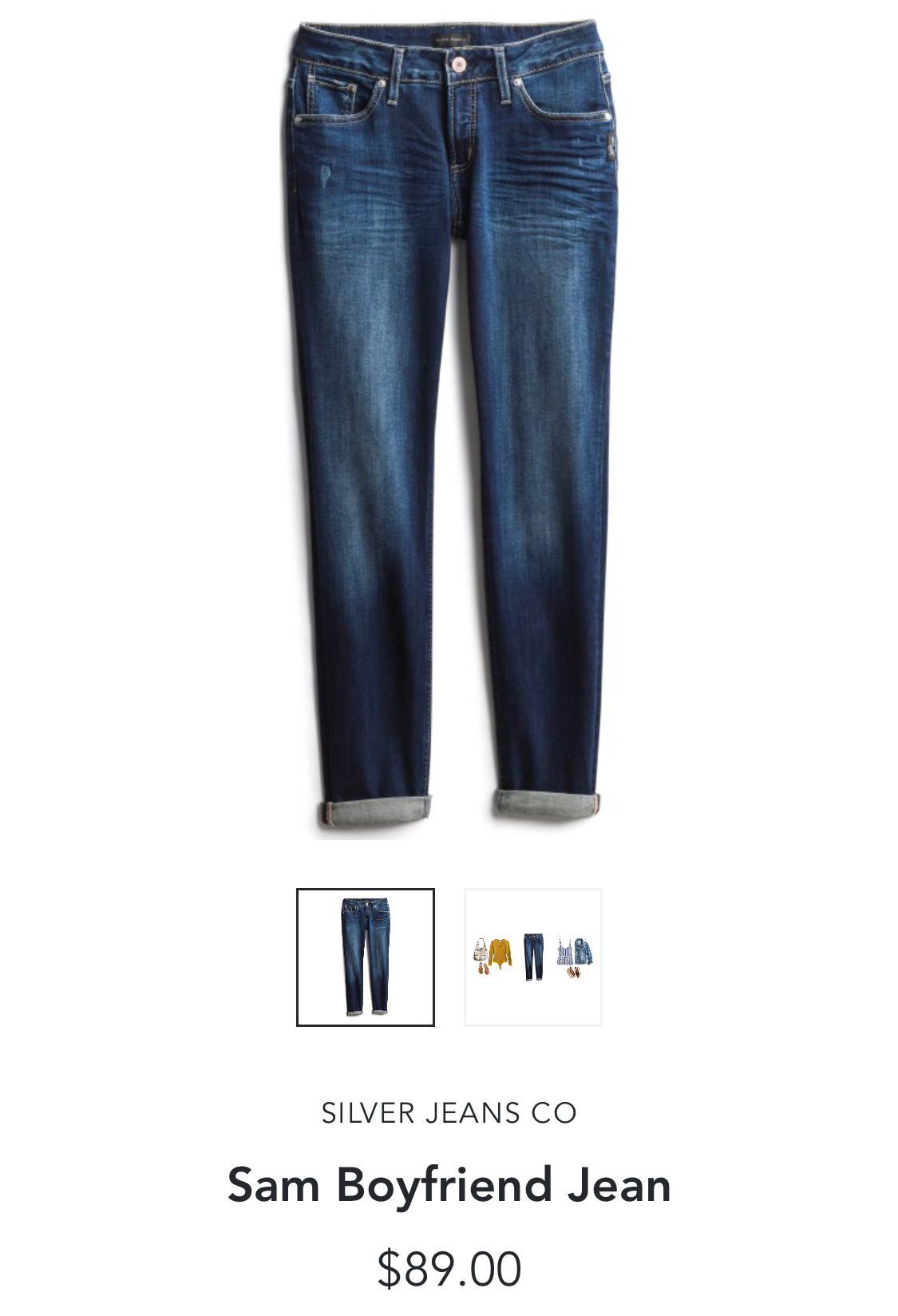 The Papermoon Larie Tie Sleeve Blouse was paired with my new Kendra Scott Multi-Strand necklace from Rocksbox. This necklace has three strands and it is so cute. Unfortunately, it looks like part of the necklace got tucked into the blouse.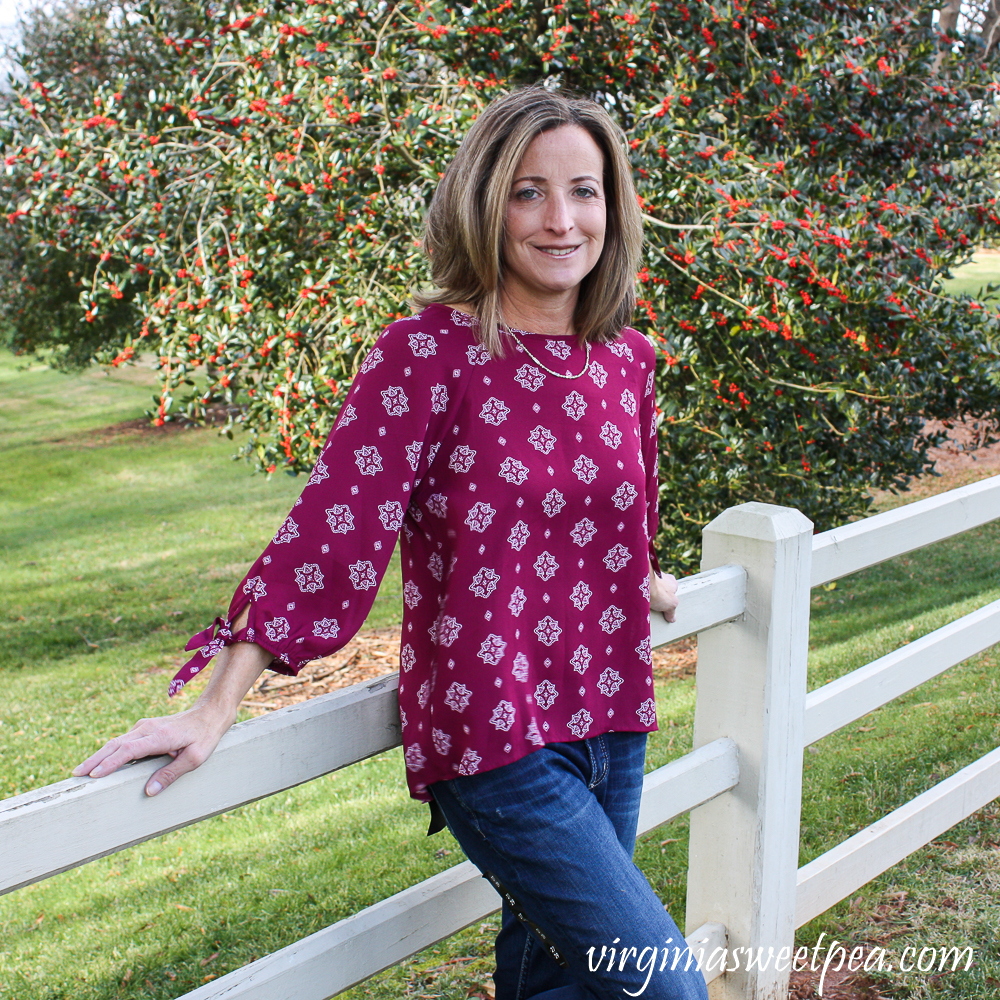 I loved the zipper on this back of this blouse.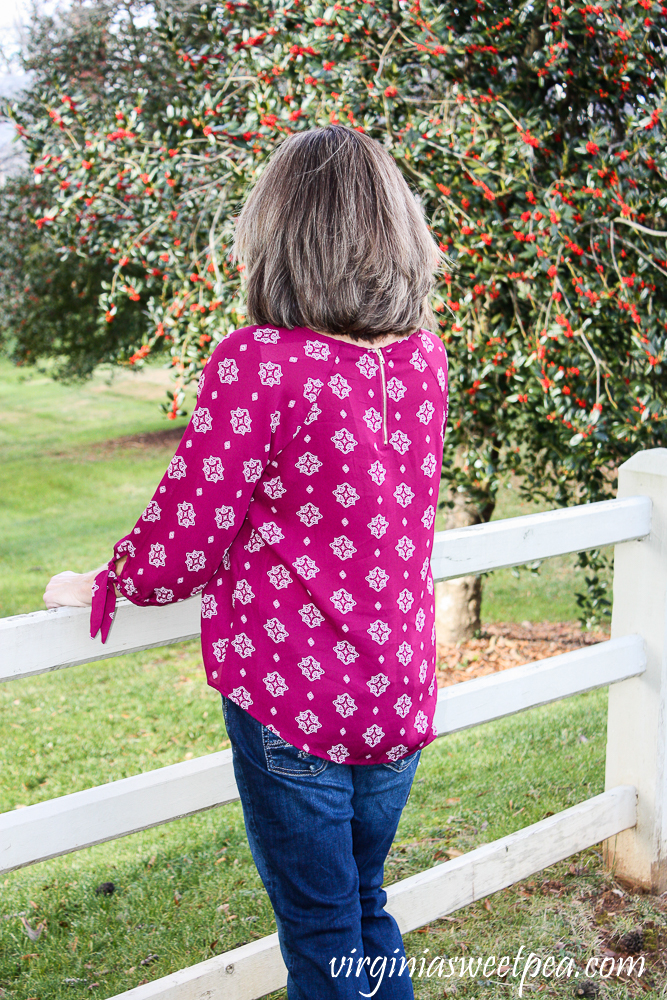 I didn't keep this because it's winter and I wanted warm clothes to enjoy in January.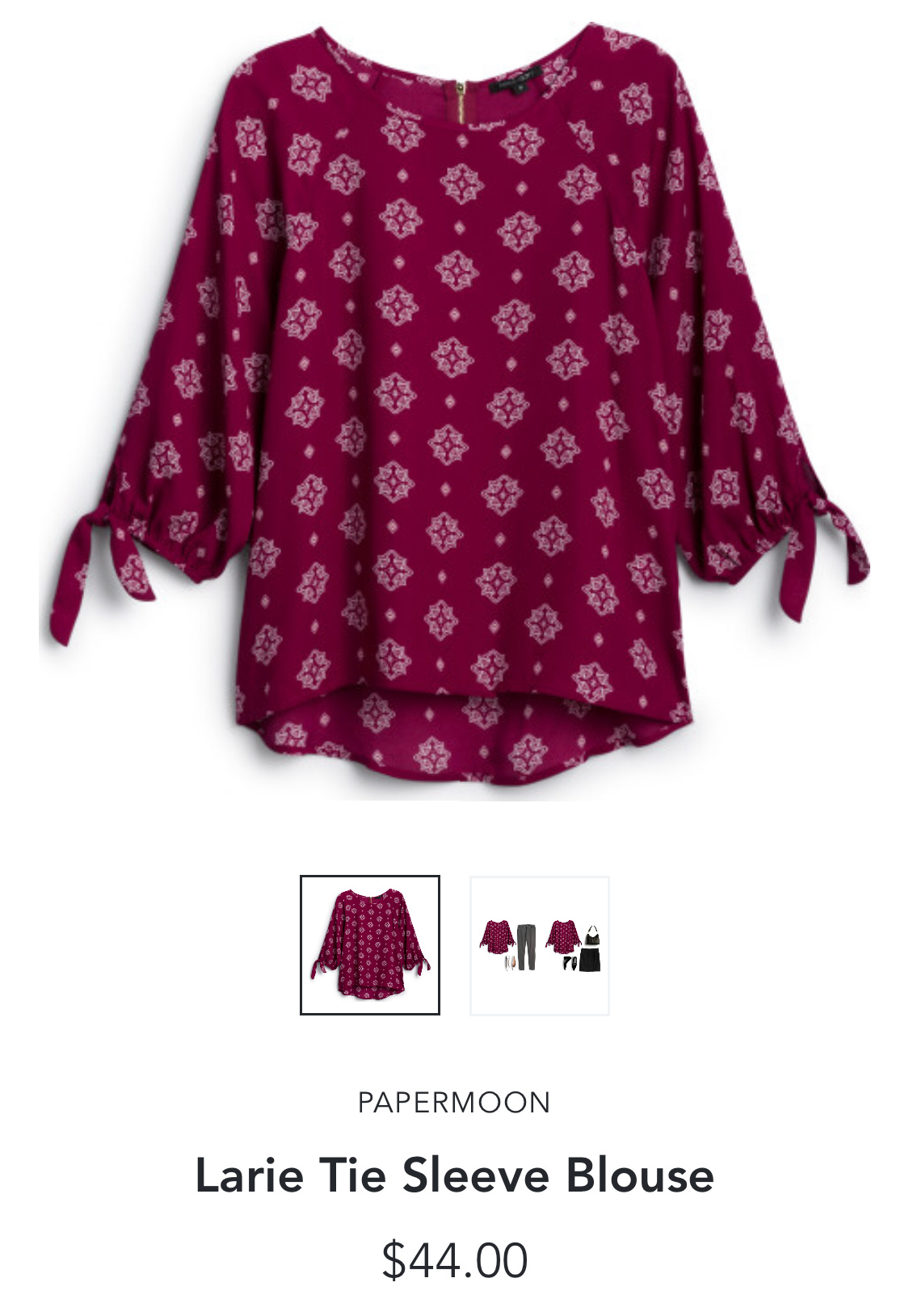 Market & Spruce Tabatha Waffle Knit Cotton Blend Cocoon Cardigan
The last item to try was the Market & Spruce Tabatha Waffle Knit Cotton Blend Cocoon Cardigan.
When I shared this on my Facebook live, it was wildly popular and I got lots of messages that I needed to keep it.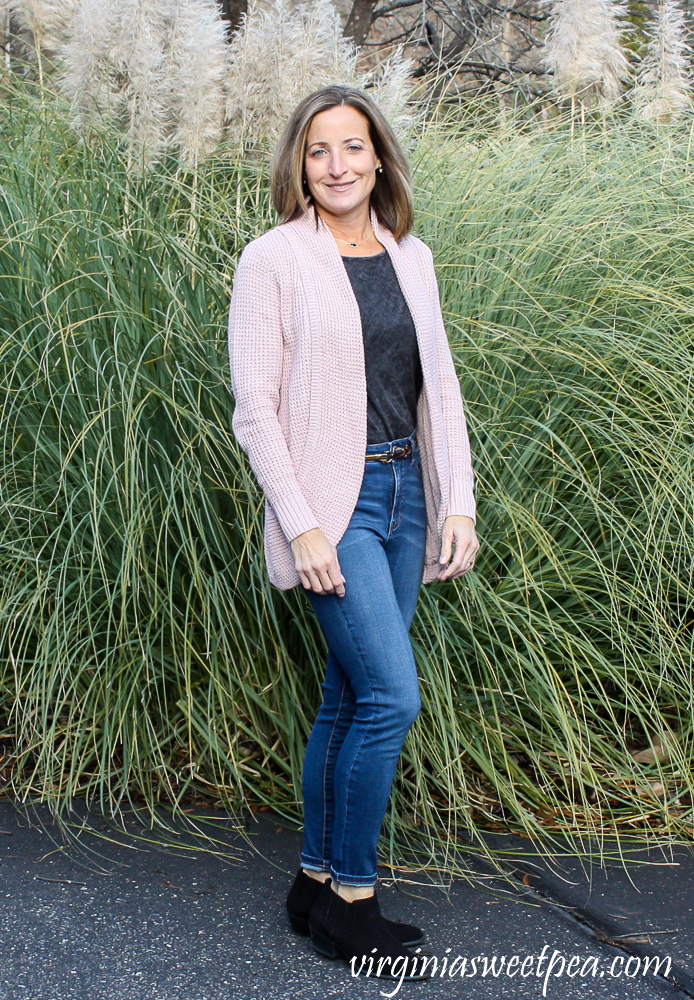 What I loved about this cardigan was its hidden pockets and how soft it was.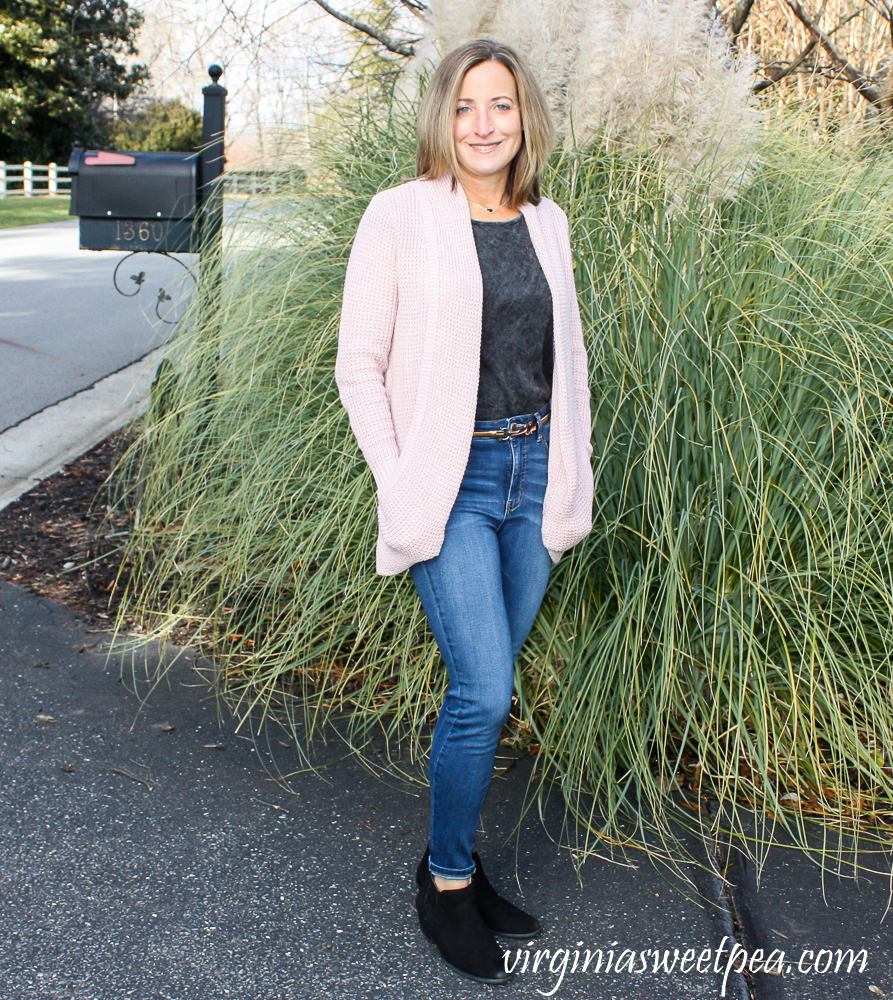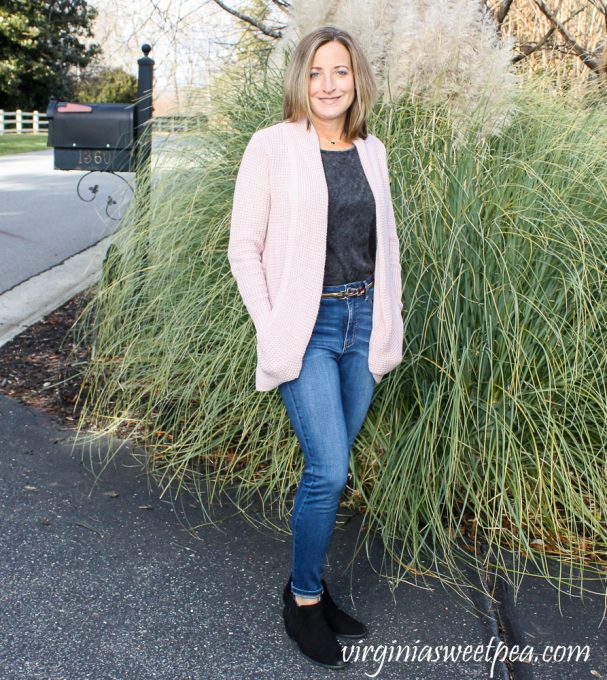 I paired the cardigan with a top from my summer Fashom box and a Kendra Scott Elisa necklace from Rocksbox.
I really struggled with finding a top to wear under this pink cardigan. My winter tops are all colors that don't match pink.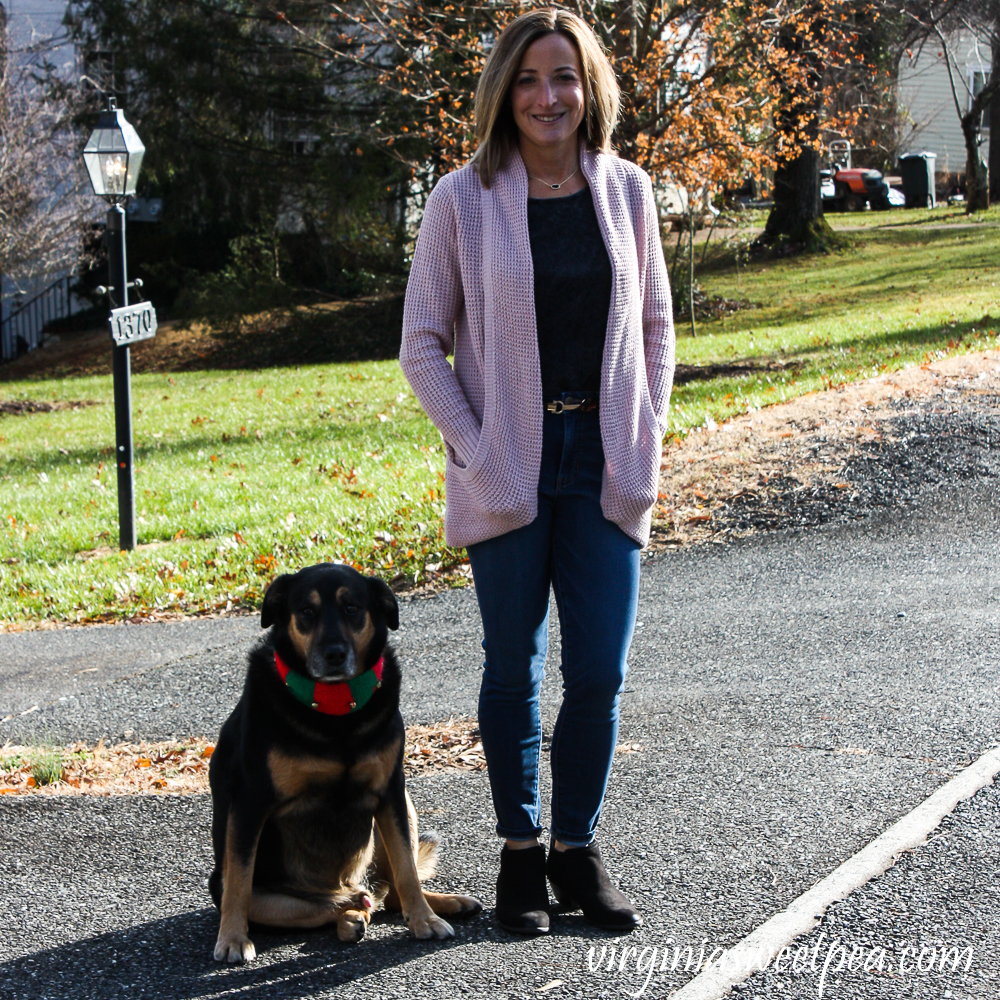 Sherman was pretty cooperative when we took pictures for this month's Stitch Fix review.
Just for fun, here's a picture of what he frequently does when we try to take a picture of him.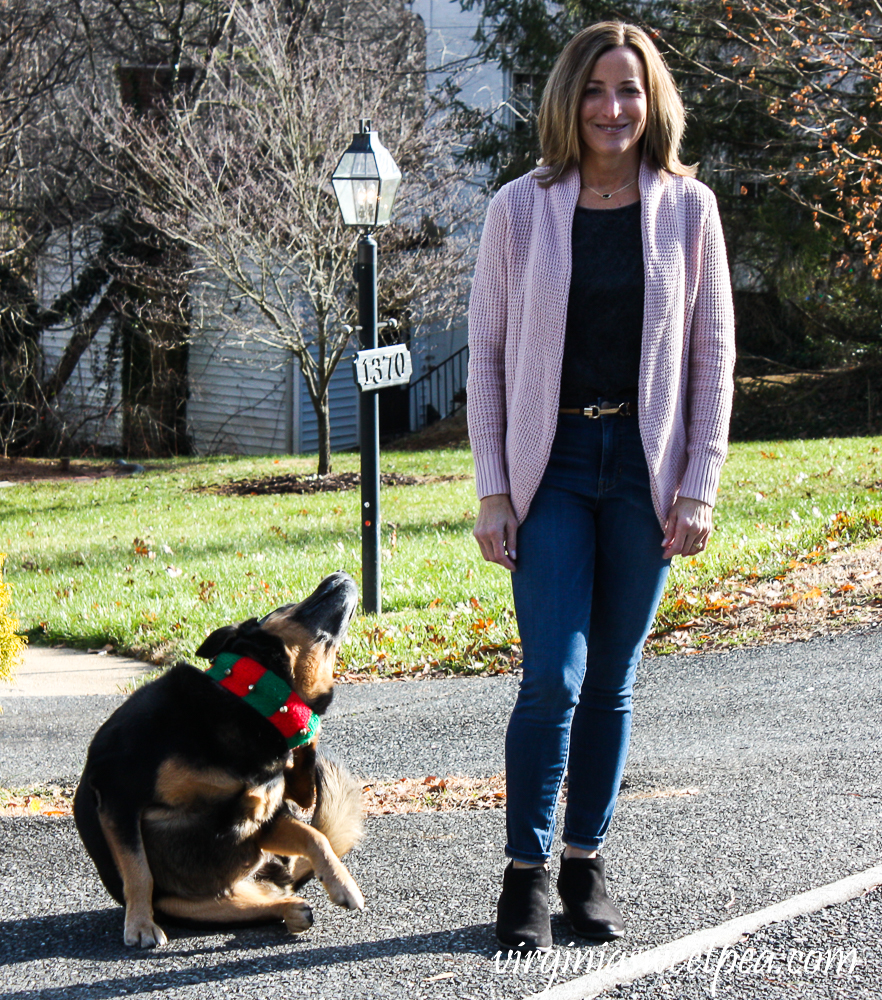 While I changed outfits, he went inside to see his grandmother who was visiting for Christmas.
I showed each outfit to Mama before I went outside for photographs with Mr. SP.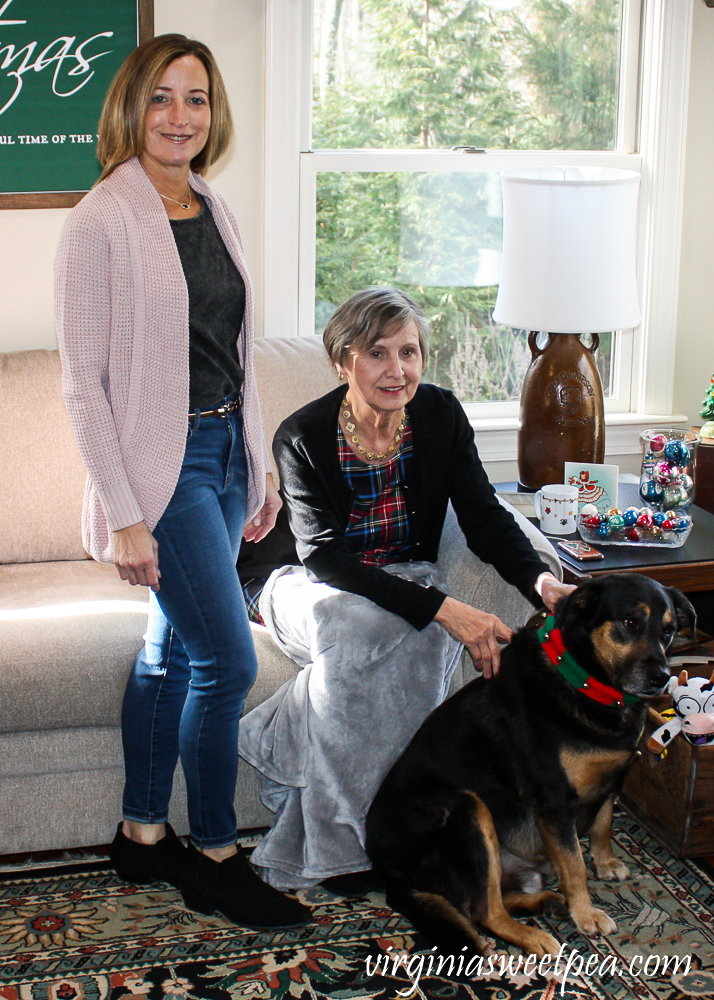 I really liked this cardigan but I already have two pink cardigans from Stitch Fix, so it didn't make sense to buy another.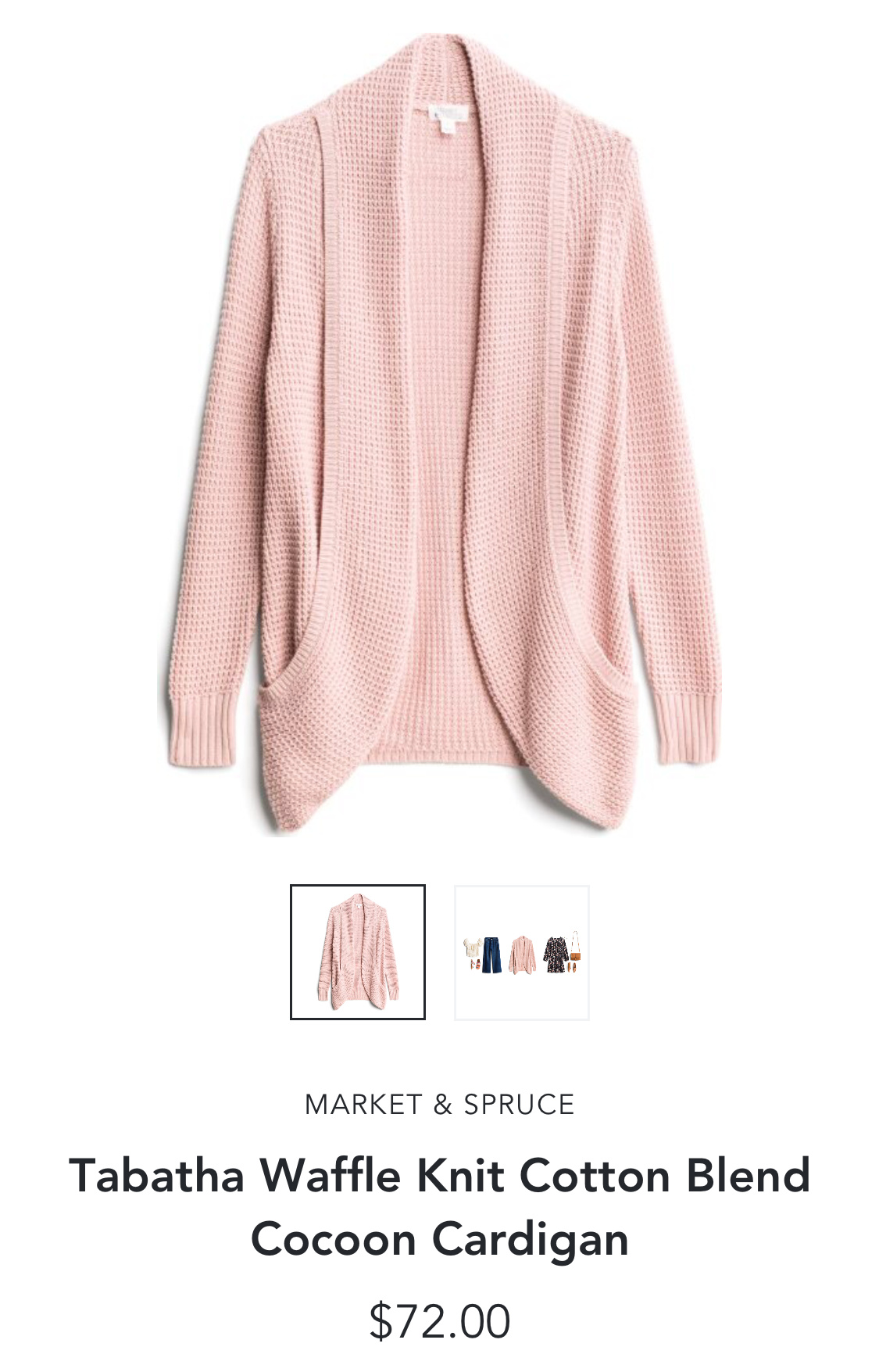 Like always, it was super fun to receive my Stitch Fix box and to try everything on.
Summary
Pink Clover Abby Button Back Knit Top – $46 – Keep
Fate Formosa Color Block Fuzzy Pullover – $68 – Returned
Papermoon Larie Tie Sleeve Blouse – $44 – Returned
Silver Jeans Co Sam Boyfriend Jean – $89 – Returned
Market & Spruce Tabatha Waffle Knit Cotton Blend Cocoon Cardigan – $72 – Returned
Try Stitch Fix
I love receiving each Stitch Fix box and really enjoy getting cute clothes without having to shop for them.
If you've been thinking about trying Stitch Fix, I encourage you to do so. If you sign up using my referral link, you'll get $25 off your first box.
That means that your styling fee will be taken care of and you'll have $5 credit toward anything that you want to keep. If you don't like your items, you've lost no money.
Why not try Stitch Fix risk-free?