Winter Decorating Ideas – Family Room
After I decorated our living room and dining room for winter, I then moved on to our family room. My goal was to make this room feel cozy for winter and I think that I was successful. I hope you'll find my winter decorating ideas inspiring.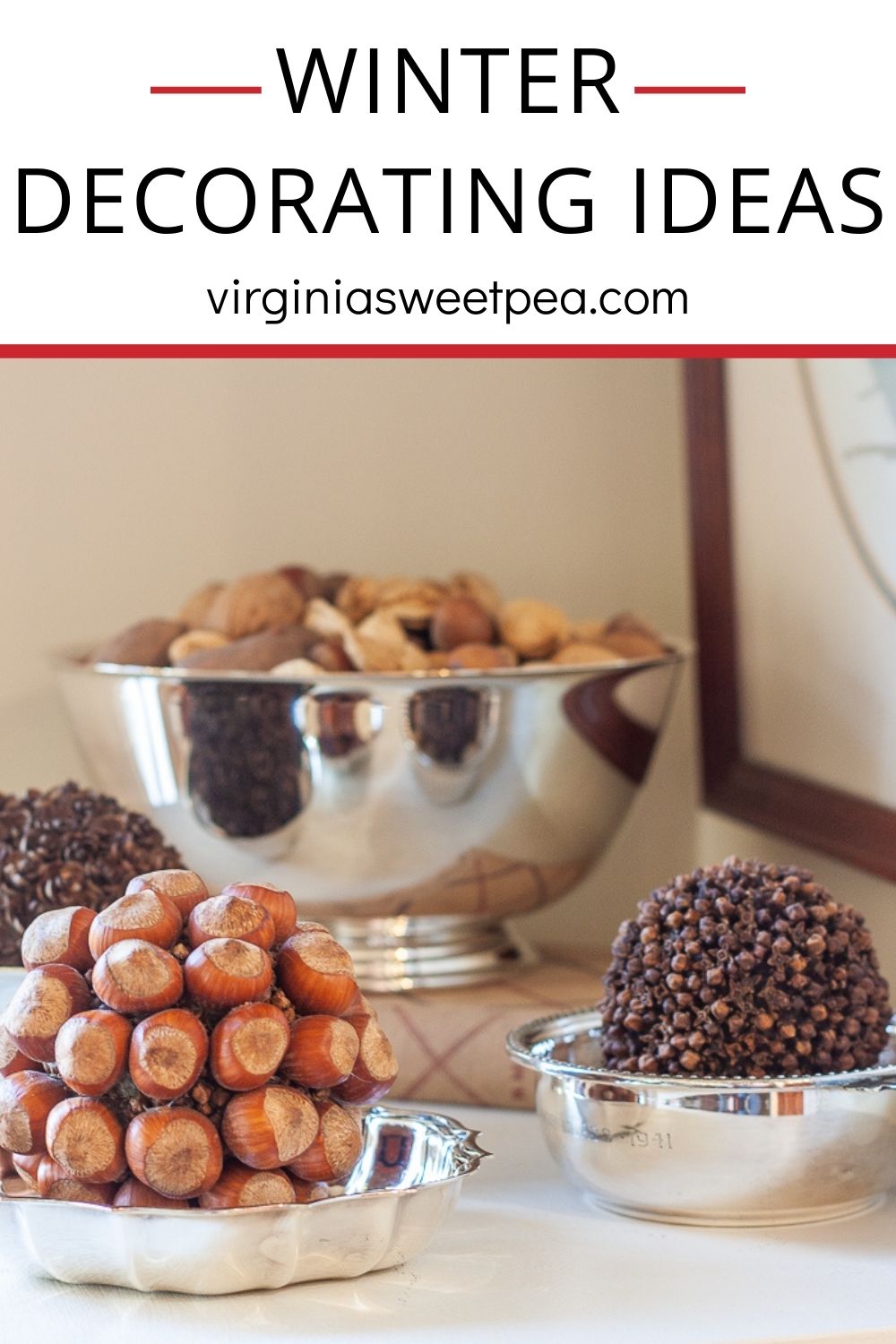 Winter Decorating Ideas – Family Room
We love spending evenings in our family room. I'm on the sofa under the Walking in a Winter Wonderland art that I made last winter and used over our mantel and Mr. SP is on the other sofa.
Sherman is either on the floor or sitting in "his" leather chair.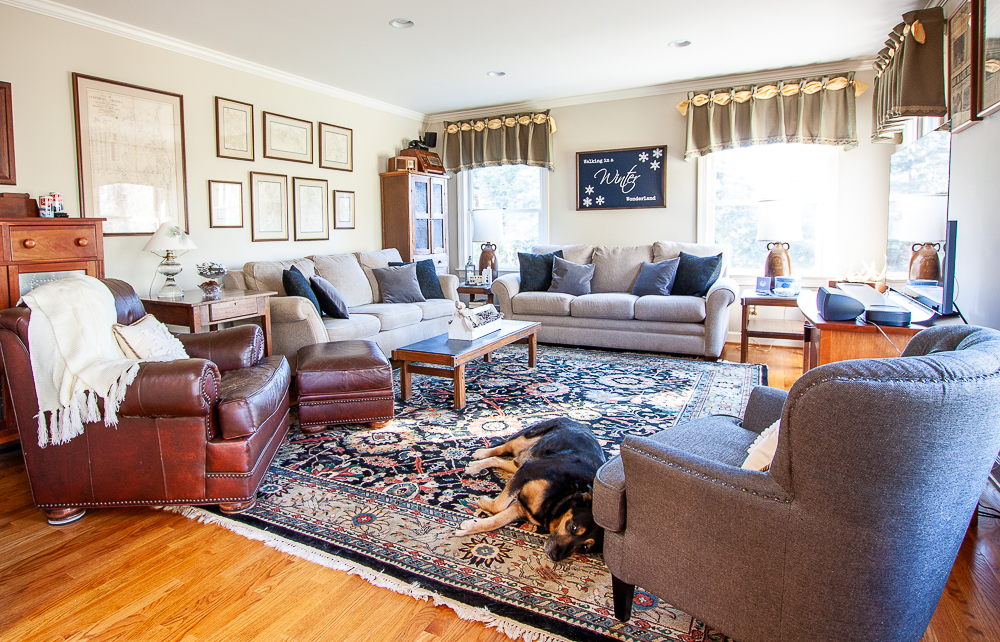 After watching Hallmark movies for most of November and December, we are back to watching Longmire. We are really enjoying this show and I'll be sad when we finish season six, the final season.
End Table Winter Decorations
To go along with the Walking in a Winter Wonderland sign, I decorated both end tables with things that made me think of a winter wonderland.
By the way, my Walking in a Winter Wonderland poster and an 8 x 10 printable are available in my free printable library. Subscribers to my blog have access to my library that is filled with all sorts of printables.
If you aren't a subscriber, I invite you to follow along with me!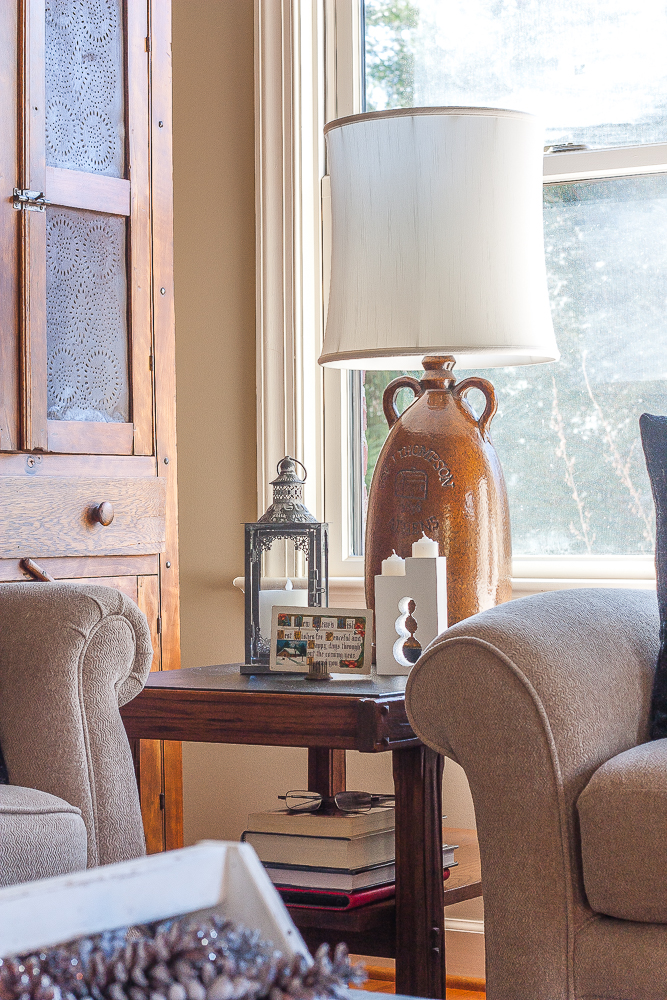 My end table lamps, end tables, and coffee table were purchased by my parents when they got married in 1968. I love the stone tops of these pieces.
For winter decor, I used a lantern with a white candle, a snowman candle holder that I made in November, and an early 1900s New Year's Wish postcard.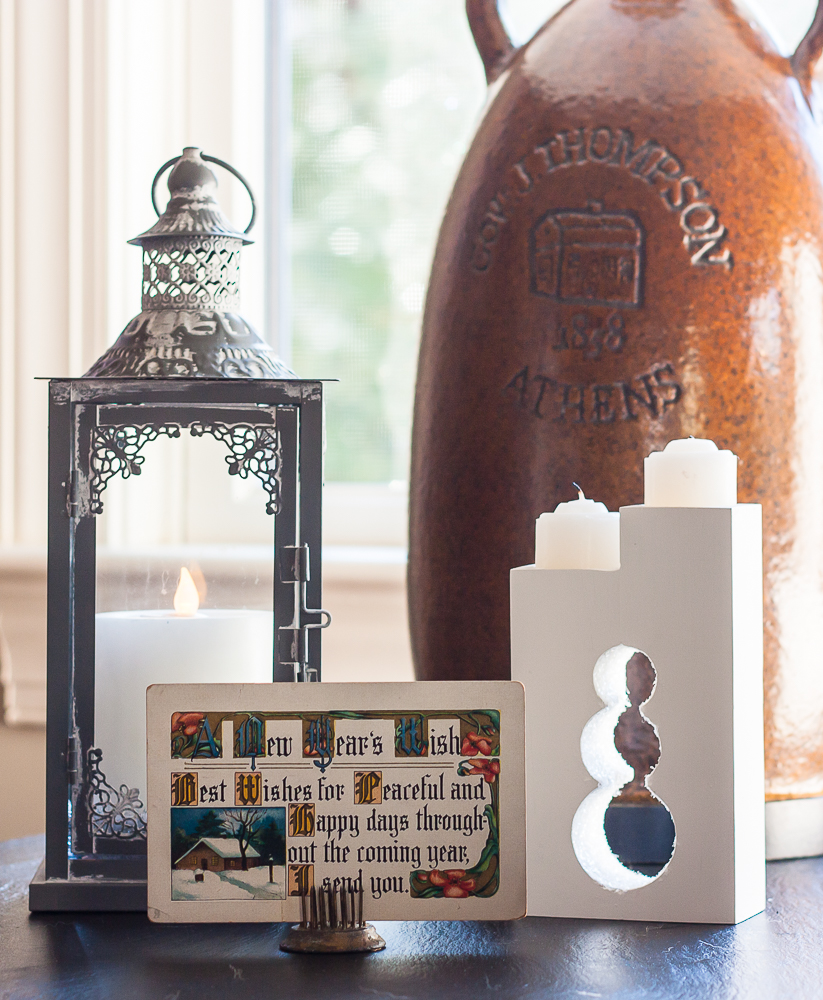 The sentiment on this postcard are words that we all need in 2021.
Best Wishes for Peaceful and Happy days throughout the coming year, I send you.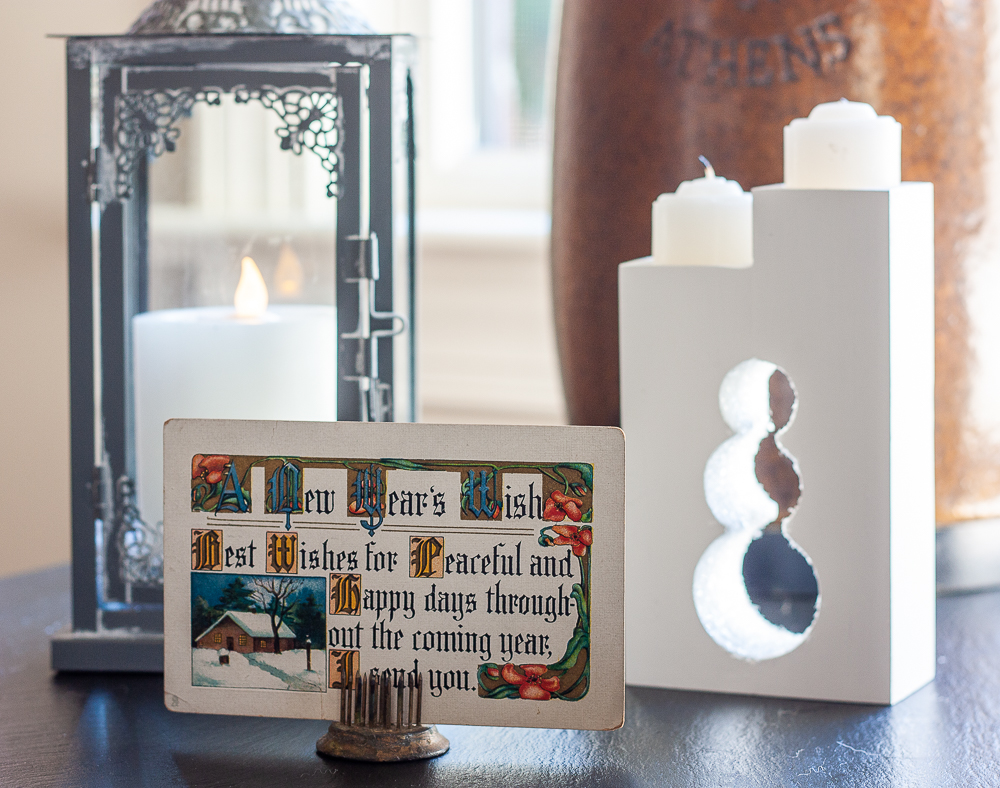 This card was sent by my great-great-uncle, George Funk, to his wife who must have been visiting a sister in Norfolk.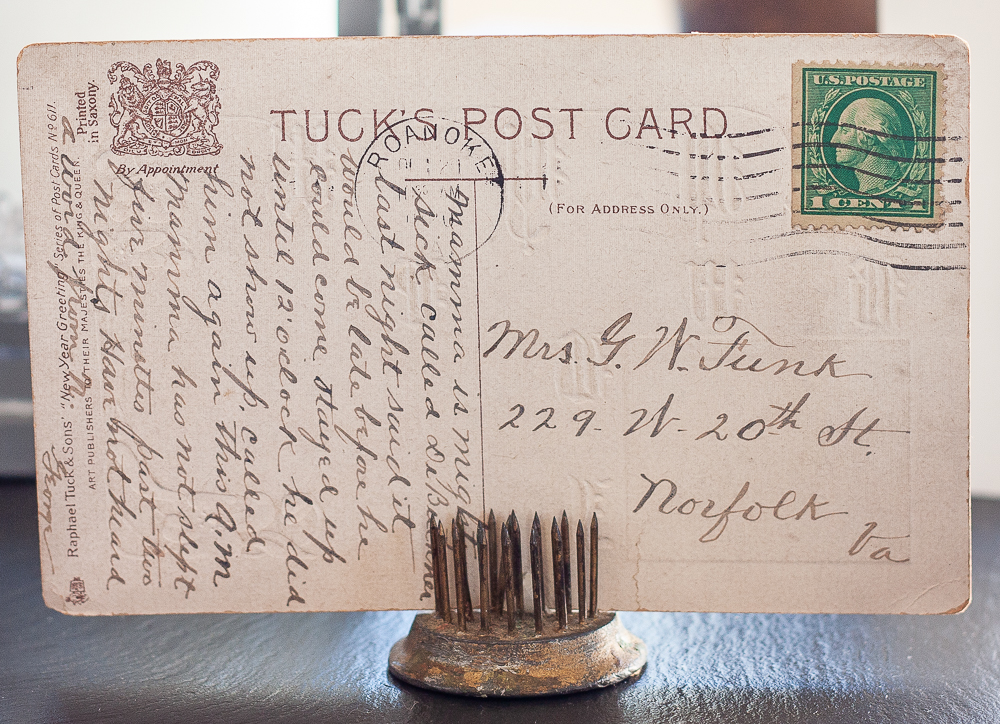 This postcard made me sad because George was distressed over his mother's health.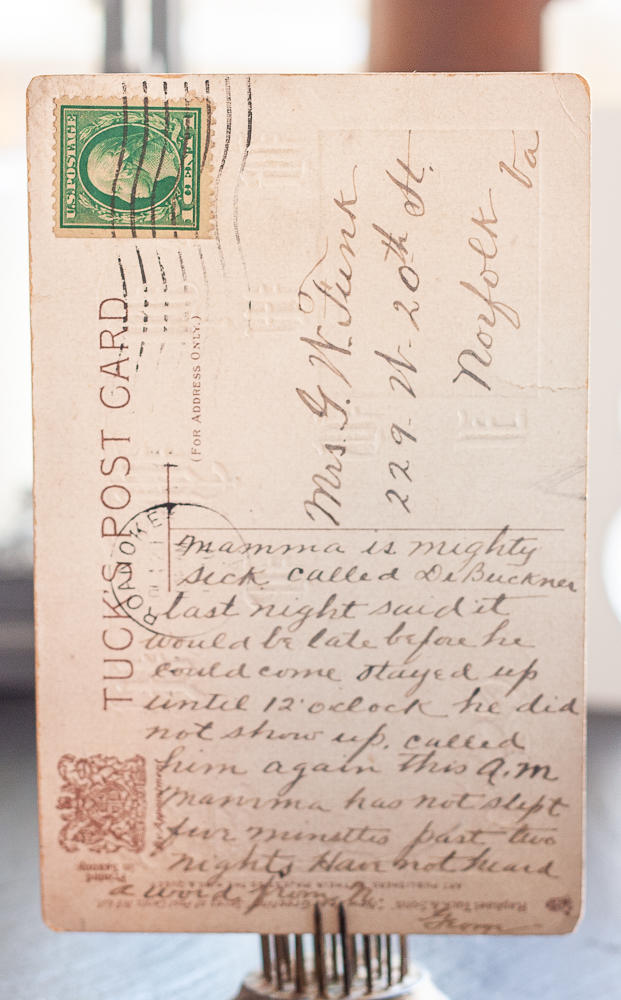 The other coffee table also is decorated with winter themed items.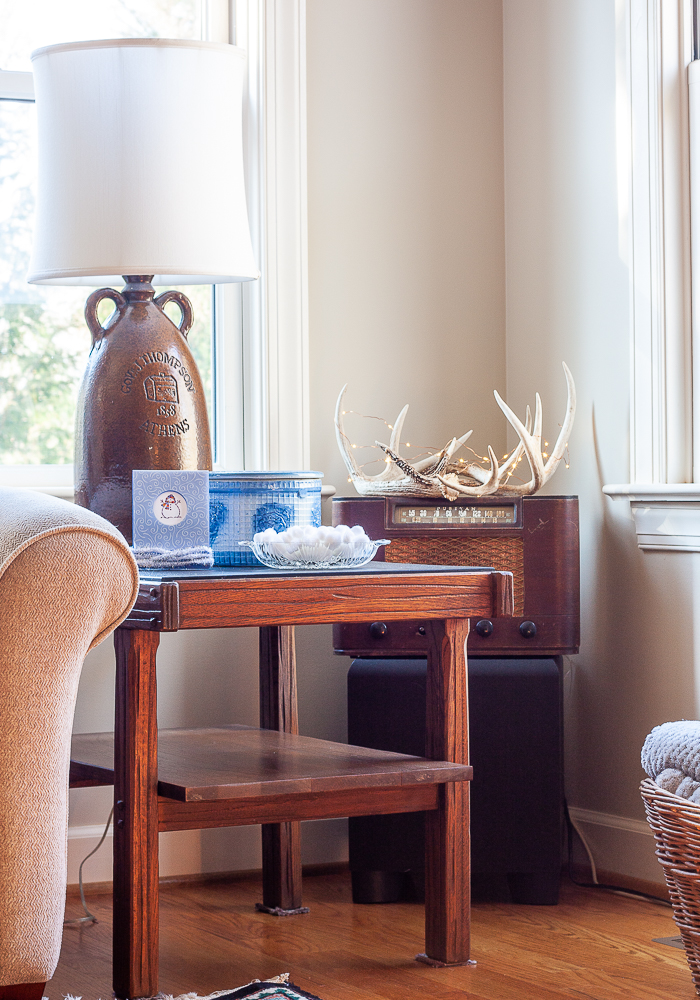 My cousin used to make her own Christmas cards and I saved every one of them because I loved her designs. Melinda also made cards for her Aunt Frances (my great-aunt) to send. Frances was her real name but every family member knew her as Tubby.
When I got this card out to display, I loved seeing Tubby's handwriting and the sweet note that she wrote to me.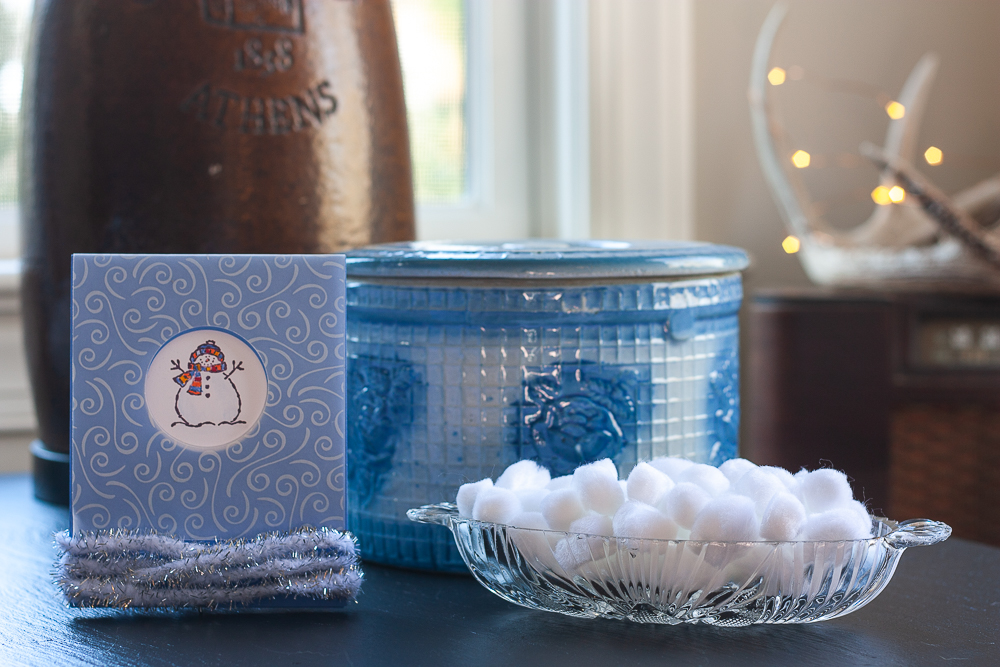 The blue crock was my grandmother's and I am pretty sure that she purchased it on an antique shopping trip with Aunt Tubby. When my grandparents visited the family farm, my grandmother and Tubby would often do things together.
To go along with the crock and card, I filled a glass bowl with white pom-poms leftover from making a pom-pom wreath last winter. That wreath is now hanging on our porch.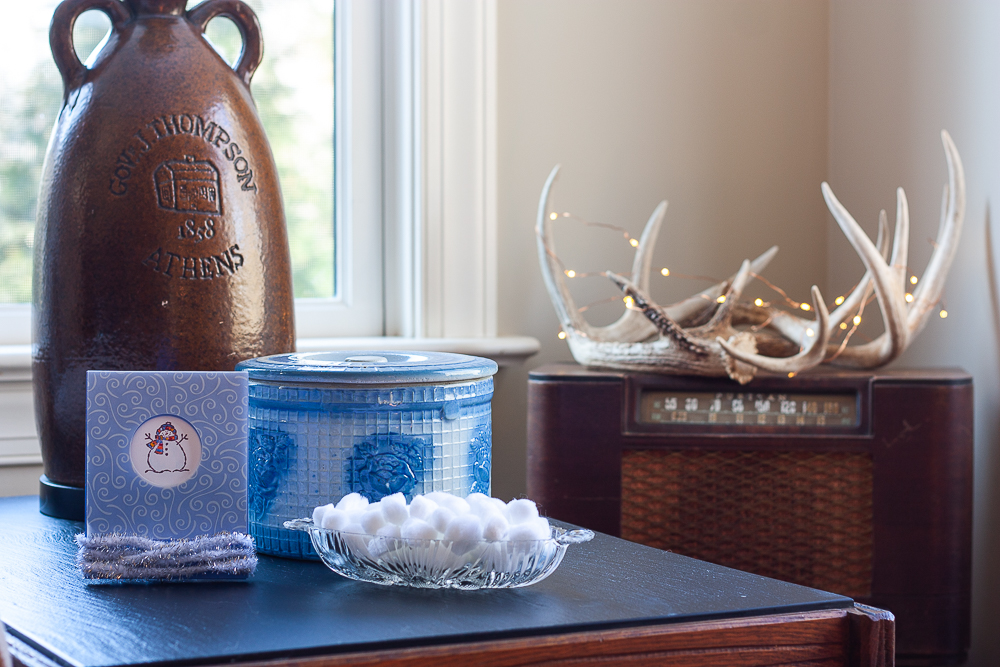 On the antique radio in the corner I used three deer sheds that Sherman found and wrapped them in twinkle lights.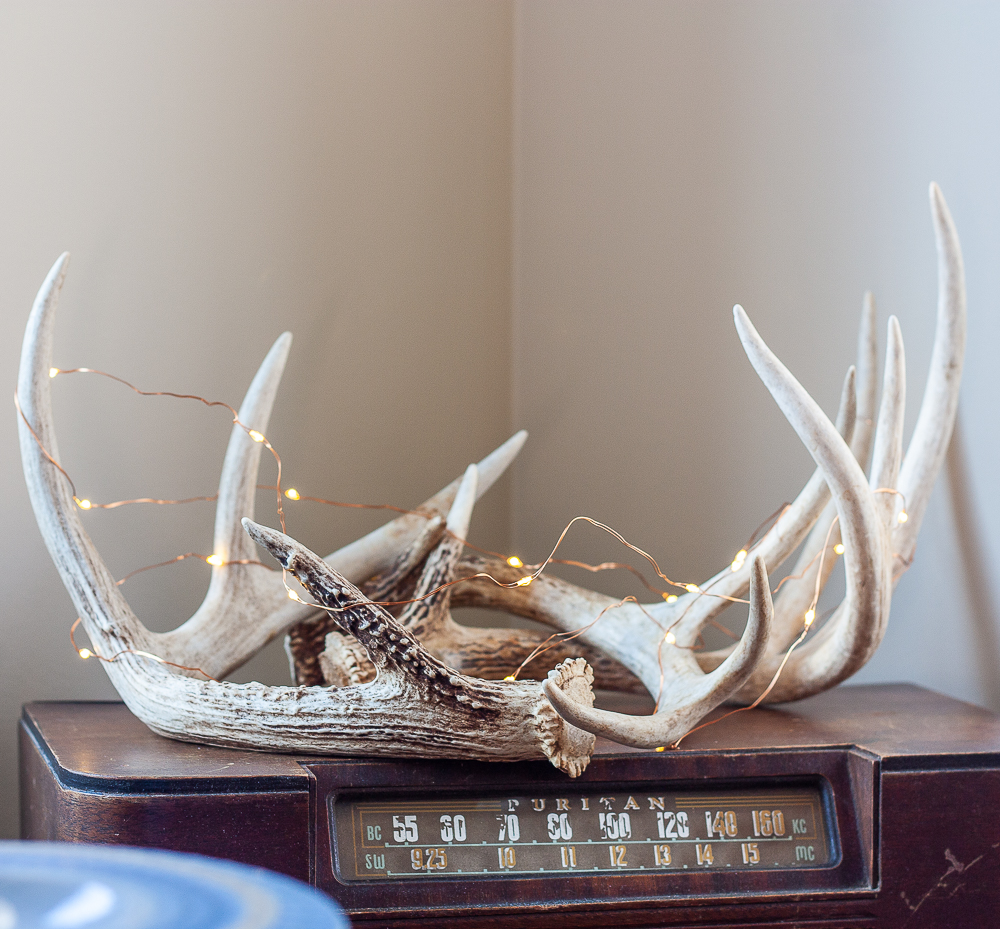 Coffee Table Winter Decor
For winter decor on the coffee table, I filled a tool caddy that my dad made with pinecones.
You can see more pictures of the tool caddy and get bunches of ideas for decorating with toolboxes here.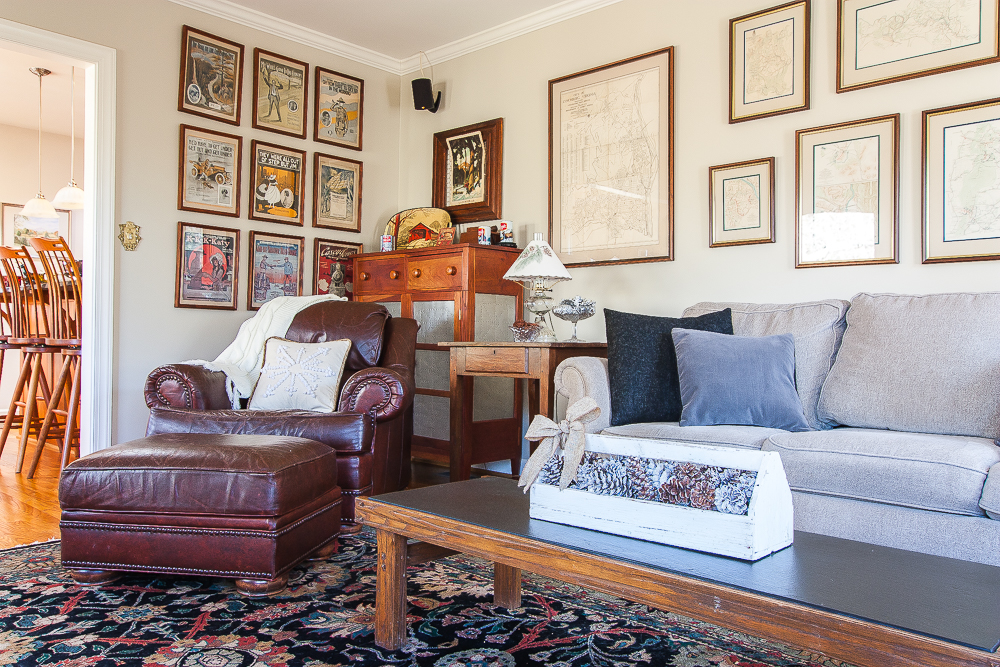 Walnut Table Winter Decor
The walnut table beside Mr. SP's sofa was always on my maternal grandmother's porch when I was growing up.
When I moved into a tiny basement apartment my first year of teaching, she gave this table to me to use in my tiny kitchen. My dad refinished it and I've been enjoying using it ever since.
It's usually littered with bags of dog treats for Sherman, but I moved them for my pictures. Sherman successfully begs for multiple treats each evening.
My mom gave me the lamp and we bought the shade in downtown Staunton long ago. There was a shop there that sold this type of lampshade and my mom and I loved to visit that store.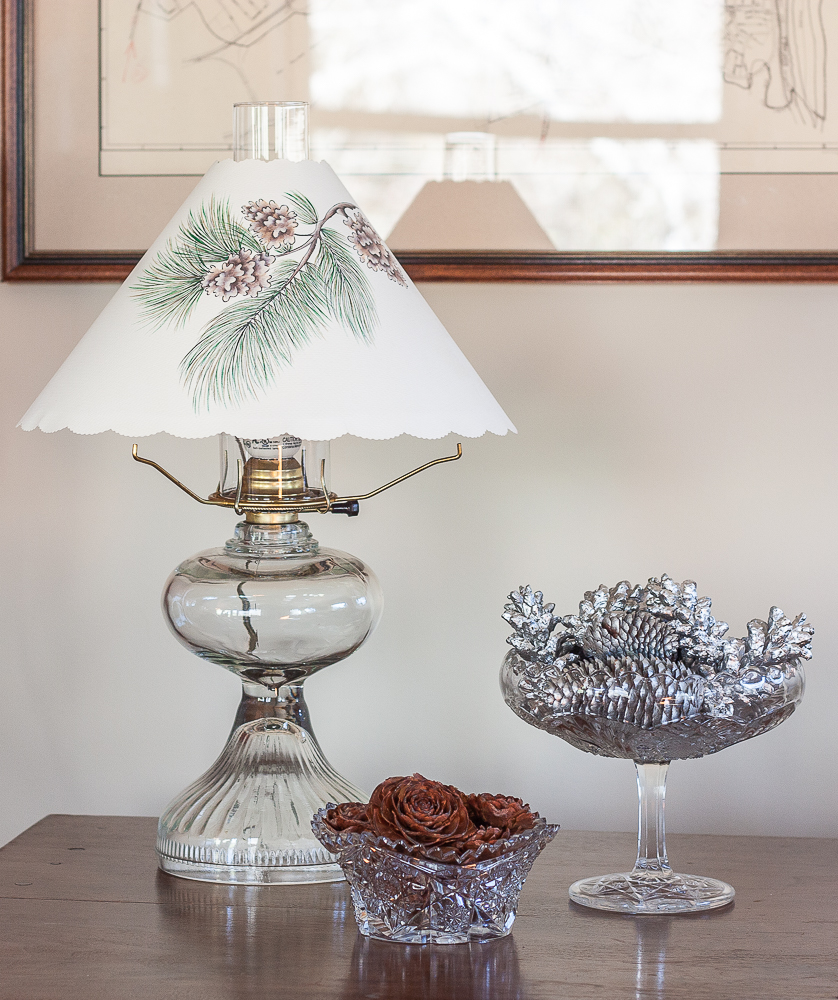 When I think about winter decorations, pinecones immediately come to mind.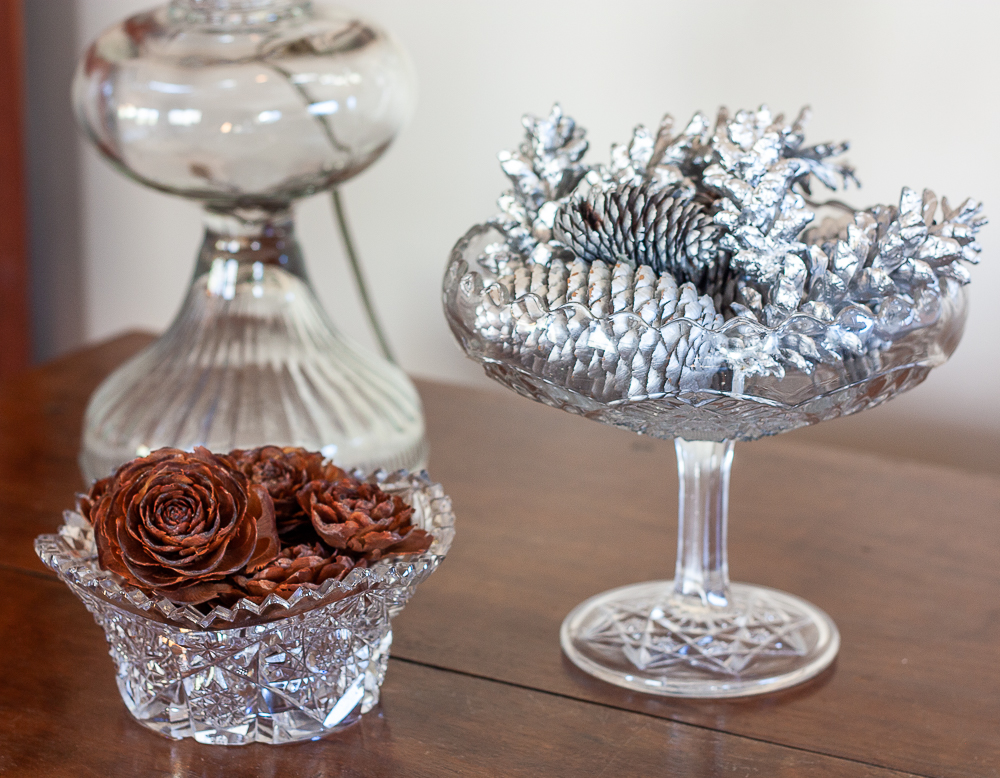 I filled my grandmother's glass compote bowl with pinecones that I spray painted silver.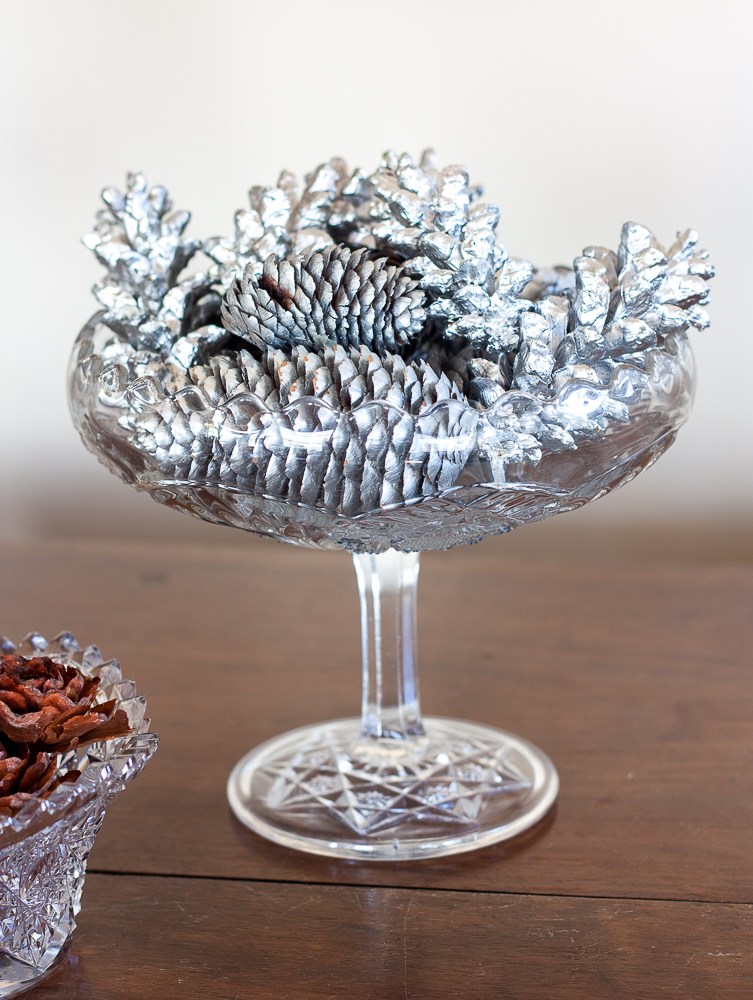 The cut glass bowl is filled with cones from a Deodar Cedar. I love how they look like roses.
I picked these cones up locally. If you love the look of these cones, you can order some here.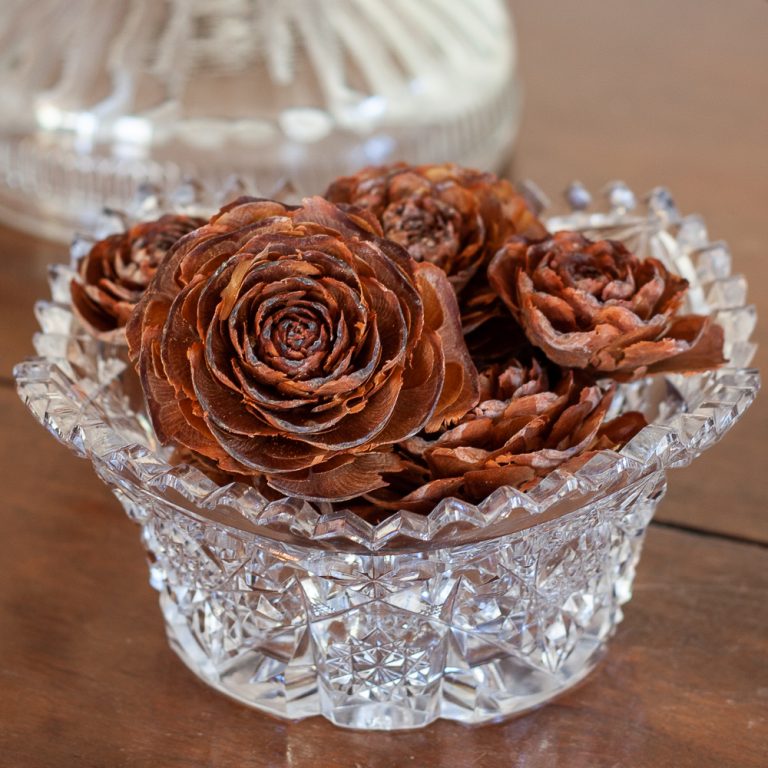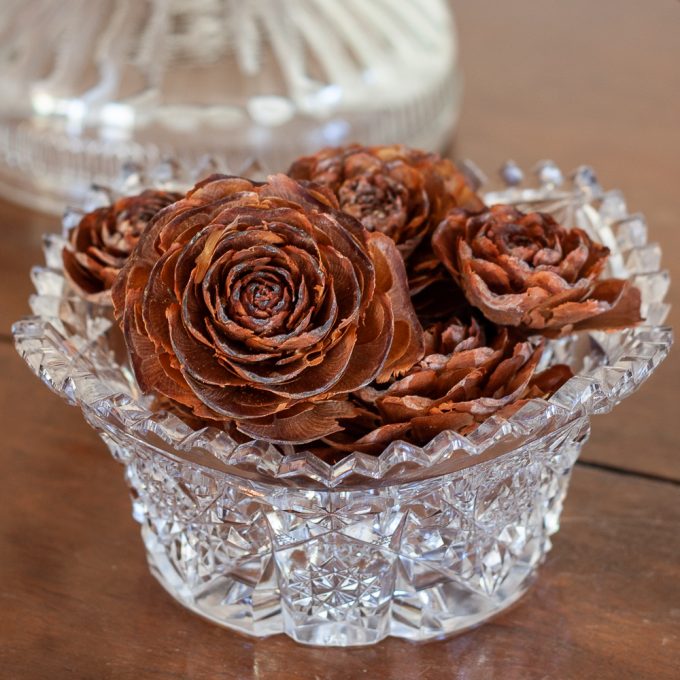 Pie Safe Winter Decor
I wasn't ready to put this covered bridge tray away after using it for Christmas decor. I moved it from the top of the pie safe on the right-hand side of the room to this pie safe.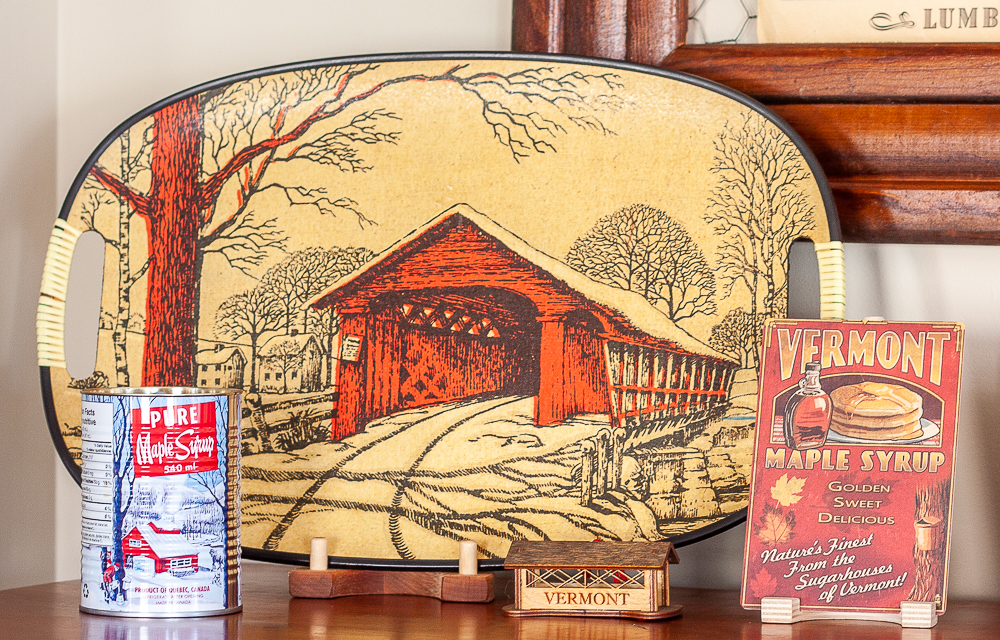 I also used the maple syrup candle and maple syrup postcard with this tray at Christmas. When I undecorated our Christmas tree, I snagged a covered bridge ornament to add to this vignette.
Also on the pie safe is my paternal grandfather's pipe and tobacco box with one of his pipes and two Schmidt beer cans from Mr. SP's boyhood beer can collection.
These cans are collectible and I love the graphics. I found the elk can for sale on Etsy but not the ice fishing one. On eBay, I found a skier can that I really like.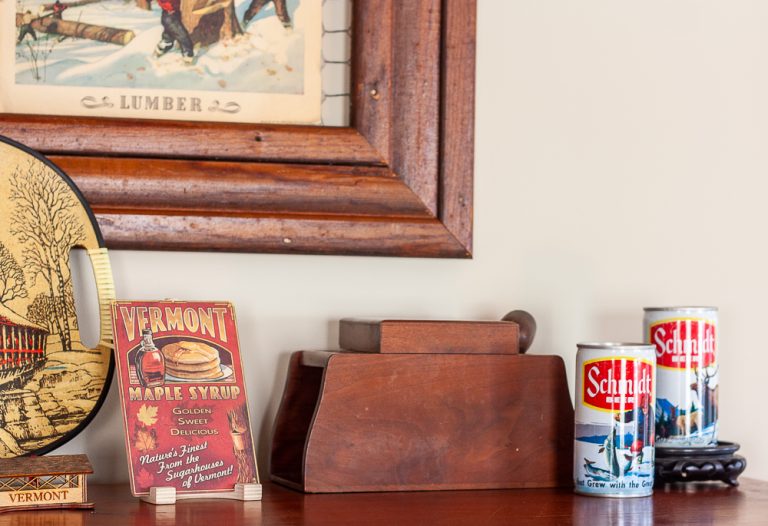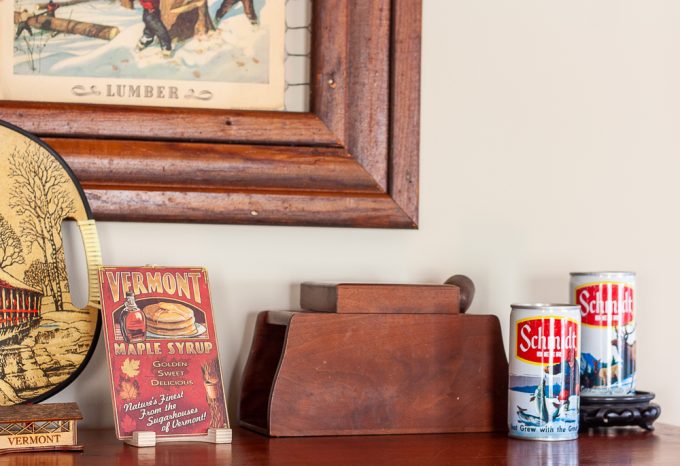 The 1943 Coca-Cola Lumber Poster was part of my family room Christmas decor and I left it in place for winter.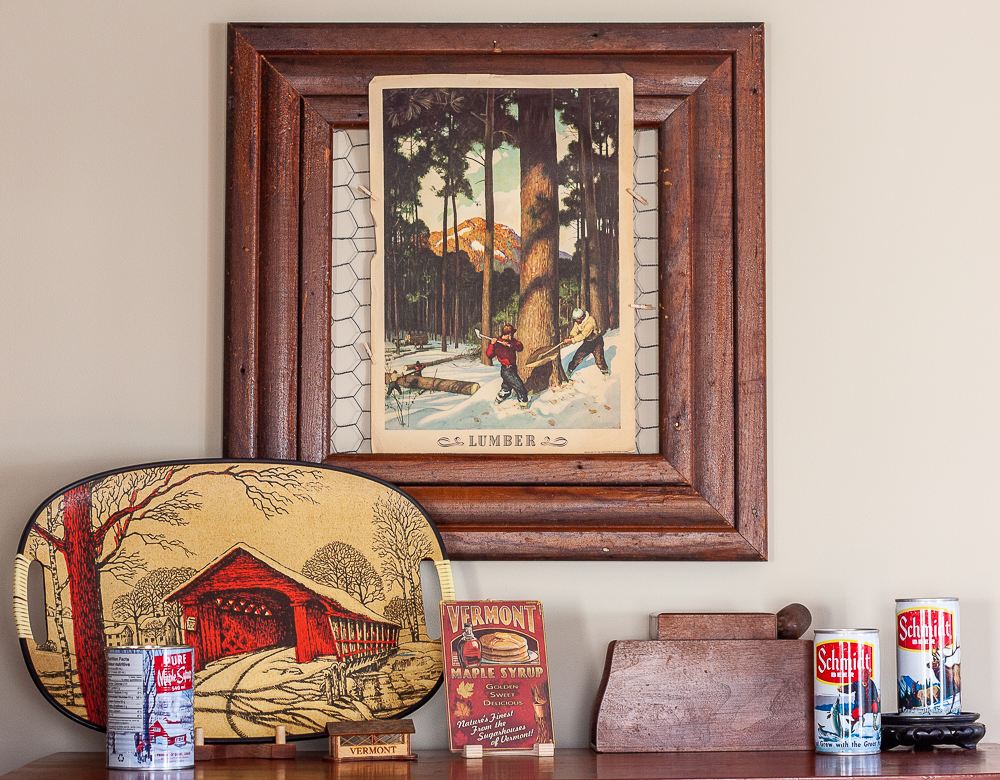 Winter Corner
On the other side of the room is a corner that I love to decorate seasonally.
In warm months I hang art in this corner that has a floral theme. For fall I hang vintage Virginia Tech things, and for Christmas and winter, I use vintage winter art.
A P. Buckley Moss 'Solitary Skater' cross stitch that I made in college is something that I enjoy displaying every winter. The cross stitch pattern is available here and I found a framed cross stitch for sale here.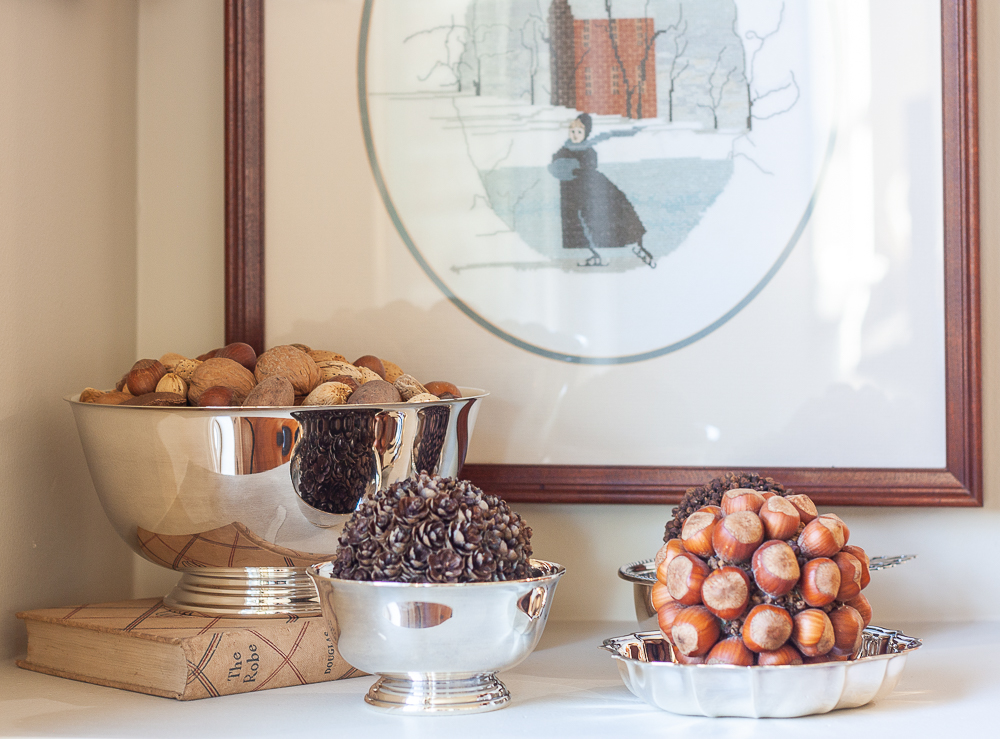 To decorate the shelf, I used silver bowls filled with natural elements. Using natural elements is one of my very favorite winter decorating ideas.
The large silver bowl is filled with mixed nuts that I used in a wooden bowl with orange pomanders on our breakfast room table for Christmas.
A Styrofoam ball covered in hemlock cones is in another silver bowl.
I made this a long time ago along with another Styrofoam ball covered in hazelnuts and cloves. The silver piece that this is in is a trophy from an Oakwood Country Club event, probably a golf tournament. My friend found it at Estates Revisited and bought it for me.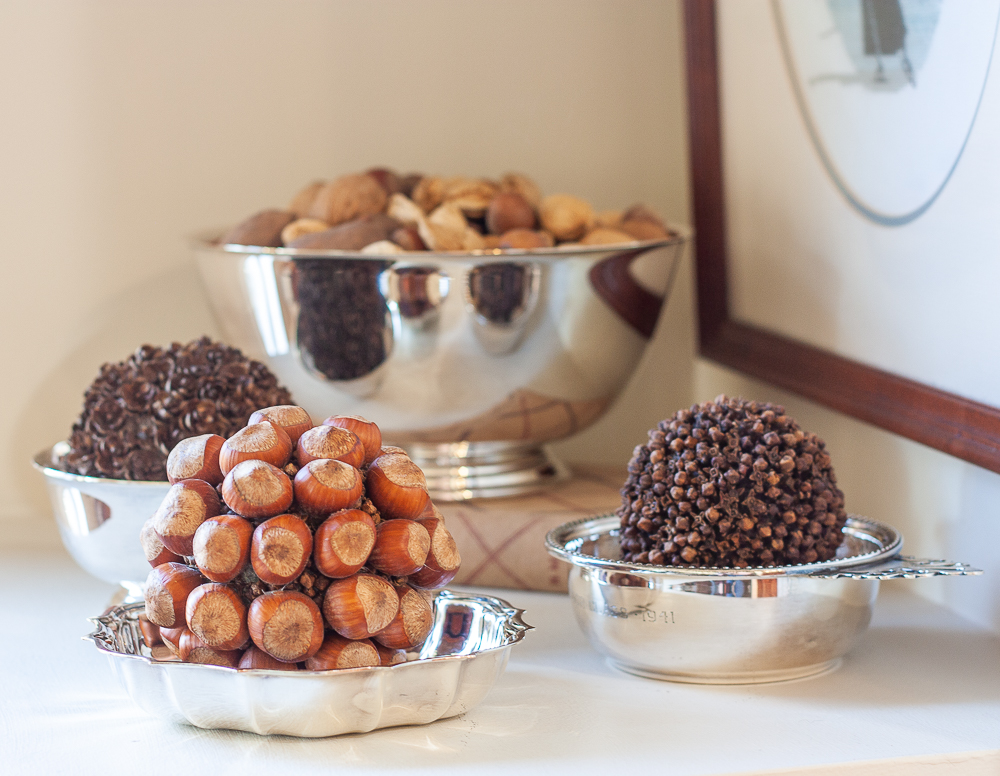 A clove studded orange that I made a long time ago is in my dad's silver porridge bowl.
The William Byrd High School class of 1941 presented this to my grandfather who was principal at the time. They arranged for my grandmother and my dad to be there when the gift was given.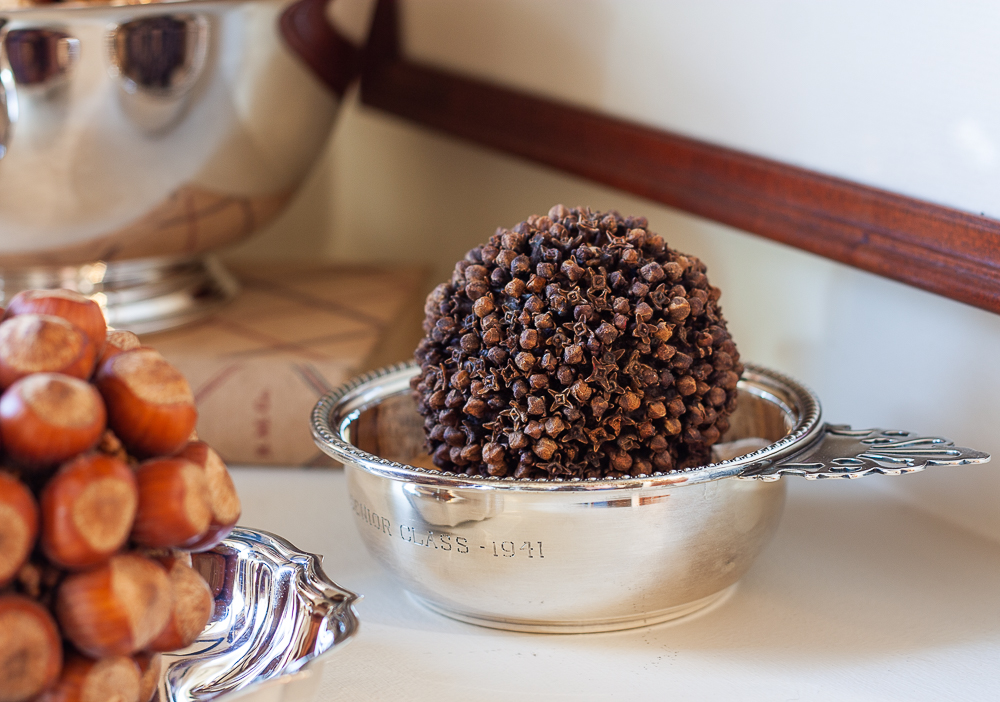 Why I Love January
A long time ago my mom told me what my Aunt Judy said about January and it stuck with me. Judy told Mama that she loved January because there isn't a holiday to prepare for and there's no yard work to do.
January is a quiet month and I enjoy the crisp winter days and cold nights cuddled up on my sofa in our family room.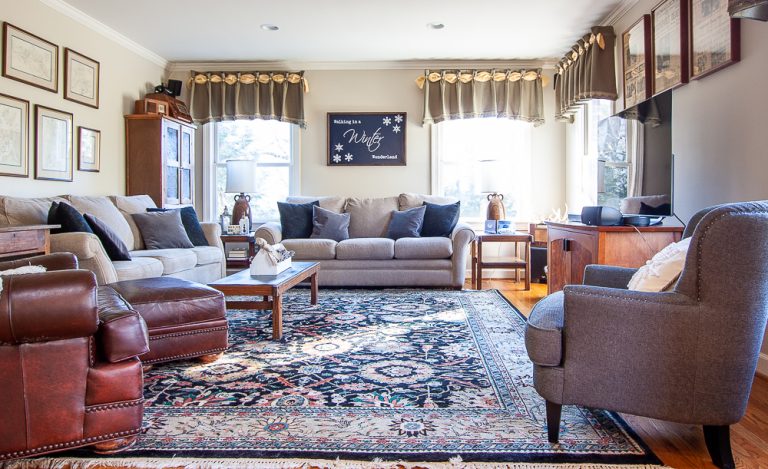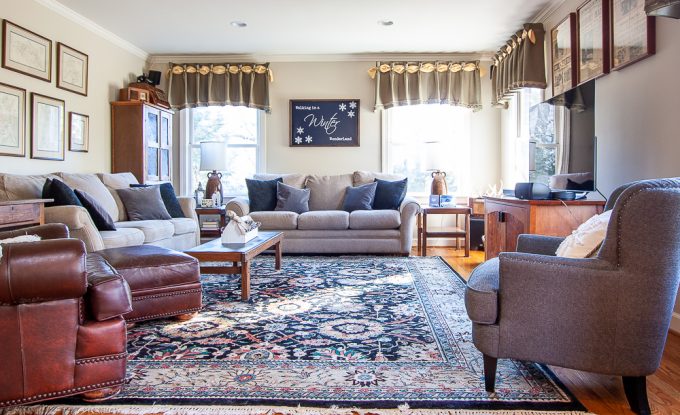 I'm hoping that Mother Nature will send some snow my way so that I can relax in this room during the day and watch the snow fall.
I hope you enjoyed seeing our family room decorations and I hope that you got some winter decorating ideas to use in your home.
Pin It!