Wallpapered Stairwell Reveal
Have you been wondering what has been going on with our lake house basement project? To tell you the truth, not much!
We are enjoying summer weekends there and will finish up the remaining projects sooner or later.
A project that I am very excited to share with you is our wallpapered stairwell.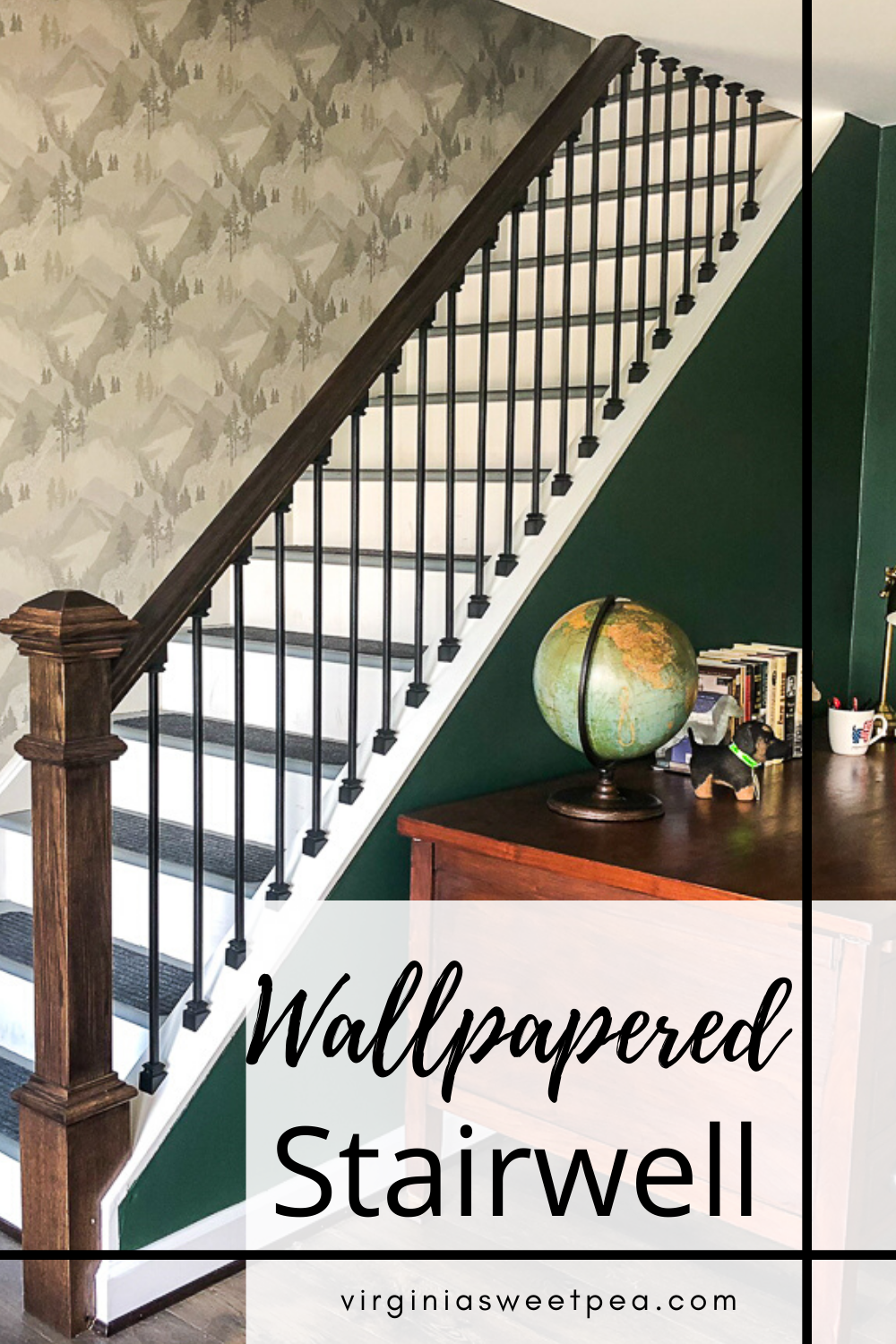 Wallpapering our stairwell was a project that I thought we would DIY, but in the end, we decided to hire it out which was a great decision.
Wallpapered Stairwell
We are absolutely thrilled with the end result of having our stairwell wallpapered.
Come on down to our basement and see what the wallpaper looks like!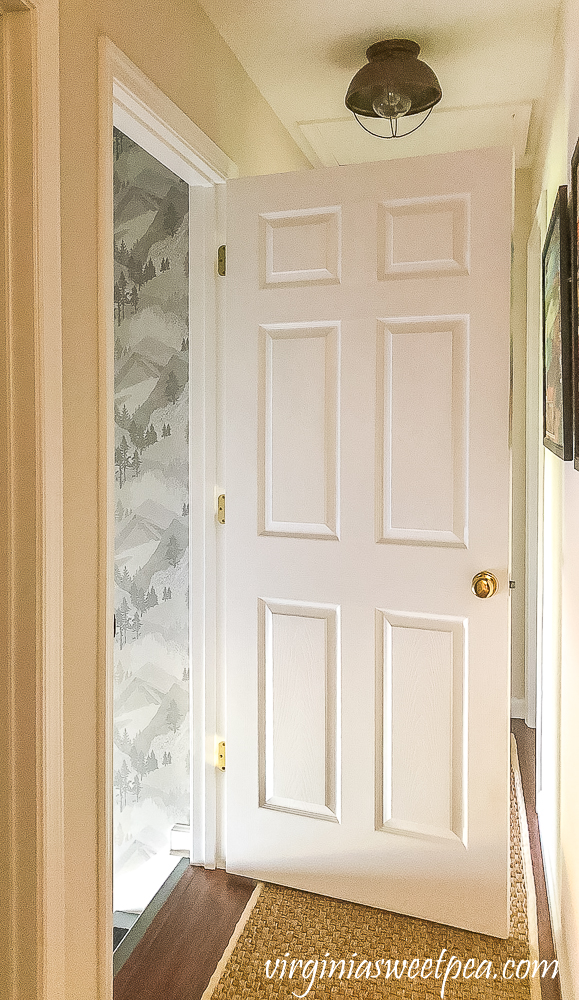 The stairwell is very high and also difficult to photograph.
When I picked the wallpaper for this space, I wanted it to feel like you were going through a forest when entering the basement.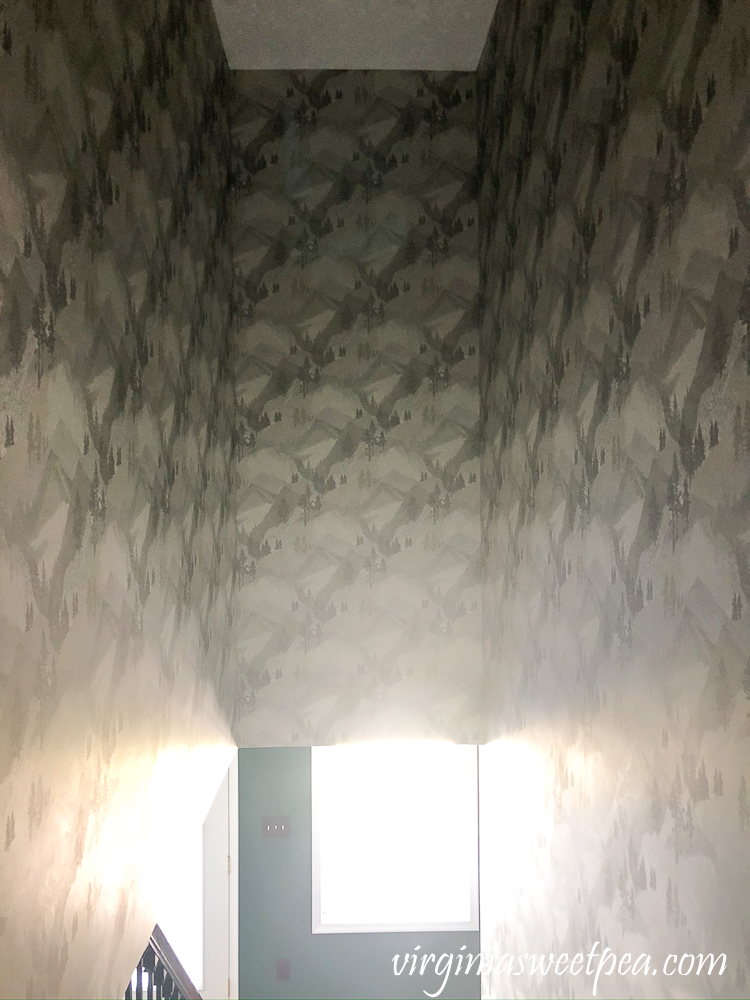 The paper is Brewster Wallpaper in Range Light Grey Mountains. I've linked to it here but recommend buying it from a local wallpaper shop for a better price and also to support a local business.
I purchased this paper locally at Mahones Wallpaper Shop.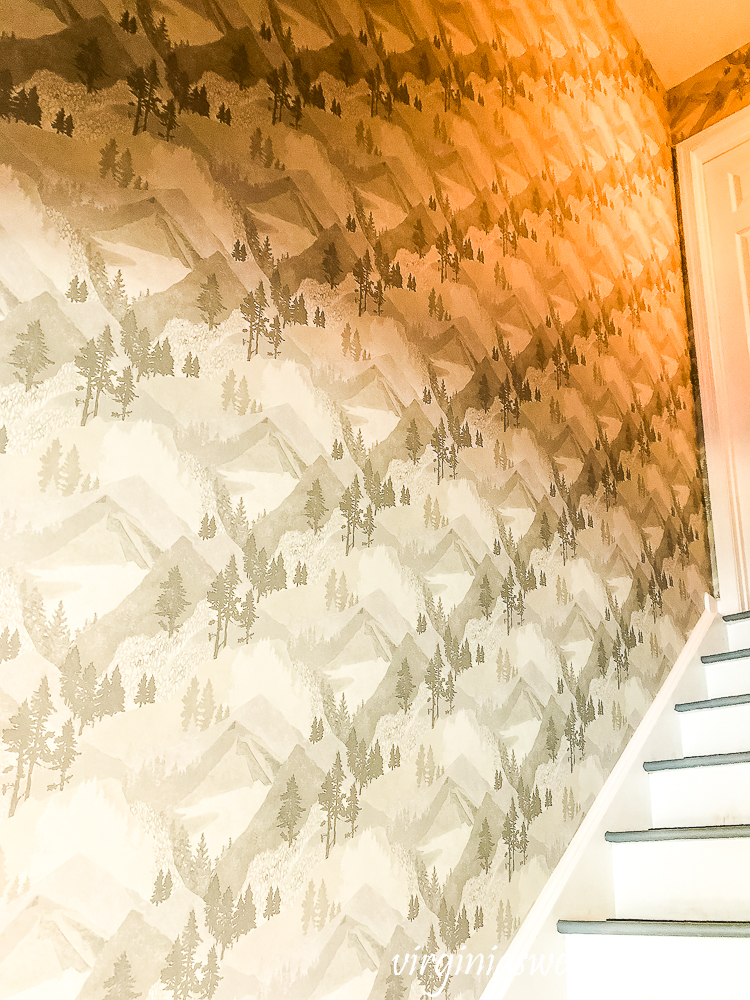 The color of the paper in the picture is darker than it appears in person. The pictures taken from the family room show the colors more accurately.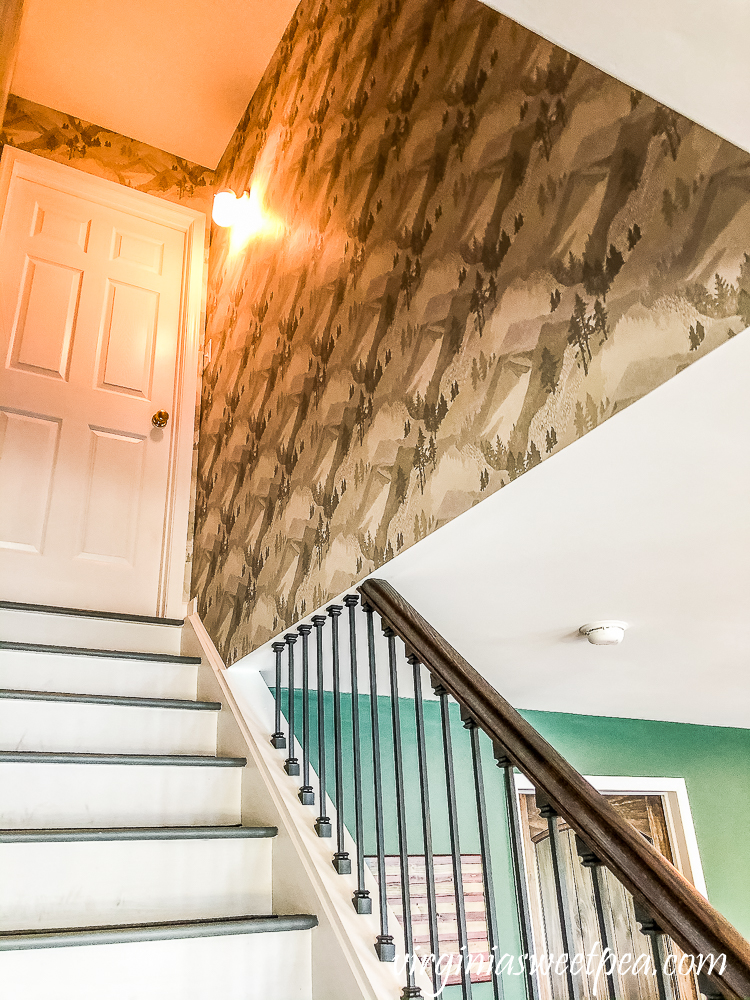 You may remember that the original handrail was on the wallpapered side. I was happy to finally get that removed.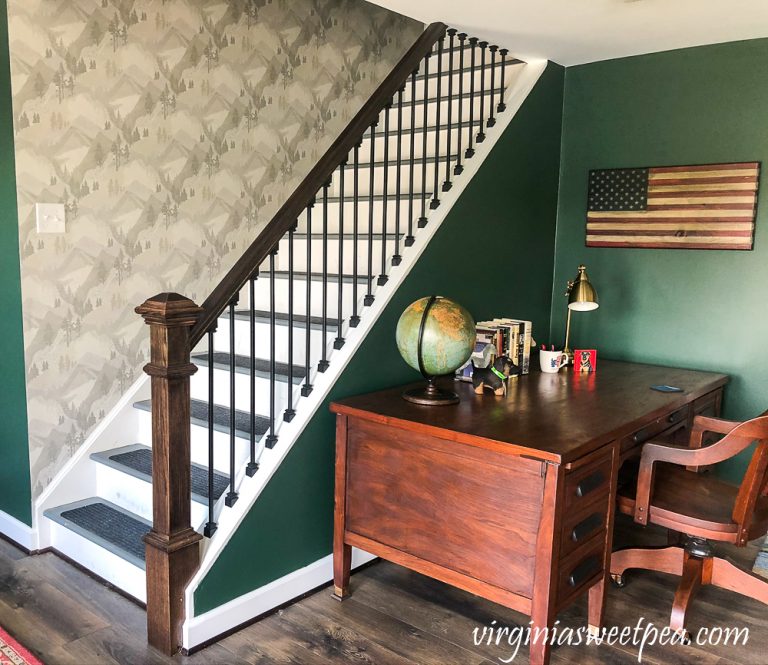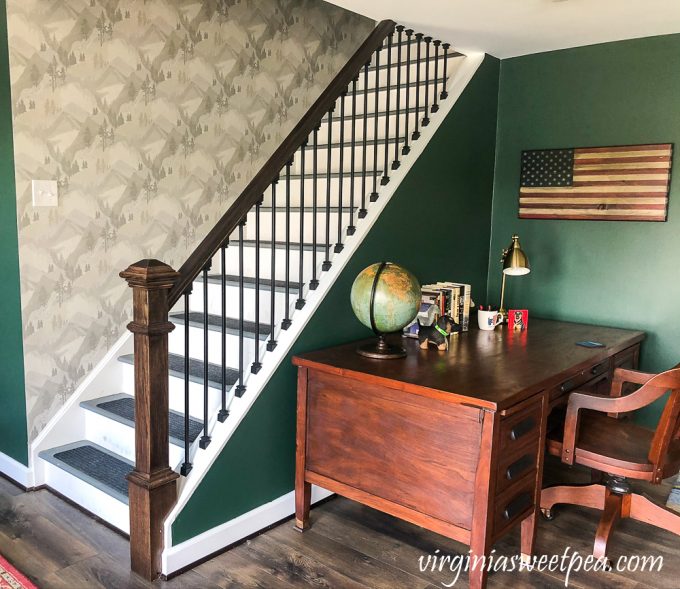 The vintage office desk that we refinished is a great spot for Mr. SP to work from the lake.
Before and After
It's always great to see the before and after of a project.
Here you can see where the old handrail was on the wall and where Mr. SP filled in the holes from the handrail's hardware.
This picture was taken just before the wallpaper installer arrived.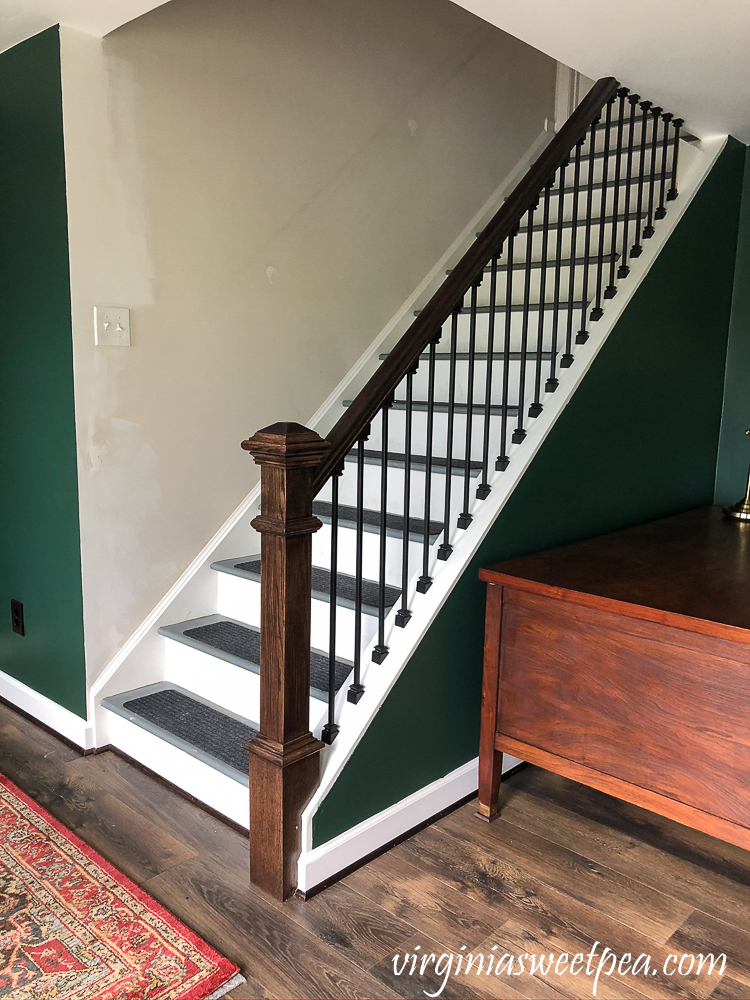 Here's an after picture taken from about the same position.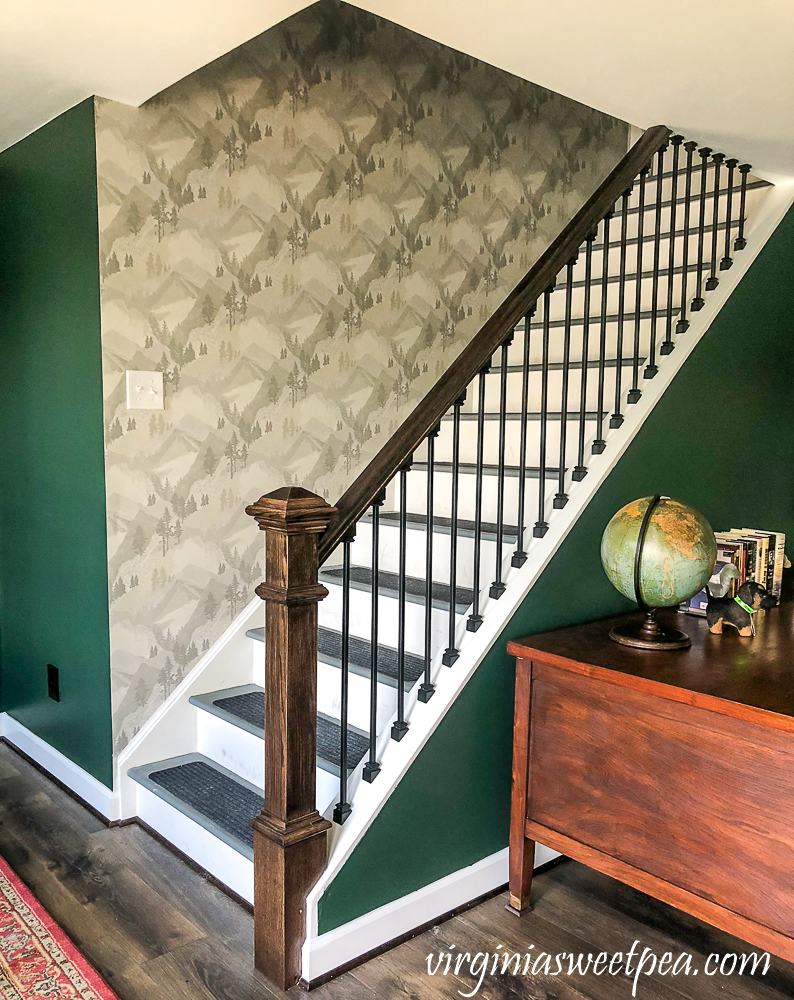 Just for kicks, this is what the stairwell looked like when we started the project last August.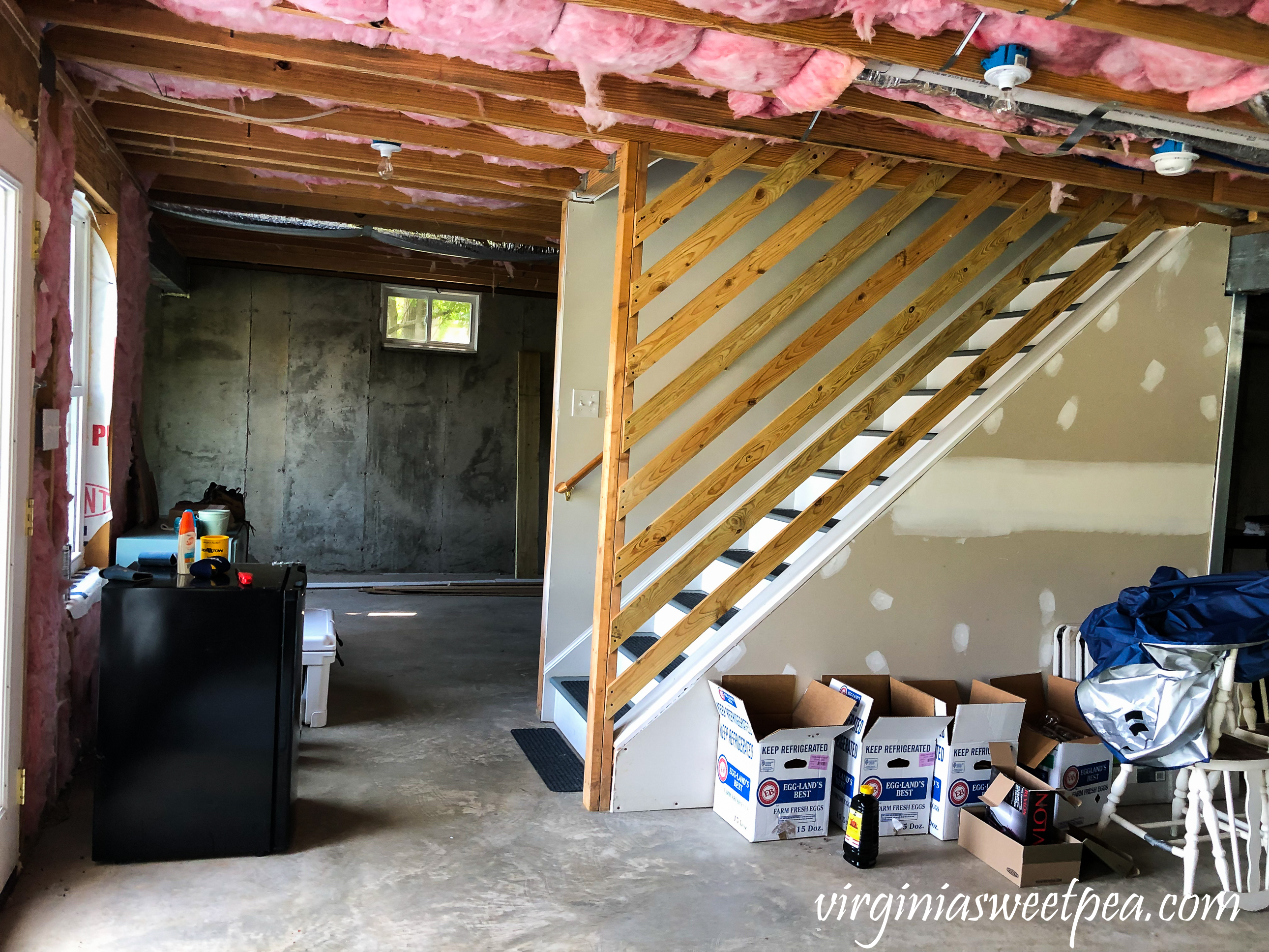 Wallpaper Installation
I really did think that we could DIY this project but Mr. SP flat out refused to do it. He said, "Hire it out! I'm not doing it."
I called Mahones Wallpaper Shop to schedule installation of our wallpaper.
Mahones sent an awesome brother/sister team who got this project done in just a few hours.
I am positive that it would have taken days for us to do the project. Wallpaper is expensive and we both feared that we wouldn't do the job to our standards and ruin our expensive investment.
I tried to stay out of the way, but of course I kept peeping at the progress.
The first step was to prime the walls.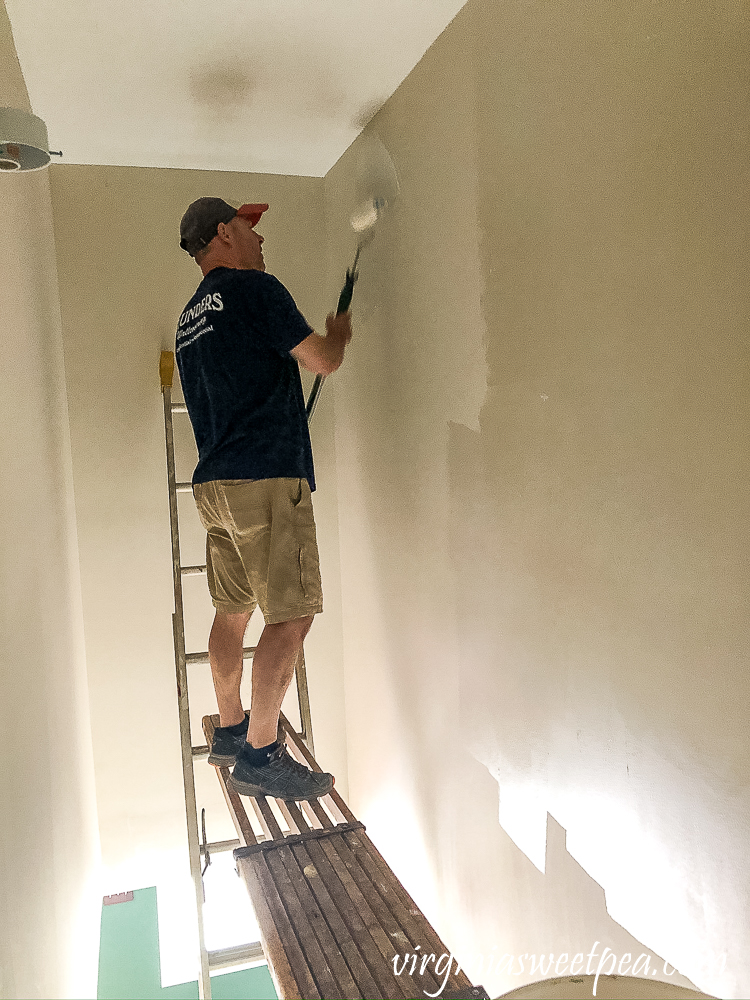 The wooden scaffolding that our installer used is old and it made me woozy just looking at it.
He purchased it when he was a young man from an elderly wallpaper installer that trained him. (I think that's the story, regardless, the wooden scaffolding is old.)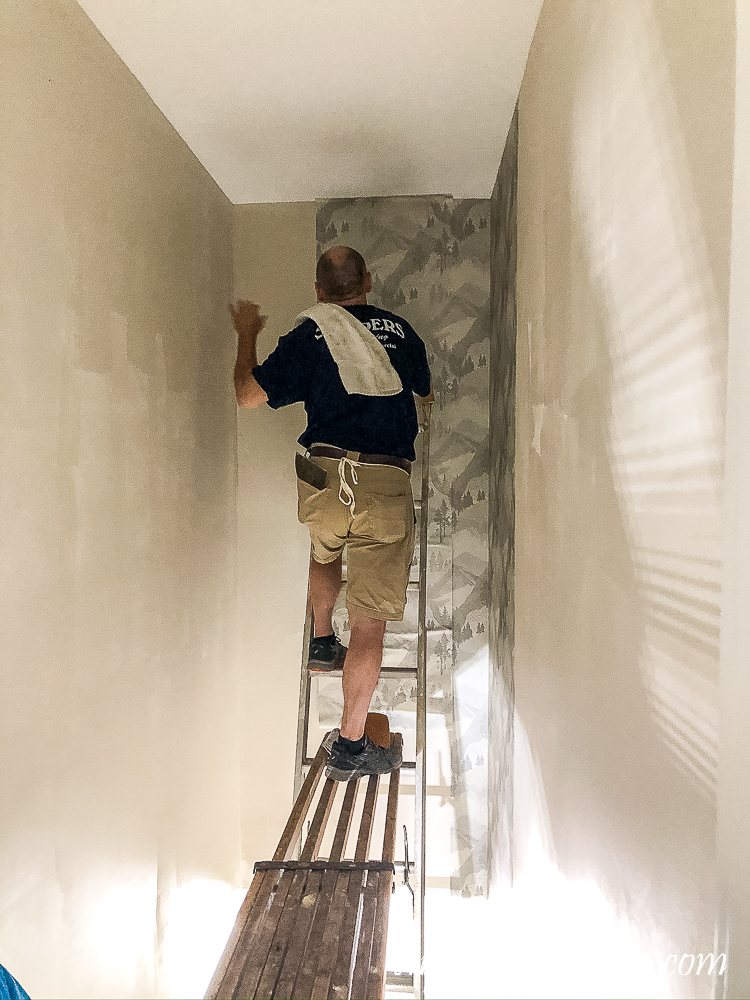 His sister set up a station in the bedroom and cut the wallpaper strips, applied paste to them, and then booked them.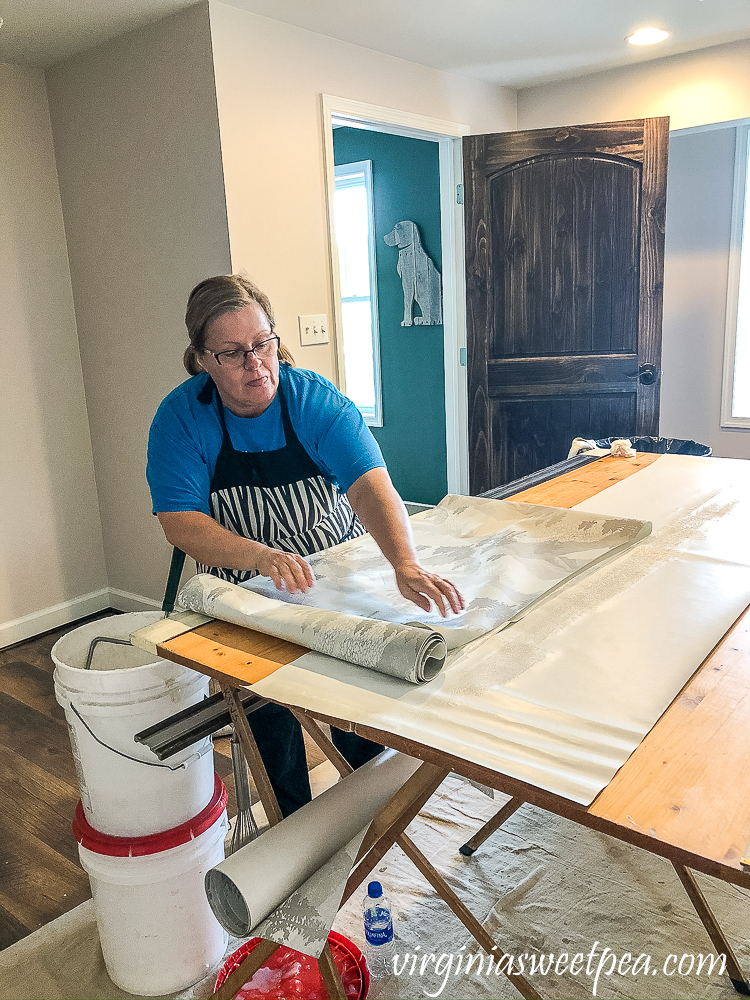 While they worked, I was on the patio working on this project and Mr. SP was at the kitchen table working.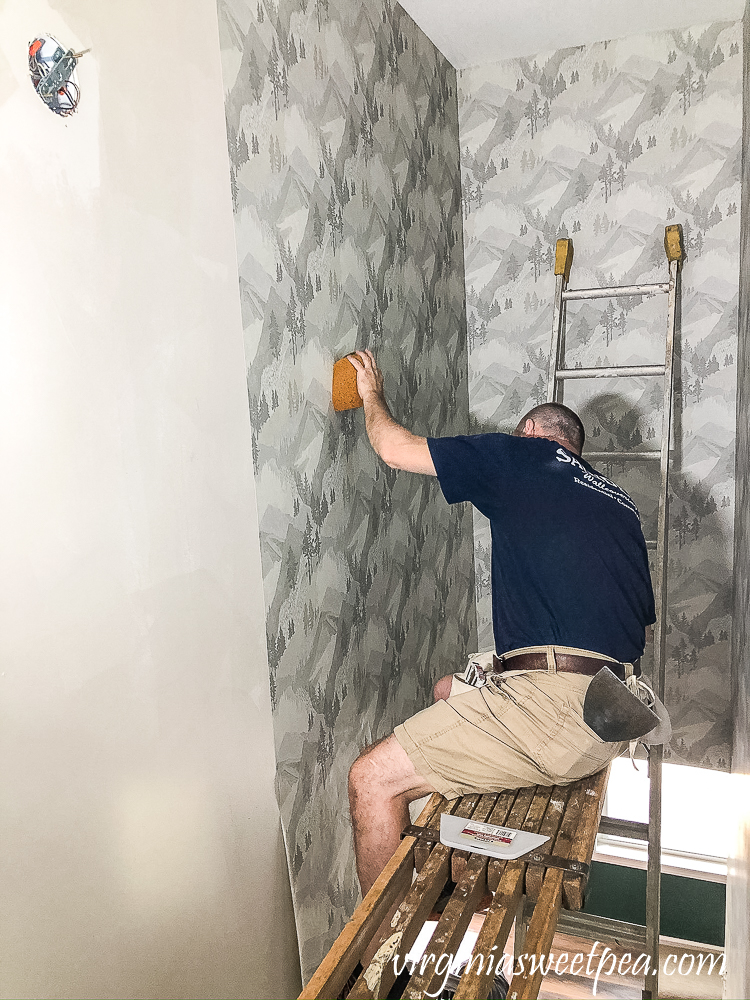 I could hear the brother/sister team talking and their stories were hilarious. I really enjoyed having them in my home!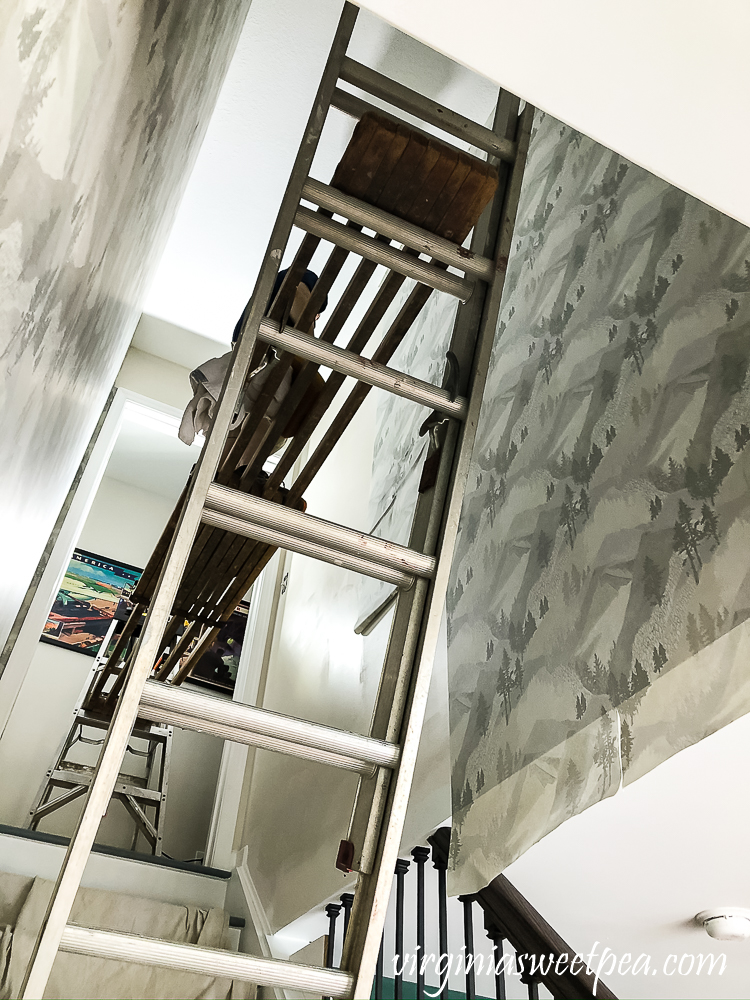 We are both so pleased with our wallpapered stairwell!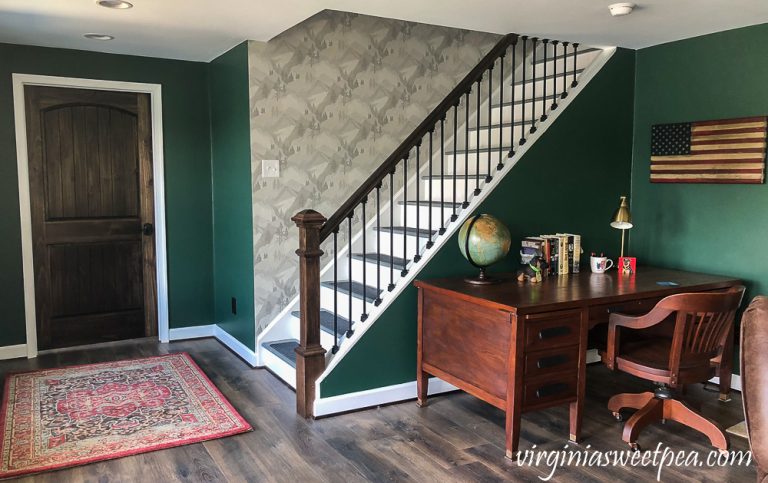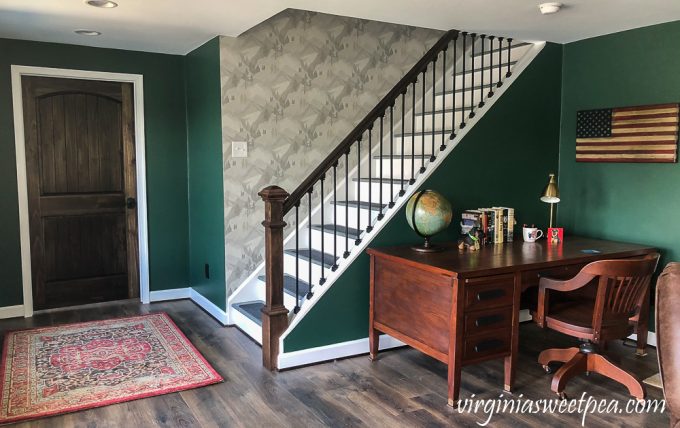 What's Next?
I've mentioned before that I purchased two runners to use on the steps.
We still need to install them, but a nice surprise once the wallpaper was in place was realizing that the grey paint that the builder chose for our steps matches the wallpaper perfectly.
Now I feel no rush to tackle the runner project.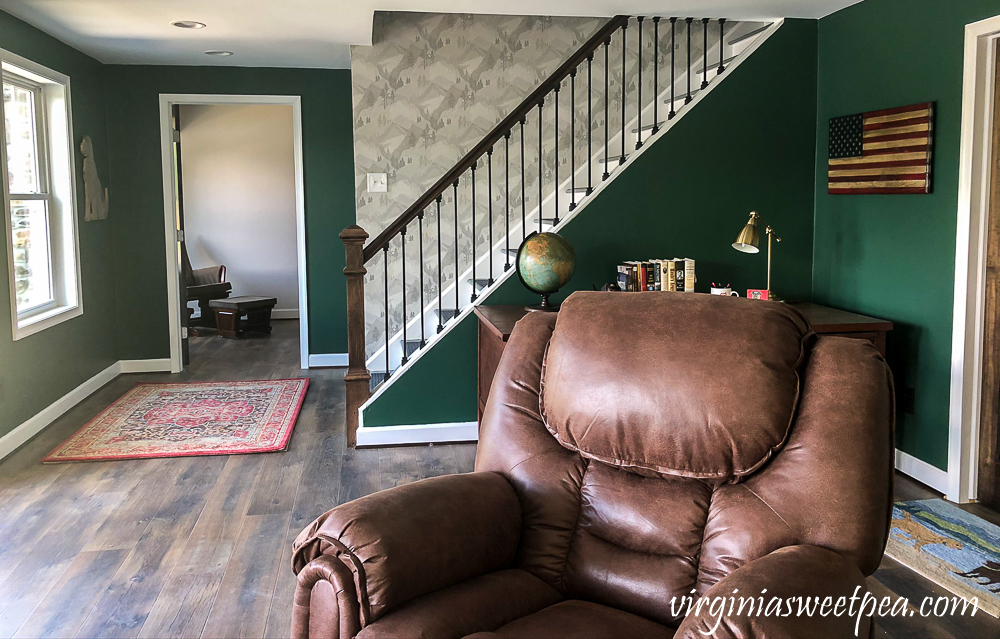 The bedroom still has no furniture other than a gliding rocker and ottoman that my friend no longer wanted. She asked me to take it to the dump for her but instead, I kept it.
My sister-in-law is letting us use a high back oak bed that my grandfather refinished in the bedroom and Mama has given us an antique buffet to use there. We just need to make a road trip to pick up these things.
We also need to finish the closet in the bedroom and also the hallway.
Finishing Our Basement Progress Posts
You can see how we turned our unfinished basement into a family room, bedroom, and bathroom in these posts.