Vintage Santa Themed Christmas Porch Decorations
This year's Christmas porch decorations have a vintage Santa theme. I love this year's porch decor and I'm excited to share it with you!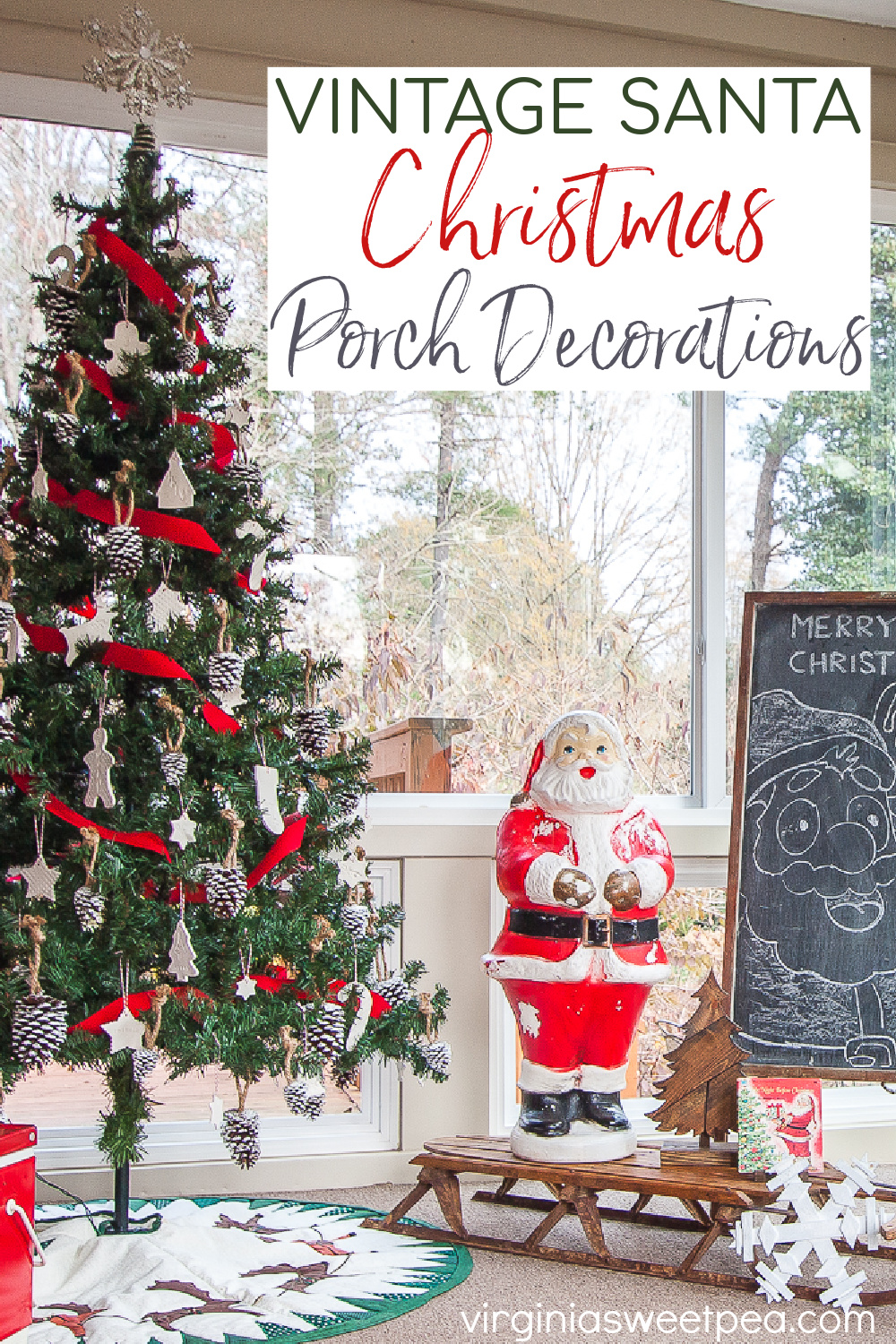 I'm sharing my Christmas porch along with 13 other bloggers for a Christmas Porch Tour hosted by my friend, Amy, from Atta Girl Says.
If you aren't familiar with Amy's blog, I encourage you to check it out. She's a fabulous decorator, crafter, and cook whose blog I have enjoyed reading for many years.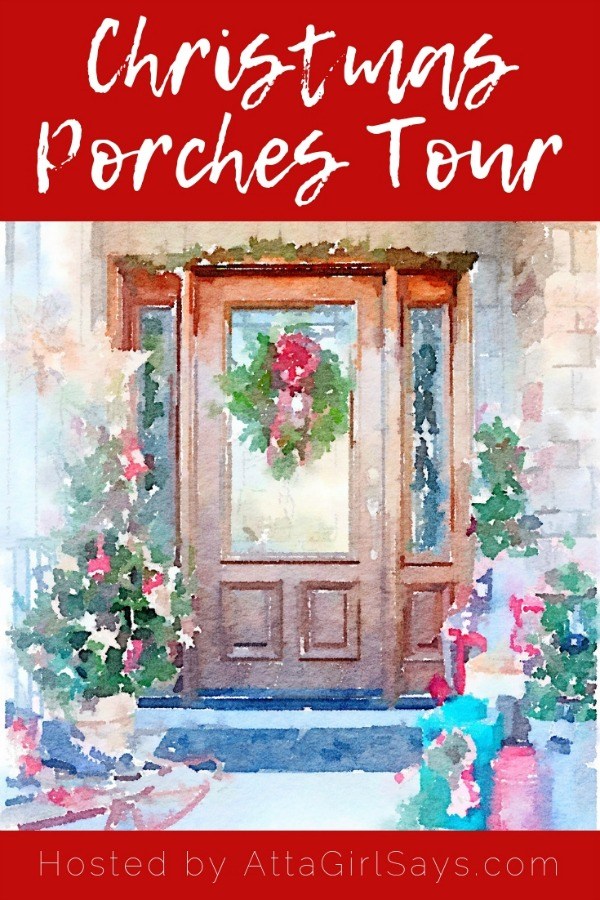 Amy's Christmas porch tour is a collaboration that I look forward to every year. Be sure to check out all of the Christmas porches shared today at the end of this post.
Vintage Santa Themed Christmas Porch Decorations
I love decorating our porch for Christmas. We live on a corner and as our neighbors walk or drive by our home they can see my Christmas porch decorations.
Christmas rugs are a must have for my Christmas porch. I always head to Big Lots for rugs for my porch. They are inexpensive and very reasonably priced.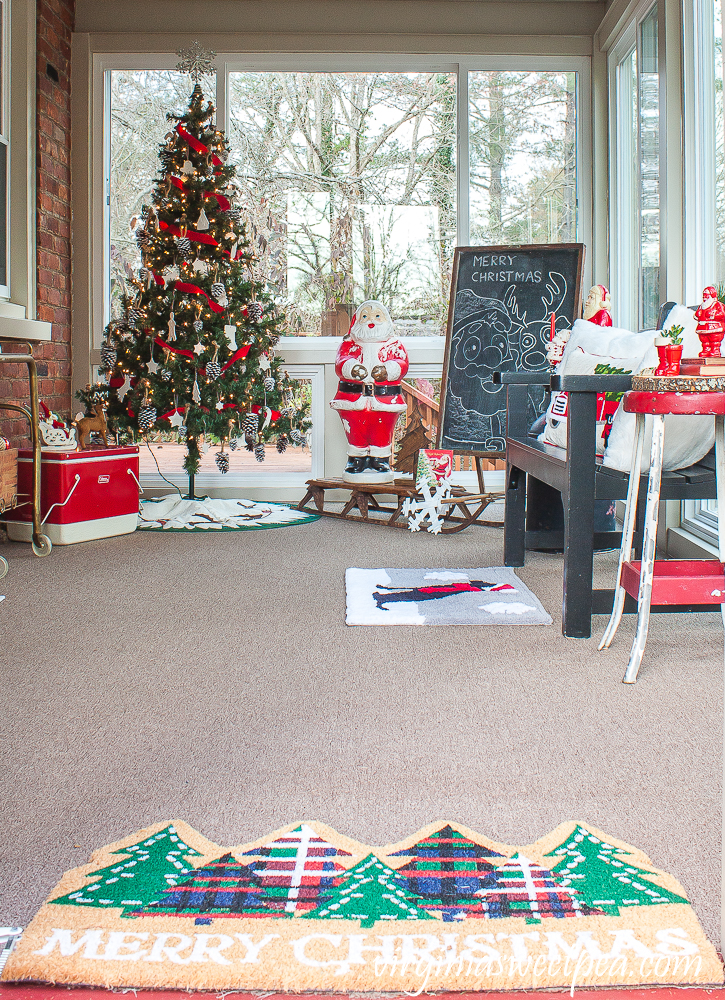 I am so excited to show you around this year's Christmas porch!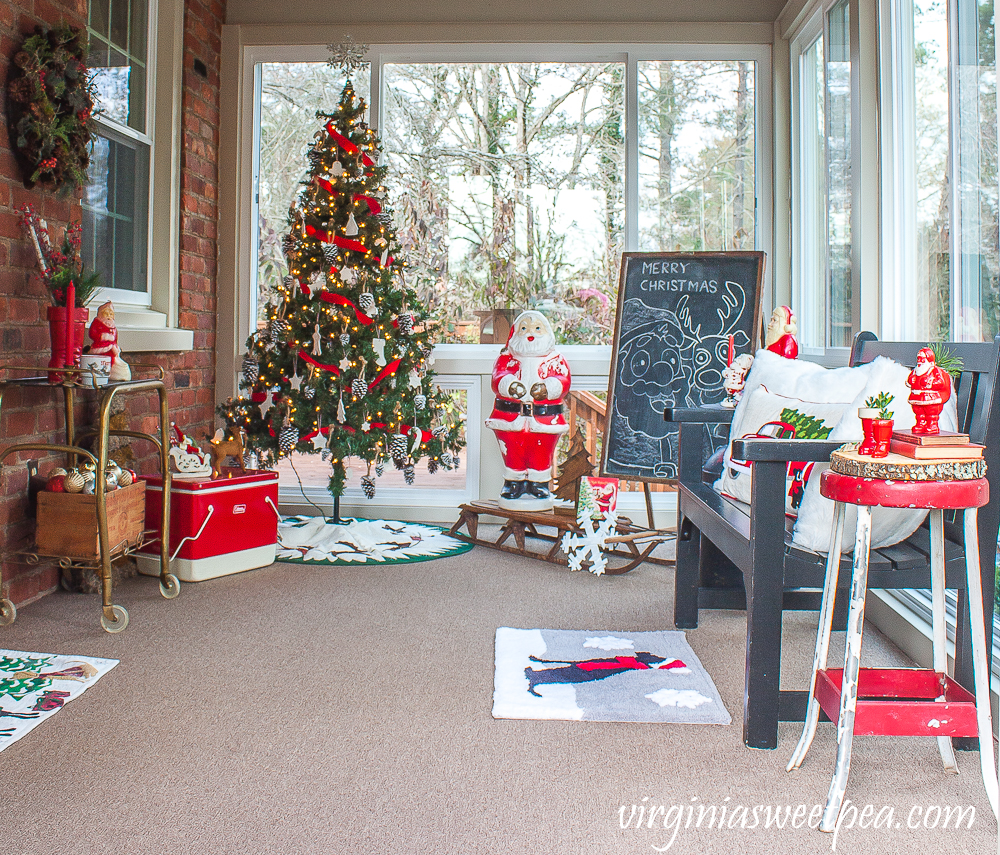 For this year's porch decor, I went with a vintage Santa theme.
We'll start the porch tour on the left side. What is seen below is to the right of the door that leads to our dining room. We use this as our primary entrance even though we have a front door.
This vintage TV cart belonged to my friend's mom and I love to decorate it seasonally.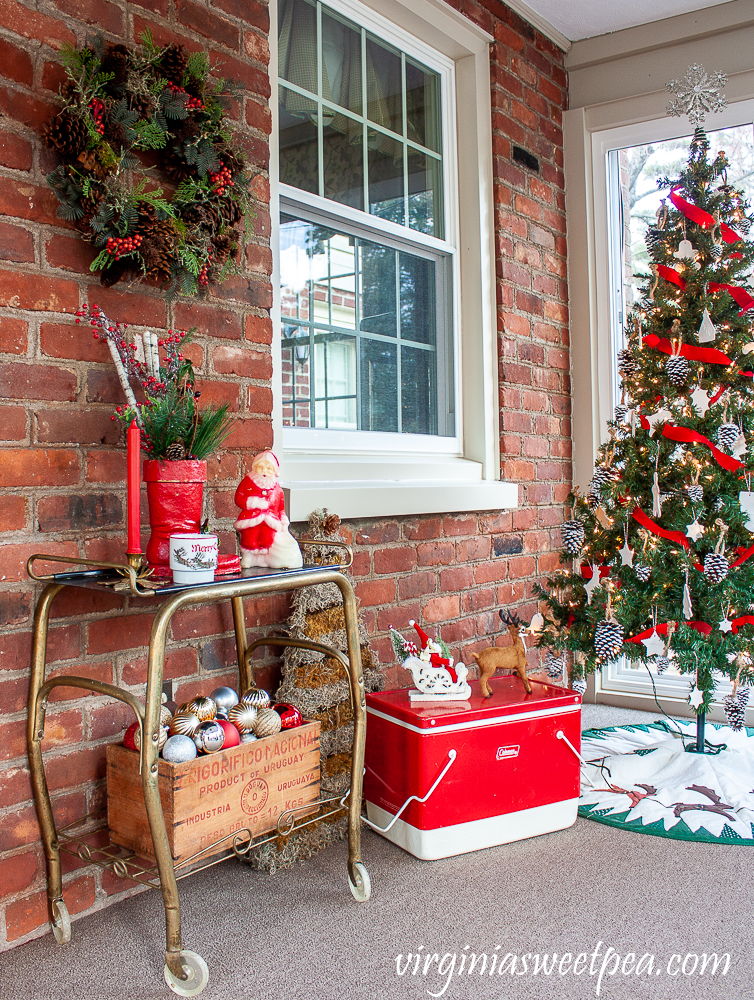 I purchased this large Santa boot long ago in an antique shop and I've never seen another like it.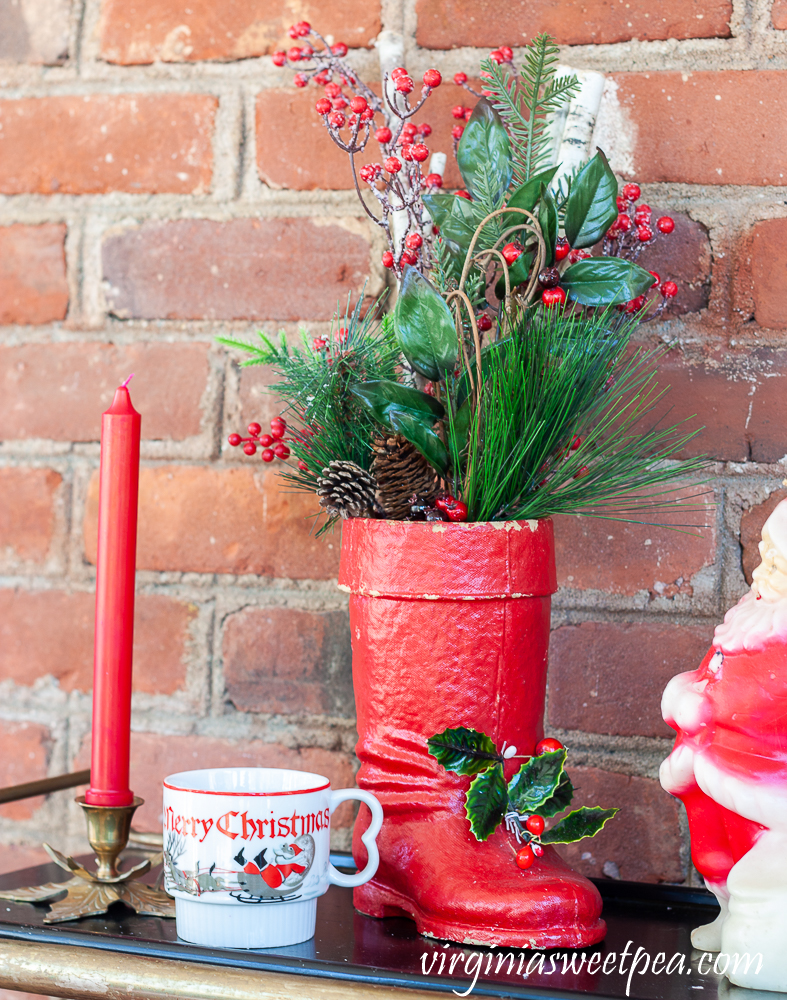 The brass holly candleholder was a Goodwill find and my mom's friend gave me the mug. See all of the mugs that Mary gave me in this post.
I found the Santa candle in an antique shop a few years ago. He looks innocent here but if you look at him in this post, you'll see that he has evil eyes. This vintage Santa candle is much cuter than mine.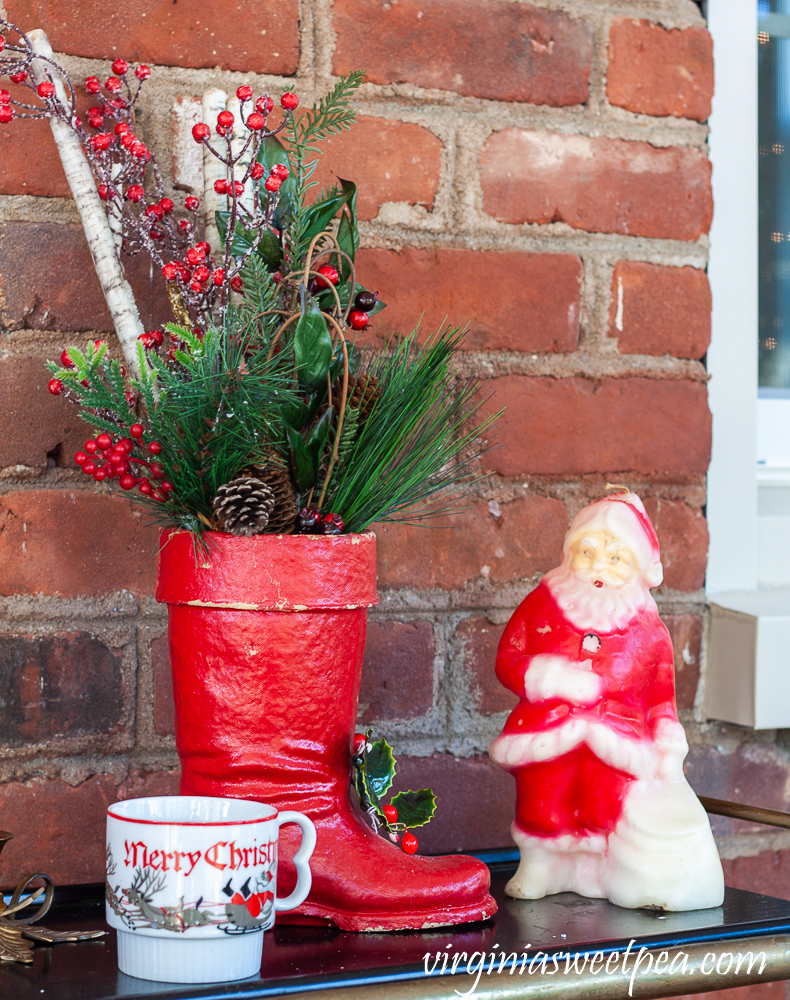 To the right of the cart is my favorite vintage Coleman cooler that also belonged to my friend's mom.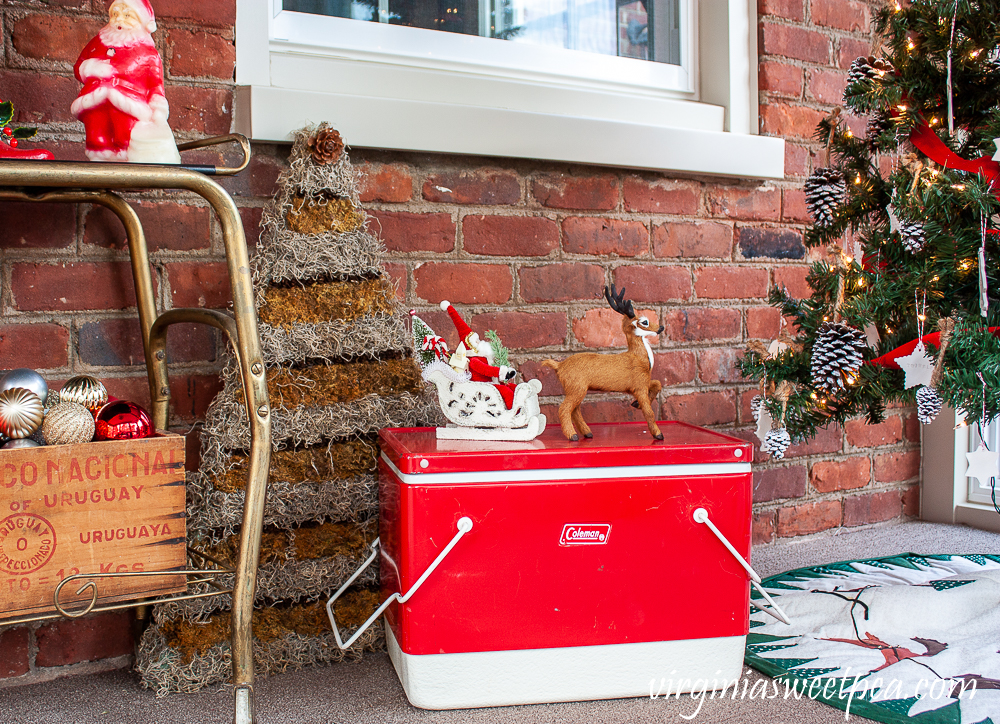 On it is Santa in his sled being pulled by a reindeer. Santa and his sled came from The Vermont Country Store long ago and the reindeer is Byers Choice.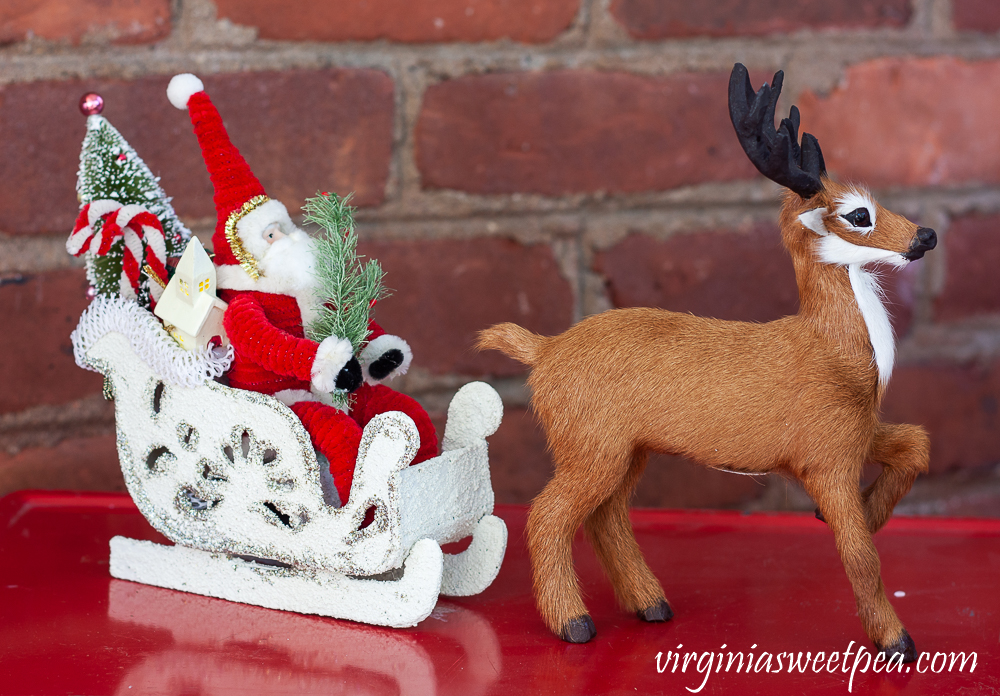 This year when I started decorating my porch, my porch Christmas tree was missing. Then I remembered that last Christmas half of the lights stopped working and I gave it away.
I had already purchased a new white flocked Christmas tree to display my Swarovski snowflake ornaments and the budget didn't allow me to purchase another new Christmas tree, so I had to use this $40 Walmart tree that I used in my shop a few years ago.
I decorated it with handmade clay ornaments and pine cone ornaments that I made a few years ago. My mom made my Christmas tree skirt for me in the 90s.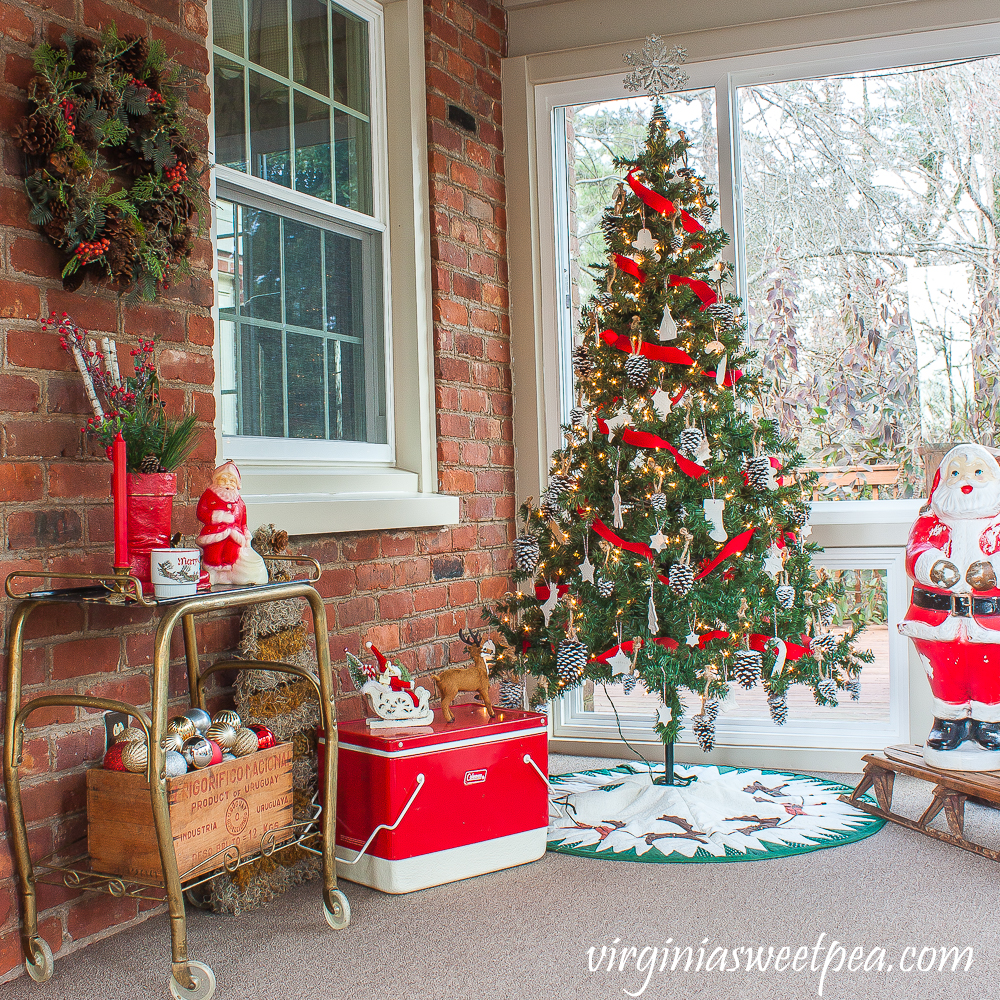 I personalized several of the ornaments and of course my beloved Sherman has an ornament on the tree.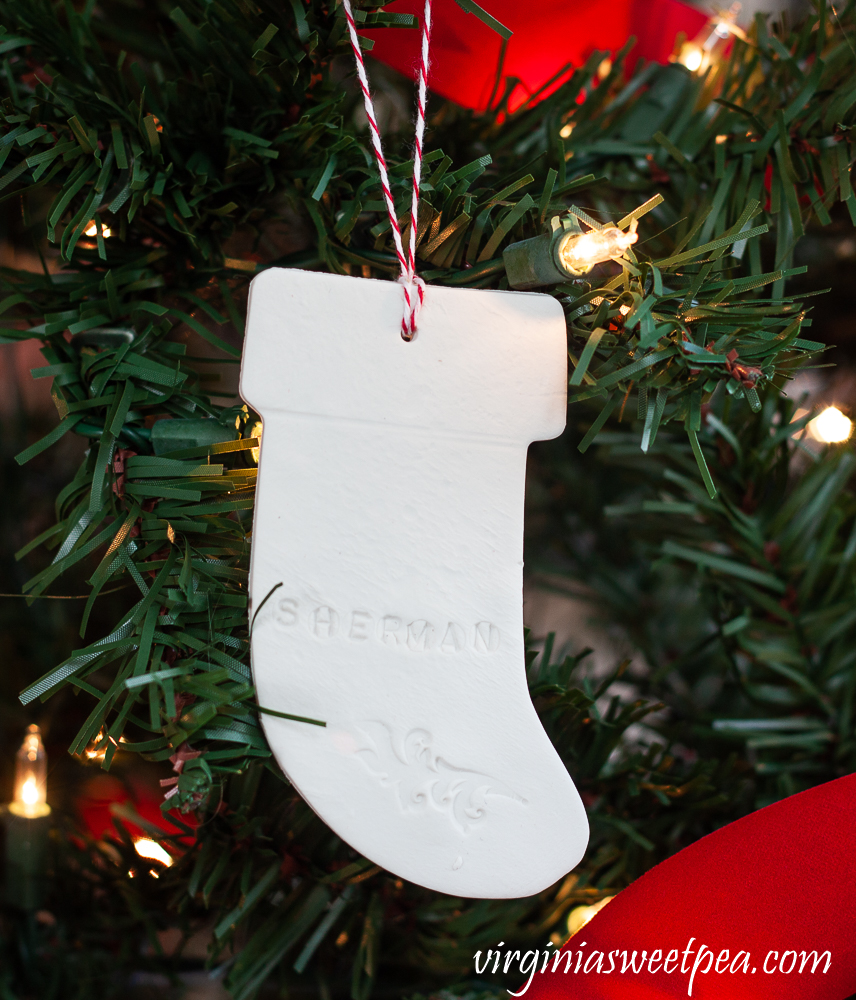 To the right of the tree are more vintage Santas.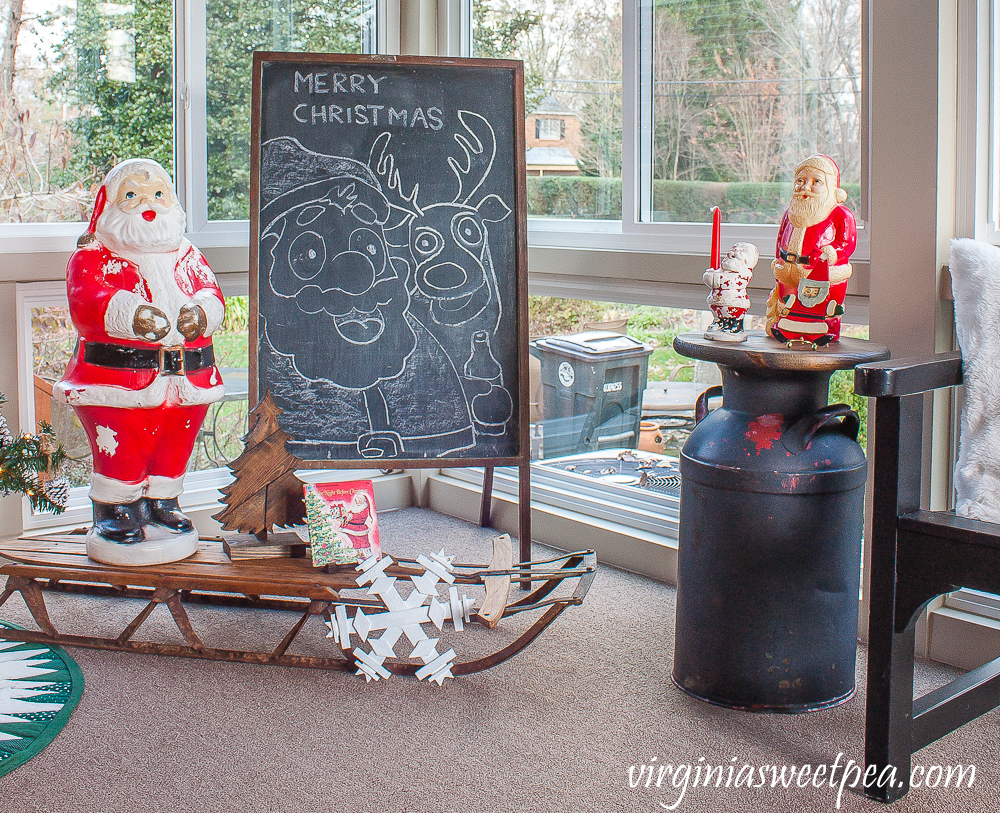 A blow mold Santa that I found at an antique shop in North Carolina is standing on my brother's sled.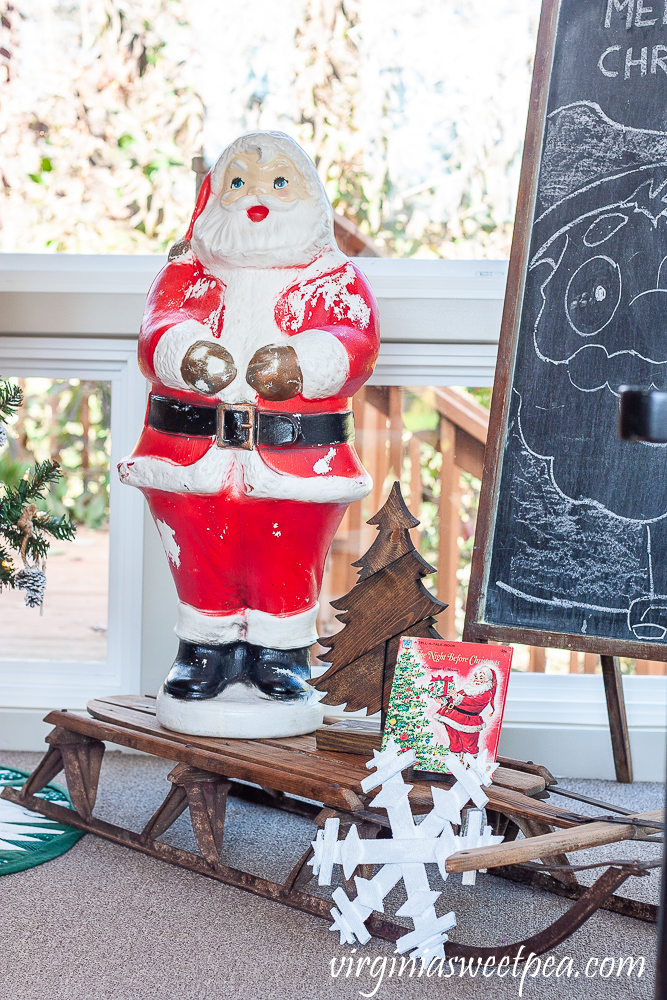 Beside Santa are a wood tree that we made, a vintage The Night Before Christmas book, and a handmade snowflake.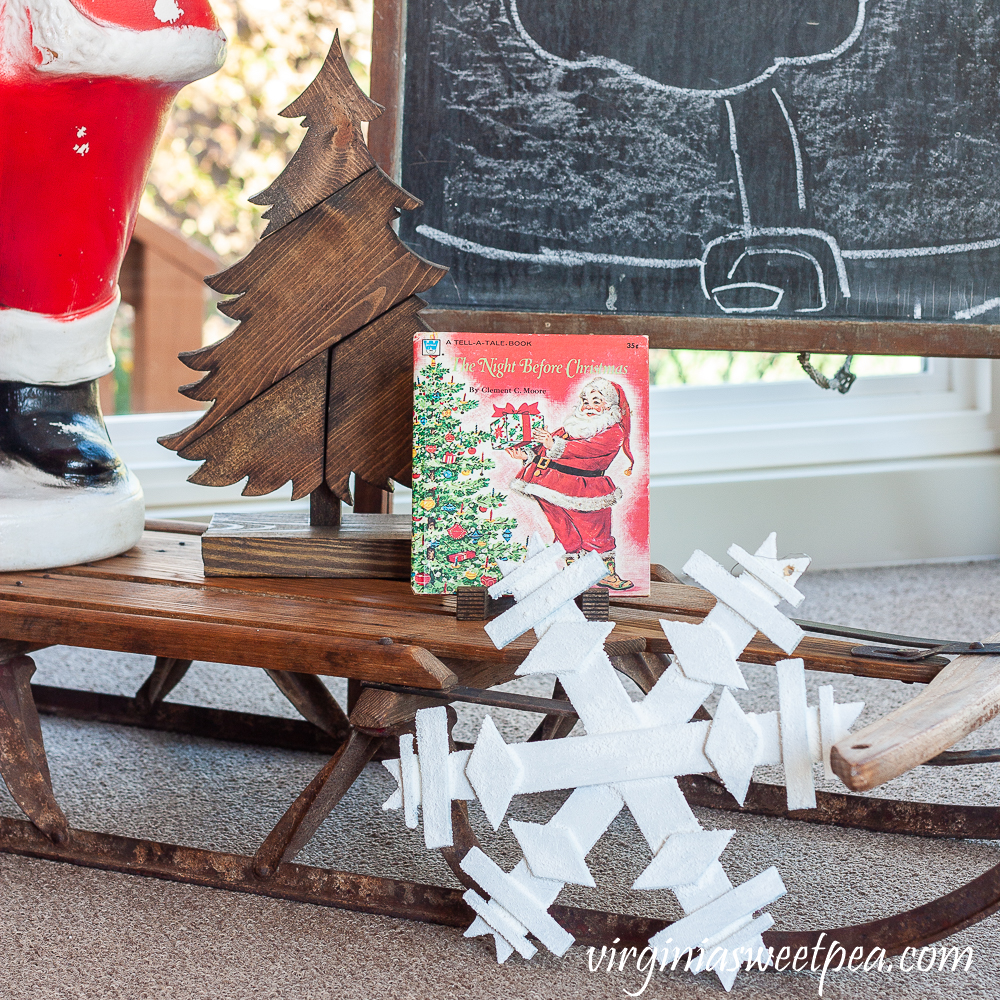 When I was in first grade, my teacher gave everyone in our class this book for Christmas.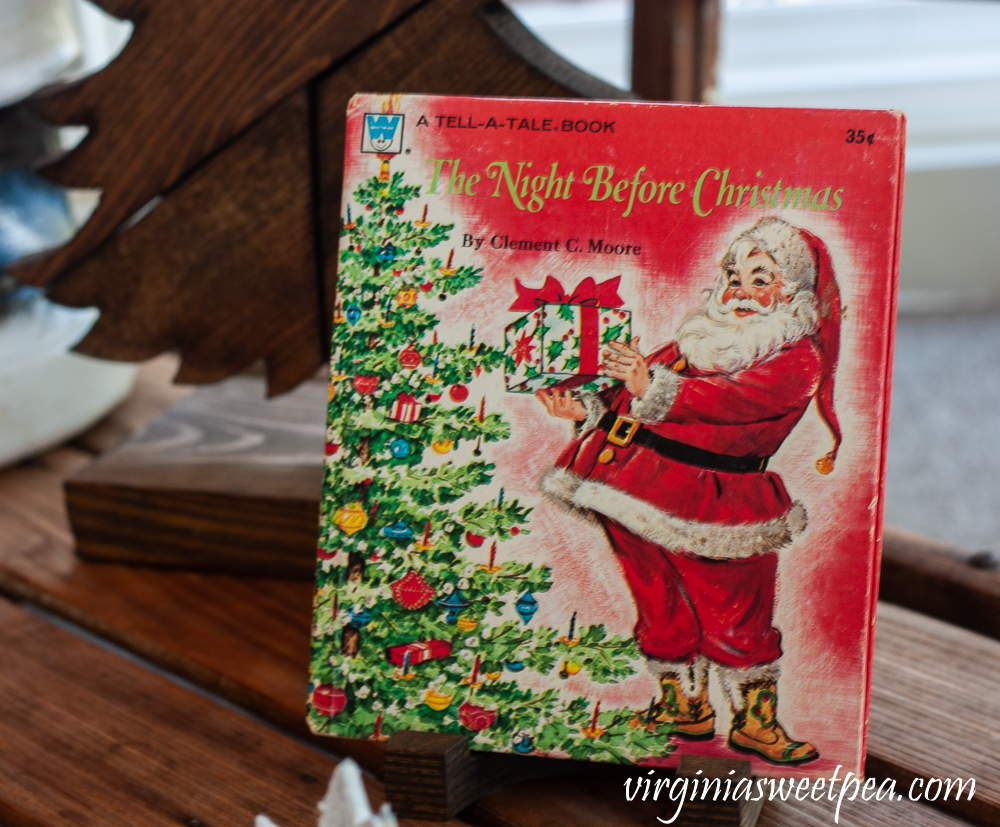 It's hard to believe that was 44 years ago!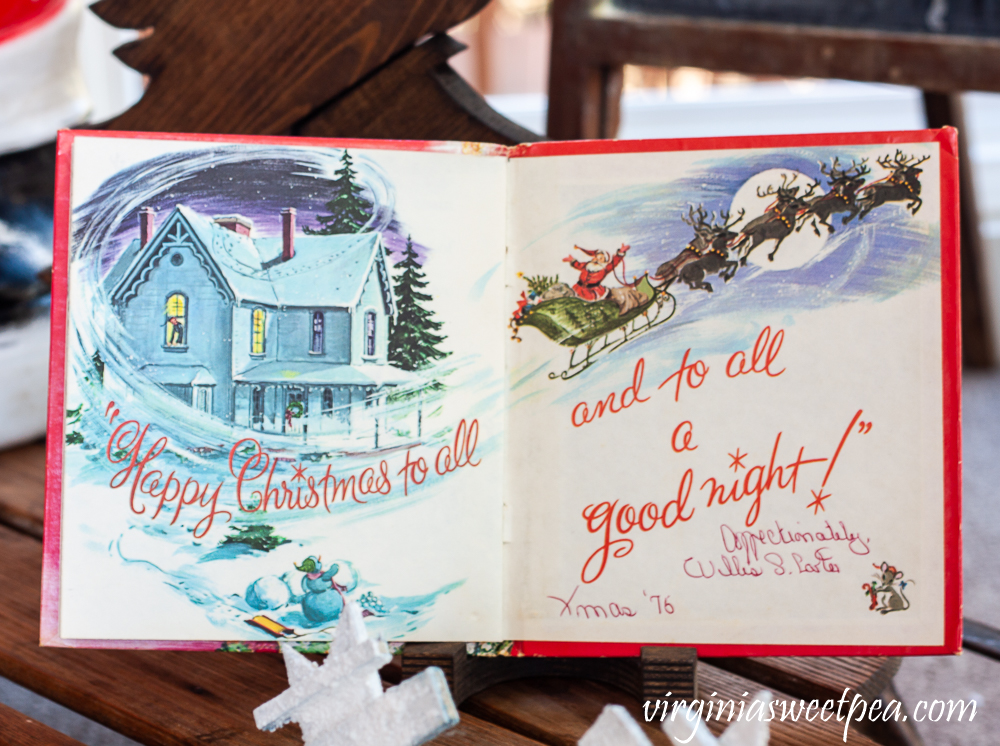 The chalkboard was my dad's when he was a child and was also played with by me and my brother. My niece played with it when she was young and came to visit me.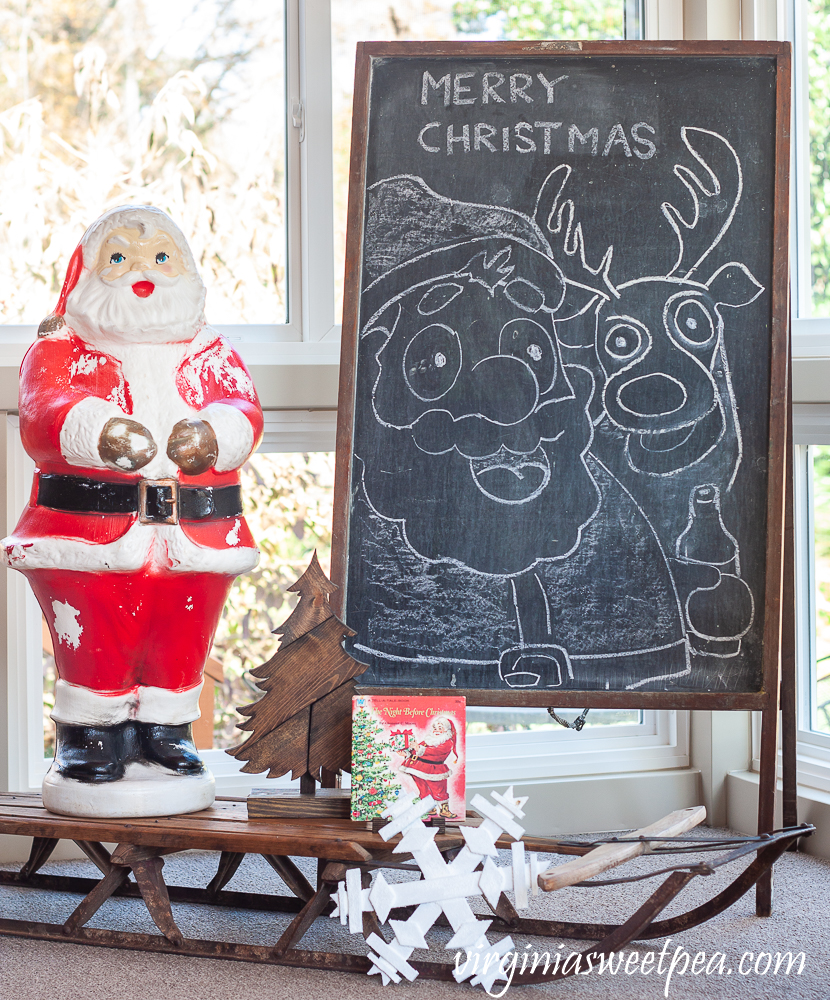 Mr. SP did the art. Santa has finished his rounds and is enjoying a beer with one of his reindeer. Or perhaps Santa is prepping for his big night.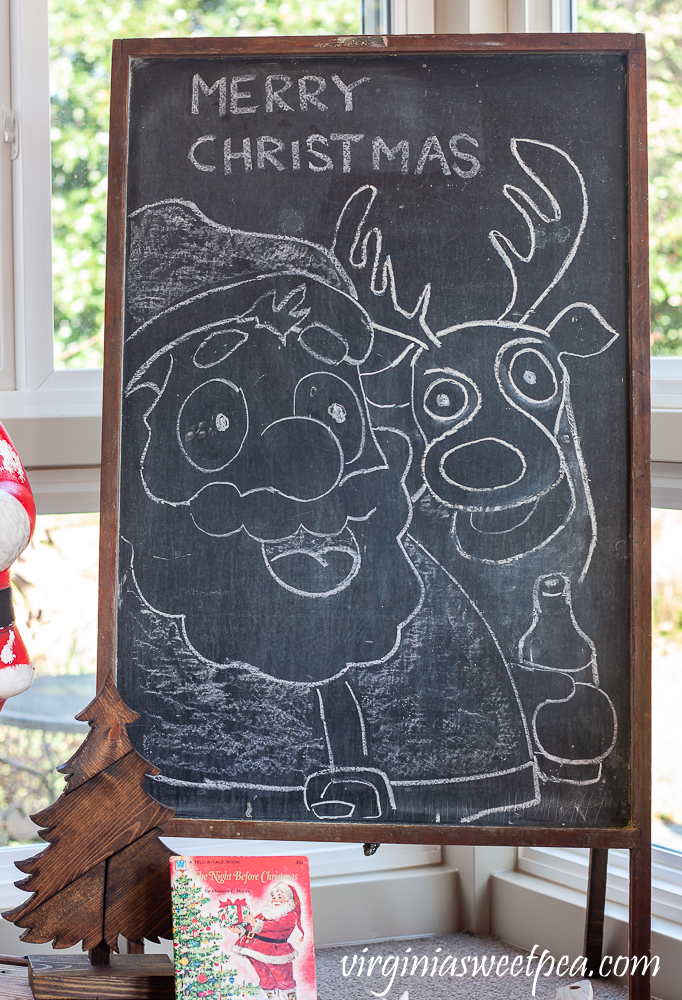 More Santas are on the right side of the porch. The milk can to the left of the bench came from a farm in Idaho. My neighbor gave it to me when he moved.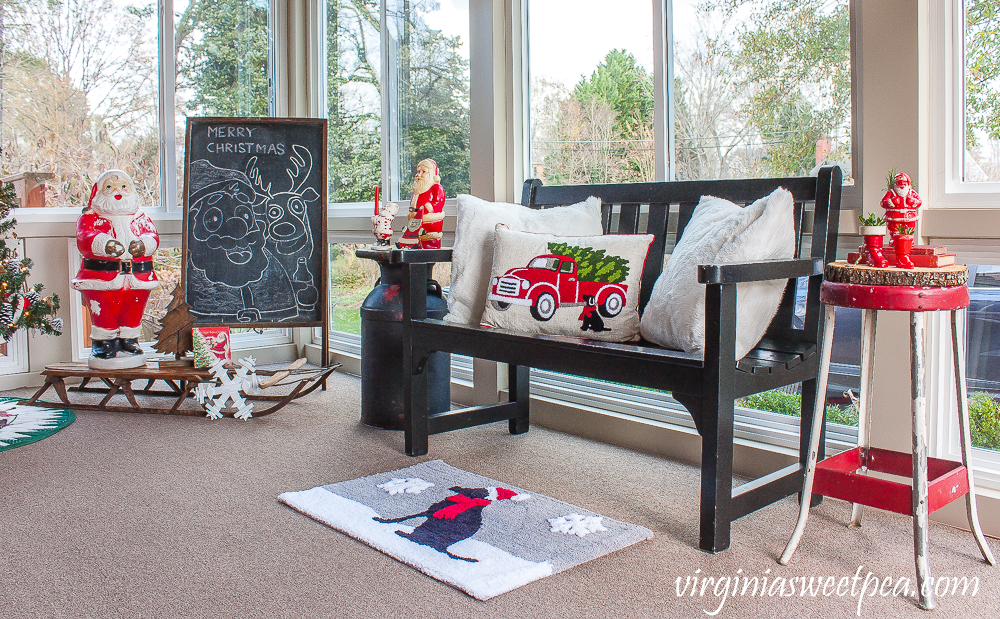 Displayed on the milk can are three vintage Santas. The blow mold is my newest find, purchased this fall in Williamsburg when my blogging buddy, Julie, of My Wee Abode visited.
The chalkware Santa was my great-great-aunt's, passed down to me by my grandmother. The smallest Santa is my brother's first Christmas ornament from 1970.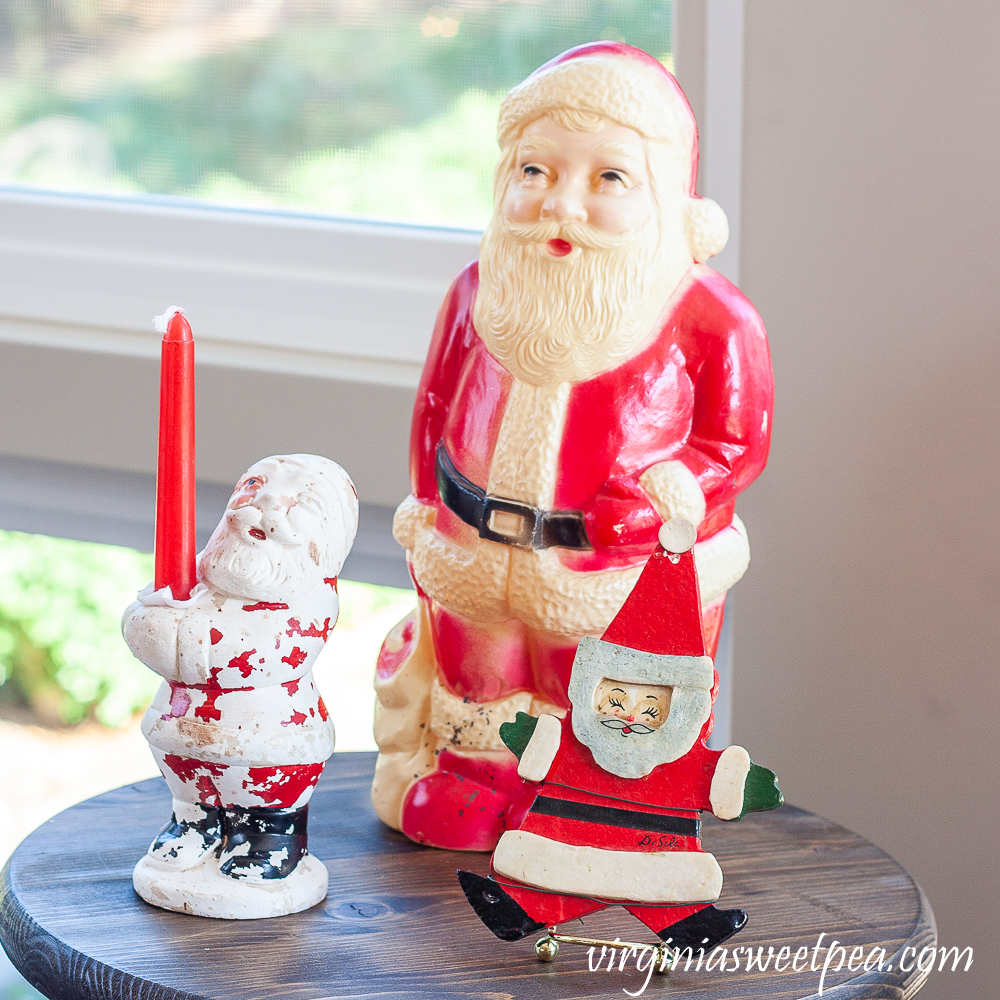 Mr. SP sits on this bench morning and night to lace up his boots to take Sherman for his walk.
The dog rug is from Big Lots. It's actually a bath mat!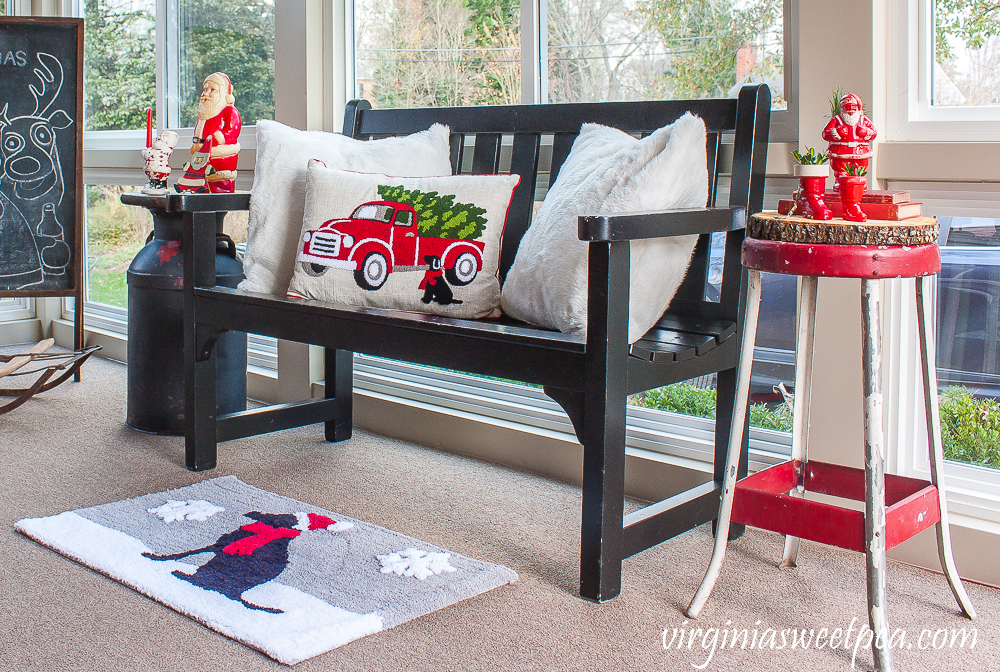 Mr. SP's sister gave us the truck pillow last Christmas. We have a red truck and Sherman is mostly black, so this pillow is perfect for our Christmas porch.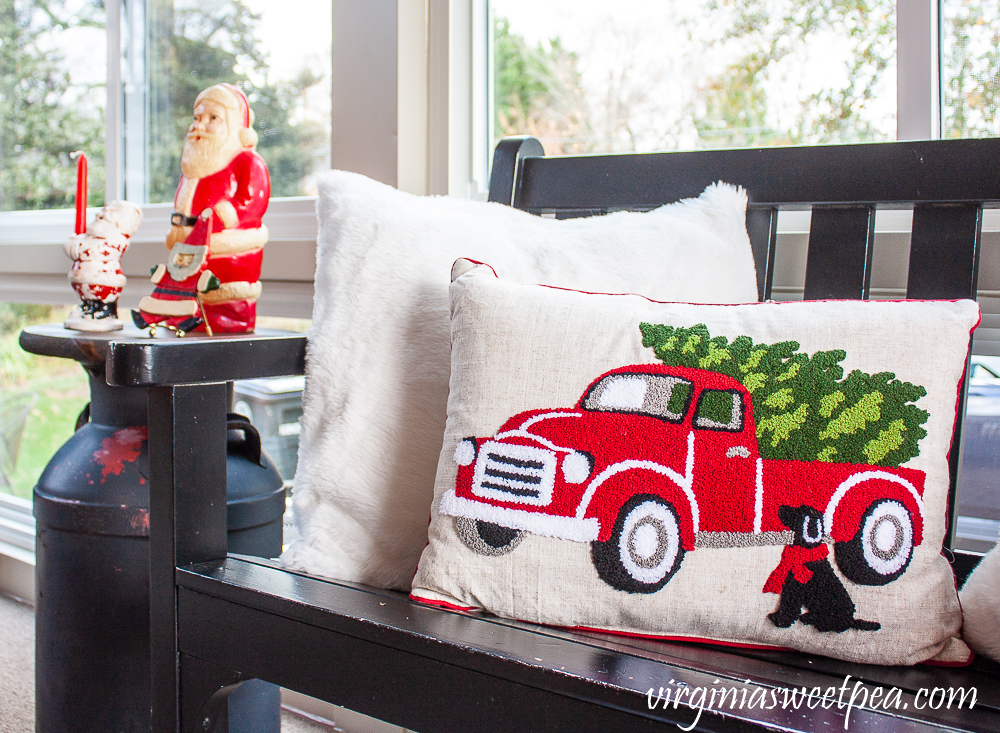 My mom gave me the red stool. On it is another vintage Santa and two vintage Santa boots.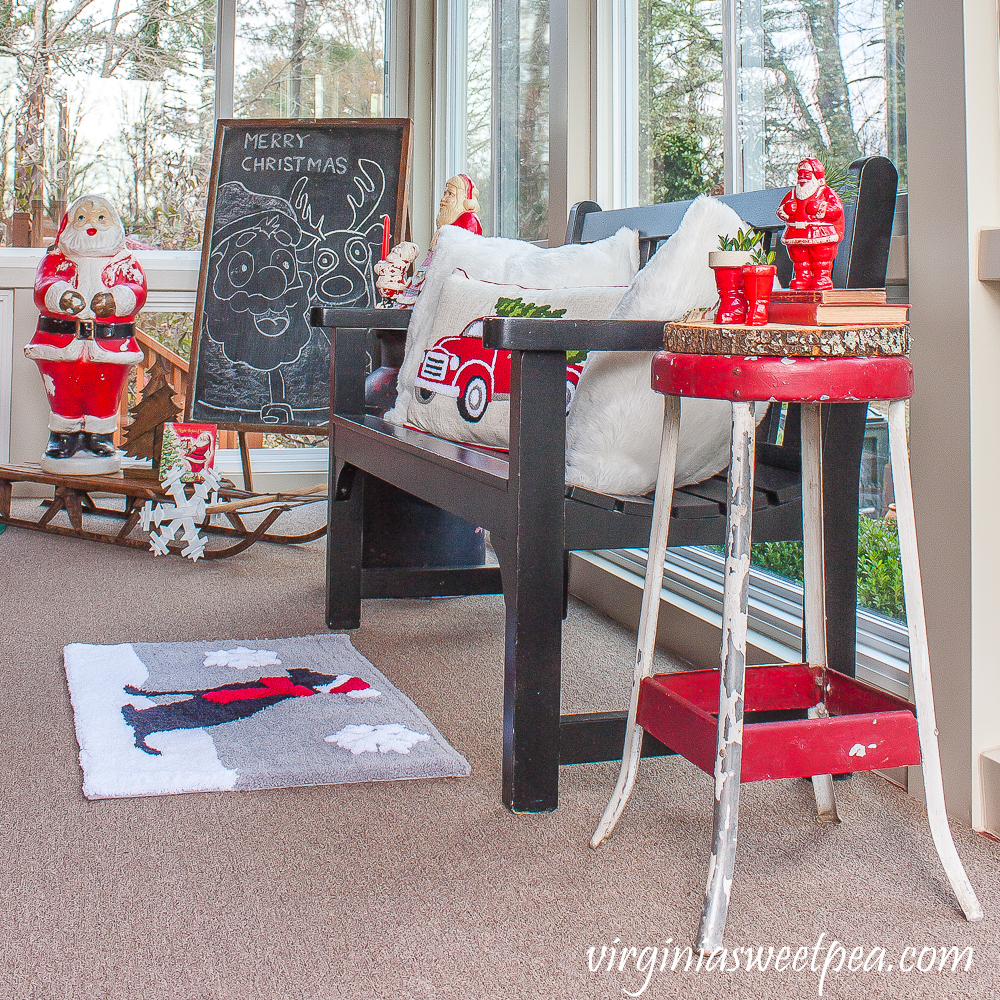 Last fall, a local gentleman sold pieces from his father's huge vintage Santa collection. This Santa candy holder is one of the pieces that I purchased from him.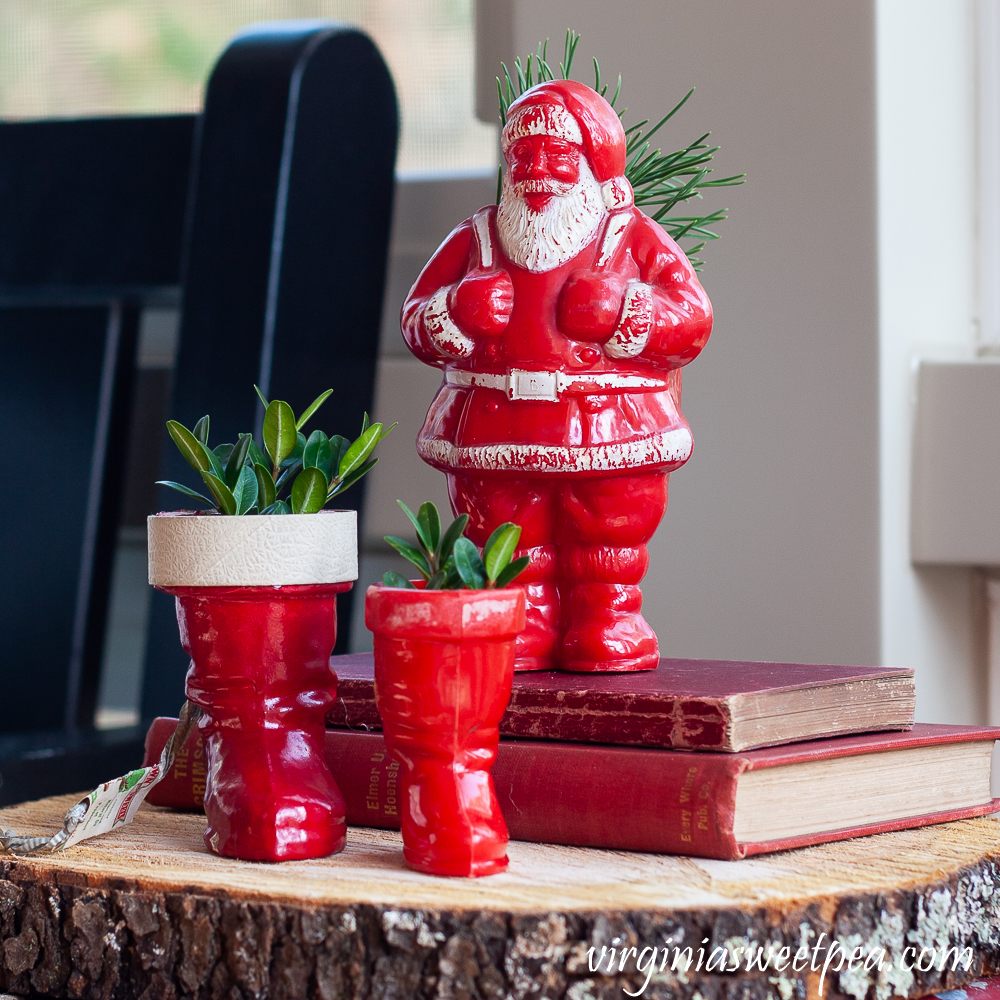 I've collected vintage Santa boots for a long time.
The wood round that the pieces are resting on was made for me by one of my former students. I needed six wood rounds to use as chargers for this Pinterest Challenge and my sweet former student made them for me and delivered them to my house the next day.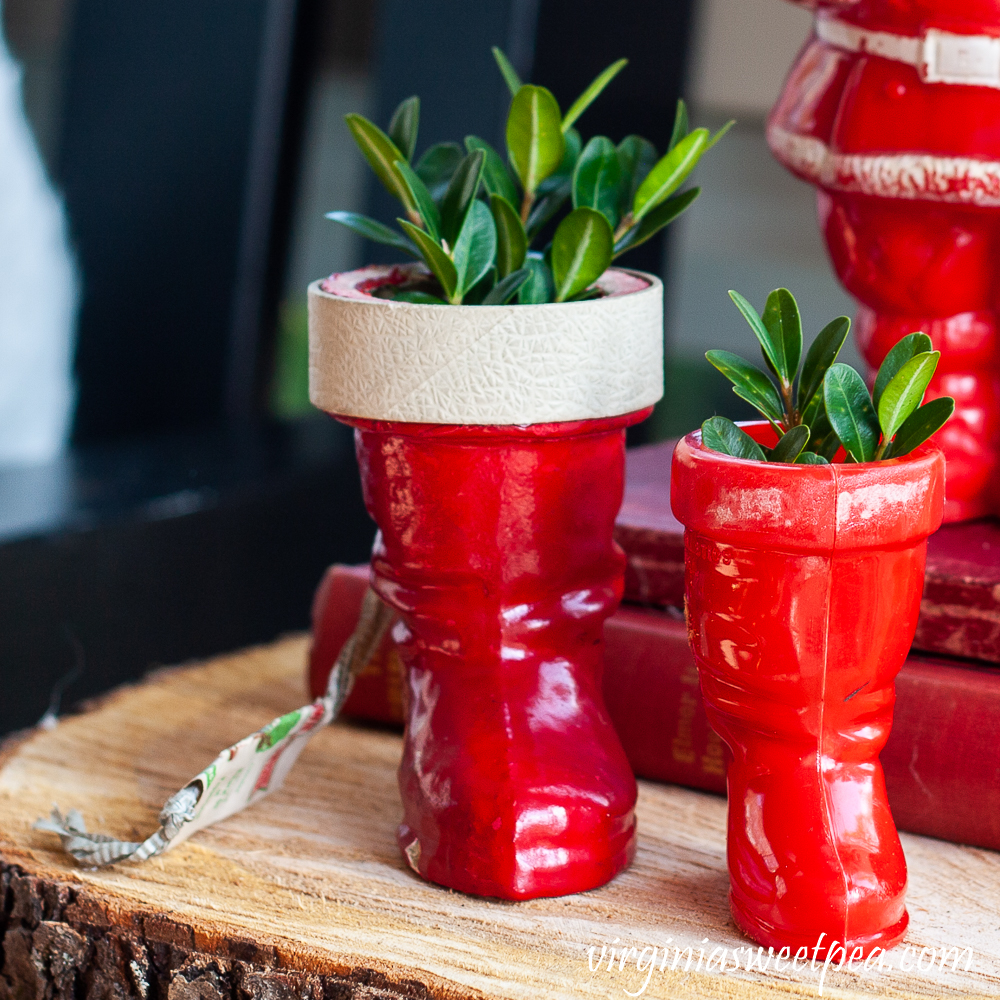 Don't tell anyone, but Santa is staying at my house. He left his coat, hat, and boots on the porch.
The painted Santa is from the late 90s and is on a piece of slate from a barn in Giles County, VA.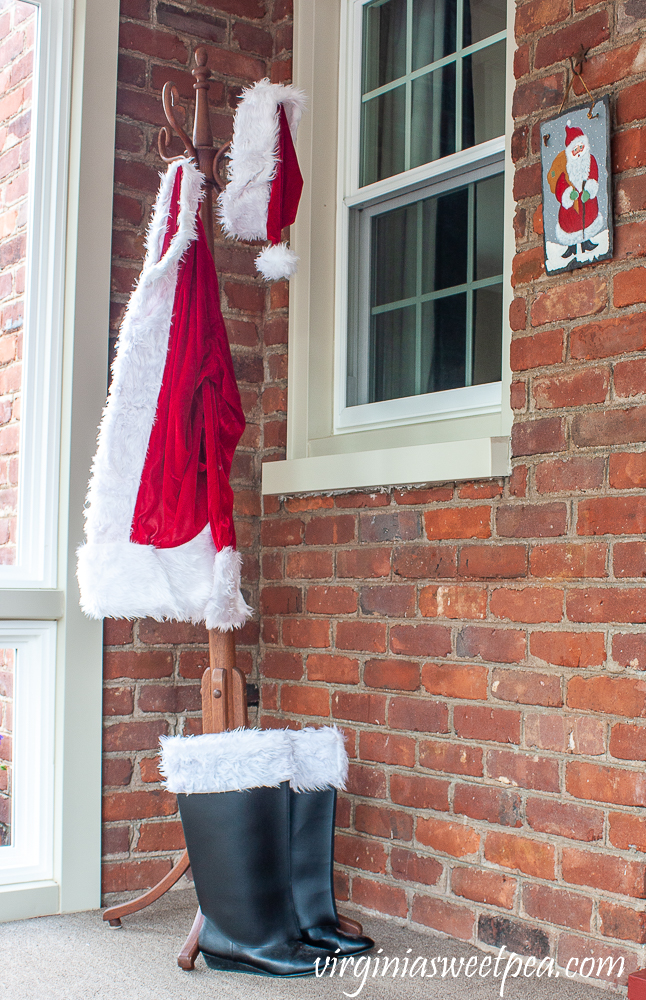 I love having my porch decorated for Christmas and it's so much fun to enjoy the decorations every time we leave or enter our home.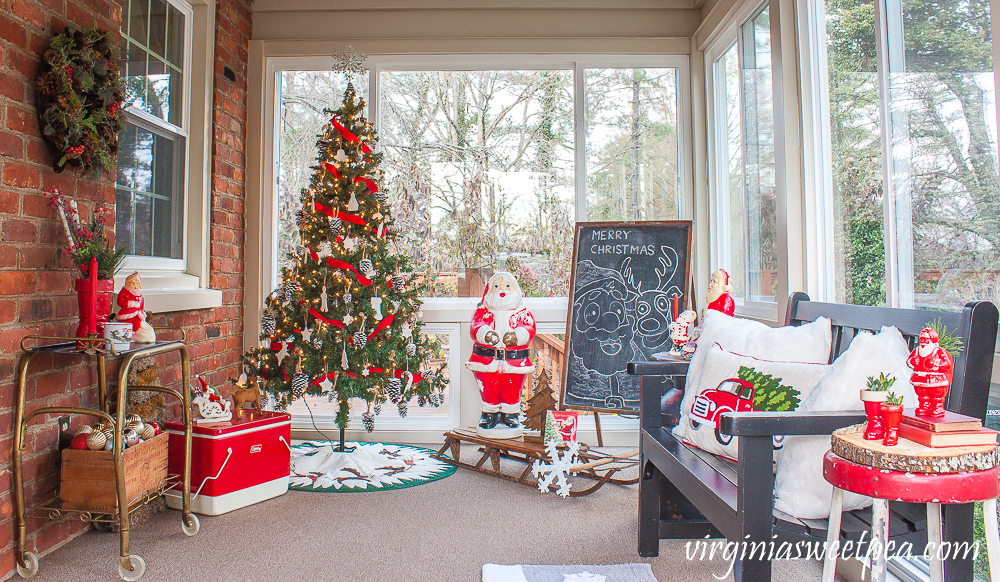 Past Christmas Porch Decorations
Now it is time to enjoy the Christmas porches that my friends are sharing!
MORE CHRISTMAS PORCH INSPIRATION
Be sure to visit all the participating bloggers for festive decorating inspiration for your front porch, patio, sunroom and screened-in porch.
Did you like this Post? PIN it for Later!